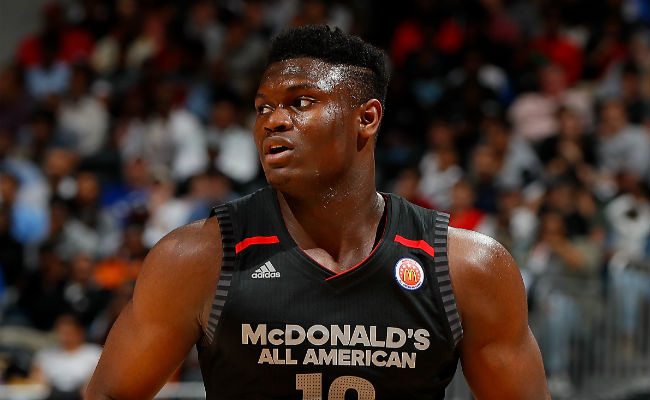 Zion Williamson is bringing him a lot of hype to his freshman year at Duke. The last two years of his high school career were filled with thunderous dunks and a huge frame, though Blue Devils coach Mike Krzyzewski isn't worried about that.
The prospect of Williamson as a pro has been tantalizing for hoops fans for years, but Williamson's quick detour to college to yam on people in the ACC should be fun, too. One former NBA player has heaped even more hype onto the young fella, though, as he thinks he's already better than one of the game's all-time greats.
Stephon Marbury said in an Instagram live story that Williamson is already better than LeBron James. The remark came when someone in the comments brought up the inevitable Jordan and LeBron debate, but Marbury decided to flip the script and claim a new comer in the fight.
"LeBron James… I'm not going to call him the best basketball player to ever play because Michael Jordan is that," Marbury said. "The reason why I'd say he's not the best is that he can't shoot."
Later, he revealed that Williamson is his pick for the player most likely to dethrone Jordan.
"Only Zion has the opportunity to be better than Michael Jordan,"
The best thing to do for a young basketball player, of course, is completely distort his expectations and create hype beyond belief. So Marbury really went for it here.
"Zion is going to destroy the whole planet," Marbury said. "Remember I told you that. When you see Mount Rushmore himself over there."
Pressed by many in the Live video giving him a hard time claiming a player fresh out of high school is better than the best basketball player alive, Marbury dug in.
"He's way better than LeBron," Marbury said while reading comments. "It's not even close."
That seems unlikely, but he was steadfast here.
"He don't have to touch a ball and he's better than LeBron James," he concluded.
There's a long way to go in Zion's story here, and maybe it does, indeed, include him finishing his career as one of the game's greats. Any predictions to that, though, seem extremely premature. Still, it's nice to have fans who have been in the show before. Even if they're a bit too excited about your potential for reason.