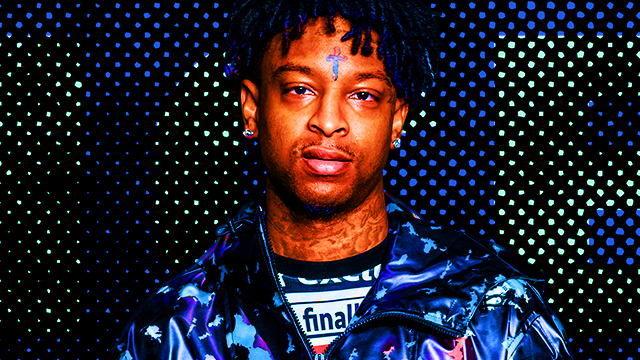 It's been a wild whirlwind of a month for Atlant trap rap star 21 Savage. Flying high on the success of his sophomore album, I Am > I Was, it seemed everything was coming up Shéyaa (Bin Abraham-Joseph, 21's real name). However, that was before US Immigration and Customs Enforcement (ICE) rolled up on 21 and his cousin Young Nudy. Suddenly, instead of making headlines for his No. 1 album, Savage was taking up real estate on news feeds across the internet for his citizenship status, which came into question with the revelation of a UK birth certificate and a whole plethora of questions about his true origins.
In the weeks since then, the story has gone through more mutations than an X-Men character, with the narrative seemingly getting upended every day with another new development. It's enough to make your head spin. Consider this timeline as your guide to all the changes in the narrative so far, from the initial arrest — which may or may not have actually involved ICE agents from the very beginning — to 21's recent release from ICE detention and subsequent return to Atlanta.
Whatever happens next could have huge implications not just for hip-hop, but also on immigration policy in the US as a whole. After all, Meek Mill's recent legal struggles only highlighted the plight of thousands of people trapped in the penal system. While he is just one man, his star status brought attention to the ongoing shortcomings of the cash bail and probation systems, galvanizing the hip-hop community to advocate for prison reform. The same could happen with 21 Savage's case, which may come to represent a beacon for the millions of people living in the US illegally and their unethical treatment by Immigration and Customs Enforcement.
While 21 awaits his upcoming deportation hearing to find out the fate of his visa application and his continued residence in the US, catch up on the story so far below.
21 Savage's Late-Night Debut With Revamped Verses On "A Lot"
This may not seem like the obvious or logical starting point, but this is one of the first times 21 Savage directly addressed the political debate surrounding the ongoing immigration "crisis" at the US/Mexico border. During his late-night debut performance "A Lot" on The Tonight Show, Savage added his own third verse in place of J. Cole's feature wherein he questioned the US border control policy, rapping, "Started from the bottom straight from the gutter, so I had to go a little harder / The lights was off, the gas was off, so we had to boil up the water / Been through some things, so I can't imagine my kids stuck at the border / Flint still need water, people was innocent, couldn't get lawyers." Some observers have wondered if this was the incident that made ICE take a closer look at Savage's citizenship, given the fact that they had just cause when he was arrested in 2014 and chose not to have him deported then.
ICE Issues A Statement Confirming 21 Savage's Arrest
The first indication that rap fans had that anything was awry with the "Bank Account" rapper was this statement issued by ICE detailing his arrest. According to ICE, Savage was arrested "during a targeted operation with federal and local law enforcement partners early Sunday in metro Atlanta," and alleging that the rapper had lived in the US since 2006 on an expired visa. The statement also makes notes of his felony conviction from 2014, despite the fact that it had been expunged from his criminal record in 2018. Take note; this is the primary argument his defense of unlawful arrest hinges upon. Finally, an ICE representative reportedly told journalists, "His whole public persona is false. He actually came to the US from the UK as a teen and overstayed his visa." Meanwhile, 21 himself never seems to have hidden his immigrant status; his official biographies have always stated that he moved to the US with his mother, a native of Dominica.
21's Birth Certificate Surfaces
While initially, all anyone had to go on was ICE's assertion that 21 was a UK national, The Daily Mail, a British tabloid, actually dug up the birth certificate from Newham, a borough of London, England, that confirmed that Savage's parents were both residents of London at the time of the rapper's birth. https://uproxx.com/hiphop/21-savage-born-london-immigration-ice/ However, Savage himself set the record straight some days later, admitting that he and his mother had moved to the US years before. They had returned to the UK in 2005 when 21 was 12 years old, then come back to the US on visas which apparently expired the next year. This makes him part of the two-thirds of all undocumented immigrants in the US who overstayed their visas and thousands of minors who became illegal residents through no fault of their own. Of course, that didn't stop the internet from making jokes, which 21's mother frowned upon.
21 Reveals He Was Applying For A New Visa
As it turns out, 21 was actually trying to rectify that situation, which may have been what alerted ICE to his status in the first place. The rapper revealed that he'd applied for a U visa in 2017, which is a special visa extended to long-term illegal residents who have experienced violent crimes and are willing to cooperate with law enforcement investigations. 21 Savage was shot six times in 2013 in an attack that killed one of his brothers; his legal team makes the defense that he should be eligible for a U visa due to this and the fact that he has three small children, all born in the US, making them citizens by birthright. Although he says he never received any feedback on the application, part of the process involves a background check, which may be the reason ICE targeted him. Although a later report tabbed 21's cousin and fellow rapper Young Nudy as the target of the sting that arrested both (due to a two-year-old warrant for assault for Nudy allegedly shooting another man in the buttock), the first ICE statement contradicted this account, which played into 21's later release.
21 Savage Receives Aid From Black Lives Matter And Jay-Z
After news of Savage's situation spread, activist group Black Lives Matter started a petition for his release, while Roc Nation founder Jay-Z, who is also partnered with Meek Mill in his prison reform efforts, reached out to offer legal assistance in the form of attorney Alex Spiro. Other famous supporters included Congresswoman Alexandria Ocasio-Cortez, who denounced ICE for detaining the rapper as long as they did, as well as Cardi B.
21 Savage Misses The Grammys But Is Eventually Released
While activists and politicians were showing 21 support through legal means, his managers Kei Henderson and Justin "Meezy" Williams tried to rally support for him onstage at the Grammys. Unfortunately, they ran into resistance; the Grammys refused to even release the rapper's tickets to his mother until Meezy shamed them into doing so on Twitter and only one performer shouted out 21 from the Grammys stage (Ludwig Göransson, accepting the award for Song Of The Year for Childish Gambino's "This Is America").
However, almost before anyone could comment on the lack of support at the Grammys, it was announced that 21 had been freed from ICE detention pending his upcoming deportation hearing. While ICE eventually had to drop the their "aggravated felony charge" due to the expunged record, the rapper could reportedly still be deported thanks to changes implemented by the Donald Trump administration. Previously, residents with open U visa applications could remain in the country, but under Trump, they may be deported, then allowed to return if their applications were approved.
So, What's Next?
If 21 is deported and his visa application not approved, he could be banned from re-entering the US for up to ten years. His children, being US citizens, will be allowed to stay. If his application is approved, he may be allowed to stay for up to four years and travel out of the country for work. He would also be able to apply for Lawful Permanent Residence three years from the start date of his new visa, becoming a permanent, legal citizen of the US, where he's now lived the majority of his life.
Meanwhile, this case could become a flashpoint for immigration reform as Meek Mill's arrest did for the prison system. Not only does his larger profile bring light to the issue, but it also puts an unexpected face on it. With 21 Savage's recent turn to philanthropic works and community outreach, he becomes a perfect avatar for the need to revamp the system and make it easier to assimilate — especially since his story runs to counter to the prevailing narrative embraced by Donald Trump and his ilk. 21 Savage may be an unlikely hero for the movement, but there's probably no better symbol of the American Dream than a rapper who rose from rags to riches — finding out he's an immigrant is just one more way he represents the melting pot that is the United States.