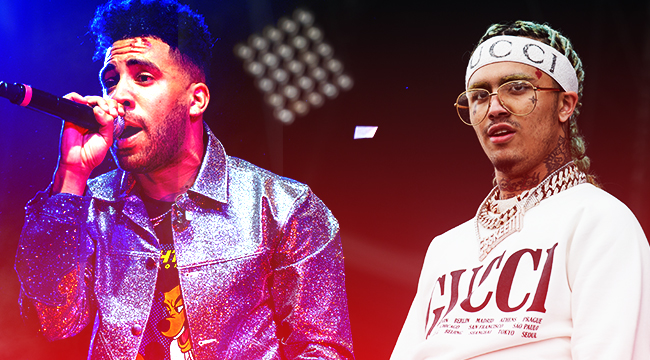 We're a week into the year, and artists are already gearing up to offer up some of 2019's first projects. Boogie and Future have announced projects coming within the next two weeks, and a pair of upstart artists in YGTUT and New York-based producer FifthGod are also preparing to release projects that may be set to push them to a new plateau. Elsewhere, Amine has released a pair of slick remixes, and Lil Pump has released the controversial "Butterfly Doors" song — sans questionable lyrics.
Future, "Jumpin On A Jet"
Future's The WIZRD is coming, a project he likened to "a bridge between the Future and HNDRXX album sounds" on his recent interview with Zane Lowe. "Jumpin On A Jet" is an invigorating single from the project, featuring the ATLlien doing his thing over a mysterious synth melody and typically thumping 808s. The video cleverly depicts him on a ladder to Pluto, further entrenching the elevated symbolism that he loves. Hopefully while he's on that jet he can rethink his recent R. Kelly comments.
Boogie, "Silent Ride"
Boogie is set to drop off his album on January 25, which he hopes will fill up his bank account — as well as top album lists come December. He offered a glimpse of the creative zone he's in on "Silent Ride," a reflective track where he rhymes about his stresses and admits "I'm detached I need guidance."
Lil Pump, "Butterfly Doors"
Lil Pump dropped his "Butterfly Doors" track last Friday. The anticipation for the track was tainted by controversy after Pump rhymed some bars that were insensitive to the Asian community. New York rapper China Mac and entertainer Awkwafina, among others, called out the "ching-chong" lyrics, which were censored and removed from the track. Now you can turn up to it in better conscience.
Amine, "Hungry Hippo", "Hunnybee" (Remix)
Amine showed off his versatility by dropping some bars on a pair of beloved songs from last year. First, he spat over Unknown Mortal Orchestra's sunny "Hunnybee" instrumental, then he flipped Tierra Whack's "Hungry Hippo" for a vibe of his own.
Kyle Feat. Jay Park, "Playinwitme (Remix)"
Kyle dropped off another remix of his cheery "Playinwitme" track. The first remix featured Logic, but now Kyle has swapped out Kehlani's contributions for rapper Jay Park, who rhymed a verse in Korean.
Currensy, Trademark Da Skydiver & Young Roddy, "Plan Of Attack"
Currensy releases new tracks almost every week, but this one has special significance. For the first time in over five years, the original Jet Life trio is on the same track, kicking slick rhymes over a beat that's a bit more uptempo than Currensy has been used to in years. But he pulls it off with finesse, as do Trademark and Young Roddy. Hopefully their "plan of attack" includes offering their longing fans more music this year.
Robb Bank$ & Wifisfuneral, "PayOut"
A pair of Florida boys connect on "PayOut," a murky tune from Robb Banks and Wifisfuneral's properly titled Connected joint project. They both get off some raunchy double-time rhymes on the Grimm Doza-produced track. They're set to go on tour for Connected next week. You can connect with them on your city by checking out the dates here.
YGTUT, "Mind Ya Business"
It's been a long time coming for Chatanooga, Tennessee artist YGTUT, but his long-awaited I.O.U. EP is going to drop on January 17. "Mind Ya Business" is the second single from the project, and shows him in strong lyrical form."Tryna get all my n—-s out the struggle that we came in," he affirms over a moody, 808-dominated beat.
FifthGod Feat. Dash, Ab-Soul, & Radamiz, "Transgressions"
Long Island producer FifthGod has dropped his Fifth Tape studio debut, a long-awaited project in the New York underground scene. He's been steadily feeding his growing fanbase with tracks from the album, the latest of which was "Transgressions" which features Radamiz, Dash, Ab-Soul. Radamiz, of Brooklyn's Mogul Club collective, caps off the track with a thrilling verse where he bobs and weaves through Fifth God's minimalist drums with jewels like, "I was supposed to go a couple years ago, I write so I can stay alive."