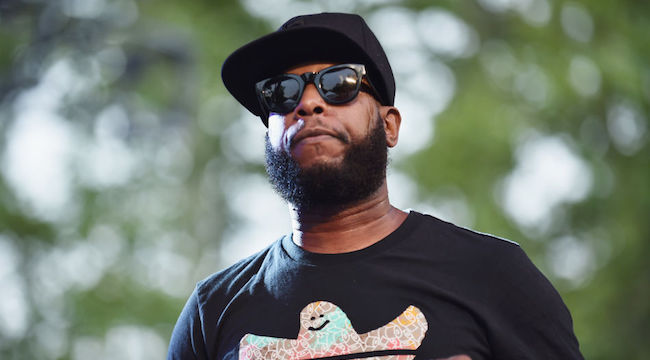 2018 has felt less like a year and a lot like a decade. For instance, remember way back when, in January, when we all thought we were going to get a Kanye West-produced Talib Kweli album? It would have been typically socially conscious Kweli alongside throwback, soul-sampling Kanye and they were going to address all the strange and terrible current events of the social and political climate of the year previous, and it was going to be glorious.
Well, that never happened. Thanks to Kanye West's declaration of seemingly impenetrable support for his "brother" Donald Trump, Kweli abandoned the project and instead, like many of their hip-hop peers, expressed disappointment and disbelief at Kanye's follow-up actions, especially his recent visit to the White House and constantly wearing Trump's "Make America Great Again" hats. In light of Kanye's recent tweets "distancing" himself from politics, though, it seems Kweli thought it was a perfect time to share a snippet from the above-mentioned collaborative album on Instagram. The song itself doesn't appear to be finished or even have a title, but there's very little equivocating about Kweli's position on Trump's "both sides" comments and whataboutism over the past year. Check it out below.
However, all that celebration may be a little premature, considering Candace Owens chimed in later, accepting blame for the tweets and Kanye's newfound awareness, which apparently only extended to their own "collaboration" on her Brexit clothing. After all, Kanye is the guy who produced for both Jay-Z and Nas at the height of their beef; if anything, the best Kweli or anyone else can ever hope for from Mr. West might just be "opportunistically neutral." It's still a dope song, though, and hopefully, we can hear more from the project soon — even if it's only Kweli's raps on someone else's beats.