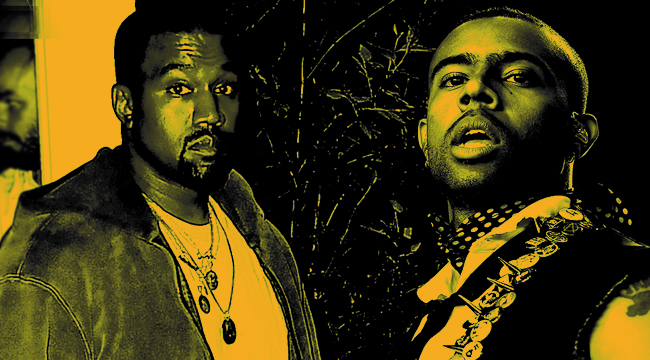 Kanye has exposed his lack of verbal eloquence in grand fashion this year, but he knew exactly what he was saying during his White House meeting with President Trump when he defended wearing his MAGA hat because, "I'm married to a family" with "not a lot of male energy going on." He added that "I love Hillary… but the campaign 'I'm with her' just didn't make me feel as a guy." Those observations perfectly encapsulate the male inferiority complex that fuels Trump's male base of neo-Nazi and "men's rights" advocates, who are beholden to patriarchal and anti-feminist ethos, which united them against Hillary Clinton in the last presidential election.
Trump played to that core, making it a point to weaponize Hillary's gender against her during election season. He infamously called her a "nasty woman," and physically loomed over her during a debate in a blustering gesture of "male energy." Now Kanye is exploiting the same messaging in order to defend his Trump advocacy and his own evolution into a "superhero" while wearing it. Kanye wrote "Violent Crimes," a song on his Ye album, about protecting his daughter from a patriarchal society, but he's standing unabashedly next Mr. "grab her by the p*ssy," which makes him complicit in sustaining the exact "male energy" he complained about.
Never mind how many women feel alienated and threatened by Trump and his emboldened core, and never mind the Trump administration's other abuses against marginalized people such as a Muslim ban and separating children from parents at the Mexican border, the MAGA hat made him a "superhero" — and his power is narcissism. The 41-year-old Kanye may be nearly twice the age of controversial young artists like Tekashi 69 and the late XXXTentacion, but they're all united in their fixation with driving a self-serving, masculinized narrative with no regard for who it hurts and no accountability.
A call for accountability doesn't seem likely among the young fanbase who patronize so-called "Soundcloud rappers" like Tekashi and XXXTentacion. Both artists succeeded past the limited scope of the Soundcloud platform in spite of their documented abuse. They gained cosigns from Kanye, J. Cole, and Nicki Minaj. They didn't need traditional media outlets to top Billboard or accrue over 100,000 equivalent album units first week. Both of their labels invested heavily in their studio albums, despite what message they're sending to young men and women. That's probably why Kanye has slowly ingratiated himself to their scene because he knows their fans will allow him to do and say anything.
XXXtentacion's supporters like Kanye, who recently called himself a "p*ssy" for not speaking out on behalf of the 20-year-old artist, says he was changing his life for the better before being shot and killed this June. That may be true, but in his last interview with the Miami New-Times, he stated, "would I change anything about my journey? F*ck no." — even after being accused of sadistic abuse toward his then-pregnant ex-girlfriend (not just from her but by other former friends), and making other flagrant comments like, "everybody that called me a domestic abuser, I'm going to domestically abuse ya'll little sisters' p*ssy from the back." Like Kanye, XXX was singularly fixated on his growth journey, never mind who was trampled or had their lives irrevocably changed during the process. His statement was a problem, and it's not insulting his spirit to acknowledge that.
His unrepentance is what may have caused polarizing Chicago rapper Vic Mensa to reference the late artist during a BET Hip-Hop awards freestyle, where he allegedly rhymed, "your favorite rapper is an abuser." While you can argue the ethics of dissing a dead man (in a genre where many artists threaten to make dead men every other song), the video he dropped responding to the backlash didn't go in further on XXX. He actually apologized to XXX's mother, who was in attendance at the award show, but stood firm that he "vehemently rejected the trend in hip-hop of championing abusers." He didn't want to start a discussion singling out XXX, he wanted to call out a culture of abuse that's rarely challenged in hip-hop.
His sentiment is in the right place, and even if he isn't an ideal anti-domestic violence advocate, it's vital that he spoke up. But his artistic peers didn't reply to his comments with a cogent defense of their actions — they threatened to fight him. One of the artists most vocal about Vic's comments is Trippie Redd, who was arrested earlier this year for hitting a woman in the head with a gun. Another artist and friend of XXX, Florida rapper Kid Trunks, gushed on DJ Vlad about how he had so much sex on tour that his peers told him to have "self-control." Who would expect them to understand where Vic was coming from about advocating for women?
XXX's former manager, controversial podcaster Adam22, called out Vic's own abuses against his ex-girlfriend, which he has been open about on The Breakfast Club radio show and in his music. But in that attempt to place Vic and XXX in the same boat, Adam and the people who parroted that point missed the major difference: Vic has shown accountability and contrition for his abuse while XXX never did, and so many other men guilty or complicit in violent crimes are refusing to. They're part of the problem, but would rather act like Vic provoked them to fight than admit it.
Their defiant attitude mirrors the victim complex that fuels Kanye's convoluted "free thought" movement. Since returning to Twitter this spring, he's been mischaracterizing the legitimate criticisms of his pro-Trump advocacy as an assail on his free will, and ultimately, his manhood. He ranted on his Saturday Night Live performance that someone "bullied" him into not wearing his MAGA hat, but in reality, his friend and frequent collaborator Malik Yusef simply told him that he was leaving the NBC studio if Kanye wore the hat onstage. Yusef told Allhiphop.com that it hurt him that Kanye called him a bully in front of Kanye's daughter North, who Yusef has an Uncle-like relationship with. Maybe acknowledging why Yusef didn't want him wearing the hat would have been more work than acting like he was "bullied."
Their clash exemplifies why Kanye's career and music is suffering — because he isn't challenging himself to be better. Kanye has been credited for taking stands and pushing the boundaries of hip-hop culture at his best. He's the one who said the following on 2007's Graduation standout "Everything I Am:"
I know people wouldn't usually rap this
But I got the facts to back this
Just last year, Chicago had over 600 caskets
Man, killin' some wack sh*t
And abuse isn't? But now, in his alliance with figures like Trump and Tekashi, Kanye is merely another representative of men who turn a blind eye to abuse and immorality as a rite of male solidarity. It's no surprise that he evoked emasculation in his reasoning for not defending XXX or ASAP Bari, who has faced numerous sexual assault allegations. It's also telling that while he continuously calls Drake and other men his brother, he hasn't called his right-wing buddy Candace Owens his sister. The only time he has used the term "sister" this year, he referenced wanting to have sex with his sisters-in-law on "XTCY." The misogyny only hinted at in thoughtless lines about calling biracial women "mutts" is on full display now. During a period when Kanye is framing himself as a "superhero" and fully liberated, his ceaseless need for validation — that his mother arguably coddled — has morphed into the weakest, most restrictive version of manhood. He's 41 with more in common with 21-year-olds than his 48-year-old "brother" Jay-Z.
And the artists who mimic his stubborn stance are equally hurting the vitality of hip-hop not just as a music genre, but as a community. It's disheartening that seemingly every time a new rapper emerges, one must check their background for any abuse allegations or problematic statements and brace for compartmentalizing their music away from their actual character.
If today's culture of abuse and flagrant spectacle is ever going to change for the better, accountability has to be everything. Challenging from peers is paramount, and can't just be about opportunism. People like Vic, who have abused, have to reckon with their mistakes, and be reflective about what circumstances caused them and be vocal about how to prevent them. Additionally, more hip-hop figures have to follow up behind T.I., who condemned Kanye's "futuristic sambo" White House stunt, and Bronx rapper Mysonne, who is a vocal critic of Kanye West and an outspoken activist who recently protested against Brett Kavanaugh's Supreme Court confirmation. Without feeling consequences for their misdeeds, physically and intellectually violent men will continue to scorch the earth, chalk it up to "male energy," and deem themselves "superheroes," even as they're guilty of villainous actions.