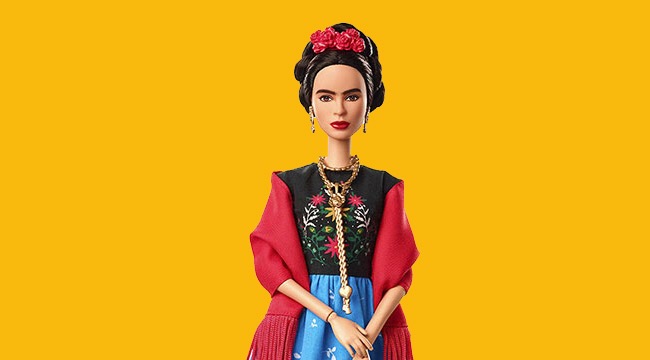 What do Amelia Earhart, Ava Duvernay, Frida Kahlo, and Gabby Douglas have in common? Besides being extremely successful, utterly inspirational, and hugely motivational women, they're all being immortalized by Mattel for International Women's Day as Barbie dolls.
It's safe to say Barbie is an iconic toy for little girls (and probably quite a few little boys), and many women keep their childhood collections intact through adulthood. Over the years, the brand has (perhaps a little too slowly) built a reputation for wanting to keep pace with our changing ideas of womanhood. They've moved away from bikini babes and housewives and toward doctors and notable politicians.
Now, after surveying 8,000 mothers who expressed concern about the role models their daughters were exposed to, the toy company decided to introduce 17 new dolls based off of real life, inspiring women.
The dolls celebrate women in entertainment, sports, and professional fields in two separate series: "Inspiring Women," based on historical figures, and new additions to its "Shero" line of dolls named for inspirational contemporary women. "Inspiring Women" dolls come with educational information about the contributions each woman made to society, and "Shero" dolls highlight real women who have broken boundaries in their fields. Both lines reflect what Barbie calls the "highest honor" of creating a "one-of-a-kind doll made in a real woman's likeness."
Keeping with the international theme, the new Barbies honor women from all over the world, including United States, Australia, United Kingdom, Turkey, France, China, Germany, Mexico, Poland, Italy, and Spain. Dolls will start to roll out to stores nationwide soon but are currently for pre-sale now on the Barbie Web site.
In the past, Barbie has been criticized for creating dolls that lack diversity in body shape and ethnicity, and the company has been accused of setting a bad example for girls and women, but these dolls are a welcome and refreshing reminder from the company that women can be whatever they want, no matter where they come from.