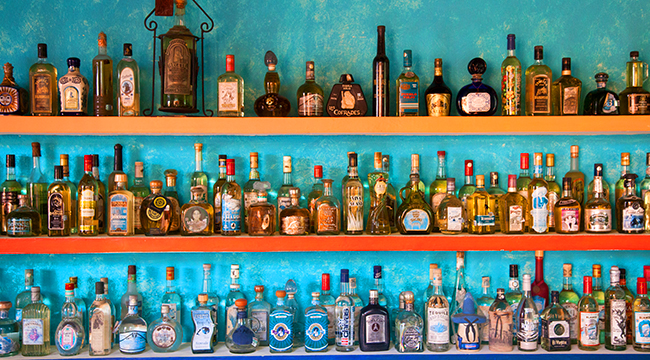 There are certain signifiers that spring is in full swing. The days get longer, flowers bloom, birds sing, and bar patios come back to life with happy people sipping fresh, spring cocktails in the sunshine. And the warmer weather of spring calls for lighter spirits in drinks — like mezcal, gin, vodka, rum, and of course, tequila.
The vegetal flavor of Mexico's native spirit is the perfect compliment to the citrus-based cocktails that dominate spring menus. Really, both tequila and mezcal are great spirits to stock up on for spring mixing. But this week, we turn our thoughts to the more famous of the duo: tequila.
There are many incredible, high-end tequilas you could turn to this season, but in case you're a little cash-strapped from all the warming up you had to do during winter (by treating yourself to the top-shelf stuff), we asked bartenders to tell us the best bargains to be had in the world of tequila. Check out their favorites below.
Tequila Cazadores Blanco
https://www.instagram.com/p/BslwPtNjIQf/
Rael Petit, beverage director at The Williamsburg Hotel in New York City
"Tequila Cazadores Blanco is a great premium house tequila option for your bar because it's high quality liquid at an affordable price. The Blanco also has an aroma of mint and dill with a finish of coconut, which allows me to use it in a multitude of my Mediterranean-style cocktails."

Altos Blanco Tequila
Nahm Kim, beverage director at Sunda in Chicago
"Los Altos Blanco has been my go-to for the last year or so. Bright with citrus, agave, and some light pineapple notes. It's very nicely balanced and stands up to being drunk neat, on the rocks with a fresh slice of lime, or thrown into any number of cocktails. A bottle of tequila doesn't usually sit around too long at parties and this one works great as a crowd pleaser that doesn't kill your wallet."
Cimarron Blanco
Bryson Downham, beverage director at Toups South in New Orleans
"Cimarron Blanco kills it every time. It works great in a multitude of applications. It has the grassy vegetal profile that I prize for cocktails, while maintaining a robust toasty agave depth for shooting or sipping straight."
El Jimador Reposado
Jack Keane, general manager at Sundry and Vice in Cincinnati
"What's my go-to bang-for-your-buck tequila? For my money, I am an el Jimador Reposado man. It's perfect for shots, it's perfect for cocktails, it's just, ya know, perfect."
Tapatio Blanco 110 Tequila
Gavin Koehn, bar manager at Otoño in Los Angeles
"What's my favorite bargain tequila? It's Tapatio 110 proof. I'm drinking some right now, and it's definitely got some bang."
Don Julio Blanco
Benjamin Rouse, bar lead at Henley in Nashville
"I prefer Don Julio Blanco. This tequila, for me, is the essence of agave. It's citrus forward with that cool, agave, earthy sweetness on the finish."
Herradura Ultra
https://www.instagram.com/p/BEzR-3ek6rv/
Andrew Holmes, director of food & beverage at The Keep in Columbus
"Herradura Ultra: it is a blend of 25-month-old añejo with its premium Selección Suprema extra añejo, which has been aged for up to 49 months in ex-bourbon barrels. However, after adding a subtle hint of pure agave nectar to this combination, the distillery strips out the color using a proprietary method of filtration. The result is a clear, 80-proof añejo with top notes of citrus and vanilla overlaying a complex tapestry of caramel, dried fruit, and almonds. Best straight up on a beach."
Espolòn Blanco
Ivy Mix, bartender at Leyenda in Brooklyn
"I honestly think Espolòn is a really good bang for your buck tequila. And the label looks stellar on the back bar."
Casamigos Blanco
Maggie Dandrea, bartender at Hot Tin in New Orleans
"My go-to tequila is Casamigos Blanco. And I go to it a lot! It's great for shots with friends, lends to a near perfect margarita and can be enjoyed for its creamy vanilla and sweet agave flavors all on its own."
Corralejo Blanco
Sally Gatza, head bartender at L.A. Jackson Bar in Nashville
"Corralejo Blanco for cocktails. It has a really cool chocolate note to it that reads really clean and smooth. Tapatio Reposado tequila is super green tasting and really interesting and delicious on its own."
Viva Tequila
Nina Scalera bartender at Moxy Times Square in New York City
"Personally, I love Viva Tequila. It's extremely reasonably priced. They also donate 10% of their bottle proceeds to the ASPCA, which I think is an incredible added value."
San Matias Extra Anejo
Kevin Zadoyan, owner of Te'Kila in Los Angeles
"San Matias Extra Anejo. You're not going to find an entry-level, and amazing, extra anejo at under $50. This varietal competes with some of the top extra-anejos in the marketplace and holds its own. It's also priced competitively enough to include in cocktails. "