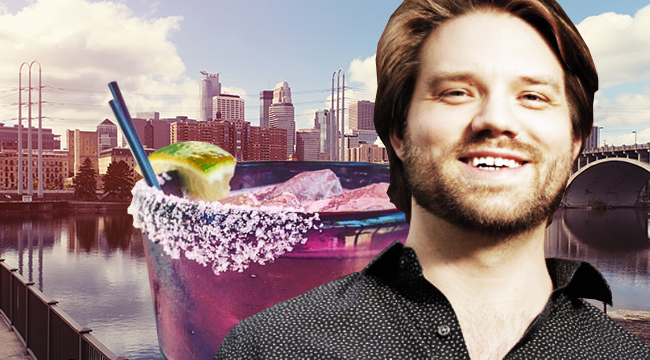 You know how to EAT THIS CITY. With top chefs as tour guides, you've learned how to scout out hot spots for breakfast and brunch, where to go for a delicious date night, and how to feast like a local liege in the cities you love. But where do you wash it all down? Do you know how to find the best brewpub? Got a bead on who makes the meanest of bloody marys and the most sparkling of mimosas? What bars transport you?
You're about to find out. Welcome to DRINK THIS CITY!
This week we're in Minneapolis with Ian Lowther, the beverage director for the Red Cow and Red Rabbit restaurants. Both eateries pride themselves on serving fresh, craft cocktails and providing excellent, unparalleled, and personalized service. Visitors to the Red Cow and Red Rabbit bars can expect to enjoy a homey, warm atmosphere, and a beautifully prepared beverage.
Not sure what to order? Pick up a copy of Red Rabbit's Social Lubricants Volume III libations book for a deep dive into the bar's offerings, or ask your knowledgeable bartender for a suggestion. You won't be disappointed.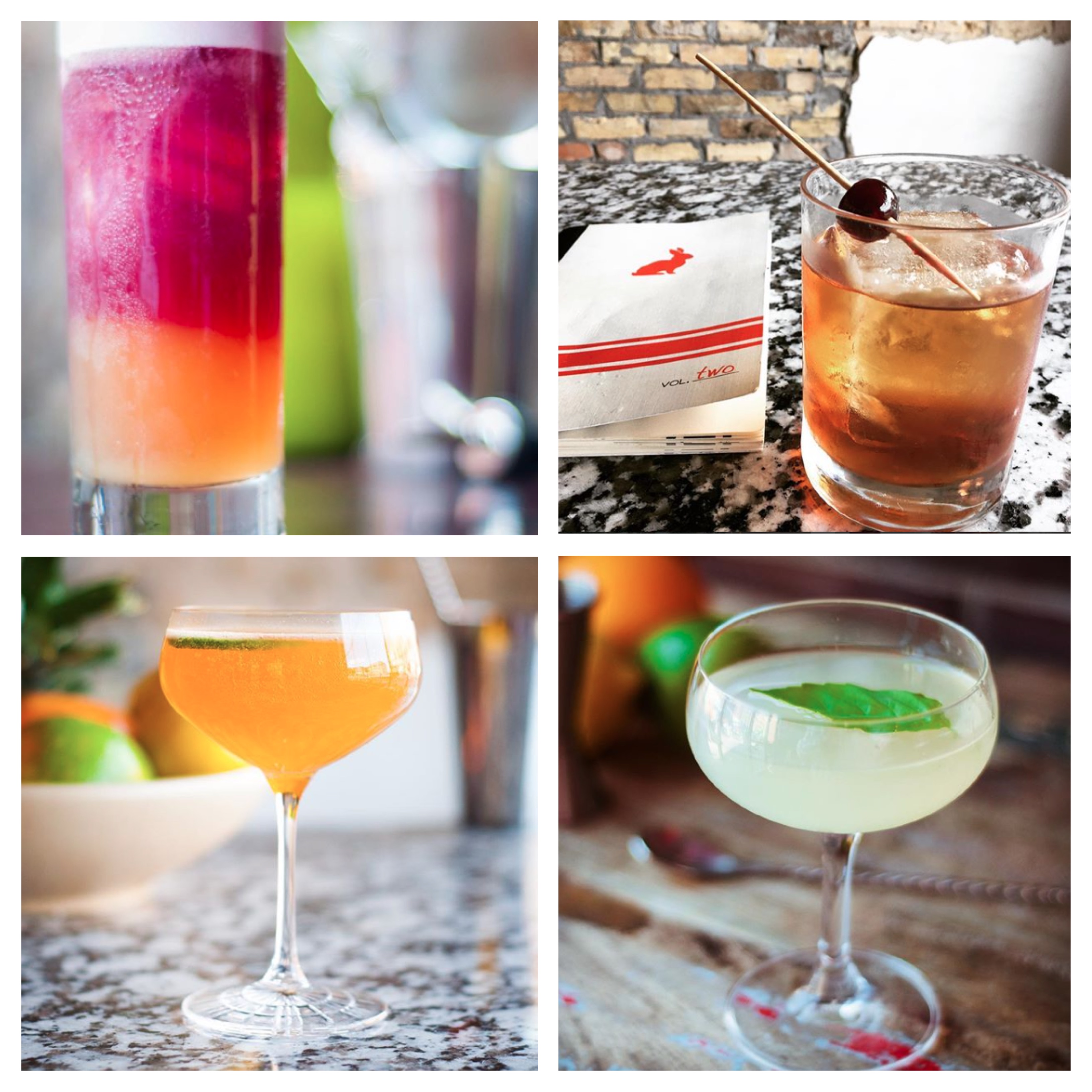 Ready for a cocktail? Let's check out Ian's ten favorite drinking hot spots in Minneapolis!
BRUNCH COCKTAIL OR HAIR OF THE DOG
Canadian Cold Press at Saint Dinette
Canadian Cold Press from the Saint Dinette in the Lowertown neighborhood in St. Paul, Minnesota.
A short poem is stamped into the sidewalk outside the front door of this Lowertown staple: "A dog on a walk is like a person in love. You can't tell them it's the same old world."
That's exactly how you feel coming out of Saint Dinette, whether you're recovering from a rowdy night or having a quiet brunch with your favorite people. The Canadian Cold Press is rich with maple syrup and a bitter finish from a historic Italian amaro.
CLASSIC COCKTAIL
The Manhattan from 510 Lounge in the Loring Park neighborhood in Minneapolis, Minnesota.
If the best part of a classic cocktail is its beautiful simplicity, the Manhattan cocktail at 510 Lounge does it right. Served up in a simple coupe, ungarnished, without frills, it speaks to what most versions aspire to be: simple enough you might pass it by, but delicious enough to stop the moment in time.
CRAFT COCKTAIL
The Barcelona from Aster Cafe in the St, Anthony Main neighborhood in Minneapolis, Minnesota. Cards on the table: I used to work for the GM of the Aster for years and we had the Barcelona on every cocktail menu we ever worked on. I put a version of it on my first cocktail menu as tribute. It stretched my vision of how refreshing an herbal cocktail can be. Essentially a Margarita with lemon juice subbed for lime and Green Chartreuse for orange liqueur. Served up with a smoked sea salt rim, it is — to this day — the only cocktail I have liked with a salt rim.
It is truly inspired.
PUNCH
The Booze Slushie at Hola Arepa, located in the Lyndale neighborhood in Minneapolis, Minnesota. Slushie machines are ridiculous. Anyone can toss a bunch of ingredients in it and if you balance sweet with sour you'll have a pretty decent cocktail. The team over at Hola uses brilliant ingredients (like cinnamon grenadine) to take their slushies to the next level. Get one before dinner, after dinner, as a nightcap, in the midst of a wild night. No matter what, the cocktail fits all occasions.
DIVE BAR
Palmer's Bar in the Cedar-Riverside neighborhood in Minneapolis, Minnesota. The best dive bar ever! Bell's Two Hearted, unnecessarily large glasses of Green Chartreuse, and conversation with people from all around the world. The bar breathes kindness if you find it in the right mood.
Whether your friends get laid or arrested afterward (both have happened), a Bell's eve always turns out to be a pretty decent night.
PUB, TAVERN, OR BREWERY
Mackenzie Pub in the Theater District in Minneapolis, Minnesota. I worked next door to Mackenzie for four years and didn't appreciate it until I no longer worked within walking distance. With possibly the most underrated beer list in the city, an amazing crew (once you get to know them) and, after 10 p.m., every third industry person in Minneapolis. Once you find your seat at the bar, it's yours forever.
HOTEL BAR
The Constantine located in Hotel Ivy in downtown Minneapolis, Minnesota. Constantine is the least hotel-y feeling bar I have ever been to. The first time I walked in and saw the host stand (an old school pulpit from some gothic nightmare) I knew I was in the right place. In addition to having incredible drinks, the bar hosts one of the most consistently fun local events, a monthly charity fundraiser featuring female bartenders who create original menus.
When things really get going, the room fills with industry folk and love.
HOT DRINK
The Boiler Bar from Marvel Bar
The Boiler Bar from Marvel Bar in the North Loop neighborhood in Minneapolis, Minnesota. You would think being 83 percent winter, Minnesota menus would be chock full of hot drinks, but they can be few and far between. Maybe it's because we are a passive aggressive bunch, and "winter rubs us the wrong way." One of the best cocktail bars in the city, however, fully embraces the idea every January. When winter is at its peak, Marvel features the Boiler Bar menu of piping hot libations. Walk into the basement, warm up and forget that outside the world is frozen tundra.
THEMED BAR OR IMMERSIVE EXPERIENCE
The Upstairs Bar at Stanley's Northeast Bar Room
The Upstairs Bar at Stanley's Northeast Bar Room in the Northeast neighborhood in Minneapolis, Minnesota. At this newcomer on the scene that's already making a mark, the servers have received theater training and are in character the entire experience. Enter through a photo booth, walk upstairs and get a hug from the host. With well-executed cocktails and a Captain's List featuring vintage booze, this bar is like nothing else in MSP.

COCKTAIL MADE BY A FRIEND
Dry Vermouth Gimlet at The Bachelor Farmer
Dry Vermouth Gimlet made by Jon Palmer from The Bachelor Farmer, located in the NorthLoop neighborhood in Minneapolis, Minnesota. This bar is near and dear to my heart. While it boasts James Beard award-winning food and a nationally lauded cocktail bar in the basement, my favorite place to drink in the entire city is at The Bachelor Farmer's bar. The cocktails are delicious and the Dry Vermouth Gimlet is something I have stolen and made for many guests. Most importantly, nowhere else have I experienced such genuine hospitality. The bartending staff has every tool that every excellent bartender can learn and possess the ability to offer you something you didn't know you needed. You may not fully know what it is you need, but you feel it when you're there.
Thank you Ian for taking us on a tour of Minneapolis' best bars!
Like what you read? Check out Drink This City: Honolulu, Drink This City: Detroit, Drink This City: Chicago, Drink This City: New York and Drink This City: Nashville.
Join us next week for more DRINK THIS CITY! Meanwhile, hit us in the comments — where should we travel next?