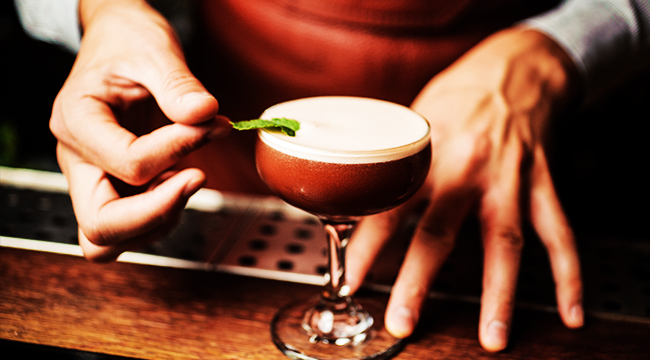 I don't have to tell you that summer is winding down. You already know that. If you're a teacher (or some other job where you're lucky enough to have summers free), you're probably dreading these last few weeks, because before you know it you'll be back to the proverbial grind. Your carefree, stress-less summer is almost over. No more margaritas while you float around a pool on a giant, inflated unicorn. It's back to work for you.
BUT DON'T DESPAIR! It's not over just yet. There's still time to squeeze the most out of the summer days while you still can. And by squeeze, we are referencing you getting your drink on. And by getting your drink on, we don't mean bargain beers, warm wine-coolers, and shots of Stoli. We mean cool, sexy, creative, delicious cocktails.
But, you have no background in mixology so how can you enjoy a delicious cocktail without visiting your favorite cocktail bar? That's where social media comes into play. Take a stroll through Instagram and you'll be treated to some of the most influential and talented people in the world (as well as some of the least). This includes bartenders. Many of the most popular bartenders pouring drinks right now are on Instagram posting photos and videos of their creations and sometimes even recipes. Check out some of our favorites below.
Jim Meehan
It's hard to have a conversation about bartenders without bringing up Jim Meehan. He's a bartender, journalist, and author of The PDT Cocktail Book and Meehan's Bartender Manual. His Instagram is a mix of friends, family, drinks, and his travels.
Ivy Mix
One of the most influential bartenders in the world, Ivy Mix is also the co-founder of Speedrack — a speed bartending competition for women. If you follow her on Instagram, you'll be treated to cocktails, travel, and dogs. Who doesn't love dogs?
Leo Robitschek
As managing partner and food and beverage director of the Nomad Hotel in New York City, Robitschek has made a name for himself in the bartending world and it shows in his Instagram — as it's littered with booze and sunsets.
Tenzin Samdo
If you only follow one bartender on this list, make it Tenzin Samdo. The Boston-area bartender and bar director at Café Artscience's Instagram is a mix of science and incredibly beautiful cocktail images.
Beau du Bois
Bartender at The Corner Door in Los Angeles, Beau du Bois is known for his innovative style and creative cocktails. His Instagram features his unique style and some of the most mouth-watering cocktails you'll ever see online.
Eryn Reece
Eryn Reece is the head bartender at New York's Banzabar. Before that, she worked with some of the most well-known bartenders in the world, including: Tony Abou-Ganim. Her Instagram is a mix of cocktailing, traveling, and her cats.
Chantal Tseng
Bartender at DC's The Reading Room and a certified sherry educator, Chantal Tseng is a multi-talented mixologist. Her Instagram is chocked full of wine, cocktails, and fresh flowers.
Aaron Polsky
Aaron Polsky, bar manager at Harvard & Stone, might be the most rock and roll bartender currently working and his Instagram mirrors that. It features videos of him shaking cocktails, mixed drinks, and images that could easily be the album cover to your favorite indie rock band.