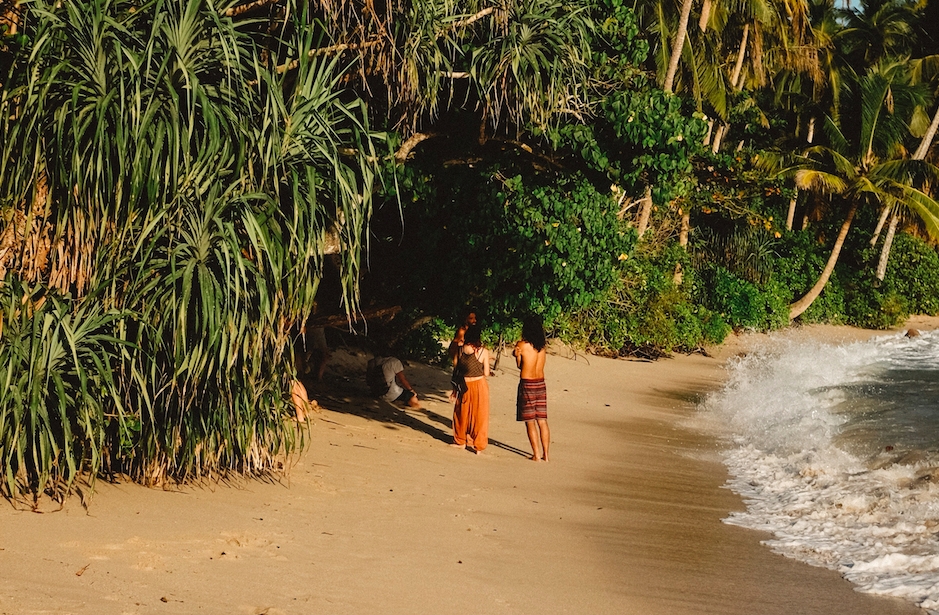 A beach vacation is always a good idea. Winter, summer… whenever. It's always beach season somewhere. Beaches also have the advantage of being fairly inexpensive places to spend some time. Surf hostels tend to run cheap. Beers are often served out of coolers and never set you back more than a dollar or two. The eats are generally harvested from the sea, only steps away from pop up kitchens. And swimming is free. It's the best of all worlds.
With summer rapidly approaching and a lot of vacation time on the horizon (hopefully), we thought we'd put together a list of eight of our favorite beach experiences that won't break the bank. To keep costs low, we focused in on spots around the Americas with a Pacific Island and European destination thrown in for good measure thanks to budget airlines and some killer flight deals.
If the travel bug is starting it itch, it might be time to scratch it with a trip to one of these beaches. We've added some practical budget-minded options to get you in and around as well. Think hostels and buses, not five-star hotels and private cars.
VENICE BEACH, CALIFORNIA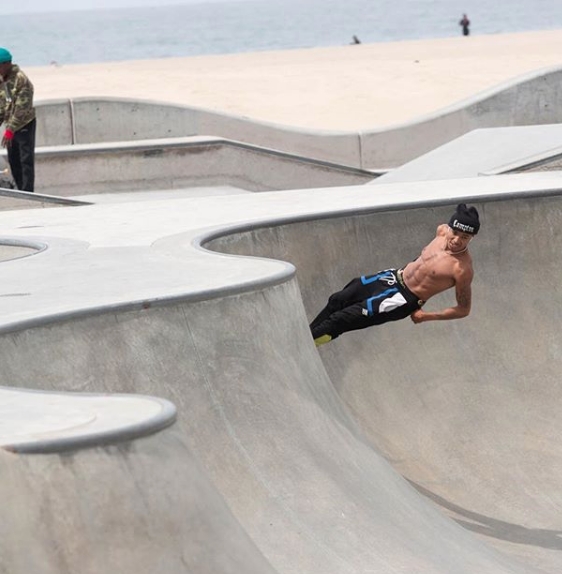 California has a long, long list of great beaches and beachside towns. Hell, L.A. alone has 15 beaches. But for our money, Venice is the coolest, youngest, and most quintessentially "Cali" of them all.
The beach is massive, funky, touristy yet deeply local. It boasts a rad skate park and is always bustling with folks from every walk of life. Going to L.A. and skipping Venice is a pretty big fail.
How To Get There:

JetBlue, Spirit, Frontier, and Southwest are always running sales at one point or another throughout the year. Flights to LAX are generally going to cost $50-$100 each way west of the Mississippi and $100-$150 each way from the East Coast. From the airport, take the Number 3 bus straight to the beach. It'll take about 40 minutes and set you back two bucks.
Where To Sleep: The Venice Beach Hostel
Finding a cheap bed in Venice isn't a super easy task. There are a lot of perfectly decent mid-range hotel beds for $100-ish per night. Your best bet for budget prices is at the Venice Beach Hostel. Beds are $30 per night, which is a steal in the Los Angeles area. Staying here will also give you a chance to self-cater and save a little extra cash.
What To Eat & Drink: Hinano Cafe
You don't always have to self-cater though. Hinano Cafe is an old-school shack right on the beach. This place is a straight-up throwback to the late 1960s dives. Look, there are a million places to grab street meat, greasy slices of pizza, and sloppy burgers around Venice Beach. There's also a long list of high-end options.
Hinano Cafe is no-frills, has great happy hour specials on beers and (legit good) burgers, and always maintains a chill AF vibe.
MAHAHUAL, MEXICO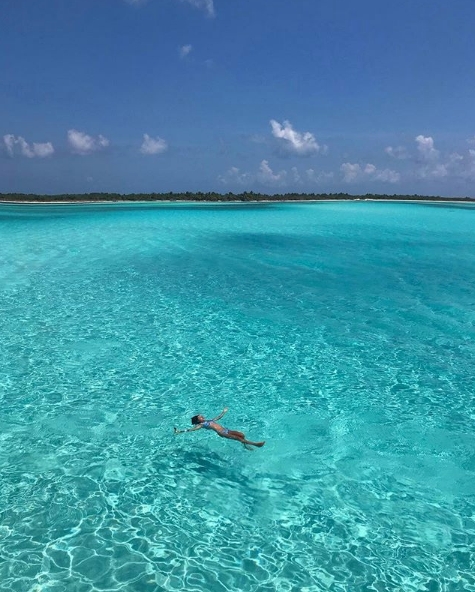 The Mayan Riveria is popping off right now. Spots like Tulum dominate the conversation alongside classic destinations like Cozumel and Cancun. The great thing about the region is that if you're willing to go a little further afield, you can have that idyllic paradise all to yourself (for the most part).
Mahahual is the best example of a big pay off for the extra effort. Crystal clear waters meet white sand beaches peppered with seaside huts slinging fresh seafood and cold beer. The beds are half the price as spots further up the beach near Tulum. This is the place the travelers in the know head to.
How To Get There: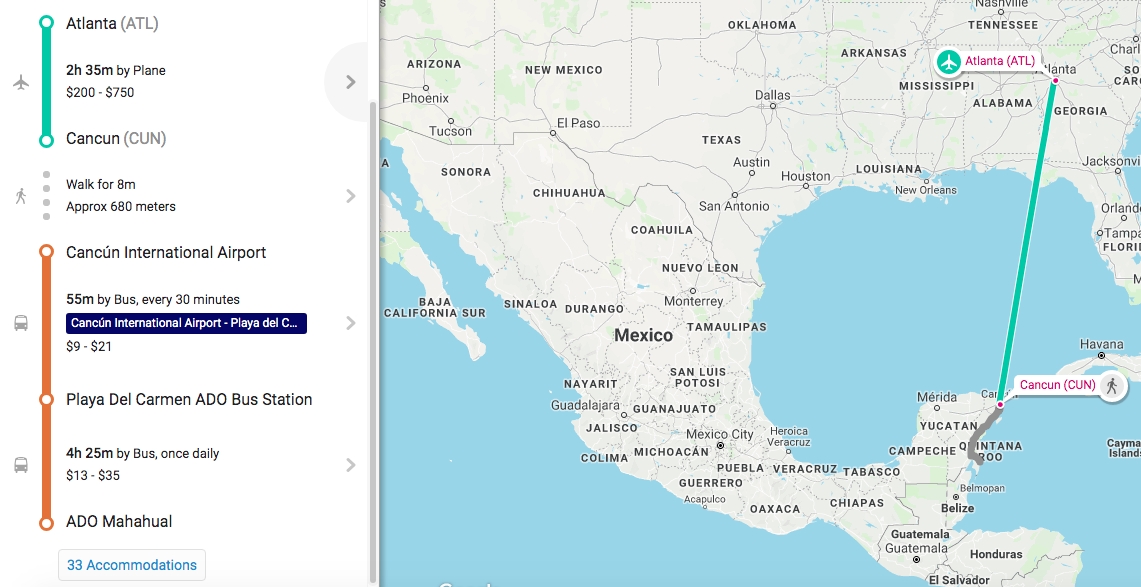 This is not a short trip. If you're going by public transportation, you'll need to fly into Cancun. Prices for one-way flights tend to cost $200 if you shop around and are flexible with your dates.
From there, you'll need to spend about $10 to take a one-hour bus to Playa del Carmen. Then, you'll need to ride another bus for four-and-a-half hours down the coast. That bus will cost around $15. Trust us, it's worth the five-hour-plus bus ride.
Where To Sleep: Bambu Hostel
The options are fairly limited throughout the beachside village. The best bargain is the Bambu Hostel where you can score a bed in a dorm for $9 per night.
What To Eat & Drink: Bochorno
There are plenty of beachside huts selling fresh prawns, fried fish, and ceviche alongside ice cold $1 beers. For our money, seek out the Bochorno pizza truck. These guys make pizza magic happen almost daily from a clay oven mounted on the back of an old white pickup.
HOLLYWOOD BEACH, FLORIDA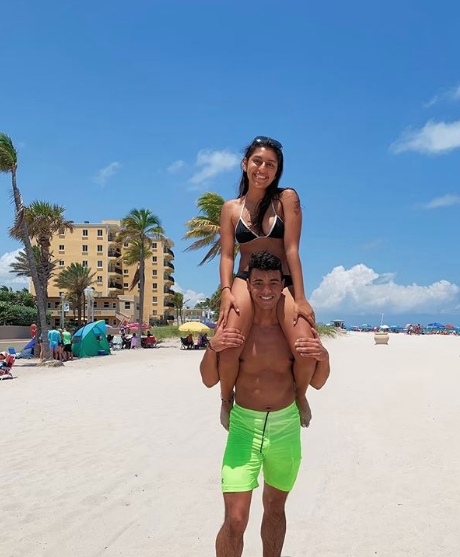 Florida is an easy pick for a great beach holiday. While we can certainly recommend Miami for beach-focused good times, it can run expensive there.
To cut those costs considerably, hit up Hollywood Beach just south of Fort Lauderdale. The beach is a massively long stretch of sand with hotels, restaurants, bars, clubs, and just about everything you could want from a beachside resort.
How To Get There: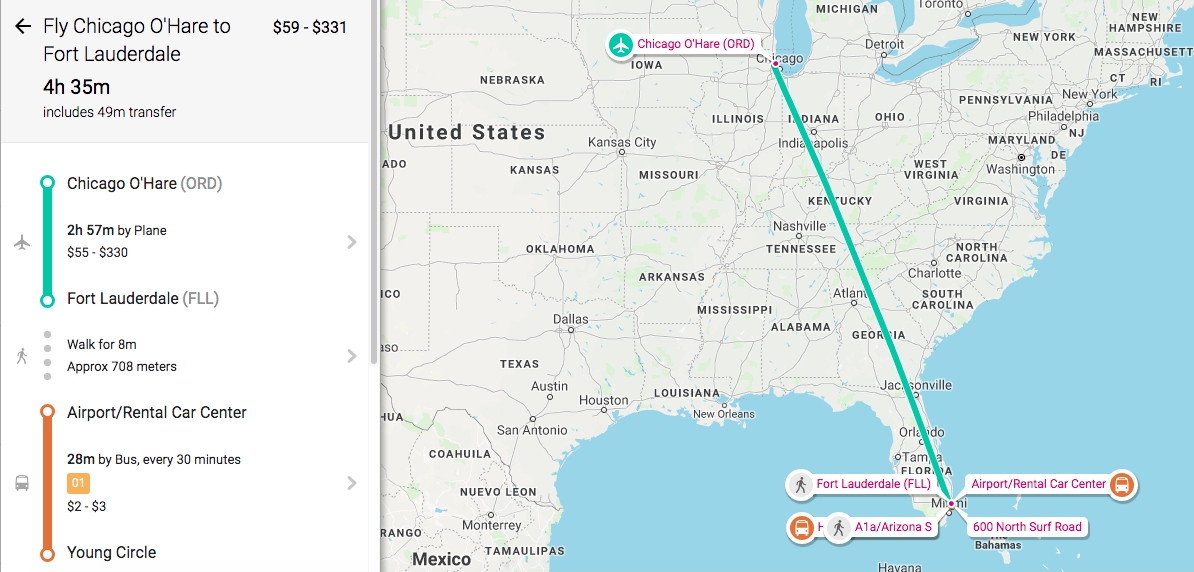 Getting to Fort Lauderdale is the easy part. Flights from all over America range from $50 to $150 each way pretty much year round if shop it. You can jump on the Number One bus at the airport and be in Hollywood in 15 minutes flat. Then jump on the bus Number Four to get to the beach in ten minutes.
Where To Sleep: Southwinds Inn
There aren't a huge amount of hostel options around Hollywood Beach. You can snag a nice room right on the beach at Southwinds Inn for $75 per night. Otherwise, expect to pay between $50-$100 per night for an Airbnb.
What To Eat & Drink: Yellow Green Farmers Market
If you do go the Airbnb route, hit up Yellow Green Farmers Market and self-cater. You can score a fantastic assortment of local products and save some serious cash on dining and drinking out the whole time. Make a picnic basket and hit that beach.
EL ZONTE, EL SALVADOR
El Zonte is a beach bum's paradise. It's also basically a surfer colony that the tourists still haven't quite found (sorry for blowing up your spot surf-bros). The black sand beach, surf break, dirt roads, and slow pace of life make this place easy to fall in love with. El Zonte has another advantage of being only 45 minutes from San Salvador or the airport. That's a big win.
How To Get There:

Flights to El Salvador are easily the most expensive on the list. Expect to pay $250-$300 each way. Once you're in-country, prices drop off significantly. Buses will set you back a buck or two. If you're in a hurry, shuttle buses and taxis tend to clock in at around $20 to $30 to get to the beach.
Where To Sleep: Canegue Surf Hostal
Crash with the surfers. You can grab a bed for $20 per night at Canegue Surf Hostal. Ask for local surfer Zancudo when you get there. He'll hook you up with a bed, beer, board, and even a few lessons if need be.
What To Eat & Drink: Pupuseria Geisy
The pupuseria is where you eat in El Salvador if you want super local, cheap, and filling. Soft cornbread is stuffed with beans, cheese, and local herbs then grilled to crispy perfection. A tangy slaw is added on top with a mildly spicy tomato-based sauce. You will eat a lot of these when you're there. Geisy is a short walk from Canegue. It'll cost you a dollar or two for a big size.
https://www.instagram.com/p/BwBQDfajmWh/

LA BARCELONETA, SPAIN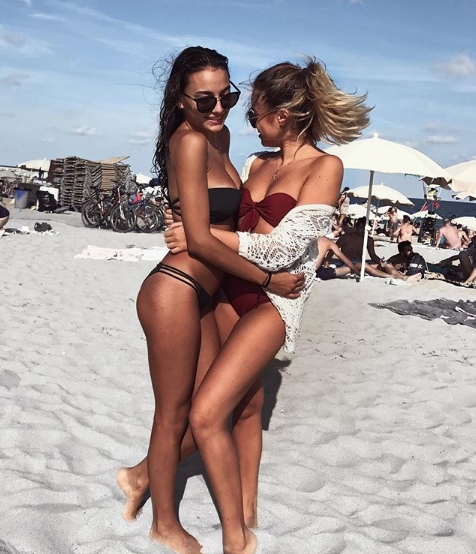 Barcelona feels like a long way to go to get in some beach time. Yet, with the advent of budget carriers like Norwegian, getting to Barcelona can be as cheap or cheaper than hitting Mexico or the Caribbean.
Once you're there, you'll have access to five miles of sandy beaches full of bikini-clad Europeans, some of the best food in the world, and all the wine you can drink. Plus, you'll have access to a whole city of architectural and culinary greatness mere steps away.
How To Get There:

Norwegian is a great bet for scoring a flight from the U.S. for anywhere from $99 to $200 each way. Once you're in Barcelona, you can take public transportation everywhere you need to go with the underground Metro or above ground buses for two or three dollars each trip.
Where To Sleep: Unite Hostel Barcelona
Barcelona is going through a bit of a tourist housing crisis right now. The best bet would be to avoid house-sharing and stay in properly registered accommodations. Unite Hostel Barcelona is right next to the beach. Weekend nights can turn into a party. And it's only $35 per bed per night.
What To Eat & Drink: Mercado de La Boqueria
There are too many great eateries and bars to list here. To get a sense of the food, hit up Mercado de La Boqueria off La Rambla first. Stroll around. Sample everything. Take some great food to the beach. You can also buy ice cold beers for one Euro ($1.15) from street vendors and beach vendors pretty much all over the center of the city, especially at night.
PLAYA CARRILLO, COSTA RICA
Costa Rica has been a killer tourism destination for decades now. Where El Salvador is still raw and seemingly fresh, Costa Rica is dialed in and ready for you to land, drive to the beach, and have a great time.
There endless beach options in CR, with two ocean coastlines on the Pacific and Atlantic. One of our favorite spots is the lesser-known Playa Carrillo. The long beach is has a great surf break, a very local vibe, and plenty of space. The beach hasn't been polluted with beachside huts or hotels. All of that is on the hillsides above the beach, leaving this place very pristine.
How To Get There: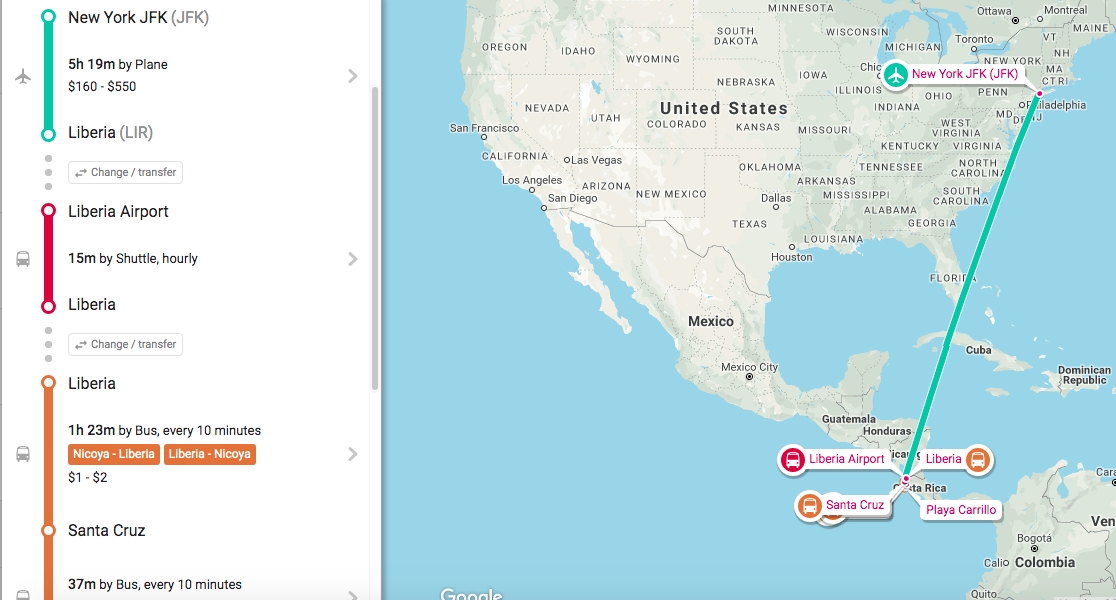 You'll need to fly into Costa Rica's northern airport, Liberia. Prices tend to range from $150 to $300 each way (from the East Coast) depending on the season and how deep you go when you shop around. From there, you can catch a bus to Santa Cruz and the Carrillo. It'll take around two hours and set you back a few bucks.
Where To Sleep: La Tropicale
There are a fair amount of higher-end places to lay your head in Carrillo. You can easily spend $100 a night for a luxe room with a view. La Tropicale is one of the smaller guesthouses on the hill overlooking the south end of the beach (still walking distance). Expect to pay $40 per night for a room.
What To Eat & Drink: Los Delfines
Los Delfines is a little family-run joint not far from La Tropicale. It's great for fried fish or ceviche for a few bucks. Beers are a buck or two. It's easy local fare that'll fill you up for a fiver.
WAIKIKI BEACH, HAWAI'I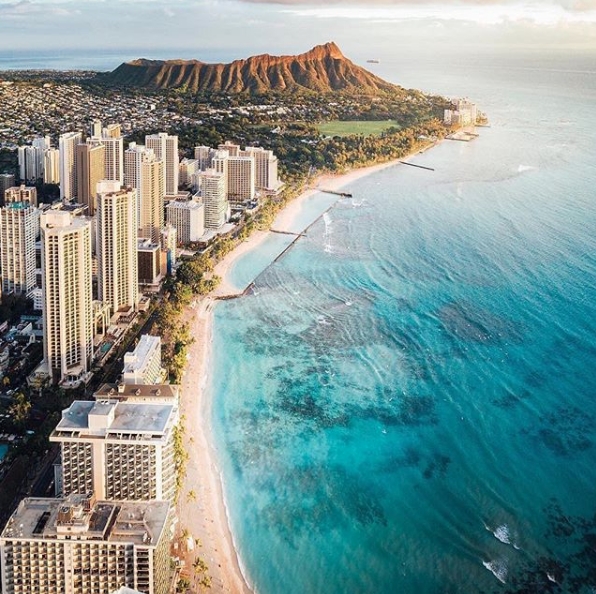 Hawai'i doesn't feel like a budget holiday option, but we'd argue that it has that potential. You can go all-in and break the bank or you can pull in the reins and live on a shoestring. It's really up to you.
Waikiki is right in Honolulu, which gives you a lot of options for saving money by staying a little off the beach and easily self-catering out of grocery stores. Oh, and it's freakin' paradise. We mean, look at the photo up there. Are you telling us you don't want to spend a week there?
How To Get There:


Prices have been dropping thanks to Southwest starting non-stop flights from the West Coast. While scoring one of those flights for $100 is going to be very rare, you can still snag flights for $150 to $300 each way fairly regularly from the West Side.
Once there, you can take the Number 19 or 20 bus straight from the airport to the beach. It'll take around 40 minutes and set you back $3.
Where To Sleep: Waikiki Beachside Hostel
If you want to be right on the beach, we recommend hitting up Waikiki Beachside Hostel. You can grab a bed in a dorm for $35 per night. This place is one block away from the surf.
What To Eat & Drink: Waikiki Beachside Kitchen
Spam and egg breakie for four bucks and change on the beach…what more needs to be said?
PLAYA MADERAS SAN JUAN DEL SUR, NICARAGUA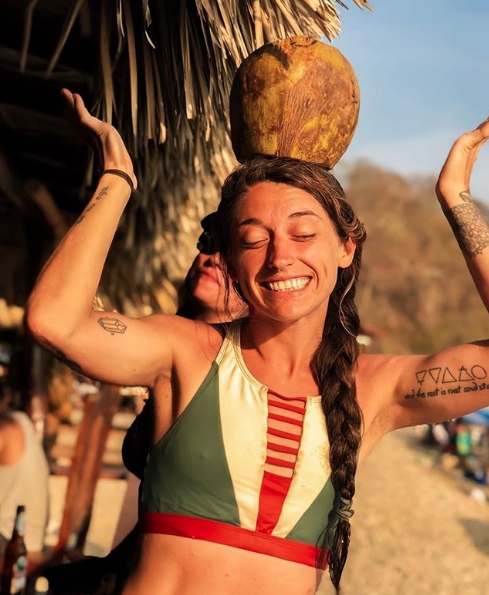 Nicaragua has been blowing up the tourist scene for the last couple of years (with the exception of some recent political upheaval). The resorts haven't moved in yet, helping maintain the hippy-surfer-yoga vibe of the place. That's also helped this spot stay relatively inexpensive for wanderlusting sun-seekers.
Spots like Playa Maderas are accessible and offer pretty much every level of comfort to travelers. The real draw here is the killer beach scene, the hippy community of lost souls, and the surf breaks.
How To Get There: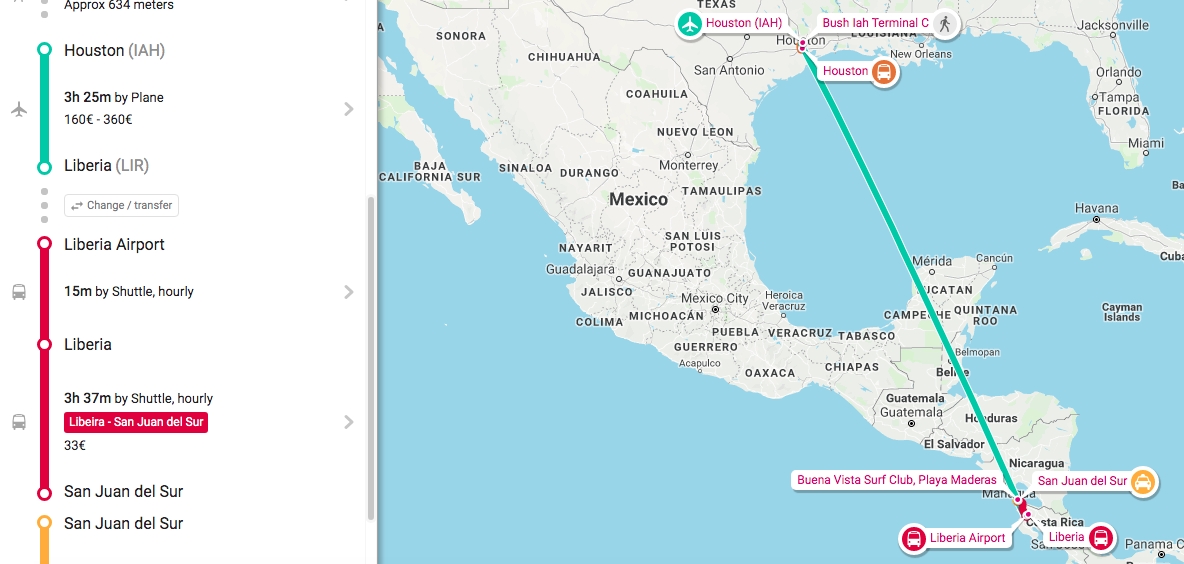 One-way flights are going to set you back around $150 to $300 depending on the season and how far north you live in the U.S. It's actually best to fly into Costa Rica's Liberia Airport and then take a bus up to Maderas. It's about a four-hour ride north and will cost around $40.
Where To Sleep: Selina Maderas
There are a lot of options to crash in Maderas. Spots like Selina Maderas are a little off the beach but only cost $9 per night per bed. When we say "a little off the beach," we mean a five-minute walk.
What To Eat & Drink: Bar Gaby
Eating and drinking in Maderas are pretty straight forward. You can grab a fresh seafood meal with super cold beers on the beach for $5-$7. Spots like Bar Gaby — a couple of minutes by foot from Selina Maderas — offer great specials on ceviches and fried fish every day for a fiver or less and beers for about a buck.