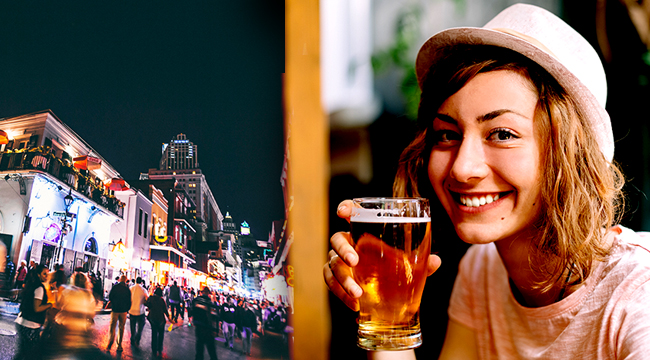 New Orleans has a reputation for great food and drink. The Big Easy is a food lover's paradise where a party is never far away. The bar scene is one of the most iconic in America and, of course, that means there's a lot of great beer to drink.
As with most major cities across America these days, NOLA has a lot of options when it comes to fresh, local beer. The city boasts a vibrant beer scene, with new ideas popping up next to stone-cold classics in breweries across the city. This guide is a gateway of sorts to get you into the scene. Use the ten spots below as your introduction to the awesome hotspots, rad brewers, and great beer.
AVENUE PUB
When you walk into Avenue Pub, you'll feel like you're at home. The bar exudes that rustic colonialist vibe that New Orleans is famous for. The staff here know their beer inside and out and are more than happy to chat about which ones you should taste.
The tap and bottle list is big with a capital B. There's a constant rotation of great brews that highlight the best of the best right now — from America to Europe and beyond. It's seriously impressive. You can spend hours just perusing the menu before you make a decision. Then you'll realize there's a whole other bar upstairs, with even more great beer on the menu. Pick a beer, order some Dumptruck fries, and settle in for a great night of drinking.

CRESCENT CITY BREWHOUSE
Crescent City Brewhouse is a part of New Orleans history. The brewpub sits right in the middle of the French Quarter in a 300-year-old building. They lean into the importance of the building's history, while also brewing up some great local suds.
The brewmasters started working in 1991 and marked the re-emergence of microbrewing in the city. Their pilsner and red stallion are signature beers that deserve your attention. The styles are very Germanic and work wonders against the humid New Orlean's nights. Order up a big ol' plate of raw oysters and one of their pilsners and you'll be in for a great night.
504 CRAFT BEER RESERVE
504 Craft Beer Reserve is part bottle shop, part tap room, and all awesome. The owners set out to create a place in NOLA where beer could be talked about, sampled, and, dare we say, worshipped. What they founded was one of the most unique beer experiences in the city.
The bottle and tap room are huge. There are 14 taps on rotation with the best from around the world. Then there's the bottle and can selection. Folks, it's massive. There are so many beers available here that it almost feels that if they don't have it probably doesn't exist. The best part (besides drinking beer while shopping for beer) is that you can mix and match. You aren't tethered to buying a six-pack. You can grab one of these, a few of those, and a little of that. It's fantastic.
JUNCTION
Junction is an essential New Orleans bar experience. The house that is now a two-story bar is the perfect place to call home for a day and night of NOLA revelry, with plenty of beer and great burgers served with heaps of fried pickle chips.
The beer taps tend to highlight local favorites from the craft brewing scene with a few heavy-hitters peppered in. The can and bottle list are outstanding, with a well-curated selection of the country's best beer. The inclusive and hip vibe of this joint draws you in. Then beer selection locks you in for a long drinking session filled with some of the best beer around.

BRIEUX CARRE
Brieux Carre is one of the more interesting breweries in New Orleans right now. A group of young friends came together to brew beer that excited them as much as their home city does. In the years since, they've proven adept at nailing the classics right alongside the headscratchers.
The brewery generally has 16 beers on tap. American lagers are poured next to hoppy saisons, dank IPAs, and tart goses. The selection is seriously deep for a single brewery and they knock it out of the park with great pours. Your best bet is to get a big flight with a nice array from their current tap list and then take a deep dive into the funkier stuff. It'll be awesome.
BLACK PENNY
A trip to New Orleans is incomplete without a trip to Black Penny. This bar is pure NOLA dive — dripping with history, character, and great beer. Even if beer isn't your jam, Black Penny is still a must for their ridiculous sandwiches, chill vibes, and cool kid scene.
Black Penny has a stellar selection of beer on tap and bottle list. They tend to get in beer that leans funky, fresh, dank, and sour. If you're looking for a beer that'll make you think, something to start convos with, this is a great place to start. Of course, there are plenty of easy lagers here too, in case you just want to get beer-drunk in the afternoon and have a rad time. It's all good.
COURTYARD BREWERY
Courtyard Brewery is where the party scenesters hang with the beer nerds. The brewery serves up some seriously delicious pours from their own fermenters right alongside a great food truck lineup. It also goes late.
There are 28 beers on tap. 18 are from Courtyard while the other ten taps rep great local breweries around NOLA and beyond. The outdoor beer garden — in front of the brewery — tends to fill up as the sun starts to set with beer lovers drinking some of the best suds in the city. Don't miss out on a plate of delicious BBQ and mac 'n cheese from one of those food trucks either.

FRERET BEER ROOM
Freret Beer Room is all about amazing beer being paired with food made specifically for that beer. The menu here is outstanding on its own. Add in the superbly curated beer list and you've got something purely New Orleans and very special.
The beer is carefully selected and represents the best local and regional breweries have to offer. That's supported by a selection of imported barrels from Europe that match the menu perfectly. This is the sort of place you'll be coming back to again and again. It's also the sort of place where lunch and beer can easily turn into "just one more, please."
Before you know it, the sun's down and you're a little tipsy, ready to order more food.
COCHON BUTCHER
Cochon Butcher is another iconic New Orleans institution. The food here is worth at least one or two drop-ins on every trip to Louisana. The meat-centric menu is pork-tastic and the sausages are not to be missed.
Then there's the beer. There are four taps that always rotate interesting local craft options. Then there are 15 bottles that rep local masterpieces, Southern brewers, and a few national delights. It's a great selection that pairs wonderfully with the over-indulgent food. Order up a housemade corndog with funky sour beer and settle in.
PARLEAUX BEER LAB
Parleaux Beer Lab is one of the most innovative breweries in New Orleans right now. The brewers are committed to finding new ideas and flavors in beer with wild imaginations and a deep love of the craft of brewing. The scene is very forward-thinking, inclusive, and a great time for every level of beer lover.
There are 12 beers on tap here. They range from hoppy refreshers to sour mind-melters to local takes on classic styles. Their Philosopher's Stone Czech dark lager stands out with bright freshness. It'll have you longing for another the next day and the next. Luckily, you can take some home with you as they have a nice, short bottle list of their classic brews.