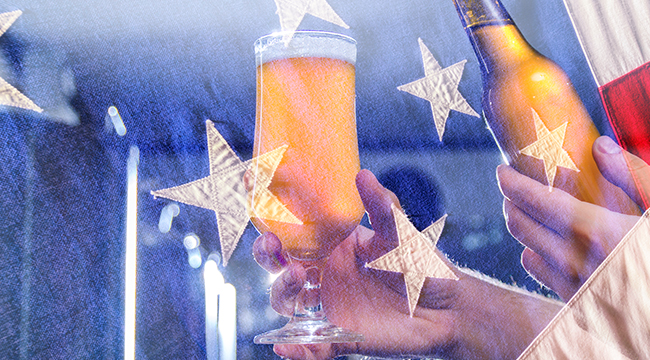 We all love Memorial Day, the unofficial start of summer, but that holiday has long receded in our rearview. Today we've arrived at summer's other bookend: Labor Day. The less enthusiastic cousin of Memorial Day is a holiday filled with many of the same activities — which we embark on with a little less excitement, as we're all aware that chilly weather, school, and some middle manager calling this season of work "crunch time" are right around the corner.
For this one glimmering weekend, let's not think about the impending fall days ahead. Let's go out big and savor every second. It's still summer, dammit. We're going to grill, play yard games, and enjoy our fair share of beer.
To get the most out of this long weekend, we asked some of our favorite bartenders to tell us their go-to beers for Labor Day.
Victory Prima Pils
Sarah LM Mengoni, bartender at Double Take in Los Angeles
Victory Prima Pils. This beer is light, crisp and easy to drink all day, while still providing lovely flavor. On a day the celebrates workers and their rights, what better bottle to hold in your hand than one that proclaims "Victory"?

Deschutes Da Shootz
Melissa Carroll, bar manager at Fisk & Co. in Chicago
Deschutes 'Da Shootz' Pilsner with its lightly toasted, hint of citrus flavor is ideal for kicking back a couple either inside with a movie or outside in the sun. It is so incredibly versatile in how well it pairs with food and any form of fun. Not to mention the sleek packaging is guaranteed to impress any group of friends you might be enjoying them with.
Steigl Grapefruit Radler
Hilary Chadwick, director of food & beverage at Viviane in Beverly Hills, California
As the unofficial last day of summer, I like to keep it light with a Steigl Grapefruit Radler. Super refreshing, crisp, and low ABV.
Founders Solid Gold
Chris Heinrich, head bartender at Tre Rivali in Milwaukee
If you're going to be spending the day cooking out with family or friends — as you should, you deserve it! — you're going to want something sessionable and not over-burdensome on the palate. This is Founder's Solid Gold. It's just a good, classic style American Lager, but done right. Done very right.
Modern Times Ice
Jessica Stewart, bar manager at Fort Oak in San Diego
Hot summer holidays call for light-bodied and bubbly. I'm a fan of Modern Times Ice (local), but I wouldn't turn down a classic pilsner or lager that are more widely available.

Rueben's Gose
Adam Christl, Beer Director at Shaker + Spear in Seattle
Really excited about light and tart beers for Labor Day. Reuben's traditional Gose or Kulshan's Raspberry Gose are easy drinking, low ABV, and refreshing to day drink in the sun or on the beach.
Golden Road Wolf Pup
Gabrielle Ricord, bartender at Outpost in Goleta, California
The best Labor Day beer would have to be Golden Road Wolf Pup Session IPA. Super easy drinking and light, but with awesome flavor and presence of hops. Now you can have quality and quantity with this beer.
Sunriver Rippin Northwest Ale
Amy Wong, Lead Bartender at King Tide Fish & Shell in Portland, Oregon
The Sunriver Rippin Northwest Ale is great for BBQs and as a send-off beer for summer – light and refreshing.
Blue Moon Belgian White
Rodrigo Retamoza, assistant manager at The Living Room in Los Angeles
I always notice people (including myself) fishing around the cooler for Blue Moons before anything else. It's just super refreshing and tastes like time off.
Monk In The Trunk
Oscar Amaya, bar manager and head mixologist at The Rusty Pelican in Miami
Monk In The Trunk, Organic Amber Ale. This colored ale derives its fruity, slightly spicy aroma from authentic Belgian Abbey yeast. The subtle nutty and malty sweet flavors sing in harmony with the freshest organic hops available.

Pizza Port Ponto
Stephen George, beverage director 20|Twenty Grill in Carlsbad, California
A "bittersweet" holiday. It means summer is over, so I would try to cling to the last bit of summer and go with a nice dry-hopped session IPA (so I can keep the party going). So many good ones out there, but you can't go wrong with Pizza Port's Ponto Session IPA, or Mother Earth's Hop Solo Session Ale.