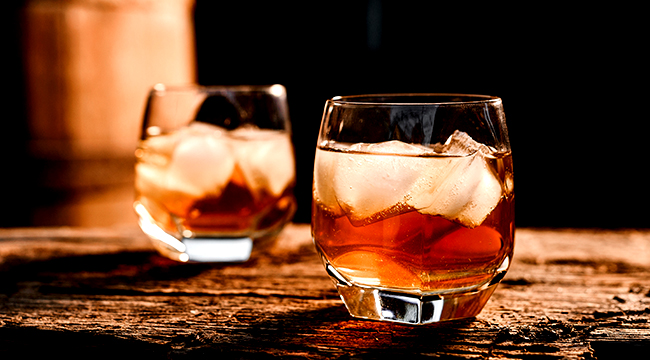 One of the reasons some drinkers find Scotch to be out of reach is the price. Meander through the halls of your local liquor store and you'll be met with whiskies ranging from the hundreds of dollars to the thousands. This image of over-the-top luxury connected to this spirit isn't helped by the countless articles about 50-year-old Scotches auctioned off for the price of a nice starter home. But just because there are fancy, super expensive bottles of scotch whisky on the market, doesn't mean you can't find extremely reasonably priced (we're talking $20) bottles that you still enjoy sipping and mixing with.
The key is to head for the blended Scotch aisle. That's where the best values lie.
Some of the most well-known Scotch distilleries have created supremely affordable, blended scotch whiskies to fit any taste and lifestyle. Some are so cheap, you'll literally be shocked at the quality. Below you'll find five of our favorite bottles from some of the most well-known distilleries in Scotland.
Best of all, they're all right around the price of a movie and popcorn.
Sir Edward's 12 Year
You might not have ever heard of Sir Edward's, but that's okay. All you really need to know is that this blended Scotch was made from whiskies aged for a minimum of 12 years and won a gold medal at the well-respected San Francisco Spirits Competition. While your friends might be sipping on Johnnie Walker or Chivas Regal, grabbing a bottle of this whisky will show that you're paying attention to what's hot in the distilling world.
Tasting Notes: Even though a bottle of this blended Scotch will only set you back between $15-20, you should still feel comfortable enjoying it neat. From the first sip, you'll be met with hints of toasted caramel and vanilla. This progresses to notes of dried fruits and rich oak.

The Famous Grouse Blended Whisky
If you're not Scottish, you might not even know what a grouse is and what makes it so famous. So here you go: a grouse is a bird, much like a game hen or a pheasant. It's famous because it's a brand of blended Scotch that has a die-hard following all over the world. The brand has multiple expressions, but the most reasonably-priced (between $15-25) is The Famous Grouse Blended Whisky.
Tasting Notes: There's a reason The Famous Grouse has been the top-selling whisky in Scotland since 1980. Like most Speyside whiskies, this offering has very little smokiness. Instead, it carries the fruity flavor fans of the style have grown to love, alongside hints of dried fruits, vanilla, and subtle spice.
Johnnie Walker Red Label
When it comes to blended Scotch, there are few brands more well-known than Johnnie Walker. When many drinkers think about this brand, they focus on Black Label and Blue Label (two whiskies out of many a price range). But if you want to grab a bottle of this iconic brand without spending half the money it takes to fill a tank of gas, get a bottle of Johnnie Walker Red.
Tasting Notes: This is a blended Scotch for beginners and those who enjoy a more mellow juice. It's sweet, smooth, and full of flavors like cinnamon, rich cream, vanilla, and sweet toffee. It's more complex than it seems, and you'll be met with a surprisingly subtle hint of smoke at the very end.

Dewar's White Label
Like Johnnie Walker, Dewar's is one of the most well-known names in the blended Scotch game. You can grab one of the brand's other expressions like Craigellachie, Royal Brackla, or Aberfeldy and spend $40 or more, or you can grab a bottle of White Label for around $20.
Tasting Notes: There's a reason White Label is the most awarded blended Scotch whisky in the world. It's rich, well-rounded, complex and full of honey, caramel, toffee, herbs, and vanilla. It's perfectly suited for a fall hot toddy or a slow sipper on a cool evening.
Cutty Sark Blended Scotch
You might have tried Cutty Sark Prohibition Edition in the past. This 100 proof whisky is definitely not for the Scotch newbie. That's why, before venturing into the world of prohibition-era whiskies, grab a bottle of the original. This award-winning Scotch is 80 proof and perfect for mixing into your favorite whisky cocktails.
Tasting Notes: There's something about the name of this Scotch that makes us think of whisky swilling pirates telling rousing tales of the dark, black sea. Luckily for you, you don't need to commandeer a schooner to enjoy this well-rounded bottle. It's rich and full of chocolate, toffee, and tree nuts, with a pleasing warming finish.