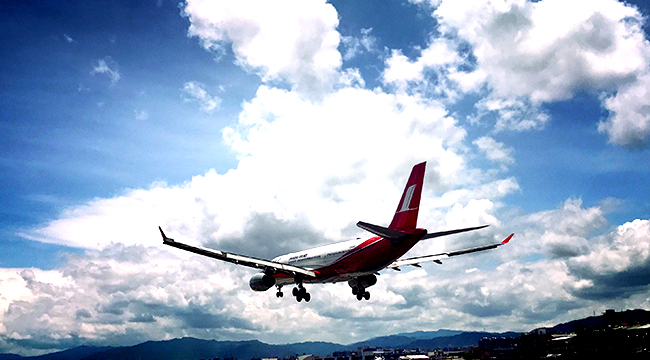 As summer rapidly approaches, great deals on cheap flights, hotels, and travel are going to be harder and harder to find. Now's the time to plan ahead, shop around, and set those price alerts. Sure, it can be daunting to keep an eye on all of this during the high season, but you can also save a lot of coin if you play it right.
We've compiled some of the best deals right now below. These are the cheapest flights, sweetest hotel rates, and steepest travel package discounts out there today.
TOP THREE DEALS OF THE WEEK:
SUMMER DEAL: $200 ROUNDTRIP FROM CHICAGO TO GUADALAJARA, MEXICO
Guadalajara is a great destination if you're into tequila and food. The city has one of the best food scenes in Mexico. The surrounding area, the Jalisco Highlands, is the home of tequila. It's dope. Currently, you can score a super cheap flight this summer. $209 for a roundtrip and direct flight from Chicago is a steal.
FALL DEAL: $245 ROUNDTRIP FROM BOSTON TO LONDON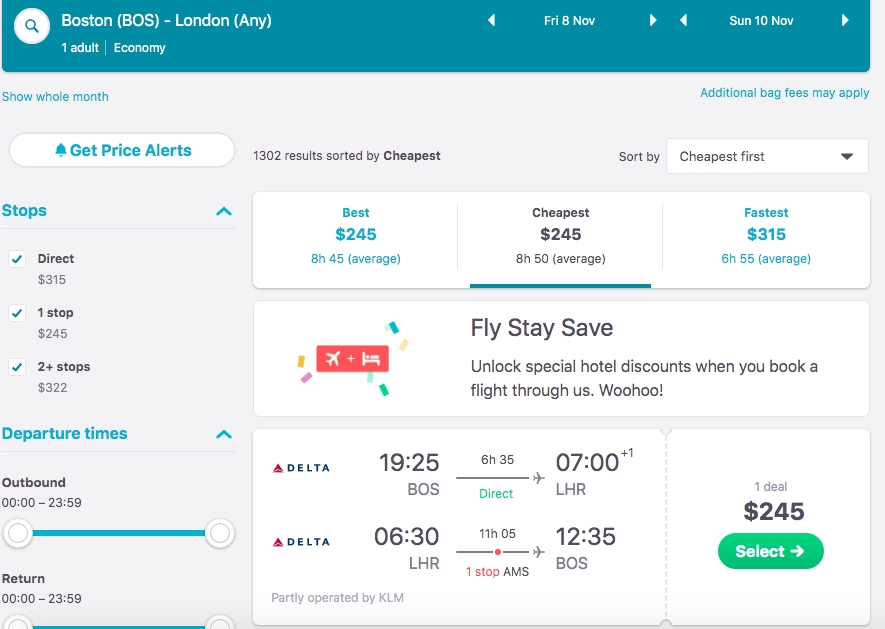 Looking a little bit further down the road, Delta is offering a great deal on flights to London this fall. Tickets are selling for $245 roundtrip from Boston in November. Other East Coast cities are clocking in at similar prices.
SAVE UP TO 35% AT PREFERRED HOTELS & RESORTS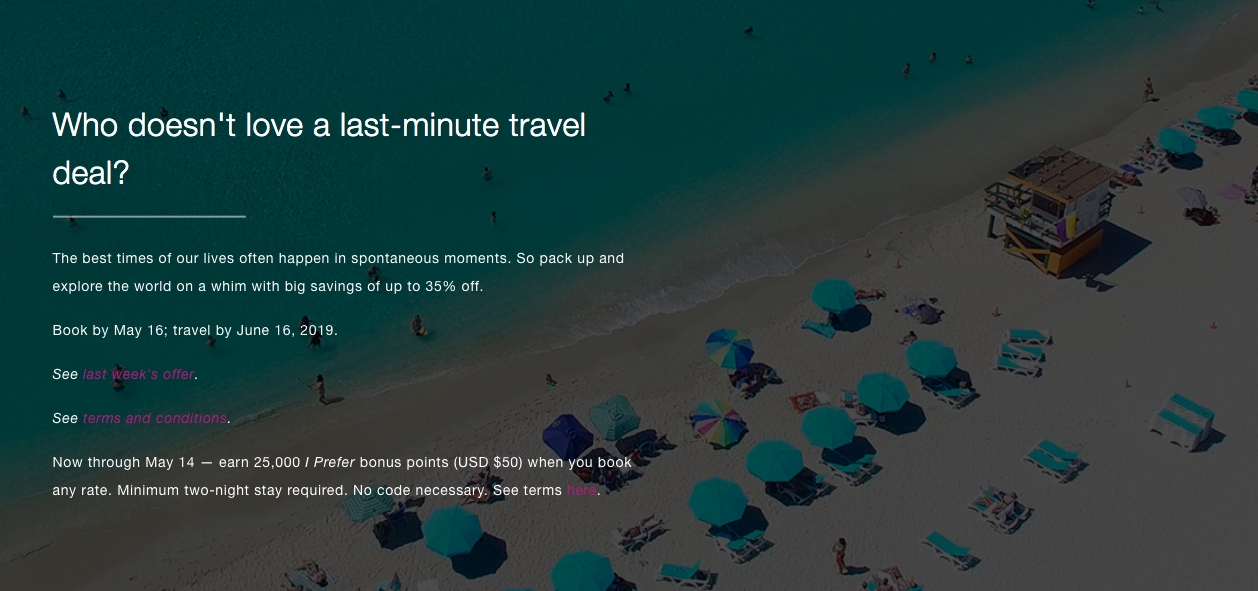 Preferred Hotels & Resorts runs some of the swankiest properties around the world. They also have a great list of budget options, giving travelers the chance to stay at their comfort level at any price.
Right now, they're offering up to 35 percent off last-minute bookings. You'll also receive a points bonus worth $50. You'll need to book by May 14th and travel before June 16th.
BEST FLIGHTS OF THE WEEK:
$14 ONE-WAY FLIGHTS AROUND EUROPE ON RYANAIR
Spring fares around Europe are on sale with Ryanair. Flights are as low as $11 each way, with a lot more clocking in at $14-$18. We look at it this way, if you're already in Europe, why not tack on another city for the price of a movie ticket? You can't lose.
$25 ONE-WAY FLIGHTS AROUND THE U.S. ON FRONTIER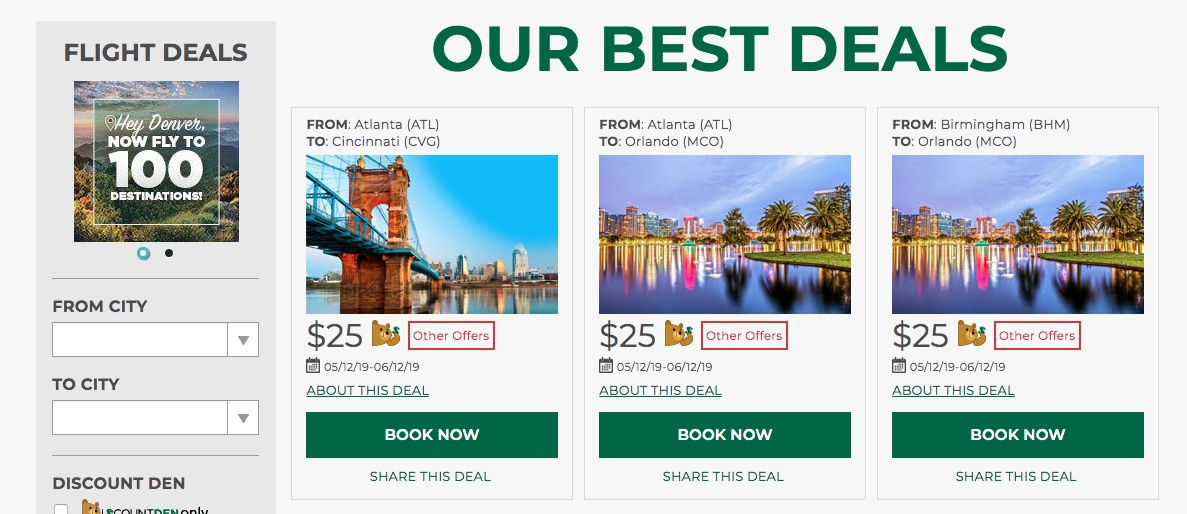 Back stateside, Frontier is offering flights all over the U.S. for $25 each way. Granted that doesn't include a carry-on bag. So you should consider this $60 one-way if you need to bring on a bag. Still, 60 bucks to get across the country is a bargain.
$175 ROUNDTRIP FLIGHTS FROM LOS ANGELES TO VANCOUVER
This is just a great price. $175 for a roundtrip flight from LAX to Vancouver, BC is a steal. If you can make time in October, it might be time to see one of Canada's most beautiful cities.
$320 ROUNDTRIP FLIGHT FROM NEW YORK TO ROME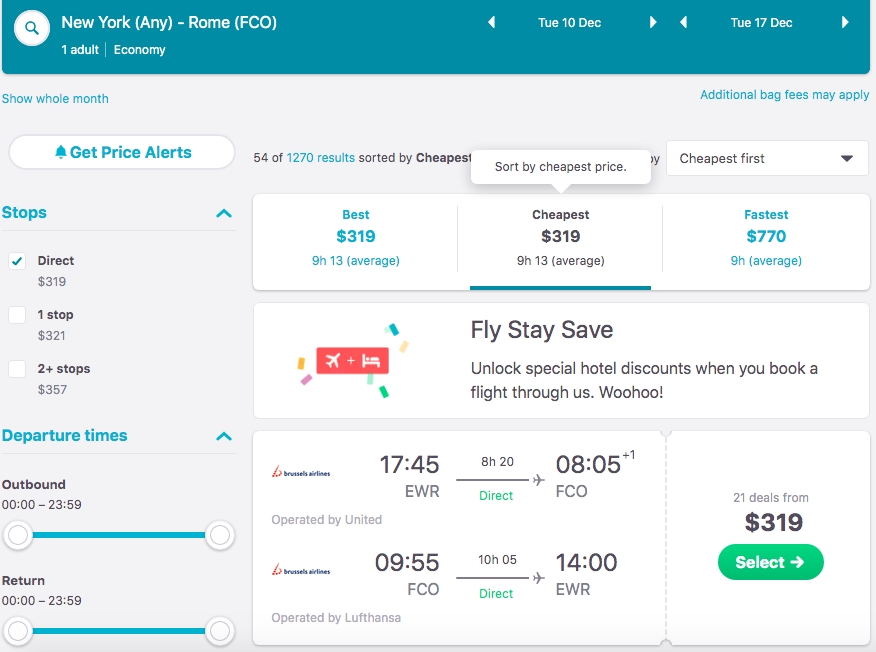 Heading into winter, you can score a great roundtrip flight to Rome from New York. The pre-Christmas flight is only $320 roundtrip on an airline that'll let you bring on a bag and even give you some food and drink on the flight.
$415 ROUNDTRIP FLIGHTS FROM NEW YORK TO CHINA
Autumn in China is always a good idea. Currently, you can snag a roundtrip flight from New York to Fuzhou (south-central coast) for only $415. That's easily half-price of normal fares. Now's the time to buy.
BEST TRAVEL PACKAGES OF THE WEEK
SAVE UP TO $1,000 ON LAST MINUTE DEALS WITH INTREPID TRAVEL
Looking to get away as soon as next month or even next week? Intrepid Travel has great last-minute deals on trips all over the world. You can save as much as $1,000 to places like Rwanda to walk with gorillas this June.
SAVE UP TO 30% WITH G ADVENTURES TRAVEL
G Adventures runs some of the most fun trips around the world. You can score a steep 30 percent discount on last-minute trips to Asia, Europe, South America, and Africa right now. That's enough to cover flights to and from the location, which is a big win.
SAVE $500 OFF U RIVER CRUISES THIS SUMMER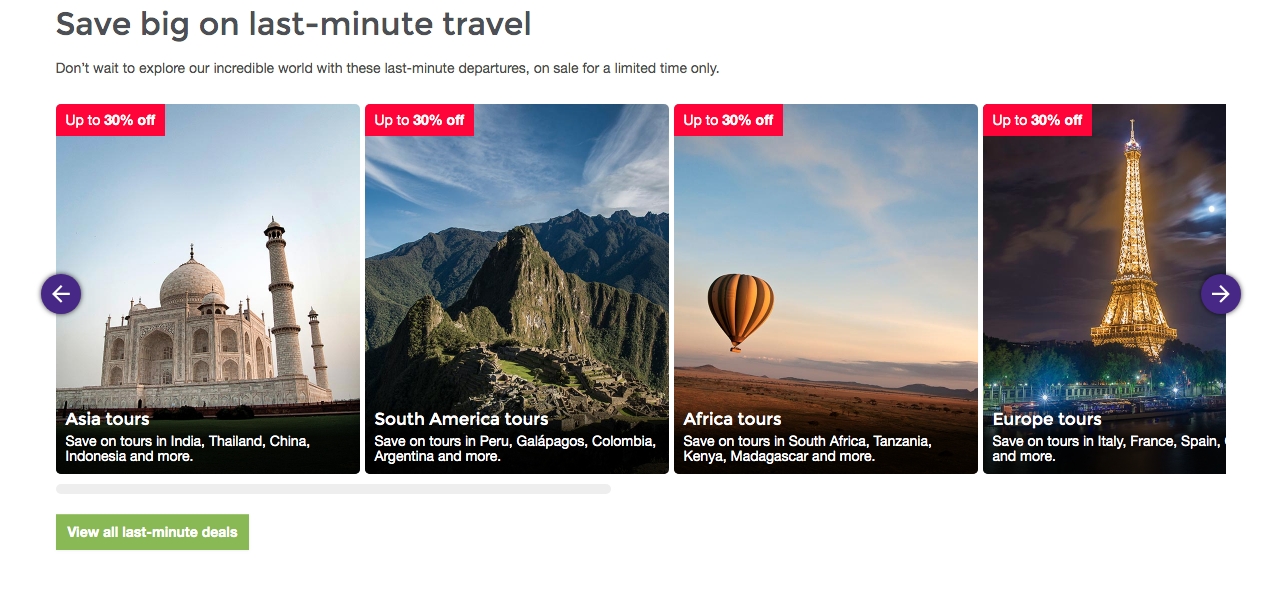 U River Cruises is offering $500 off sailings along Europe's rivers this summer. The ships are like small boutique hotels with killer bar and food scenes that happen to stop in a cool new city every morning. It's a great way to see Europe in the summer.
BEST HOTEL DEALS OF THE WEEK:
GET A THIRD NIGHT FREE AT KIMPTON THE GOODLAND SANTA BARBARA, CA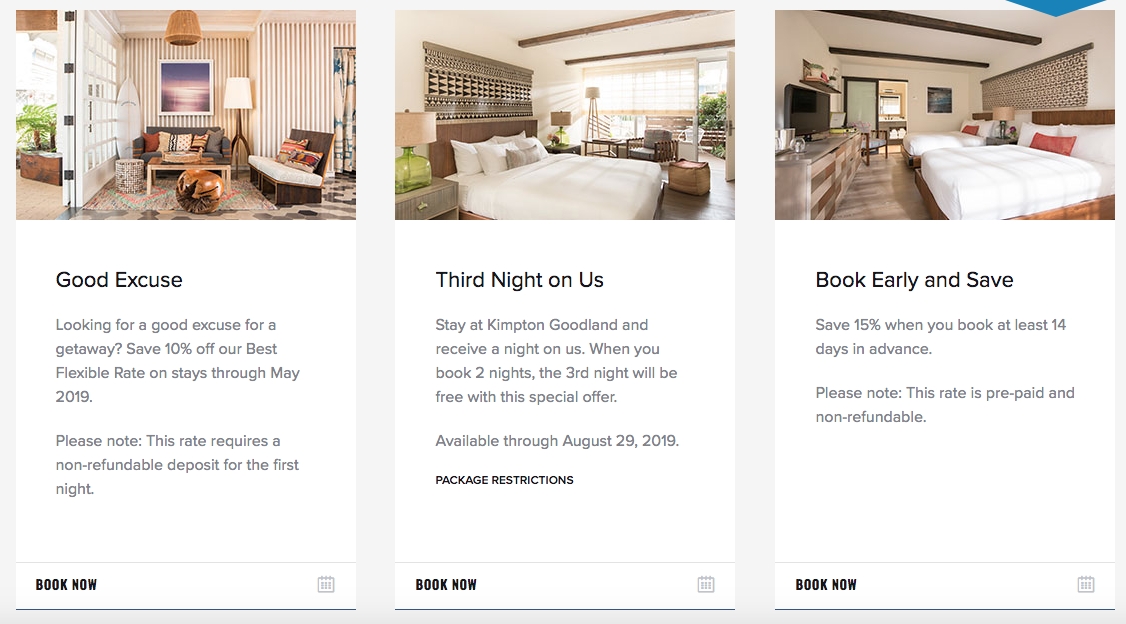 Kimpton runs some of the most rad boutique hotels in America. The Goodland in Santa Barbara's wine country is a great example of the dopeness of the group. The hotel is the perfect spot to launch into a wine-fueled escapade through the vines. Book in advance and get the third night for free. That's $100 in your pocket.
SAVE UP TO 25% AT HOTEL MAX SEATTLE OVER MEMORIAL DAY WEEKEND
Hotel Max is a music-lovers hotel right in downtown Seattle. They have a whole floor devoted to the Sub Pop years with turntables and vinyl collections in every room. Plus, they have a free nightly local craft beer tasting. The best part is that you can score a 25 percent discount on your stay over Memorial Day Weekend.
SAVE UP TO 30% AT THE HOTEL EDISON IN MANHATTAN
Hotel Edison is mere steps from Time Square in Manhattan. The art-deco hotel puts you in the middle of all the Manhattan action you could want. Currently, they're offering 30 percent off room rates, meaning you can save $50 to $75 on your stay per night.
BEST WILD SPLURGE OF THE WEEK:
SPEND A WEEK IN THE ITALIAN DOLOMITES WITH THE RANCH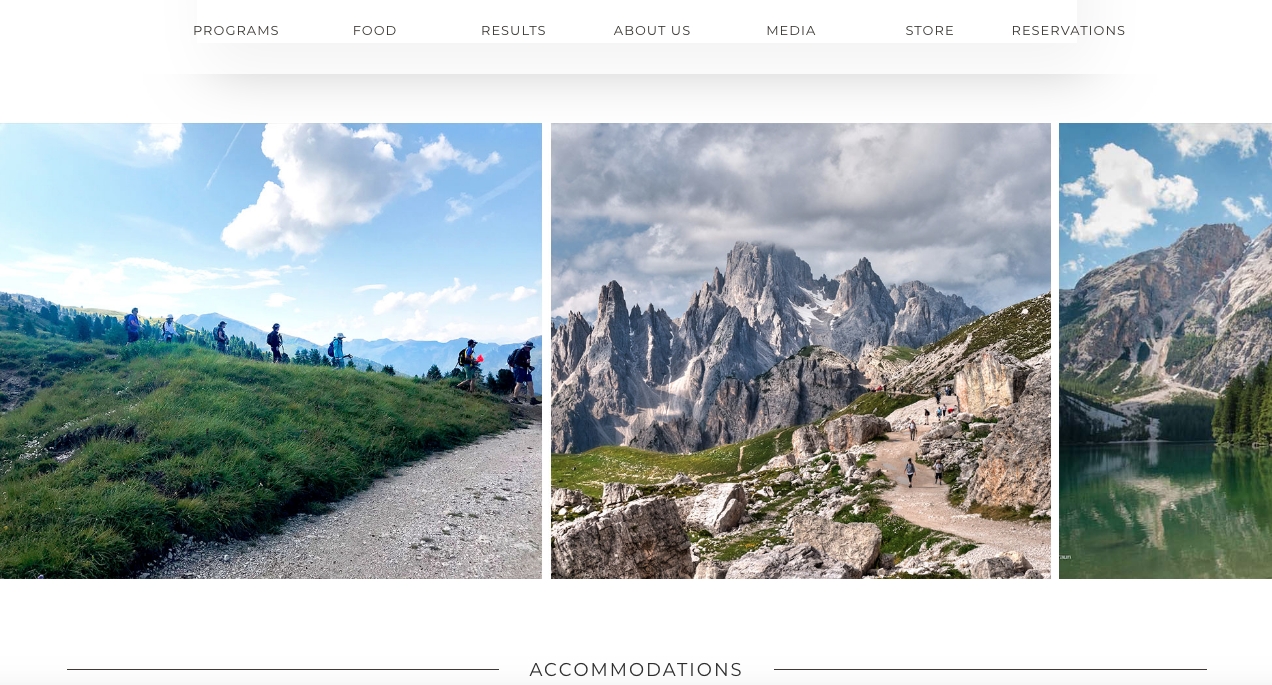 The Ranch Malibu is the premier wellness resort in southern California. The seven-day programs offer a chance to reset your mental and physical health in a nurturing environment where exercise and diet are dialed in for you.
This summer, The Ranch is going on a field trip of sorts to the Italian Dolomites. Walks through the Malibu hills have been replaced by hikes in the Italian Alps. Your food, accommodation, and exercise program are all set by pros. It's not cheap though. You'll need to pay $8,700 for seven days. Still, that's a small price to pay to amp up your health for a week and get your eating and exercise regimen back on track.