The shoulder season is in full swing and sales are starting to pop off across the travel industry. With Spring Break mere months away, the cold of winter is really taking hold, and the holiday hangover setting in. It's time to look ahead and book some travel.
Right now is a great time to lock in a couple trips for the year to come. The deals abound — as airlines, hotels, and travel companies look to get the year started with as many bookings as possible. Huge discounts are popping everywhere and we're here to make sure you get the best ones.
Below are the best cheap flights, hotel discounts, and travel deals right now.
TOP DEALS
BOOK A TRIP WITH A $1 DOWN PAYMENT WITH INTREPID TRAVEL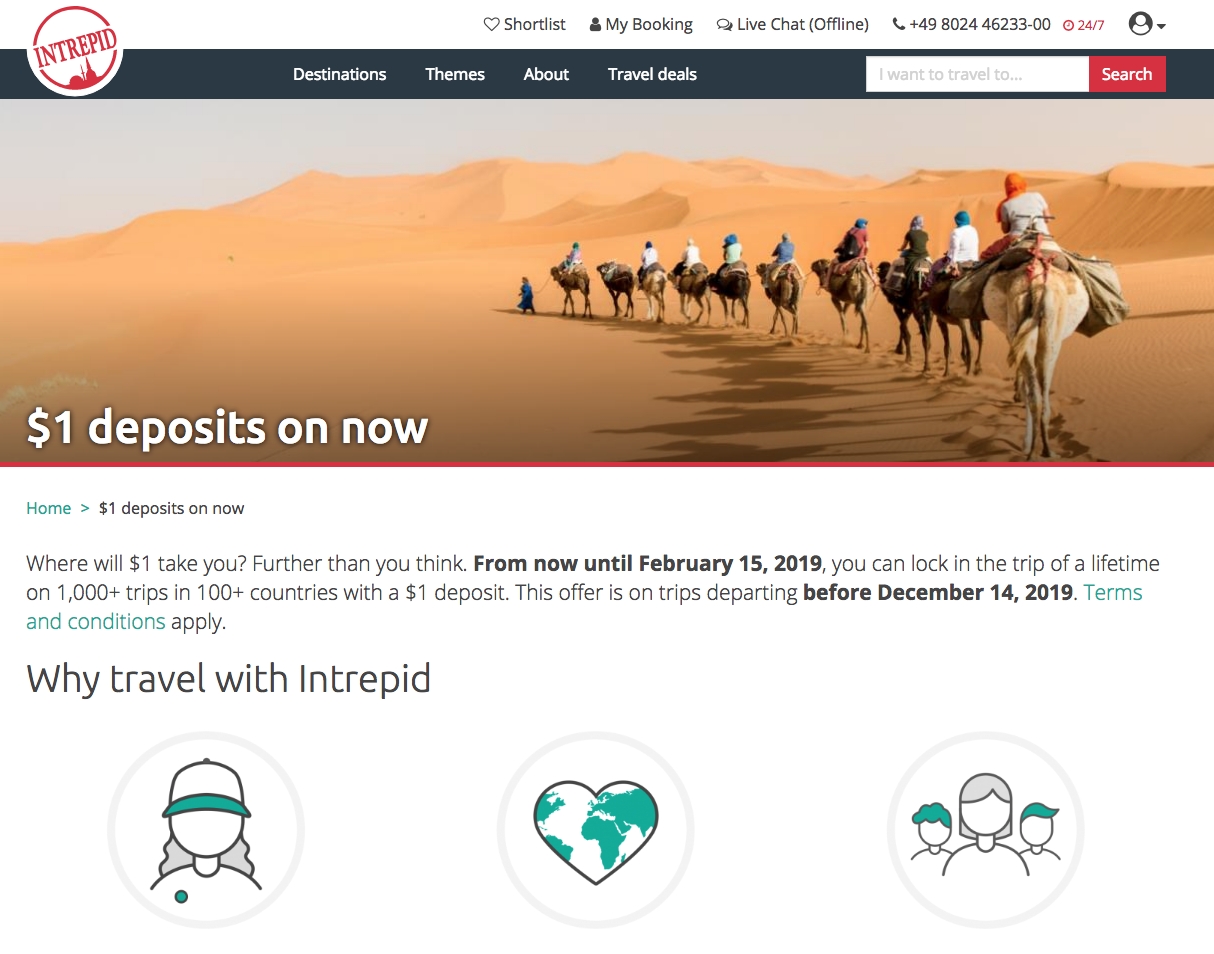 Okay, this is the price the reservation not the price of booking, let's just be crystal clear about that. Intrepid Travel is, however, giving you a chance to lock in a trip for 2019 for only one dollar. You'll have until February 15th to take advantage of this deal and you'll need to travel before December 14th. If your trip falls before July 15th, you'll need to pay the remaining balance with 56 days. If your booking falls after that date, then you'll have until May 15th to come up with the cash.
This is a great deal that'll allow you to snag a spot on an amazing adventure while giving you time to save up a little dough to cover the costs.
Take Advantage of Intrepid Travel's $1 Deposit Deal Here
GET AHEAD OF 2019'S TRAVEL TRENDS AND DEALS WITH KAYAK TRAVEL HACKER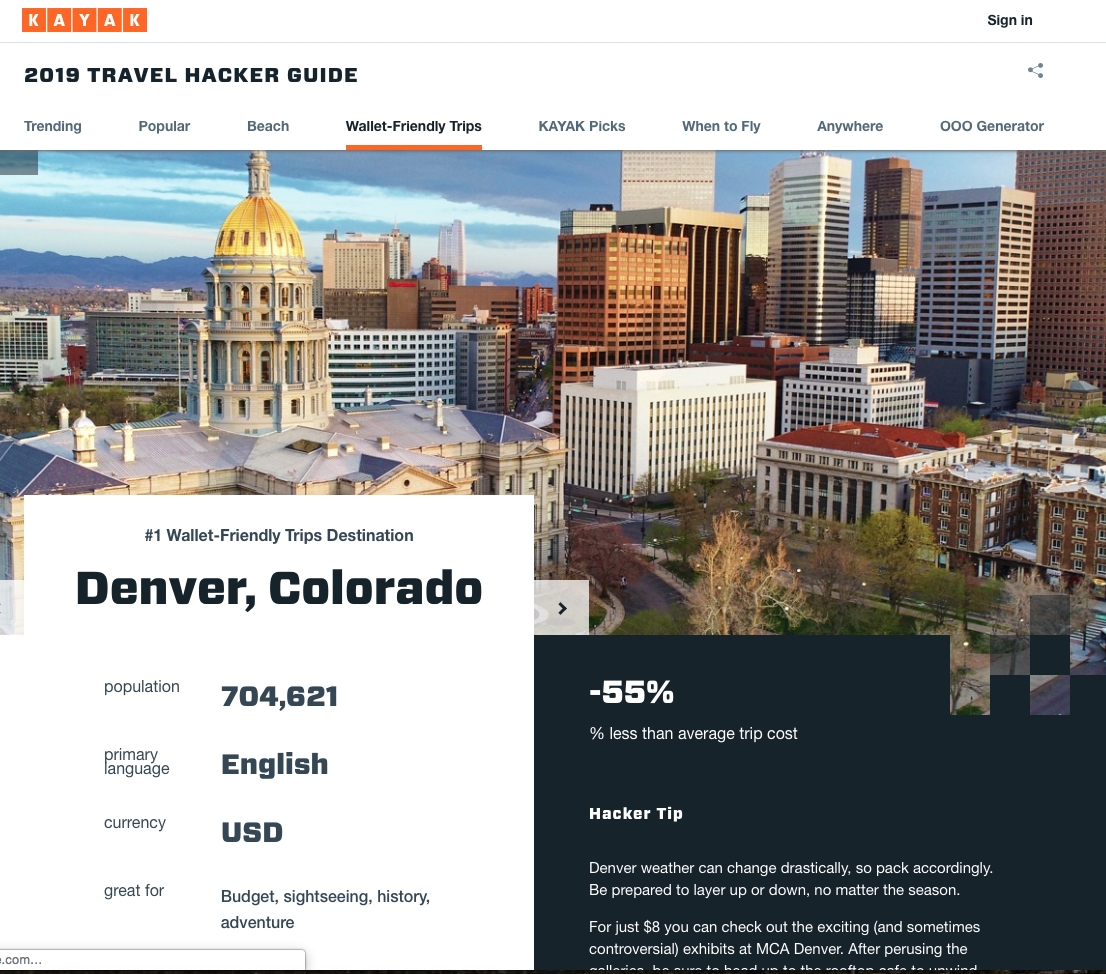 Kayak's Travel Hacker has your back when it comes to saving you money in 2019. The Travel Hacker is the perfect spot to get ideas and find discounts across the whole world.
The Wallet-Friendly tab is a great resource that'll give you in-depth information on ten prime destinations across the U.S. Each location comes with travel and food tips, a handy graph of flight prices (and best times to buy), and links to hotel deals. It's an all-in site that'll help you plan that perfect getaway this year.
Dig Into Kayak's Travel Hacker Here
UP TO $10,000 OFF WINDSTAR CRUISES UNTIL TOMORROW
Windstar Cruises are the cruises for people who want something unique, carefree, and phenomenal. The small ships mean you'll have a personal experience on a floating boutique hotel. The cruise line took themselves up a whole other notch by teaming up the James Beard Foundation to revamp their food choices and it's a big win for traveling foodies.
Starting on Thursday each week, they're offering discounts on seven cruises around the world. The sale only last seven days. That gives you until tomorrow to book an amazing, small vessel cruise. We're talking serious discounts here, folks — $10,000 off the sticker price serious.
Take Advantage of Windstar Cruises 7-for-7 Sales Here
BEST FLIGHTS
$177 ROUNDTRIP FLIGHTS FROM PHILADELPHIA TO SAN JUAN, PUERTO RICO THIS MONTH
Flights are running at rock-bottom prices thanks to the shoulder season. Currently, Frontier is offering a roundtrip from Philly to San Juan, Puerto Rico for only $177. Granted, you'll have to pay 30 bucks for a bag but that's still $200 to get to a tropical island paradise this month.
$168 ROUNDTRIP FLIGHTS FROM NEW YORK TO THE CARIBBEAN THIS MONTH
Now's the time to book Caribbean travel. Prices on European budget carrier Norwegian are super low. Roundtrip flights are running $168 from New York to the sunny beaches of Martinique. You just can't beat that price for a winter escape.
$274 ROUNDTRIP FLIGHTS FROM NEW YORK TO BARCELONA NEXT MONTH
If you're looking to go a little further afield this winter, then maybe the beautiful streets, food, architecture, and beaches of Barcelona are in order. There are roundtrip flights on both FinnAir and Iberia from NYC to Barcelona for $280.
That's so cheap you'd be crazy not to go. Think of all the wine, vermouth, ham, and cheese you'll miss out on otherwise.
$378 ROUNDTRIP FLIGHTS FROM CHICAGO TO LONDON THIS SPRING
SPRAAAAAANG BREAAAAAAAK is just around the corner. It's time to start thinking about booking a trip so you don't get ripped on the price once March and April roll around. Flights are cheap right now.
Case in point, roundtrips from Chicago to London on Finnair and Iberia are running $378. That's a steal on a killer trip to one of the best party cities on the planet.
GET AHEAD ON SPRING BREAK WITH JETBLUE BEST FARE FINDER
If you're thinking about staying close to home this spring, use JetBlue's Best Fare Finder to source a great, cheap flight. Simply input your home airport, a dream destination, and cycle through the month-long calendars to find the absolute best price on that flight. Book it and go!
$20 FLIGHTS ON FRONTIER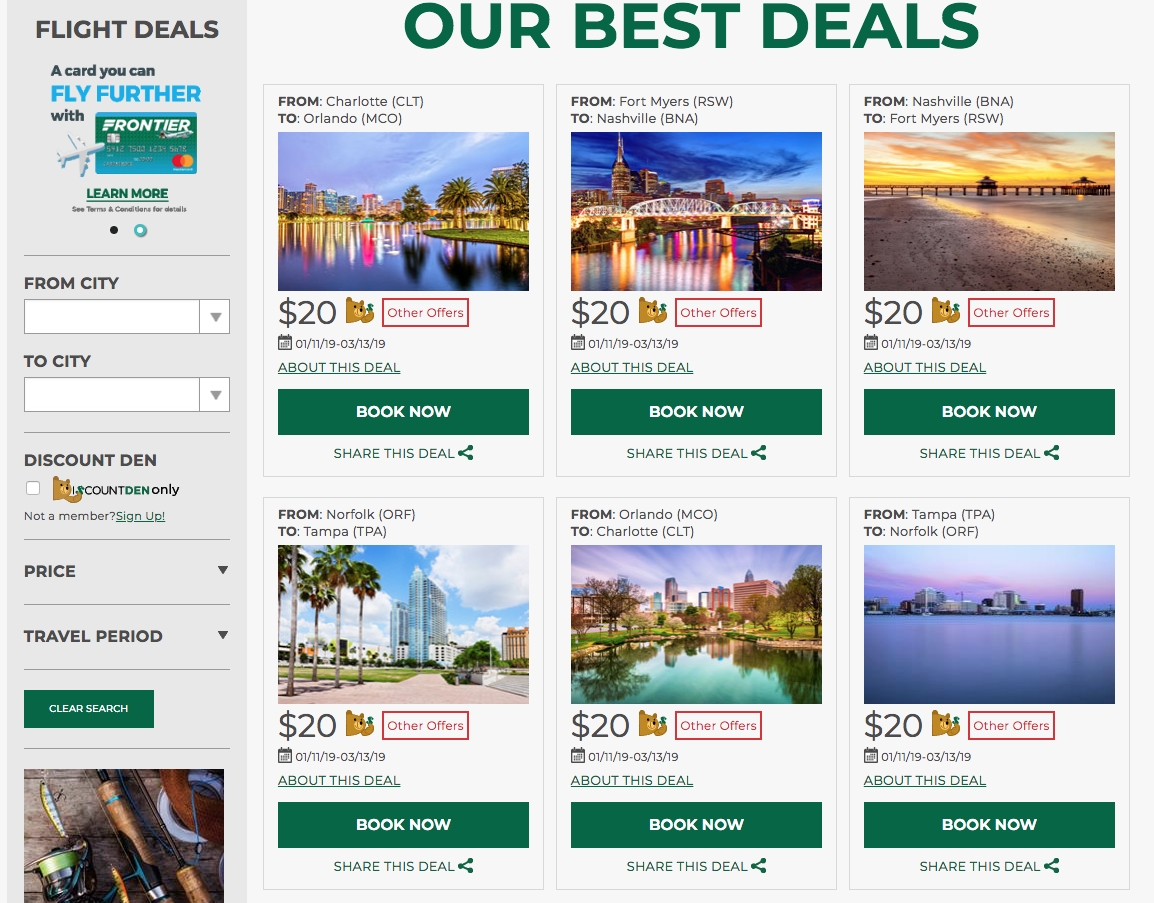 No matter how you cut it, Frontier is going to be the cheapest way to fly around America this winter and spring. They're currently offering $20 one-way fares all over the country. Even when you add on their $35 fee for a carry-on fee, that's still $55 to get somewhere new. That feels worth it to us.
Check Out Frontier's Online Deals Here
25% OFF EASYJET FLIGHTS ACROSS EUROPE
Planning on hopping over the pond and spending some serious time bouncing around Europe in 2019? Great. Fly with EasyJet once you're there. The budget airline gets the job done with relative comfort alongside great prices.
You can easily score one-way tickets for less than 20 bucks all over the continent. Add on city breaks, beach weekends, Alpine treks. Do it all and book it now because 800,000 of their tickets are 25-percent off.
2 MILLION SEATS ON SALE WITH AIRASIA
Is Asia on your travel bucket list this year? Great. Now, let's get you saving some cash on travel.
AirAsia is your ace-in-the-hole to make sure you don't break the bank bouncing from Singapore to Thailand to India to Indonesia and all stops in between. They're running a sale on 1.9 million of their seats this winter. That equates to flights for as little as ten dollars each way between major destinations.
Check Out AirAsia's Massive Seat Sale Here

BEST TRAVEL DEALS
G ADVENTURES MUST GO SALE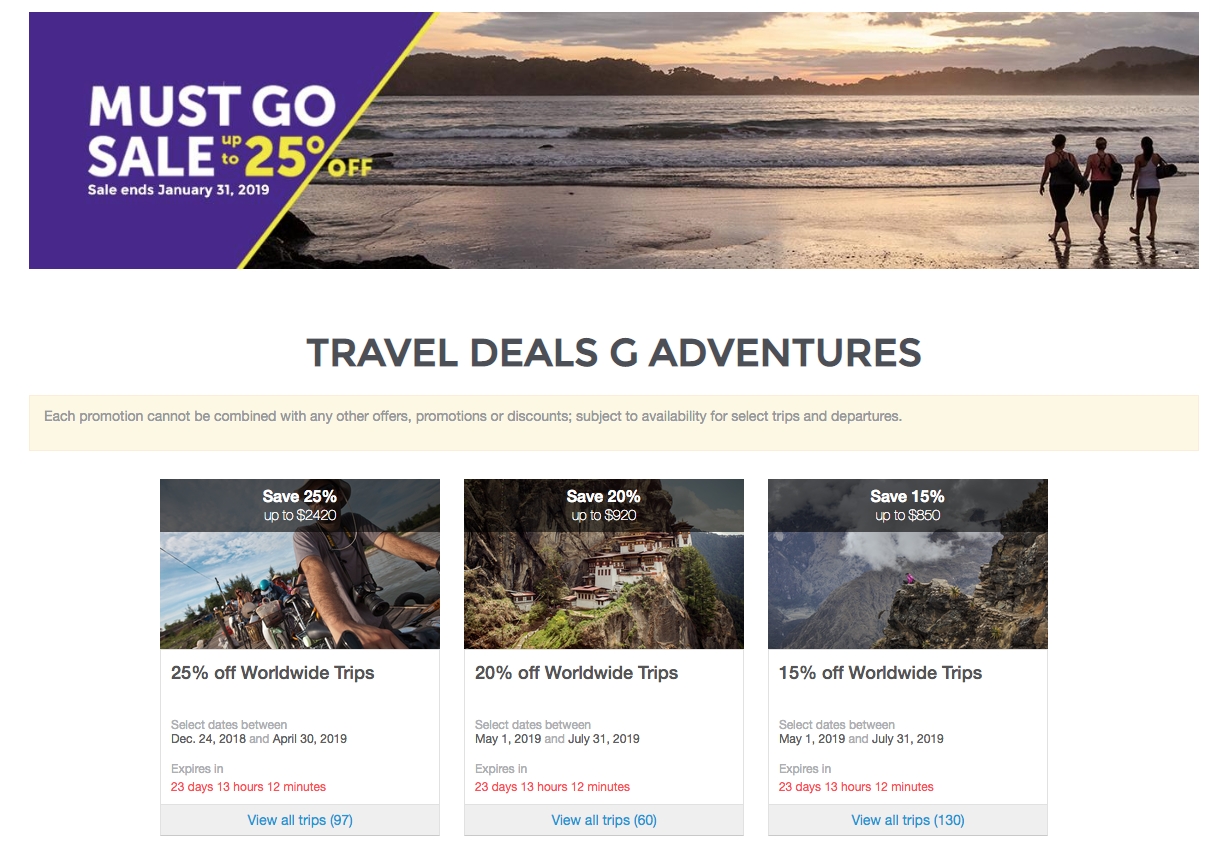 G Adventures is a travel company that sets trends. They offer trips geared towards 19 to 35-year-olds, solo travelers, adventure-seekers, wellness chasers, and so much more.
For the whole month of January, they're offering up to 25 percent off trips worldwide. That's enough of a discount on some trips to cover your flights to and from the trip — a huge bonus.
Check Out G Adventures' Must Go Sale Here
CONTIKI'S JANUARY SALES HAS STEEP DISCOUNTS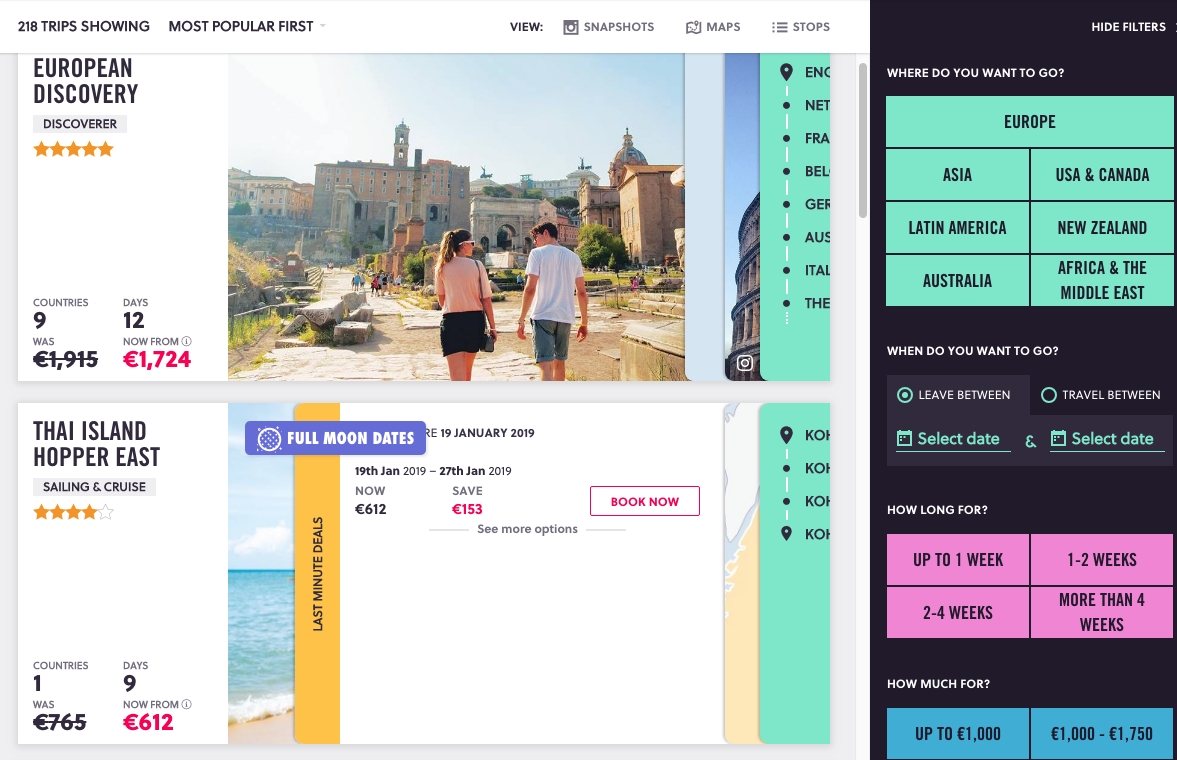 Contiki is the biggest travel company for 18 to 35-year-olds with trips and experiences catered directly to the Instagram-Travel-Generation. These are fun-filled trips that hit on the highlights and then gives you the room to go deep wherever you are. It's the perfect travel balance.
Currently, Contiki is offering steep discounts on trips all over the world. If you shop it, you might be able to save up to $1,000 on some trips. You can't beat that price for a trip this fun.
SAVE UP TO 30% ON A DOPE RIVER CRUISE WITH U BY UNIWORLD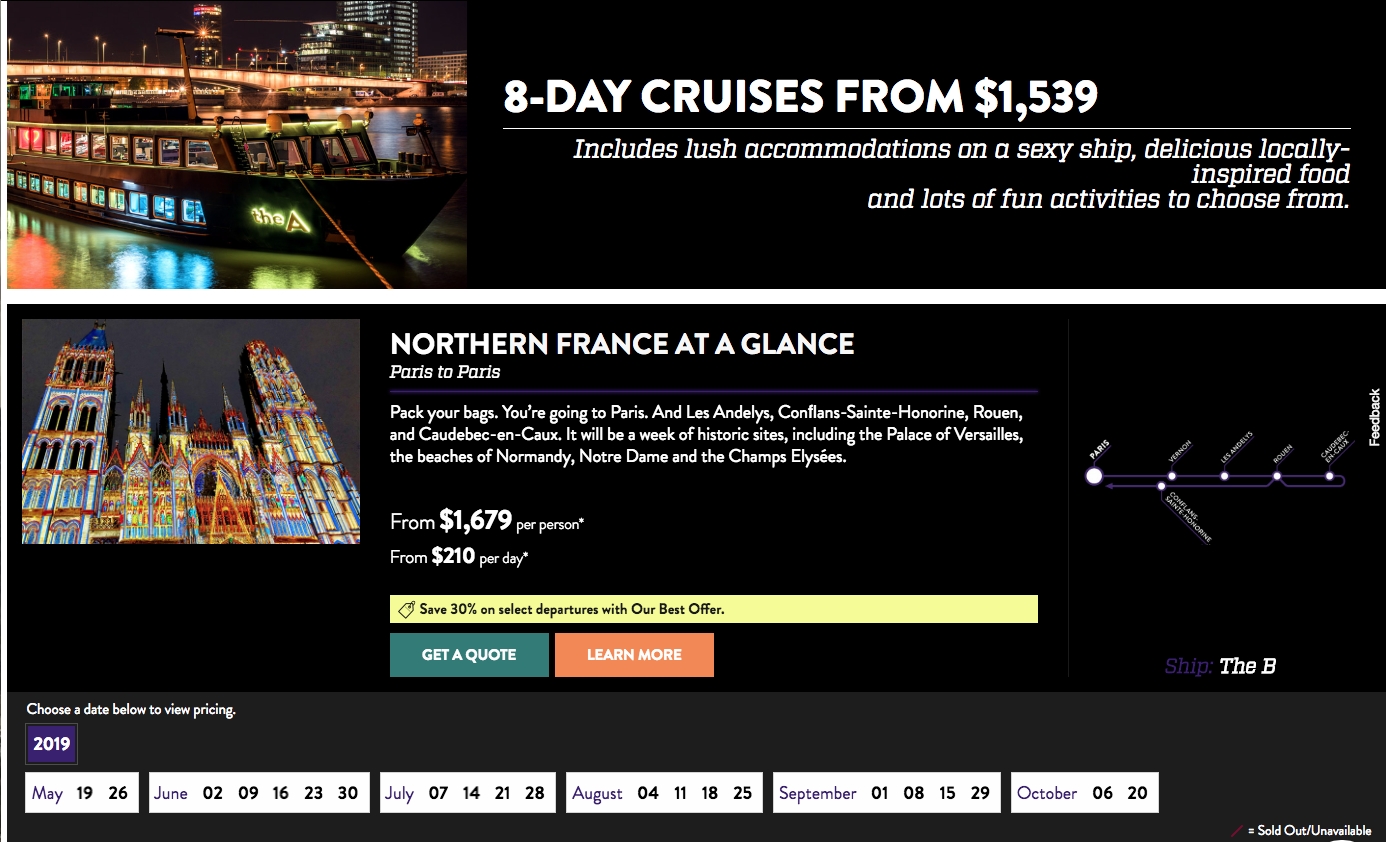 U By Uniworld knows what it's doing. The experience of a boutique hotel has been moved onto a hip river cruise where there's never more than 150 people on board. The food, bar, yoga, and onboard club are top-notch and a blast while you sail between river towns across Europe.
You can score up to 30 percent off sailings in 2019 right now. That's a big enough discount (on select sailings) to cover a roundtrip flight over to Europe this time of year. Huge win-win.
Check Out U By Uniworld's Deals Here
SAVE WITH THE WINTER MAGIC SALE WITH TOPDECK TRAVEL
Topdeck Travel puts together great trips around the world for under-40s. Their trips are geared toward assuring you have a unique experience that'll grow your love of travel, culture, food, and art around the world.
They're currently offering up to 15-percent off trips all over the world. Let that discount entice you to a Full Moon Party or Oktoberfest this year. At the very least, let it help you get out on that open road.
UP TO $1,000 BOOKING CREDIT AND UP TO 65% OFF RACK RATES WITH SANDALS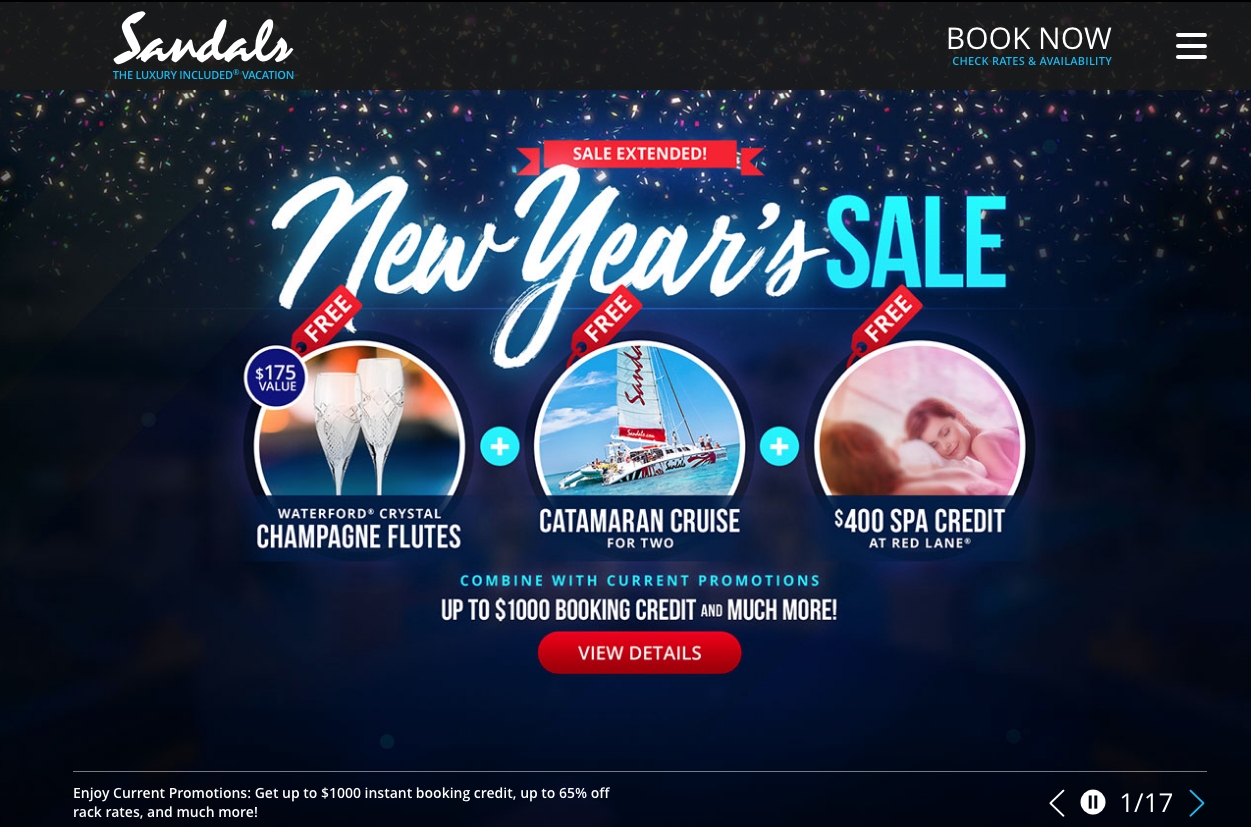 Sandals spent the last years changing everything you think you know about all-inclusive resort travel. The biggest step up was in the food department. They brought in chefs to take their restaurant game to the next level and they nailed it.
Look, this isn't for everyone. But, we'd argue, there are plenty of us who do need a complete unplug from worry, streams, and planning. Some of us just need to float in a pool with a drink in our hand for a couple days and then spend an evening eating all the dope food.
Sandals has expanded their New Years Sale and they're offering up to $1,000 in resort credits and gifts alongside booking discounts. The average discount is seven percent off the room rates but, if you book for the off-season, you might score up to 65 percent off.
4-DAY SALE WITH AMTRAK WITH GIVE YOUR TRAVEL BUDDY 50% OFF
Amtrak is one of the most unique ways to see America. Maybe 2019 will be the year where you finally pull that trigger and see America by rail from sea to shining sea.
If that's your vibe, Amtrak is making it easier for you and friend to jump on a train this year. They're running a four-day sale that'll get your travel partner 50 percent off their ticket. That's a great incentive right there to hit the rails with a friend and see a new corner of America.
Check Out Amtrak's Four-Day Sales Here
BEST HOTELS
STAY IN NEW YORK FOR ONLY $100 A NIGHT DURING HOTEL WEEK
Traveling to New York can be a cash drain. There's just so much to do from the sites to the food to the bars to the arts. So when a deal comes along on accommodation, you have to snatch it up. Between now and January 14th you can snag hotel rooms in New York for as little as $100 per night at high-end properties.
You'll need to scroll through HotelWeekNYC.com to find the best deals and source the promo codes. But trust us, there are some seriously great deals in there that'll take the sting out of staying somewhere swanky on your next trip to the Big Apple.
STAY AT THE BRAND-NEW THOMPSON ZIHUATANEJO IN MEXICO AND SAVE UP TO 25%
Thompson Hotels offer luxury to the max in select locations around the world. Last month, they opened up their newest plush property on the south-central Pacific coast of Mexico in Zihuatanejo. The small seaside town is an idyllic spot and hotel resort is on-point in every way. This is luxury travel that doesn't hide away from the local scene.
Currently, they're offering a fourth night free with any three-night booking. They're also offering special deals on group travel so you can rock up with your crew and have a rad time on those sunny Mexican beaches.
Check Out the Thompson Zihuatanejo Deals Here
SAVE UP TO 25% AT THE GRAND ISLE RESORT IN THE BAHAMAS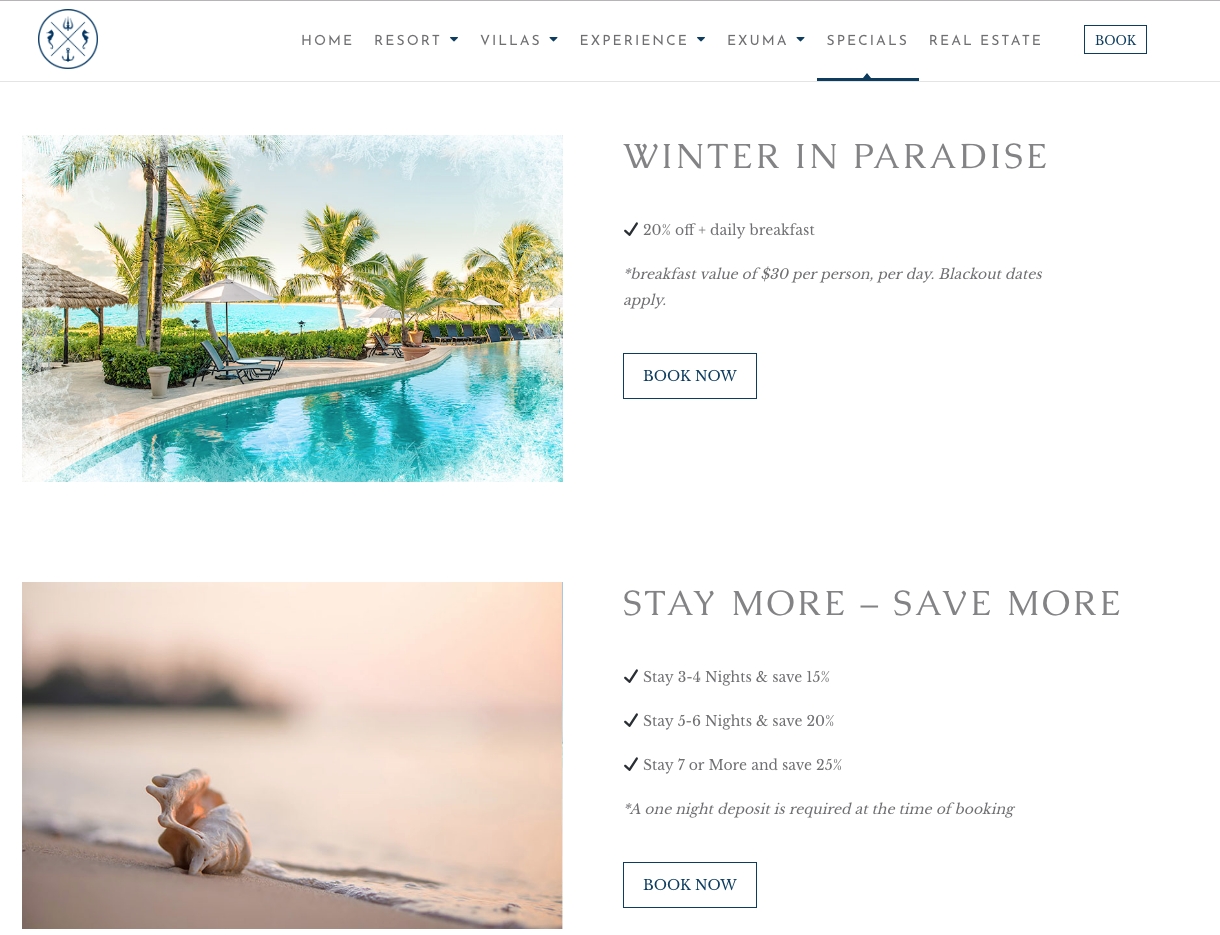 Looking to get away to the Caribbean this winter or spring? You know the flights are cheap! Our advice: Take that money you saved on flights and put it towards a luxe experience and treat yo' self.
The Grand Isle Resort in the Bahamas is the perfect place to disconnect and reset for 2019. They're offering up to 25 percent off stays of seven days or more. There are also discounts on stays of three and five nights at 15 and 20 percent off respectively. Either way, book it now and save that cash.
Check Out Grand Isle Resort's Specials Here
SAVE UP TO 20% AT THE HUTTON HOTEL IN NASHVILLE
The Hutton Hotel in Nashville is a destination unto itself. The old-school feel to the decor, the cozy rooms with fireplaces and city views, and the access to all the music, food, and partying in Nashville make this hotel a must-stay.
Hutton Hotel is offering a 20 percent discount right now. If you can book 14-days ahead of time, you can score a 20 percent off their best available rates. That's a lot of extra money to spend at the honky-tonks and on cowboy boots.