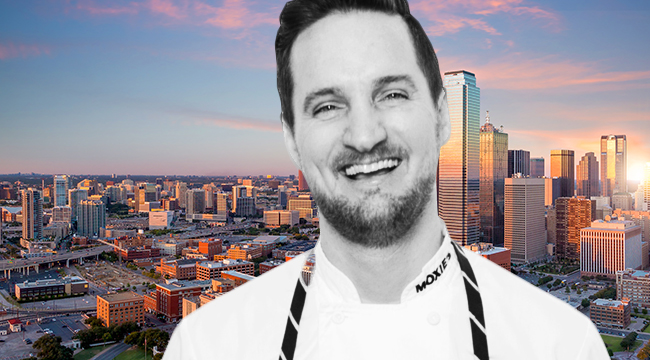 Welcome to EAT THIS CITY, your tour of the best restaurants in one of our favorite cities, as chosen by a world-class chef, celebrity, or local hero.
It's the birthplace of 7-11, boasts an airport bigger than the island of Manhattan, and the city where laser tag was invented…
That's right, we're in Dallas, Texas — a sprawling metropolis famous for its exquisite architecture and phenomenal food scene. Our guide today is Brandon Thordarson, the executive chef for Moxie's Grill & Bar, Canada's much beloved casual dining chain.
Like the restaurant where he works, Chef Thordarson hails from Canada. He studied culinary management at Georgian College before moving to Whistler, B.C. and working as a cook at various restaurants. Next, he moved to Vancouver for a position at a private golf and country club before serving as executive sous chef at Wharfside Eatery in Victoria.
The man made a name for himself in Canada, but he needed to travel the world — exploring cuisines and adventuring in far flung destinations. As the head chef of the Michelin-recognized Monachyle Mhor Hotel, he honed his passion for food and developed a deep understanding of each ingredient's journey from field to fork.
After returning to Canada to function as the executive chef of openings for the Glowbal Restaurant Group, Chef Thordarson opened a private catering company and served as executive chef at the Opus Hotel. Recently, he hosted a dinner at the James Beard House, celebrating Canada's 150th anniversary — one look at his food makes it clear why that honor was bestowed upon him.
Clearly, Chef Thordarson is known throughout the Great White North for his deft handling of fresh ingredients and global flavors, but he's also a Dallas regular who knows where to get the best on offer. Let's get to know the city's food scene through his eyes.
Pizza
CiboDivino Marketplace is my favorite spot for pizza in Dallas. My favorite pies are the Di Fica with mozzarella, gorgonzola, fig, arugula and habanero honey and the Prosciutto Rucola with tomato sauce, mozzarella, arugula, prosciutto, cherry tomatoes and shaved Parmigiano.
They also have over 350 bottles of wine to choose from, all at retail value. One of the best kept secrets in Dallas!

Tacos
If I'm looking for late-night and chef-inspired tacos, then I go to Velvet Taco. This is such a staple in Dallas, taking tacos to a whole new level. They truly have the chef inspired taco & ingredients down to a tee!
While the tacos are fantastic, my favorite item on the menu might be rotisserie corn, "elote" style.
Asian
I could name several spots, but Mot Hai Ba is my go-to spot in Dallas. They have a very unique and creative menu, and the duck meatballs are out of this world. The atmosphere is very intimate, with friendly staff. This is truly a hidden gem.
Street Food
https://www.instagram.com/p/BZqOy5NH3gV/?taken-at=662247
Fuel City Tacos – the tacos are authentic, delicious and cheap. They have this Mexican street corn there that is so good with spicy jalapenos and queso cheese. I ordered and ate one, then went back and bought another! They have a great atmosphere and some of the best prices in town.
Sweet Food
Emporium Pies in Deep Ellum – they have pies like grandma used to make (but better)! I stick to the classic apple pie and it is bad ass delicious! If you're more of a chocolate lover, get the smooth operator, which is chocolate with a pretzel pie crust. I bring a slice back home for my daughter and wife every time I'm in the Deep Ellum area –- it's a must!
Of course, if you're more of a cheesecake person, there's always Val's Cheesecakes, served in little mason jars out of a tiny shack off Maple Avenue!

Fine Dining
I don't get time to do a ton of fine dining in Dallas with my busy schedule, but when I do, I try to make it out to Pappas Bros. Steakhouse with my wife. It's been around for over 20 years and has a classic steakhouse menu with chefs that truly care about attention to detail. The wine list is excellent, and the sommeliers are some of the best in the state. They always know exactly what to serve you. It's a great place for a special occasion or just a great date.
Casual Dining
https://www.instagram.com/p/BdoCNwUAQh6/?taken-at=935419683270692
Where do I start! Probably with an area first. On Greenville, I love HG Supply Co. The food is delicious and has gluten-free and vegetarian options. There's even a vegan queso! Deep Ellum has Revolver Taco Lounge, which has really tasty tacos. If you're looking for BBQ, look no further than Pecan Lodge. It's where we take everyone from out of town.
Vegetarian
I like to say that I eat vegetarians … just kidding! I love Indian food which provides a variety of vegan and vegetarian options since their food is so vegetable and grain focused. Check out Chaat Café off Preston Road in North Dallas. The flavor profiles in Indian food are so complex, and it's perfect for takeout or just a casual weeknight dinner. I also love Spiral Diner in Oak Cliff. Their nachos and milkshakes are amazing and you wouldn't even know they were vegan!
Brunch
Grayson Social is located inside of a hotel, but offers a wonderful southern menu complete with biscuits and grits! If you're the kind of person who likes to drink at brunch (and who isn't that kind of person!?) they have an array of delicious cocktails on the menu as well. The décor feels like a southern home, and the service has that hospitality we've all come to expect in Texas.

Iconic Food of the City
https://www.instagram.com/p/BSwIpDajREh/?taken-at=17477334
That's a tough one. I've had some iconic experiences exploring Dallas' food scene. That said if I had to pick one, I'd say BBQ in general and Pecan Lodge specifically rises to the top. You can't come to a market like Dallas and not seek out BBQ. Pecan Lodge was one of my first BBQ experiences in this market and it was a seriously good one. Not to mention people flock to this place! I think when you use a word like iconic you have to resonate with locals and tourists alike, and your appeal has to be sustainable.
Odd Culinary Experience
The Tipsy Alchemist – OK, so, this isn't really culinary, but their cocktail program and delivery are second to none. I ordered a mojito drink called "The Edison" and it came in a light bulb! They have crazy ways of making and presenting cocktails and they actually taste good. It's also a great place to Instagram or Snapchat your drinks so you can make all your friends jealous!
Guilty Pleasure
Shake Shack – Sometimes I hate to pump their tires, but when you want Shake Shack, you want it. A soft, sweet, steamed bun, crispy seared beef patties, American cheddar, simple sauces, and garnishes. Can you ask for more? It brings me back to my childhood and sometimes I just crave it. It's right around the corner from Moxie's, so sometimes I'll steal away for a milkshake and a classic burger.
Hangover Food
Huevos Rancheros – If they're on the menu, you can bet I'm getting them, especially if I'm hungover. Dallas is the perfect place for excellent Mexican flavors. I love it when they're spicy and have a runny egg with a crispy tortilla. Pair it with a Bloody Mary and you're back on track for another day of drinking … or work, whichever you need! I would recommend going to Yolk!

Thank you, Brandon Thordarson, for taking us on a culinary tour of Dallas!
Stay tuned for more EAT THIS CITY — where each week we'll feature a premier chef in a different city sharing their insider eating tips! Missed a week? Check out Indianapolis, St. Louis, Napa Valley, Asheville, Charleston, Columbus, Kailua-Kona, Monterey, San Antonio, Louisville, Nashville, Raleigh, San Diego, Cambridge, Hoboken, Hollywood, Return to Miami, Return to Las Vegas, Manhattan, Oakland, Paris, Portland, Tampa, Durham, Toronto, Baltimore, Monterey, Vail, Lexington, Bentonville, San Antonio, Warsaw, Kansas City, NYC, Washington DC, New Orleans, Cleveland, Miami, Seattle, Las Vegas, San Francisco, Sydney, Portland, Chicago, Austin, Los Angeles, Brooklyn, New Orleans, Providence, Memphis, Orange County, Boston, and Detroit.
See you next week!