Welcome to EAT THIS CITY , your tour of the best restaurants in one of our favorite cities, as chosen by a world-class chef, celebrity, or local hero.
This week, we're making a stop in Indianapolis, Indiana, home to the famed Indianapolis 500, the world's largest single-day sporting event. As any visitor knows, this city is more than cars on a track. It's also home to vibrant culinary and brewery scenes. Our host for today's tour of the best places to eat in the city is Tyler Herald, the executive chef for Patachou, Inc — a family of 13 restaurants established by powerhouse restaurateur Martha Hoover.
Chef Herald is responsible for ingredient sourcing, menu development, and kitchen management for all locations of Cafe Patachou, Petite Chou Bistro, Napolese Pizzeria, and Public Greens. His food is all about local and seasonal ingredients, which means he has forged some powerful friendships with farmers across Indiana. In fact, Patachou is the largest supporter of family farms, boasting more than 40 local producers on its menu. And, the farming community appreciates their patronage. Herald was awarded the Ross Faris Award by the Broad Ripple Farmers Market.
Feeling hungry? Then let's get right to Tyler Herald's can't miss food experiences in Indianapolis!
Pizza
I'd have to go with Bazbeaux. Bazbeaux has been around Indianapolis for a long time. I can remember going there when I was young, and they were one of the first pizza places you really saw different kinds of ingredients. One childhood memory is going there and seeing shrimp on a pizza for the first time.
Tacos
https://www.instagram.com/p/BbMvm5BDoxK/?taken-by=thetacoshopindy'
They make 400 tortillas a day, and when they sell out, they're out! Slow braised meats and fresh ingredients keep people coming. Chef Craig Baker, who worked for us at Napolese, always seasons his things well and also gets creative with specials sometimes. The inside is no frills and the place is downtown, so parking is an issue. Also, it is only open during the week, and during the day.
Still, do whatever you have to do to get here and get the tacos!!
Asian
This place isn't fancy at all. No frills. But, if you want the most authentic sushi in Indianapolis, this is the place to go. This is where you'll find the stuff you see in Japan; all the classic items. And probably some things you have never seen before in Indianapolis. The fish is super fresh. Sakura has been at its home for 20 years, and it caters to a huge variety of people. There is also a little mart around the corner that has Asian take-out food. Definitely hit this up too!
Street Food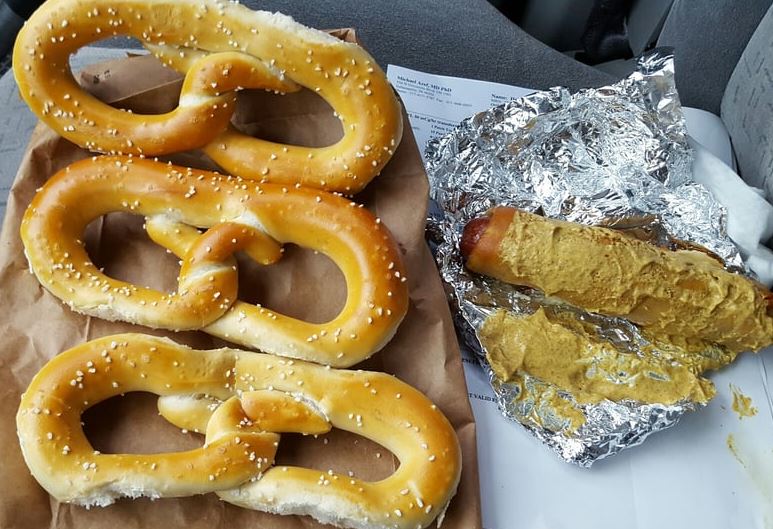 You know those places that only serve one thing, and serve it really well? Well, this is the place. Pretzels, that's it. Soft pretzels that is. Well, they do have a couple of other little things that involve pretzels, but really, it's all pretzels. You can get regular ones, minis, a braid and even pretzel bites. They have cheese, but I always go for the three mustards they have that you can squirt into containers on your way out.
It's lterally in a hole in the wall, in a completely random part of town; I love this place.
Sweet Food
I'm not a big cake & pastry guy. Cookies, pies, they don't really do it for me — I'm more of a candy fiend…gummy worms, licorice, etc…but I also love popsicles. My first encounter with a shop like this was about five or so years ago at La Paletas in Nashville. Since then, Nicey Treat has opened in Indy. They started as just a cart at the farmers market and at city events, but now have a full-on shop in Broad Ripple. The pops are perfect for a hot day, usually with 10-15 flavors to choose from, using seasonal ingredients. They really are fantastic. I always go for the fruity ones, but they have creamy ones too, like Indiana Sweet Corn.

Fine Dining
This place…this is the place I always recommend to people when they ask me where they should go. As a chef, people always ask: if I can tell them to recommend just one place this is THE place. The interior is stunning. Dark wood, and they have an amazing patio with a wisteria-covered pergola. Chef Ryan Nelson has a menu that changes with the seasons, and sources locally. And, I will tell you this, if the brandade is on the menu, GET IT. Comes out piping hot, and is just velvet-like. Another great thing about this place: it may be fine dining, but Chef does not skimp on the portions. You won't leave hungry unlike some other places.
Casual Dining
When you think of a great neighborhood bar — one that has a great beer selection, and awesome food — this is the exact place you're thinking of. The beer selection, as the title states, has 20 different beers that rotate…sometimes daily. The food is really great for bar food, sourcing local meats. They have a killer burger with a grind that they chose, and they also have a fantastic Bahn Mi. Another dish that flies out of the kitchen is the buffalo cauliflower: battered cauliflower that is then tossed in buffalo sauce. Fried cheese curds are also fantastic here; one of the few places you can find them in Indy.
Vegetarian
This is another place that has been around Indianapolis for quite some time now. It's another spot in the great little neighborhood of Broad Ripple, one of the few pedestrian- and bike-friendly neighborhoods where you can walk to restaurants & bars. Broad Ripple Brewpub makes great beer and has a menu with some killer vegetarian options. Baked Falafel, a Seitan Reuben, Vegetarian Sloppy Joe and a Vegan Fish & Chips are all things you can find here. Indianapolis doesn't have a ton of restaurants that do vegetarian things like this, so if you want to cut out the meat, go here. And wash it down with a great brew too!
Brunch
This is a great little spot that's in an old house. They do a great biscuit sandwich with chicken sausage. Another favorite is the lemon corn cakes. I mean, it is Indiana, and we do all things corn here. These are great–not quite as sweet as other cakes, and topped with lemon curd and berries. This is also one of the few places in town you can get a soft tofu scramble if you're vegan.
Iconic Food of the City
Indianapolis is kind of odd…it's hard to come up with an iconic food of the city. As odd as it sounds, we don't really have that one food that people lay claim to; not like Chicago or some of the more food driven cities that may have immigrant roots. So, I'm gonna say the Indiana State Fair. Every year in August, the Indiana State Fair is held for two weeks in Indianapolis. Breaded Tenderloins are probably the most iconic Indiana food, as well as corn and amazing tomatoes. Check out the state fair — there will be plenty of things that are deep fried, including the odd offerings of deep fried Oreos, deep fried candy bars, and deep-fried butter. Yes, butter.
Odd Culinary Experience
This is the place you can go to see and get…anything. It's huge. And has just about any ethnicity you could want. Live fish. Pig's head. Any fruit or vegetable under the sun. Spices. Dried chiles. Any Asian ingredient you could ever hope for. It's the real deal. There also are a couple of places inside where you can get food to go. You need some durian? This is the place to go–some of it you may not even be able to read or pronounce. If you want, just go to people-watch.
This is also the only place in town where a chef can get a Benriner Mandolin if he needs one. And, the prices are way better than what you'll pay at the traditional stores.
Guilty Pleasure
This bar has been there forever. It has crazy rules that make it a part of the history of the bar. No hats. No swearing. Cash only. You'd better like to watch the Cubs. And it still has an old school jukebox. This is the place where you may find service industry people after work, or just regulars who have been there for many, many years. And that's what makes the burger so damn good. You know it's the kind of place that has a griddle that is "seasoned," and seasoned well, with years and years of patties going over it. A soft, no frills bun, and that ooey gooey American cheese. So good.
Hangover Food
If you need to just fill your belly, after a night of…a few drinks…what better way to do it than with an Indian buffet? This place has all of the favorites. Grab a plate and load it with rice, and then top it with any of the stews. Chana Masala, Paneer, Tikka…any and all of them. Take your mouth on a flavor ride. The spices that come out in the food are top notch. And like any hangover food, you'll need something fried. Go for the pakora, and the fried onion fritters. Both of these you won't be able to stop eating; at least I can't. The chutney and tamarind sauce for dipping…you're sure to feel better than when you woke up.

Thank you, Tyler Herald, for taking us on a culinary tour of Indianapolis!
Stay tuned for more EAT THIS CITY — where each week we'll feature a premier chef in a different city sharing their insider eating tips! Missed a week? Check out St. Louis, Napa Valley, Asheville, Charleston, Columbus, Kailua-Kona, Monterey, San Antonio, Louisville, Nashville, Raleigh, San Diego, Cambridge, Hoboken, Hollywood, Return to Miami, Return to Las Vegas, Manhattan, Oakland, Paris, Portland, Tampa, Durham, Toronto, Baltimore, Monterey, Vail, Lexington, Bentonville, San Antonio, Warsaw, Kansas City, NYC, Washington DC, New Orleans, Cleveland, Miami, Seattle, Las Vegas, San Francisco, Sydney, Portland, Chicago, Austin, Los Angeles, Brooklyn, New Orleans, Providence, Memphis, Orange County, Boston, and Detroit.
See you next week!