2. The Original Bomb Pop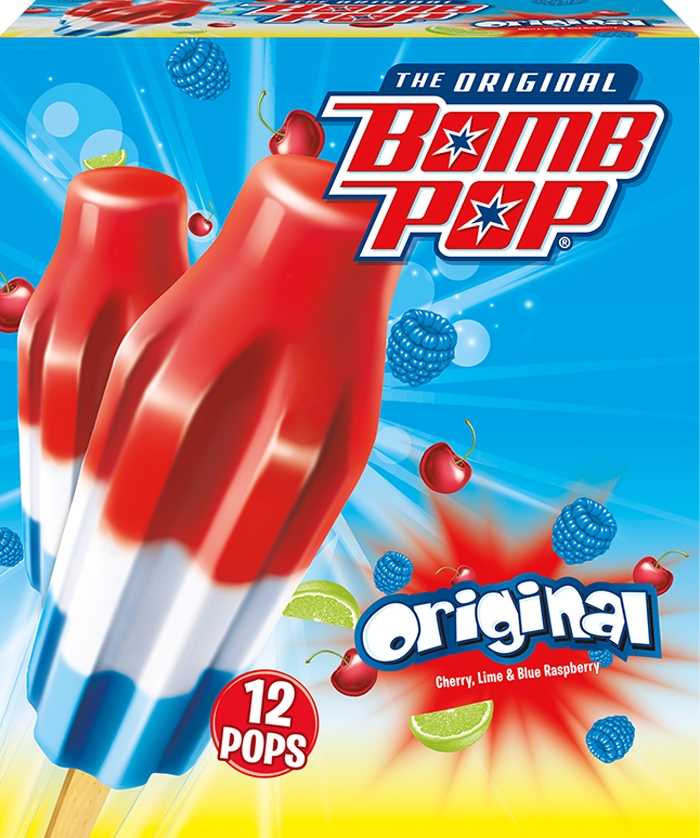 Calories: 120
Sugar: 7g
Average Retail Price: $2.97
I went back and forth over which popsicle deserved the number one spot but ultimately the Original Bomb Pop is just going to have to take second place here. No ice cream pop screams "summer" to me quite like the Bomb Pop, and the OG version has yet to be watered down and made healthy, delivering a seriously addicting combination of intensely sweet lime, blue raspberry, and cherry. There is something subtly sour about this flavor combination, which adds a nice complexity (feels ridiculous to call a popsicle "complex," but here we are) to the experience.
The individually wrapped Bomb Pops are nearly twice the size and feature a sour gumball at the tip. If you see this version, give it a try, but the standard market size without the gumball works too. In fact, if you do find the larger version, ditch the gumball as it'll lose flavor almost immediately. Once you freeze gum it becomes intensely hard, so hard it might crack your tooth which will probably be such a traumatizing experience that you'll swear off popsicles forever, and we don't want that for you.
This Fourth of July you could go around waving an American flag, but that's tacky. Wave a bomb pop instead. Then go blow some shit up and enjoy the show while you eat this sweet and sour treat.
The Bottom Line
This summer we're giving the number two popsicle spot to the almighty Bomb Pop. Don't get the Rocket Pop, or some other red, white and blue popsicle, settle for nothing less than the original.
Pick up an Original Bomb Pop at Walmart.
1. Big Stick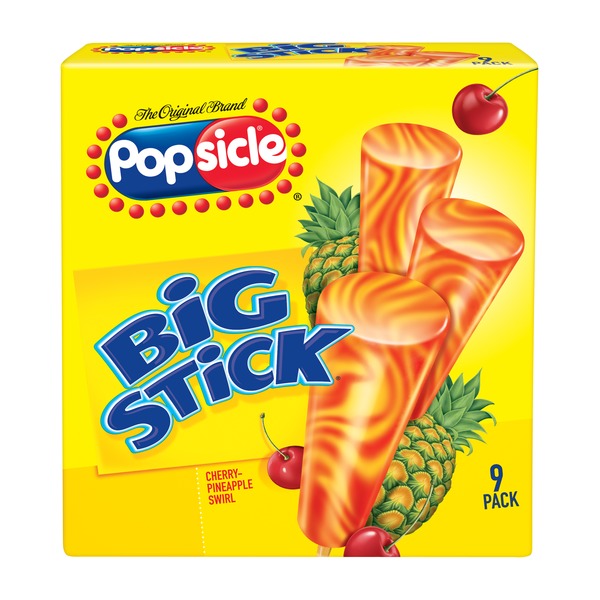 Calories: 70
Sugar: 11g
Average Retail Price: Price Varies Wildly
Apparently Popsicle's original Big Stick has been officially discontinued, but… not really, as you can find this bar at most grocery stores, either under the Popsicle moniker, or under another name (Monster Pop, and Super Pop are popular options, Cherry-Pineapple swirl works too) as well as on Popsicle's website as individually wrapped bars. Honestly, whether you buy Popsicle brand or not, it doesn't really matter. Hands down, Big Sticks are one of the best popsicle flavors of all time. President Theodore Roosevelt once said "Speak softly and carry a big stick, you will go far," historians think that that refers to his foreign policy but they're wrong, he was actually talking about these things. Which makes sense because he invented them! (Okay, I made that up — I've had a lot of sugar today).