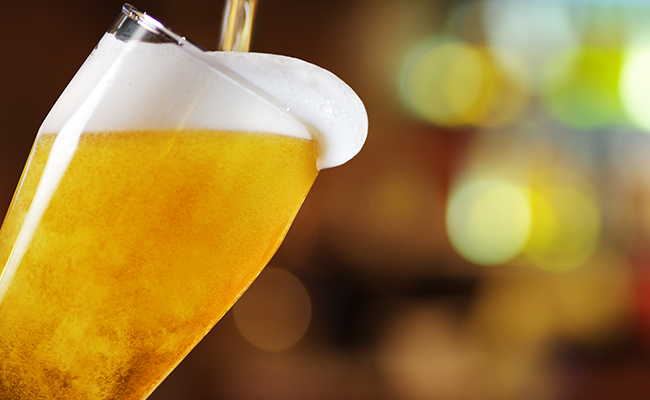 One of the biggest trends in the brewing world (and the alcohol world in general) is low-calorie, low-alcohol beer. Sure, you can still find triple IPAs and barrel-aged stouts chocked full of calories, carbs, and immediate buzz-levels of alcohol. But the market has also been crowded with "healthier" alternatives (not that there's really any such thing as a truly healthy beer).
In short, this means there are a ton of flavorless, fizzy, yellow beers on the market now. But there are also a handful of options that will satisfy your thirst for a frosty brew, taste great, and still not turn your six-pack into a keg. Here are the few that we genuinely like.
Dogfish Head Slightly Mighty IPA
https://www.instagram.com/p/BzkTOfbJnxo/
Dogfish Head made headlines recently for its new partnership with the Boston Beer Company. But this brand, known for its innovation, has no plans to water down its business or brews. This begins with its new low-calorie, low-carb, low alcohol offering released this spring called Slightly Might.
Tasting Notes: Before even tasting this beer, you should be aware of the crazy low carbs (3.6 grams), calories (95), and alcohol by volume (4 percent). Yet somehow, with all of that seemingly going against it, this brew manages to be a hazy, sweet, refreshing pick with a subtle hop presence and tropical fruit flavors that will appeal to fans of much higher ABV IPAs.

Boulevard Easy Sport
Kansas City's Boulevard Brewing has been crafting beer since 1989 and is currently the largest craft brewery in the Midwest (although it's owned by Duvel Moortgat). Known for beers like Tank 7 American Saison and 80 Acre Hoppy Wheat beer, the brewery released its first low-calorie beer a few months ago.
Tasting Notes: Easy Sport is Boulevard's foray into the world of low-calorie, session beers. This 4.1 percent ABV beer is referred to on the bottles and cans as a "Recreation Ale" — which sounds vague and kinda cool at the same time. Designed for enjoyment during and after biking, hiking, and other outdoor activities, it's 99 calories per can, 4.5 grams of carbs, and all the taste you expect from a Boulevard brew. Technically a blonde ale, it's light, highly crushable, and full of tart grapefruit, and orange peel flavors with a hint of salt at the finish.
Exercising before getting toasty? You won't need Gatorade. Boulevard went so far as to add electrolytes to this beer.
Lagunitas Daytime IPA
Lagunitas is well known for its high-quality IPAs. So when it decided to create a low-calorie IPA it was fairly important that it was good. It's hard to add a massive hit of hops without also adding higher calories and carbs. But fans of subtly bitter, West Coast IPAs can now take a break for their usual heavier IPAs and instead sip on a Lagunitas Daytime IPA.
Tasting Notes: When a beer is under 100 calories, it's usually a classic "light beer" like Miller Light or Amstel Light. You know what you're getting with that. Less carbs, calories, and alcohol also usually equates to less taste. This isn't the case with Lagunitas Daytime IPA. Even though it's only 98 calories, 3 grams of carbs, and 4 percent ABV, it has the perfect amount of floral bitter hop presence, cruisy tropical notes, and the smooth taste we expect from Lagunitas
Harpoon Rec League
In recent years, it seems like adult kickball, softball, dodgeball and even horseshoes leagues are all the rage. And all of these leagues have one thing in common: beer. Adult recreation leagues are a great excuse for many professionals to drink a beer (or three) on a weekday. Boston's Harpoon Brewery decided to take a hint from these amateur athletes and create a beer specifically designed for them.
Tasting Notes: Harpoon Rec League is everything you want from a sipper while you stand in centerfield waiting for a pop fly. It's low in alcohol (3.8 percent) and only 120 calories per can. It's also full of flavor. It's hazy, juicy, and refreshing with hints of pineapple, mango, and other tropical flavors.

Southern Tier Swipe Light
Southern Tier is well known for beers like Phin and Matt's Extraordinary Ale and autumn staple Pumking. But, like so many other well-known breweries, the company decided to get in on the low-calorie beer bandwagon this spring. It might seem like a cash grab, but Swipe Light (a cheeky reference to Tinder) is more than a gimmick.
Tasting Notes: You absolutely know what you're in for when you crack open a can of Swipe Light. It's a light beer, but it's so much more. Sitting at 110 calories, this 4 percent lager is crisp, refreshing, thirst-quenching, and the perfect beer to sip while grilling in the backyard. It's low in bitterness, but packed with Mosaic and Citra hop flavor and extremely smooth.