Whenever I visit someplace new, I look for two things: art and music. Usually, that means hitting up a few galleries before searching high and low for a cool record store. In most cities, I find a shop tucked into some up-and-coming neighborhood. These shops inevitably offer a fair mix of dusty, damaged old discs being passed off as vintage, along with overpriced, shrink-wrapped top 40 albums. But Miami? She's different. There's music running through her veins. In every corner of the city — from neon-lit Miami Beach to the suburbs of Olympia Heights — I find what I'm looking for and then some.
Maybe I should've assumed this going in. This is the city that celebrates the pulsating rhythms of Calle Ocho in Little Havana. This is home to Denzel Curry, 2 Live Crew, and the always relevant Celia Cruz. Of course their vinyl scene is on point. So on point, in fact, that what usually takes me a breezy afternoon of casual searching in other cities felt like a full-on quest in Miami.
Here's what I uncovered in my search:
First stop: Lucky Records in Wynwood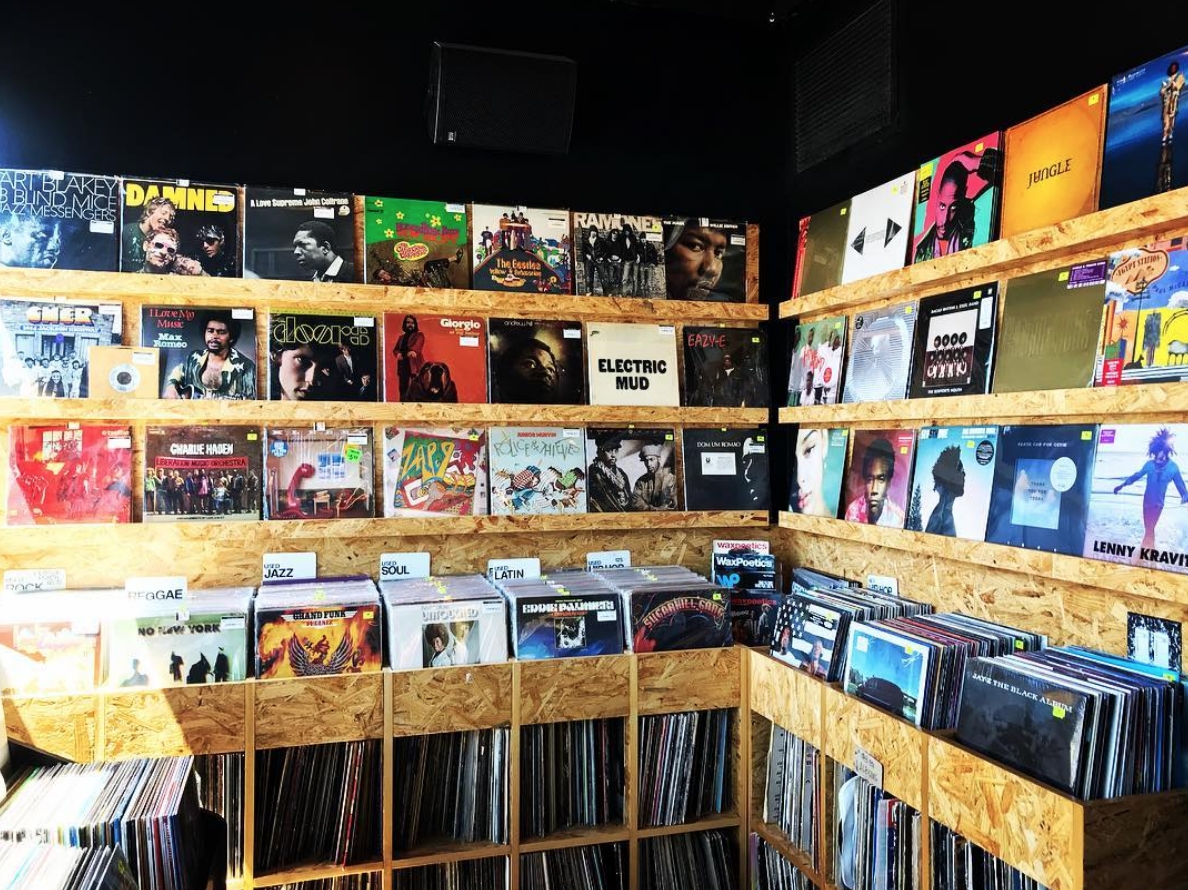 I start in Wynwood. The neighborhood is literally teeming with street art, boutique shopping, beer, and, dare I say, quirk. An Uber drops me near the famous Wynwood Walls — backpack empty and stomach full. I round the corner and spot a big sign with a Maneki Neko, that ubiquitous lucky cat that beckons with its raised paw. I've made it: Lucky Records.
The record collection itself is on the smaller side at Lucky Records, but it packs a punch. Tucked into a tight corner of a larger complex that includes a bar and an enormous food hall, the shop is actually three low walls stuffed with vinyl. The shelves behind the register hold ephemera you'd find at a bodega: lighters, Japanese candy, a cooler full of juice and aloe water. If you had a laundry emergency and needed some detergent and Fleetwood Mac's Rumors, you'd be sorted.
I've already started digging when my boyfriend, Michael, tagging along for this adventure, squeals — literally squeals — with delight. He holds up Ronald Dregan: Dreganomics. "I love this place," he declares.
When you're done flipping through records… walk a few feet over to 1-800-Lucky, the enormous food hall attached to Lucky Records. Treat yourself to a poke bowl or some dim sum, and then finish with a nice bowl of Japanese ice cream. If you're here at night (because Lucky Records stays open 'til midnight), get wild and do some karaoke.

Stop two: Brooklyn Vintage and Vinyl in Allapattah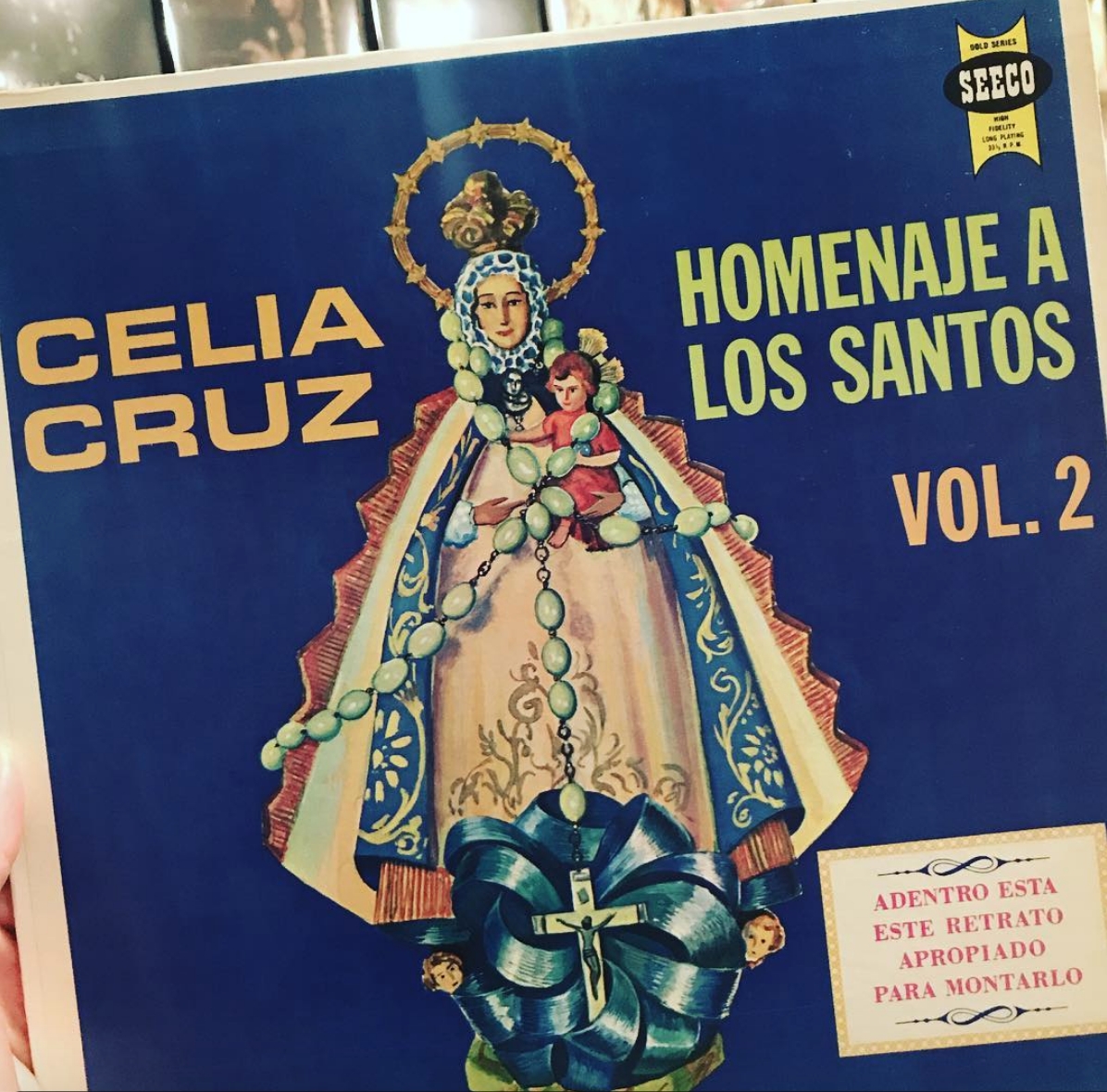 We walk to Brooklyn Records from Lucky Records — a big mistake as the day is heating up quickly and our packs are starting to get heavy. Brooklyn Vintage and Vinyl is situated west of Wynwood; there's no way you'll miss it. The building is bright turquoise with little, one-eyed shark-alien cartoons dancing all over the façade. It's situated on the corner of a block that is all murals on one side and all auto shops and churches on the other.
Once we get inside, Michael and I immediately agree that the walk is worth it. Why? For one, this building has air conditioning, but more importantly, Celia effing Cruz. So much Celia. La dinámica. La reina. Both the location and the collection are indicative of the changes happening in Allapattah (sometimes known as Little Santo Domingo): there are plenty of Latin beats to be found here, but I also nearly drown in all the Yeah Yeah Yeahs and Smiths records. More than anything, the sound of shuffling feet, the dull thud of records falling one onto another as people dig around, and the smell get me.
Brooklyn Vintage and Vinyl reminds me of an old bookstore, the warm musk of well-loved art. I could stay here all day.
When you're done flipping through records… walk back towards Wynwood and check out The Margulies Collection, an enormous gallery with seasonal shows, housed in a converted warehouse.
Stop three: Retro City Collectibles in Little Havana
We learned our lesson on the walk to Allapattah, so we decide to take an Uber down to Little Havana, where we were keen to wander around Retro City Collectibles — a place I was told, in no uncertain terms, I would love like an eccentric aunt. The tip-giving friend refused to elaborate, and I didn't want to spoil the surprise, so I didn't look it up beforehand.
Boy, am I glad I waited. This place. How to describe this place? It's like the TARDIS of stores. There shouldn't be so much stuff packed into a single shop, and yet here I am, going through stacks of records while trying not to knock over collectible Hot Wheels or get in the way of the other customers. Do I want this old Elvis record, or do I want a pack of unopened Pokemon cards? There are Pez dispensers, Star Trek action figures, and movie posters, to say nothing of the boxes of records crowded on the floor. Michael and I keep finding more stuff somehow. I do love it, but just as with an eccentric aunt, I can only take so much.
When you're done flipping through records… do a food-crawl through Little Havana, following the itinerary of Uproxx Life Editor Steve Bramucci. Then maybe try to dance some of the calories along the way.
The penultimate stop: Sweat Records in Little Haiti
Sweat Records is the place I've been most excited for through my whole trip to Miami. I love what Michael calls "depression rock." When people are going through our records, and they ask how they're ordered, he'll point to our shared collection of classics, inherited from our parents, and say, "This is classic rock and rhythm and blues." He'll point to his section and say, "This is hip-hop." And then he'll point to my records and say, "And this is the sad stuff."
So of course, when we arrive in Little Haiti, I practically dance into the store. After all, this is Miami's definitive indie music store, and they have staff who are loud and proud about their love of shoegaze (or "dream pop"). You definitely won't miss this store: as with so many places in Miami, it's painted for the back row, with a mural of beloved musicians covering a broad wall next to the entrance. If you see a purple-and-white Bowie, you've found what you're looking for.
I'm a little tired at this point, but immediately, I spot some old Animal Collective for a steal, and I'm off. Michael wanders off to the coffee shop where he orders an Americano for himself, and a dirty chai with soy, ostensibly for me. By the time I'm done searching through what I have determined is actual heaven, my chai is cold. That said, it's still delicious, and I'm not mad, because I get caffeine and some hard-to-find Blondie.
When you're done flipping through records… revive yourself with a pint at Churchill's, then stay for a show. Sometimes they host jazz, sometimes punk, sometimes thrasher metal that will make your ears bleed.

The final stop: Technique Records in North Miami Beach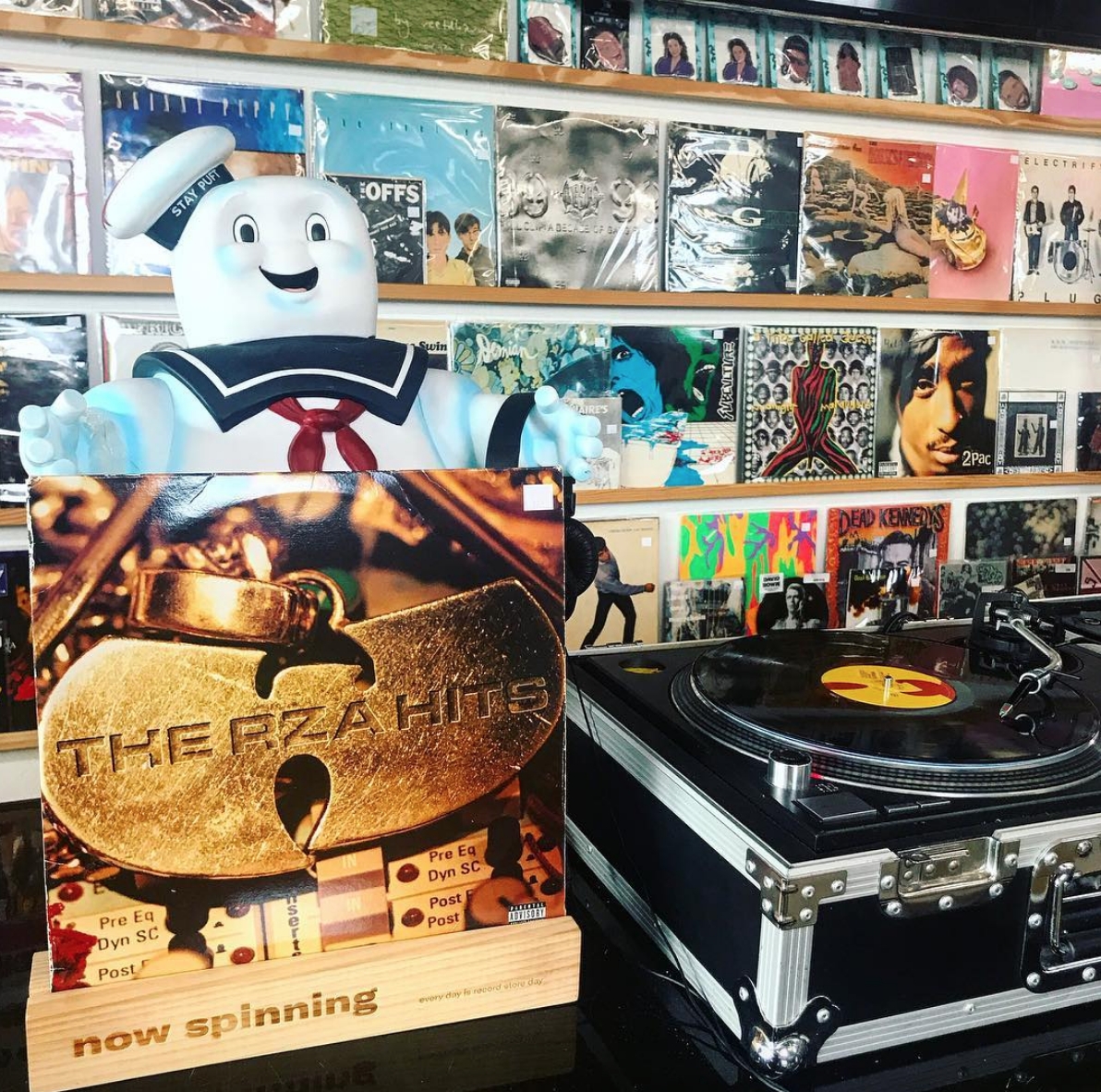 Technique Records is the place Michael, a huge fan of hip-hop and Miami bass, is most excited for. I'm excited because I haven't been to this neighborhood yet. When we get to North Miami Beach, we almost miss the white-washed building because it's so damn bright out that we can hardly frickin' see. But we make it inside in due time and to my delight, they have more than records. I immediately head over to look at the books. When I don't find anything that grabs me by the heart and demands purchase, I start looking at the vinyl.
This collection is a lot more eclectic than I expected. I grab an Al Green record, and I walk over to Michael to declare to him that I've found something important. He nods and ooohs before flipping through a few more records and replying, "Oh, they have Del tha Funkee Homosapien, too. Look at this!" He holds up a record with creeping, angry eyes staring out from the cover of I Wish My Brother George Was Here. It reminds me of that scene in Snow White where she's stuck in the forest and going apeshit with fear. I pick up Al Green, hold on for dear life, and wander away to another corner of the store.
I am so short that I literally can't look comfortably through all of the records, so I go look at the cassette tapes they have near the entrance. A teenager recently told me that cassettes are the new vinyl and I felt like I was staring into the face of my own mortality. More than anything, I'm impressed by how much Technique Records has managed to fit into this space, and left wishing I still had a cassette player.
When you're done flipping through records… cross the Little River back into the Little Haiti/Little River area, and treat yourself to either Japanese or arepas on Biscayne Blvd. Then, if you somehow still have room to breathe, walk over to Bousa Brewing and order up a pint or three. You deserve it after the day you've had.