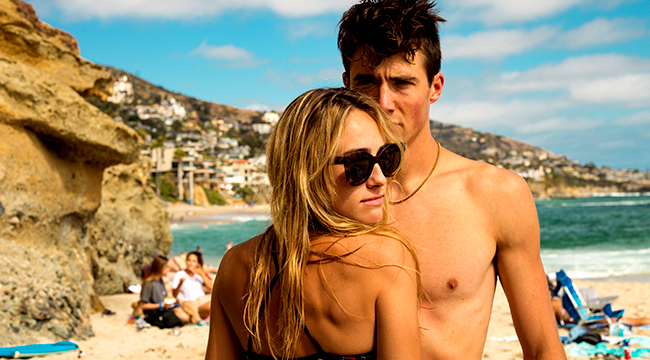 There's a type of person who hears "summer vacation" and thinks of all the fun they're going to have with the family at Six Flags. And then there's another type of person, who focuses on how much they want to feel a lover's hands navigate their bodies in a luxury hotel room. For the former, the world is your oyster. You have Disneyland and waterparks and… just about every place on earth is kid-friendly (thank God for small mercies). For the latter, there's just a handful of resorts that offer a full sex-positive experience without sacrificing access to gorgeous beaches and amenities.
We're here to help you find those spots. After all, there's enough summer left that you could make some reservations. What's hotter than spontaneity?
The list below contains a number of luxury properties, a couple of naturist spots, and a few resorts that actively encourage you to get in the mood. One is sure to fall in your sweet spot. It's worth noting that many of these are concentrated around the same geographical area, because all-inclusive themed resorts tend to be grouped in Mexico and the Caribbean. Obviously, there are plenty of places to stay in Thailand or Europe or Namibia that are equally luxurious and could conceivably get your mojo going, but we're focusing on the places that put the "sex" in sex-positive.
Cypress Cove Resort — Kissimmee, Florida
Let's start in the continental U.S., and with a less overt form of eroticism. It's important to note that nudity does not necessarily indicate automatic horniness. We know that you know this because we all do a fair number of things sans clothing that aren't at all titillating. So when we offer up this nudist resort, we aren't saying that people are naked and swinging. Heck, Cypress Cove is actually family-friendly itself. We are saying that chilling nude at a 300-acre facility is a great way to be fun and carefree, and those are the foundation for some good sex when you and a partner chill in your room.
If you aren't ready for a full-on sex-a-thon but you like the idea of kayaking across a lake, playing on a nine-hole golf course, sunbathing on a large deck, dancing at the resort's bar and grill, and enjoying nightly entertainment all while your bare ass is out, this can be a really great travel option. And, yeah, a sexy one. What's sexier than gaining confidence to be naked?

Hidden Beach Resort Au Naturel Club — Tulum, Mexico
If you like the idea of Cypress Cove Resort, but you aren't feeling a trip to Kissimmee, Florida, might we suggest the only five-star nudist resort in Mexico? This don't feel like no nudie summer camp; it's pure swank. Enjoy gourmet meals prepared by celebrated chefs, personal concierges, 24-hour room service, beach butlers, a welcome glass of bubbly, and a secluded private beach. They also host daily and nightly activities for you and your partner. It might be coconut painting, water volleyball in the pool, or a water balloon fight. And you get to do them all starkers.
Like many other nudist resorts, Hidden Beach follows naturist etiquette rules. That means you can't ogle other guests just because they aren't wearing clothes. You also can't engage in any explicit sexual behavior in the common areas. If anyone gets handsy or too horned up, other guests can complain to management.
Hedonism II — Negril, Jamaica
If all these rules about touching and being publicly provocative rub you the wrong way, Hedonism II will… rub you the right way? This is one of the most famous clothing optional resorts, if not the most famous. It's an adult playground with a lot of luxury amenities, though the big draw tends to be the chance to get freaky (however, the resort does have a conservative area with many of the same resort perks). There are lighted tennis courts, shuffleboard, and a gaming lounge. But there's also the Kama Sutra Palace where you can learn positions, take workshops, do yoga, and have lessons in tantric massage.
Couples, single women, and invited single men will find a lot of fun in the Romping Shop Playroom with its L-shaped bed, swings, glass shower, and suspension cuffs that descend from the ceiling. The resort sells it as a great place to make new friends, but you can probably do that at the bar just fine. The people you meet in the playroom will probably be more than your friends, is what we're saying.
Desire Riviera Maya Resort — Puerto Morales, Mexico
This four-star couples-only resort offers services and activities that distinguish it as the sort of place anxious to turn guests' sexual desires into reality. For example, Desire Riviera Maya has a "Fantasy Menu" that encourages guests to spend extra money to arrange unforgettable experiences like a foursome erotic massage, a romantic dinner by the beach, sex on the beach, and a sensual evening with a stripper. We like the "Gazebo of Passion" partially because the name is hilarious but mostly because it would be nice to have a four-course private dinner followed by time in a love bed with chocolate, strawberries, and your favorite partner. There is also a "sensual catamaran" where the resort invites guests to redefine the meaning of passion on a seven-couple naked cruise.
Each night is marked by a different themed activity like Gods and Goddesses, Mysterious Masquerade, and Red Carpet Affair. Each one is assigned a night so prospective visitors can figure out ahead of time what will be happening when they are at the resort and pack accordingly. No one wants to miss Masters and Mistresses night because they forgot their leather and latex gear.
Desire Riviera Pearl Resort — Riviera Maya, Mexico
People who want the sensual fun of Desire Riviera Maya but prefer more upscale lodgings and less of a party atmosphere will find what they are looking for at the Desire Riviera Pearl Resort, which is also a clothing-optional, couples resort, but one that attracts a fancier, younger clientele. And the Maya resort is already pretty fancy so that's saying a lot. Guests who stay in the Desire Mansion enjoy private check-in, butlers, a VIP welcome kit, a guest pass that allows them to invite another couple into the mansion, exclusive dining service, top-shelf liquor in their room, and a playroom. There's also a private pool for times when frolicking on the resort's nude beach gets old. Just kidding. It's a secluded beach on the edge of a lovely fishing village, and it boasts sand as fine as powder and people frequently getting frisky. That never gets old.
People who like the idea of sexy catamaran adventures, the "Fantasy Menu," and themed nightly activities will be happy to know that the Desire Riviera Pearl property offers them all as well. No one is looking to deny you some provocative vacation entertainment.

Temptation Cancún — Cancún, Mexico
Billing itself as a one of a kind "Playground for Grown-Ups," Temptation Cancún is all about fun without the full-on debauchery of some of the other resorts on this list. For example, it is adults-only all the way, but you won't find anyone rolling completely nude. Instead, there are topless-optional areas on the beach and by the pool; complete nudity and public sex are no-nos. The order of the day leans to the hip and sensual with the bulk of the excitement coming from Bash nightclub, aphrodisiac restaurant She, the flirty pool, and the sensual beach. It's pretty much what you would get at any nice Cancún resort without having to wade through families. Think non-stop spring break without people hurling or acting like they want a Girls Gone Wild cameo.
The pay-for-play (or "pay, foreplay") menu includes some signature experiences like a personalized 30-minute pole dancing class in your room complete with wine and strawberries, an intimate dinner for two on the beach, an hour-long couples massage at the beach with champagne and chocolate fondue, and a full evening with a lobster dinner, a couples massage, and a preparation of your in-room jacuzzi with essential oils and rose petals.
Rooftop Resort — Hollywood, Florida
Is the Rooftop Resort South Florida's #1 Swinger's Nudist Hotel? To hear them explain it, yes. It doesn't hurt that it's comparatively affordable, especially when you consider that you only need to take a road trip or grab a domestic flight. Standard and deluxe rooms are fairly straightforward but people looking to get super sexy will give the Swinging Studio Suites a moment or two of consideration. Those moments will likely be spent trying to determine whether or not the "fantasy love sling" really gets clean enough between guests using it. Given the fact that there are daily play parties at the heated rooftop pool, you might not spend much time in your room anyway.
There is a nude beach a few minutes from the property and Rooftop Resort boasts a Scandinavian-style sauna, but it's the well-equipped video playrooms that prick most people's ears up. They kind of make up for this being a BYOB property.
Couples Tower Isle — Ocho Rios, Jamaica
Hollywood stars of the 1950s were frequent visitors to this all-inclusive resort positioned on 19 acres of Tower Isle, a tiny, rocky island surrounded by clear, blue ocean. Now, the five-star, couples-only resort and spa attracts people who want to hang in paradise with their partner without having to wear clothes or deal with screaming youths. Makes sense to us. And this isn't the kind of resort that lures people in with nudity as the only selling point. Travel & Leisure literally named Couples Tower Isle one of the "Best New All-Inclusive Resorts" in 2017. That's no surprise because it's a naturally gorgeous locale with an attractive, well-appointed resort placed on it. Who doesn't think staying in a spa villa in Jamaica with a private plunge pool and sun terrace seems like a grand way to connect with a partner? What if we mentioned that they come with unlimited spa treatments?
If we were to offer one criticism of the property, it would be this. When you run a resort for couples that includes a clothing-optional beach and a certain degree of sensuality, you should probably get someone in marketing to come up with a better term for your amenities than "unlimited watersports." Or maybe your team just doesn't have gutter minds because their desires are so fulfilled?
Sandals Royal Bahamian — Nassau, Bahamas
This is another all-inclusive, couples-only property that isn't hitting anyone over the head with sex. You won't be getting rubber sheets or a special playroom filled with paddles. You will instead be offered total luxury at the most elegant property in the Bahamas. We are talking 5-star Global Gourmet dining at 10 specialty restaurants, two immense colonnaded pools positioned above the undulating waters of the sea, an award-winning spa, and two pristine white-sand beaches. If a vacation here doesn't make you want to bone, you might need to see a doctor. Sandals Royal Bahamian is practically hospitality Viagra. If you want to go full love nest, book one of the swim-up butler suites with a Zen Garden river pool, a four-poster bed, a rain shower and soaking tub combo, and a fully stocked bar. You're worth it.
There's even a private offshore island with a couple of secluded beaches (keep your clothes on), a pool, a whirpool, a swim-up bar, and an awesome seafood house. And the island is studded with private cabanas and hammocks for catching a quiet moment with your partner or meeting new friends.

DR Nights — Punta Cana, Dominican Republic
It's only fair that we finish this list up with the most sexual of all the resorts we found. How randy is it? If you were reading the other entries and getting bummed that you lack a woman to travel with, don't worry about that here. DR Nights will literally provide you with a female companion. And not just one; they are down to send several women your way. This sex vacation destination comes complete with escorts, and it sells itself as sexual tourism that maintains an air of luxury. They sell an experience at a beachfront, all-inclusive resort with multiple restaurants and bars, a private beach, swim-up access to rooms, a spa and wellness center, a casino, and butler service. And if you want to talk service, guests get a VIP host who helps with translations and activities.
When guests arrive at the airport, they are greeted by their VIP host and two companions who provide an ice-cold beer and a Dominican cigar. Once the group arrives at the resort 10-30 women are lined up for selection as part of a reception party. Yes, that may sound off-putting to you, but sex work deserves respect and is legal in the Dominican Republic. Plus, people who want a sexy getaway may not have the option, otherwise.