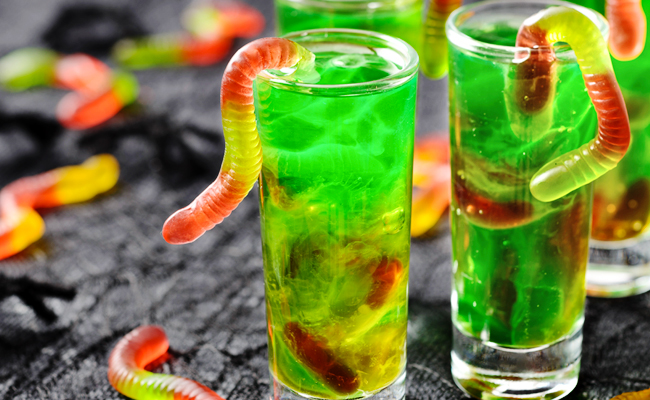 It's just a few days until Halloween. You still have ample time to stock up on a few giant bags of full-size candy bars…and a few treats for your potential trick-or-treaters too. But eating handfuls of Kit-Kats, Milky Ways, and Snickers can give you an upset stomach if you don't wash it down with the right drink. We vote booze. (We always vote booze.)
The key to marrying your favorite spirit with candy is to find good flavor matches. You wouldn't want to sip on a vodka martini and eat a peanut butter cup or pair a wee dram of Bailey's with sour gummy worms. So how can you figure out how to make the correct, delicious match? We asked our favorite bartenders to tell us their favorite Halloween candy and spirit pairings. Check out their answers below (spoiler: bartenders like Snickers and Reese's).
Ron Barcelo Imperial Onyx + Kit Kat
Danwel Olivo, bartender at Conrad Fort Lauderdale Beach
"Aged in American white oak barrels at a high temperature, Ron Barcelo Imperial Onyx offers a robust body with touches of coffee, dried fruits, cherry, wood and vanilla. The rum's caramel aroma and slightly sweet character is perfectly complemented by a Kit Kat for a masterful blend."

Aylesbury Duck Vodka + Jolly Ranchers
André Ishac, bartender at Tartinery in New York City
When it comes to Halloween drinks, I believe that infusions are the best way for childhood and adulthood fun to collide. Personally, I like to infuse Aylesbury Duck Vodka with Jolly Ranchers to craft colorful, nostalgic and tasteful martinis.
Ancho Reyes + Salted Caramels
Lou DiNunzio, beverage manager at REX 1516 in Philadelphia
"What's my favorite spirit to pair with Halloween candy? Ancho Reyes liqueur / Rittenhouse Rye whiskey 50/50 and salted caramels. Some heat from the ancho, some strength from the Rittenhouse, and salted caramels are always delicious."
Buffalo Trace + Sour Patch Kids
Adam Koelb, beverage director at The Rickey at Dream Midtown in New York City
"My favorite spirit to pair with Halloween candy is Buffalo Trace Bourbon and Sour Patch Kids. The combination of grain and citric acid creates a flavor that tastes similar to soda. At first, I was a skeptical about the combination but after some experimentation, I found that the addition of Sour Patch Kids in Bourbon tastes just like an upgraded Whiskey Sour!"
Woodford Reserve + Snickers
Chris Gere, bartender at Brennan's of Houston
"My favorite spirit with Halloween candy: Woodford Reserve on the rocks with a Snickers bar. 'Nuff said."

Ilegal Joven Mezcal + Dark Chocolate Reeses Cups
Will Benedetto., cocktail curator at In Good Company in New York City
"I love Reese Cups and Mezcal. Mezcal has a lot of earthy notes that play well with cacao, peanut butter, and salt. If you really want to get specific, I particularly enjoy Dark Chocolate Reese Cups with Ilegal Joven mezcal."
Johnnie Walker Gold + Snickers
Don Hernandez, beverage director at Holston House in Nashville
"Johnnie Walker Gold and Snickers bars, both right out of the freezer. Everybody knows that a frozen candy bar is delicious when frozen, but leave that bottle of Johnny Walker Gold in the freezer for 24 hours, and you have liquid gold! Honestly, it goes well with anything chocolate.
Courvoisier XO + Dark Chocolate Kisses
Sebastian Gonzalez, mixologist at Hilton Buenos Aires
"For a sweet Halloween pairing, you should try Courvoisier XO Cognac with dark chocolate Hershey's Kisses or Reese's Peanut Butter Cups. Every sip of this cognac will cleanse your palate, leaving you ready for the next bite of candy as if it was your first."
Mezcal Veras Reposado + Frozen Snickers
Andrew Harbour, bartender at FARMHOUSE in Los Angeles
"Mezcal Veras Reposado. Aged in oak, it hits the right amount of sweetness and vanilla notes, pairs great with a frozen Snickers bar."

Ole Smoky Salty Carmel Whiskey + Chocolate-Covered Espresso Beans
Lee Blackwell, bar manager at The Bristol Hotel in Bristol, Virginia
"For an elevated twist, my favorite pair is Dark Chocolate Covered Espresso Beans with a smooth glass of Ole Smoky Salty Carmel Whiskey on the rocks.
Glenmorangie 18 Year Old + Butterfinger
Dusty Grable, Beverage Director at Merriman's Hawaii in Honolulu
"Can't say I have a favorite, but since reading this question, I had to try some out. Conclusion… Glenmorangie 18 Year Single Malt Scotch and Butterfinger. Who knew? "
Crown Royal Salted Caramel + Reese's Peanut Butter Cups
Andrew Babin, bartender at Public Belt Bar and Lounge in New Orleans
"Crown Royal Salted Caramel because the taste fits perfect into the fall/winter season and who doesn't like salted caramel?! It has the foundation of a candy built into the spirit, and I pair it with my favorite candy, Reese's Peanut Butter Cups. You're getting the ultimate trifecta of caramel, chocolate, and peanut butter. It's to die for."
Mr. Black Cold Brew Coffee Liquor + Reese's Peanut Butter Cups
Spencer Elliot. Head Bartender at Cleo in New York City
"Reese's peanut butter cups with anything coffee is incredible. I've gotten into Mr. Black Cold Brew Liquor. Either in an espresso martini or just with ice, the pairing is scarily good."

Rittenhouse Rye + …War Heads?
Brock Schulte, bar director at The Monarch Cocktail Bar & Lounge in Kansas City, Missouri
"War Heads are a pretty fun joke in my house this time of year. And they don't pair well with anything so I just stick to my all-time favorite – Rittenhouse Rye Whiskey."