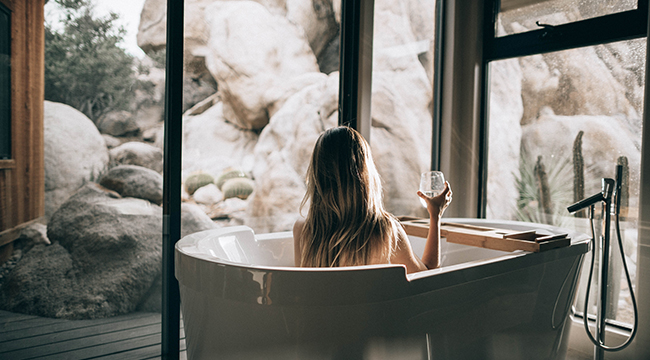 Let's get something straight: This is an article about splurge hotels. Some are just "pricey." Others are straight up out of this solar system. That's what you're getting into and it's better if we're honest about it up front.
No, we aren't saying that everyone can afford to stay at these properties. Or even that we can afford to stay at them with anything approaching regularity. But we live in an age when people crave experiences and a luxury hotel is indeed an experience. Want to feel like a baller? Want to go mega-big for a weekend? Want to end a budget trip in style? One of these spots might the right one for you.
If spending huge amounts of cash on dream digs isn't your vibe, we get it. 100%. But before racing to the comments and calling us out for our exorbitantly priced picks, remember that you were warned. Still… if you demand a palate cleanser after reading, here are some budget picks to re-center your equilibrium.
-Steve Bramucci, Travel Editor
Steamboat Bay: Noyes Island, Alaska

If you want a true splurge that will also grow into a lifelong memory, this is it. Forget about the cash you're dropping and focus on… just about everything else. The lodge setting, the fishing excursions, the incredibly sophisticated cuisine, the always-on-hand staff — there's literally nothing about Steamboat Bay's Lodge and "Residence" (a small-group buyout property a few hundred feet from the main building) that isn't on point and beautifully buttoned up.
This is the Alaska you always dreamt of: Fighting king salmon while friends cheer you on, watching whales breach so often that it begins to feel commonplace, and sipping whiskey next to a crackling fire as warm, rich scents waft out of the kitchen.
What truly differentiates a great hotel splurge from simply another expensive hotel is that the property does all the little things right. This is where Steamboat Bay shines. The fishing guides are deeply invested in your success. The bartenders are eager to make the perfect rendition of your favorite cocktail. The kitchen team wants to cater to your whims. It's like literally everyone on staff is a personal concierge. As for the property itself, the beds are massive and so cozy that it's nearly impossible to drag yourself out from under the covers in time to board your fishing boat at 7am. Once you do though, you'll be rewarded. Alaska's vastness, natural beauty, and rugged landscape are all on display and turned up to 11.
This is the opposite of a canned "Alaska Fishing Trip." Instead, it's intensely personal — intimate in scope, yet epic in scale.
Rooms start at $4500 for a two-night all-inclusive package.
Essence Hanoi Hotel & Spa: Hoan Kiem, Vietnam
The Old Quarter of Hanoi can be hectic, even by the standards of Southeast Asia. Enter the Essence Spa and Hotel. Of nearly any hotel I've come across, this place is most fitting of the word "splurge" — which is kind of insane when you can snag a room for generally less than $100. Entering the spa after a day of bobbing and weaving through car, moto, and foot traffic is a vice that becomes quickly addictive. The staff are friendly, helpful and (when they're not fully booked) enthusiastically ready to make your stay pleasant. This could be an upgrade or just making sure to explain how to eat the lychee that is in your fruit basket.
The spa's prices make you want to live in Hanoi. There is a tailor on hand – make an appointment – to get sized for legendary Vietnamese suits. And the front desk can help you coordinate day or overnight trips to Halong Bay, Mai Chau Hill Terraces, Chua Huong (the Perfume Pagoda) or city tours in Hanoi. The local street food scene is magic, and it's right outside the doors.
Rooms start at $59.
Hotel 41: London, England
If you've ever wanted to feel like a hotel's entire purpose is to make you happy, get thee to Hotel 41 — where pleasing the customer is the property's raison d'être. It's not just the solicitous staff sporting red carnations in their buttonholes that drive that message home. Expect a guest preference form in advance of your stay that gives you the choice of placing an exercise bike or humidifier or neck support pillow in your room to await your arrival. They even want to know your favorite colors and hobbies. During your stay, hit the Executive Lounge for the honesty bar and complimentary light buffet available round-the-clock.
Everything here is a crisp black and white. Dark wood furnishing and brass lighting fixtures soften what might otherwise feel like staying in the hotel equivalent of the Ascot scene in My Fair Lady. Beds are big and luxe with the most sumptuous bedding ever, and as you might expect in a place so concerned with your pleasure, you can get turndown that includes hot water bottles in winter and a fire lit in the grate.
If you're desperately looking for a high-end hotel stay that feels like something from a bygone era when guests were pampered to the extreme, this is it.
Rooms start at $390.
Hotel Eden: Rome, Italy
Rome is a place where splurging isn't always necessary. The food is amazing at a very accessible price point. So are the drinks. There's a lot to see from the Colosseum to the Vatican to narrow lanes of the old city. So if you're going to splurge, why not make it on your digs? If that's your MO, Hotel Eden is the spot to land.
Hotel Eden is one of those hotels where you're always happily surprised. The lobby leads into a library that has a hidden bar with a dedicated bartender (his gin martini is phenomenal). Then there are the rooms. The beds are literally from the same company that makes the bed the Queen of freakin' England sleeps on. The bathrooms are built out of Pakistani white marble. This is straight living in style.
That's all before you get to the food. To give you an idea of how spectacular the food is: Executive chef Fabio Ciervo invented his own mix of heritage grains (which he mills himself) to create a low-gluten and low-glycemic crust for the hotel's signature pizzas. Yes, it's amazingly delicious and only the beginning.
Rooms start at $689.
Villa Manzu: Papagayo, Costa Rica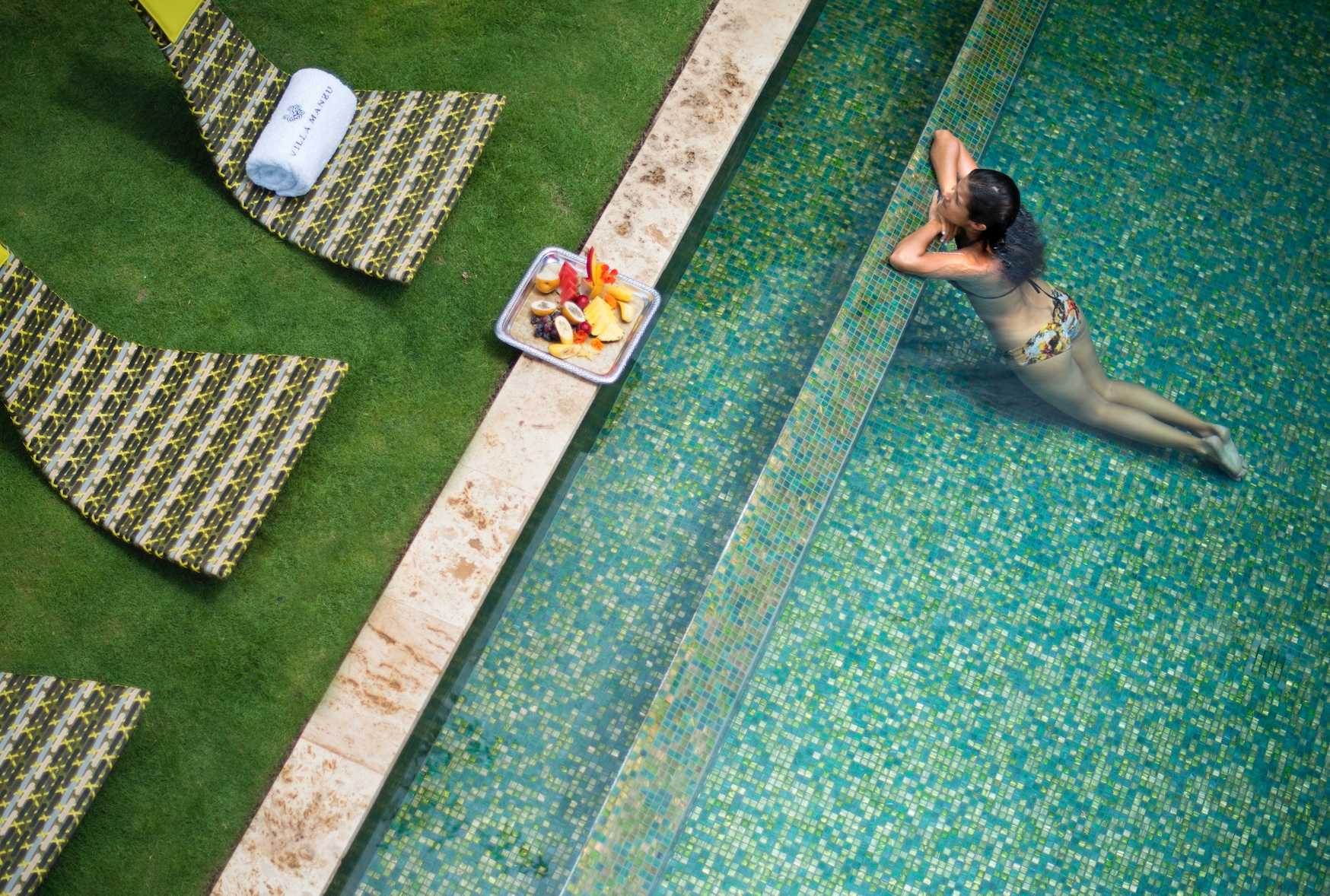 If there's one place where the Kardashian family has pretty much unarguably impeccable taste it's in luxury resorts. They've seen them all and Villa Manzu on the Papagayo Peninsula in Costa Rica is their favorite. Instagram is littered with pics of the famous fam (Ye included), staring out from the edge of the infinity pool or lounging next to a plunging manmade waterfall. In fact, they've been to the resort so many times it's hard to count.
If you don't want to trust Kim & Co. or yours truly on this recommendation, fear not. Zac Efron, the US Olympic Swim Team, Katy Perry, and freaking Beyonce are all fans too.
So why is everyone so damn hyped on this spot? Well, the proximity to the world famous surf break Witches Rock certainly helps. Moreover, the rooms are very little like any notion you might have of "hotel room" and much more aligned with "museum installations." The spa operates beneath the aforementioned waterfall — like something out of a Bond movie. Every detail has been thoughtfully considered and the staff is on hand to keep you blissed out.
As I wrote in a feature about the property:
Want a coconut at 3pm? It'll be delivered to your deck chair. Want that coconut half-full of rum? No problem. Want it at 3am instead? Ring the bell. And you'll never see a bill for these nice touches. They aren't extras or "above and beyond" — they're Manzu's standard.
This is a true splurge: Yes, it comes at a cost but it feels special in every way and that counts for something. Just ask the Kardashians.
The entire resort rents for roughly $17,000/ night for groups of up to 15. Minimum two nights.
Arakur Ushuaia Resort and Spa: Tierra del Fuego, Argentina
Set on a hill in the shadow of the majestic mountain ranges of Southern Patagonia, the Arakur Ushuaia Resort and Spa is the ultimate end of the world adventure hotel – as in it sits on the edge of the world, high above the southernmost city on the planet: Ushuaia. The hotel offers direct access to hiking, wildlife reserves, wildlife watching and can connect you with helicopter rides of the area. Also, rumor has it that Leonardo DiCaprio stayed here while filming the Revenant. No word on if the bear did as well.
If you're already down Tierra de Fuego way, you may as well hop on an Antarctic expedition. The tourism office in Ushuaia posts deals daily on behalf of expedition cruises looking to fill the holds. It is the best and cheapest way to see the 7th continent if you have a flexible schedule (some tours are better than others). If that was your plan all along, many of the tour operators include a night at the Arakur as a final treat for their guests the night before leaving to cross the Drake Passage, making it the wildest of all splurges.
Rooms start at $203.
Sheraton Huzhou Hot Spring Resort: Huzhou, China
Designed by the aptly-named MAD Architects of Beijing, the Sheraton Huzhou is a showstopper. A two-hour drive from Shanghai, this giant horseshoe-shaped hotel sits on the banks of Taihu Lake, China's second largest freshwater lake, making for great views and a highly photogenic setting. This area is swiftly becoming one of the nation's leading resort cities, so people looking to escape packs of tourists should get their trip on, post haste. Also, as the aim of the property is to appeal to the Chinese middle class and lure them into visiting, the interiors are as ostentatious as can be. Think seas of marble, opulent chandeliers, a freaking huge block of raw jade, and a Steinway self-playing piano in the lobby. Also, the entire building does a light show each evening, when it smoothly transitions from purple to blush pink to orange to sea foam.
The 319 rooms feel gleeful with their slightly wacky interiors. Is an electronic bidet toilet a surprise? Nope. But the red leather seat on it is, as is the fact that is set behind a completely transparent glass wall. Couple that with green marble floors or a circular tub on a raised platform in the center of the space and you have the kind of details that make staying here truly special. And, if you (like us) can get down with cheesiness, the top-floor Starlight Bar is a must visit. Grab a drink studded with maraschino cherries, take in the bright psychedelic carpets, and listen to some live music.
Rooms start at $202.
The Cape, A Thompson Hotel: Cabo San Lucas, Mexico
Do you like sunsets? I love sunsets. And I don't care if you call me "basic" for loving sunsets — I love sunsets because they're freaking awesome. They're paintings made by nature. We could all use more sunsets in our lives. In fact, one of my two New Year's resolution for 2018 was to see as many sunsets as possible. I'm doing pretty well so far, but I could always do better.
That said, of all the places in the world where I've taken in sunsets, I don't think I've seen any better than the ones I saw in Cabo when I was there last October. I was staying at the Cape, the Thompson hotel chain's outpost there. Every one of the luxury hotel's rooms faces the ocean and features stunning views. The corner rooms in particular, which are almost completely encased by glass windows, offer some incredible panoramas.
What's better than watching a breathtaking sunset from the comfort of your hotel room bed? Virtually nothing.
Additionally, there's an open-air bar downstairs that affords guests the opportunity to sip cocktails while looking out over the ocean. All in all, it's a hotel that I find myself often daydreaming of returning to. I just can't get over those sunsets. Did I mention that?
Rooms and suites start at $300-$700 per night on average; multi-bedroom villas start at $1000-$2500 per night.
Hotel Le Bristol: Paris, France
Yes, this is the hotel from Owen Wilson's time-traveling romp, Midnight in Paris. And, yes, it is a once-in-a-lifetime place to stay.
Hotel Le Bristol has a staff that works at such a high level that you legit will feel like you're living in a movie. Seriously, you'll want to live in this hotel for the rest of your life. The rooms are so comfortable and chic that you'll find yourself laying on the bed wondering how they pull it all off. There are views over Paris straight to the Eiffel Tower, offering you that perfect Insta-moment. The beds are luscious. Everything is well-appointed.
A can't-miss spot at this hotel is the pool. It's an indoor affair that feels straight out of a Wes Anderson film. It's all wood, nautical themes, and whimsical character. Naturally, the food and bars are second-to-none in Paris. You'll find hidden treats left for you every time your room is turned over from the most decadent chocolate truffles to the most subtly sweet macarons you can imagine. It's every beautiful Instagram post of Paris in one gorgeous hotel.
Rooms start at $1,103.
Tabiano Castello: Parma, Italy
Do you want to splurge? How about staying in the tower of a freaking castle? Eating food that was sourced from just steps away, diving in a plunge pool, and relaxing for hours in the spa? Sounds good, right?
Tabiano Castello, near Parma, is the perfect Old World Italy experience. You can taste traditional plates of pasta, learn about how Parmagianno Reggiano is aged, and ride on horseback through a vineyard all in a day. At night, take a bath in the vintage tub and cozy up beneath the covers of a four post bed, like some sort of Disney character.
This property isn't exorbitantly expensive. Perhaps what makes it qualify as a splurge in our book is that while staying on site you're bound to feel extremely "time rich." Life slows down, the demands of the outside world fade away, and all of your hopes and dreams are distilled down into deciding which of the two restaurants to dine at.
If you're looking for old-school charm and high levels of comfort, this is a splurge that won't cost you a fortune.
Suites start at $150 per night.
El Fenn: Marrakech, Morocco
This party-pad may only boast 21 rooms, but the interconnected complex of riads manages to take up an entire acre of the medina. One of the most Instagrammed properties in the area, El Fenn is a sprawling array of visual delights. Each courtyard serves a different function: one hosts an unheated 12-meter pool, another is the spa, the third has an amazing shop, the fourth is an open-air reception, and the final is a meditative area under the shade of orange trees. And that's just one level because up above all of this is a series of roof terraces with a plunge pool and dozens of private lounging areas. Every time you turn around, you discover a new space filled with gorgeous furnishings and textiles and plant life.
Every one of the rooms at El Fenn is individually decorated with contemporary artworks, vintage fixtures and furnishings, and to die for jewel-colored tadelakt walls. The extra large rooms on the first floor are jaw droppers and a few of them have their own plunge pools that are each the size of a small apartment. Plus, most rooms have a private fireplace and roll-top bathtub for the ultimate in comfort, luxury, and sexiness. If you really want to get the most out of your splurge, get a hotel chef to take you on a tour of Marrakech's food markets (the perfect place to score some yogurt and honey to have someone lick off of your body).
Rooms start at $450.
Belmond Eagle Island Lodge: Okavango, Botswana
For a literally wild splurge, find your way to Belmond Eagle Island Lodge in Botswana. Located on a private island and surrounded by water, this is one of the swankiest ways to see the Okavango Delta. Enjoy your own private lodge with a chilly soaking pool overlooking the river (where you might be visited by some pachyderm friends wandering through the compound), take a soak in the enormous black tub set back in your spa bathroom or in the decadent outdoor shower. If you're feeling cheeky, maybe make a mid-afternoon gin and tonic from the fully-stocked mini-bar. But don't miss out on the gourmet food they serve morning, noon, and night—that is, unless one of the many wild animals on the unfenced grounds is in your way.
While you're at the lodge, take either a traditional mokoro (dug-out canoe) or a speedboat through the waterways and marvel at the hippos, crocodiles, fish eagles, elephants, and more. Or, if dry land is more your thing, take a game drive to gawk at baboons, wildebeests, lions, even more elephants, and, if you're lucky, maybe even a leopard or two. Either way you cut it, you'll be able to end your day with a sundowner at what the staff considers the most romantic bar on earth. And as you watch the blood-red African sun melt into the horizon, you'll probably find yourself believing that they're right.
Rooms start at €800.
The Connaught Hotel: London, England
Did you love Paddington or Paddington 2? Of course you did; you're a human being with a pulse. The Connaught is the closest to that world you'll ever get while basking in the height of British luxury.
The Connaught Hotel is fine touches turned up to eleven. The staff is so on point that they're able to almost telepathically know what you need and when you need it. The rooms are the best in England. This is the sort of place where your initials are going to show up monogrammed on the bed sheets. The whole experience of the hotel is an experience in-and-of-itself,, right down to the antique shop from Paddington 2.
Lastly, there's the bar. The Connaught Bar is probably the best place to order a martini on the planet. Each drink is made table-side and measured, stirred, poured, and served with such aplomb and precision that you'll be hard-pressed to find a more perfect cocktail … anywhere.
Rooms start at $2,072.
W Punta De Mita: Nayarit, Mexico
Set on a pristine white-sand beachfront in Los Veneros, this W Hotels property sits in a part of Mexico that is equally popular with surfers, hippies, and celebs. It's really hard to resist the alluring combo of Punta de Mita's air of isolation and its gorgeous beaches. When you add in the modern aesthetic studded with an infusion of sexed-up Mexican colors and iconography, you have a luxe hotel that is a true treat for the senses. Now, we think any guest will appreciate the oceanfront infinity pool and breathtaking views, but the full-sized, canopied daybeds that allow you to sit poolside and listen to the DJ that spins all day Saturday are definitely aimed at the young and hip.
There is no end to the delight that this hotel's color scheme and décor impart. Blue geometric-patterned tile floors, whimsical punctured tin headboards, and artwork that reimagines Frida Kahlo as a skater girl all beg to be photographed. The Instagram potential here is immense. If you don't spot the Camino Huichol, a 460-foot long walkway composed of 750,000 blue and green mosaic tiles and immediately want to capture image after image of it, you might want to reexamine your values.
Rooms start at $270.
https://www.instagram.com/p/Bonl4n-ltHD/?taken-at=1035510930
The Taj Mahal Palace: Mumbai, India
The Taj Mahal Palace in Mumbai is a destination. The neo-Gothic hotel sits right at the Gateway of India monument on the seaside, so the views are spectacular. Inside, the hotel is a monument to colonial architecture that leans heavily towards Art Deco and Indo-Saracenic styles. It's a fantastic property.
One advantage to staying at the Taj Mahal Palace is the price. India is plainly cheaper with the same level of luxury and service as its western luxury hotel counterparts. So, it's cheaper but the Taj is in no way lesser. The rooms, bars, restaurants, and the galleries are mini wonderlands of plush living and delicious times.
Lastly, there's the outdoor pool area. You can while away the hot Mumbai afternoons under sweet-smelling flowers and swaying palms next to twinkling blue waters. Also great are the cooking and chef experiences in which you can indulge. Personal chefs will teach you how to execute amazing meals and then you get to eat the food right there in a dining setting. That's an experience that'll stay with you for years to come.
Rooms start at $332.
The Ritz-Carlton, Grand Cayman: Cayman Islands
https://www.instagram.com/p/BoopXFwnTN0/
The Grand Cayman is the perfect destination whether you are looking for relaxation or adventure, and no resort on the island is better at helping you accomplish both than The Ritz Carlton, Grand Cayman. The on-hand resort staff of nearly 800 is there to help set you up with everything from a floating water hammock to a snorkeling expedition programmed by legendary waterman Jean-Michel Cousteau.
Of course, the property has a prime location right on Seven Mile Beach, so your sunset strolls could not be better. Then when it comes to the meals, none other than Michelin-star chef Eric Ripert, who throws the epic Grand Cayman Cookout on the property every year, operates the resort's restaurant Blue.
The Harbour Suite starts at $732.
Hotel de Rome: Berlin, Germany
This stunning Rocco Forte property occupies the site of a former Dresdner Bank building built in 1889 on Unter den Linden's historic Bebelplatz, giving guests the feeling of having woken up in the center of Prussian Berlin. The retention of historic features like the iron staircase that snakes through the first three floors and the downstairs vault turned spa mix with more modern elements like the lobby's pink neon dangling birdcage installation and large-scale inky black velvet sofas. And, speaking of the spa, you have to make time for it during your stay. The pool with its glittering mosaic columns and the Finnish sauna are top shelf as shit.
Most of the hotel's 145 rooms and 37 suites stick to a neutral design scheme with luxe furnishings and beds. But for a real splurge opt for the Historic Banker Suite, which was formerly a bank conference room. The oak-paneled sitting room walls and ceiling set a mood that is hard to resist, but it's the hidden door in the bookcase and the secret compartment beside the window that captures our imagination. The parquet flooring doesn't hurt, nor do the heated floor and freestanding tub in the bathroom.
Rooms start at $303.
Gaia Hotel & Reserve: Quepos, Costa Rica
Gaia Hotel & Reserve is a 5-star, multi-award winning, luxury boutique hotel nestled in the lowland rainforests of Manuel Antonio, Costa Rica. It's got it all: impeccable service, three-tiered infinity pool, and a spa with — I'm not exaggerating — the best massage I've ever had.
Rooms can range from a couple hundred to $1000 a night, but with its own in-house private nature reserve (a conservation effort by and for the hotel with daily tours for guests), it's an overwhelming accommodation experience you simply can't replicate. You feel like you're plopped in the middle of the rainforest, surrounded by natural fauna, exotic birds, sloths, and monkeys, but with luxury amenities and a swim-up bar.
I'll be chasing the high from that stay for the rest of my life.
Rooms start at $220.