It's a small room, but you have your own bathroom, and honestly-how much time do you want to be stuck in your room in Paris?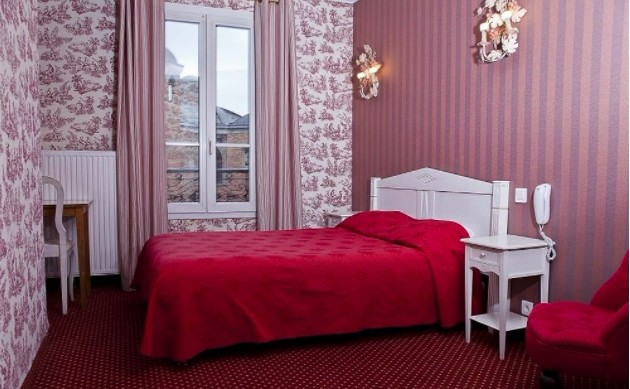 Where: Florence, Italy
Price: $94 per night
Why it's cool: For a budget hotel, it's rare to rooms that are this large. Even if you're traveling with a few friends, you'll have plenty of space. There are fantastic views of the Duomo, and you're within walking distance of scores of restaurants/bars. Plus, the staff is super friendly, helpful, and known to leave the occasional bottle of Prosecco in the room to greet you.
Where: Palencia, Belize
Price: $104
Why it's cool: This Caribbean-side hotel is a laidback paradise with beach-y bungalows that aren't just for show. They're right up on the beach. You walk out your door and your toes are sinking into the sand. The reefs provide great wildlife and diving. And the bistro at Maya's Beach Hotel is widely considered one of best restaurants in all of Belize (Travel Channel calls it the number one in the country).
Where: Phnom Penh, Cambodia
Price: $80
Why it's cool: It has a killer pool and is dreamily landscaped. Even though it's in the middle of the city, it feels tranquil, like you're at a spa in the middle of nowhere. Vacations can feel hectic at times when you're trying to pack in as many activities as you can into a short window. Plantation helps you to totally unwind after exploring the city, bringing just a little bit of relaxation in to balance the adventure.
Where: Barcelona, Spain
Price: $59
Why it's cool: Often in big cities you have to stay a little out of the action to get a good price, but that's not true with Hotel Market. It's within walking distance to parks, shopping/dining (Las Ramblas is a 15 minute walk), and museums — so it's an ideal location to explore the city. Plus, you get way more than you pay for, the rooms are sleek with modern finishings (that include newer private bathrooms with a big rain shower), it has a trendy restaurant downstairs (with the bar mixing superb craft cocktails), and the breakfast buffet is awesome.
Getting a great private room at a hostel price makes this an insanely good deal.
https://www.instagram.com/p/BX2_tm4BS6g/
Where: Mljet, Croatia
Price: $78 per night.
Why it's cool: Mljet is an island off of Croatia whose lush, green forests and clear, blue waters have captured many a traveler's imagination. Seriously, Jacques Cousteau raved about the area (obviously it has some amazing diving) and Homer stranded Odysseus there for seven years. It's a legitimately mythical place. The Hotel Odisej is just as stunning with rooms that have private balconies overlooking the Adriatic sea, and tons of beautiful areas to sit (scattered around the property) that have the perfect view to pair with your favorite cocktail.
The affordability is really just a bonus.
https://www.instagram.com/p/Bfh513Vgky_/\
Where: Miami, United States
Price: $70 per night
Why it's cool: Freehand hotels upend the stereotype of hostels being crowded or dirty. They're gorgeous spaces with a mixture of shared and private rooms that are designed to be chic and trendy. Freehand wants to keep what's great about a hostel, the affordability and social aspect, without any of the negatives. And they really succeed in Miami. They curate fun activities, have an awesome pool, and their bar's cocktails win awards.
This is way better and more fun than staying in a traditional hotel, especially if you're solo traveling.
https://www.instagram.com/p/BITZJYYh8wy/
Where: Ho Chi Minh City, Vietnam
Price: $63 per night
Why it's cool: The library-feel, books stretched to the ceiling, mixed with simple black and white tiled floors makes this vibrant hotel feel both cozy and like a hipster paradise at the same time. And while the rooms aren't large, they do them up right — centered around a bed that's one of the most comfortable you could sleep on at any price point.
Where: Silver Sands, Barbados
Price: $80 per night
Why it's cool: It's in what is called, "surfer's bay" and there is tons of great surfing in the area. The section of coast the MoonRaker is on is unbelievable and you'll feel like you're paying for a private beach. This hotel just does everything well. The rooms are nice, the restaurant's good, and the beachfront insanely pretty. It would be hard to do better.
Where: Bogotá , Colombia
Price: $61 per night
Why it's cool: This is the spot for backpackers who are ready to splurge for a little something nice on their South American travels. It's got a great breakfast, comfy beds, and lovely common space to relax and socialize.
Where: Los Angeles, California
Price: $50 per night
Why it's cool: It's the place to stay if you're young, fun, and want to make friends while staying somewhere clean and comfortable. Will you have privacy? Nope. But it's a pretty decent trade for the pods which are like comfy bunk beds with your own TV.
PodShare has multiple locations in DTLA, Hollywood, Los Feliz, and Venice. I chose Los Feliz because I think it's probably not used as much as a vacation headquarters but should be. Sure, Venice gives you the beach but Los Feliz has tons of great restaurants, shopping, and bar options. Plus, if you like hiking, you're right at Griffith Park which gives you amazing hikes from the observatory to the Hollywood sign. And you're a hop, skip, and a jump away from east LA hotspots Silver Lake and Echo Park. Staying in Los Feliz will have you avoiding more of the tourist traps and living more like a local.