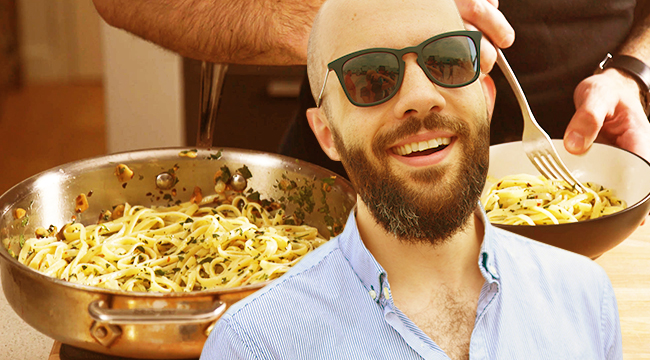 Andrew Rea created the hit YouTube channel, Binging with Babish, three years ago. It all started with an episode recreating the infamous TV burger cook-off from Parks and Recreation. From there, he was able to bridge the gap between pop culture and food mania — churning out episodes recreating iconic dish after iconic dish from the TV and movies we all adore.
Three years and 4.5 million subscribers later, Rea has changed the game for online food and recipe content. So when he popped up alongside director Jon Favreau and chef Roy Choi in their new Netflix TV series, The Chef Show, it didn't feel like much of a stretch. Rea is a food world celebrity at this point.
We've covered Rea before, but his appearance in the delightful Netflix food show felt like such a crowning moment for the pop culture recipe master that we decided to reach out and ask him to unpack the whole experience. We also chatted about his love of Frasier and what's next for the internet superstar.
Let's catch up a bit because it's been a while since we last spoke. You mentioned last time that you have the famous Seattle skyline from Frasier tattooed on your arm. I have to ask, have you been to Seattle yet?
​I still have not been to Seattle. I'm not sure I ever want to go because then I can't tell my joke about my tattoo. But, it's kind of mecca for me with the rain and the coffee. It sounds like my dream city, so I do hope I can go there someday.
I'm a very big fan of Frasier as well (I'm also from Seattle). Are you thinking of doing any more Frasier recipes on Binging with Babish?
​I've only done two Frasier episodes now, but there's still definitely more room to innovate there. There is Niles' Chilean sea bass paired with an aggressive Zinfandel and Swiss chard when he thinks he gets stoned. That's one that I'm excited to try. There's cherries jubilee from when they opened their own restaurant. There's definitely a lot of good fodder there. So I'm definitely going to be all over that in the future. But I do try to space it out because it's a special occasion for me whenever I delve into Frasier.
​Right. Feels sort of like the special Christmas episode, if you're looking at it from the British TV point of view.
Absolutely.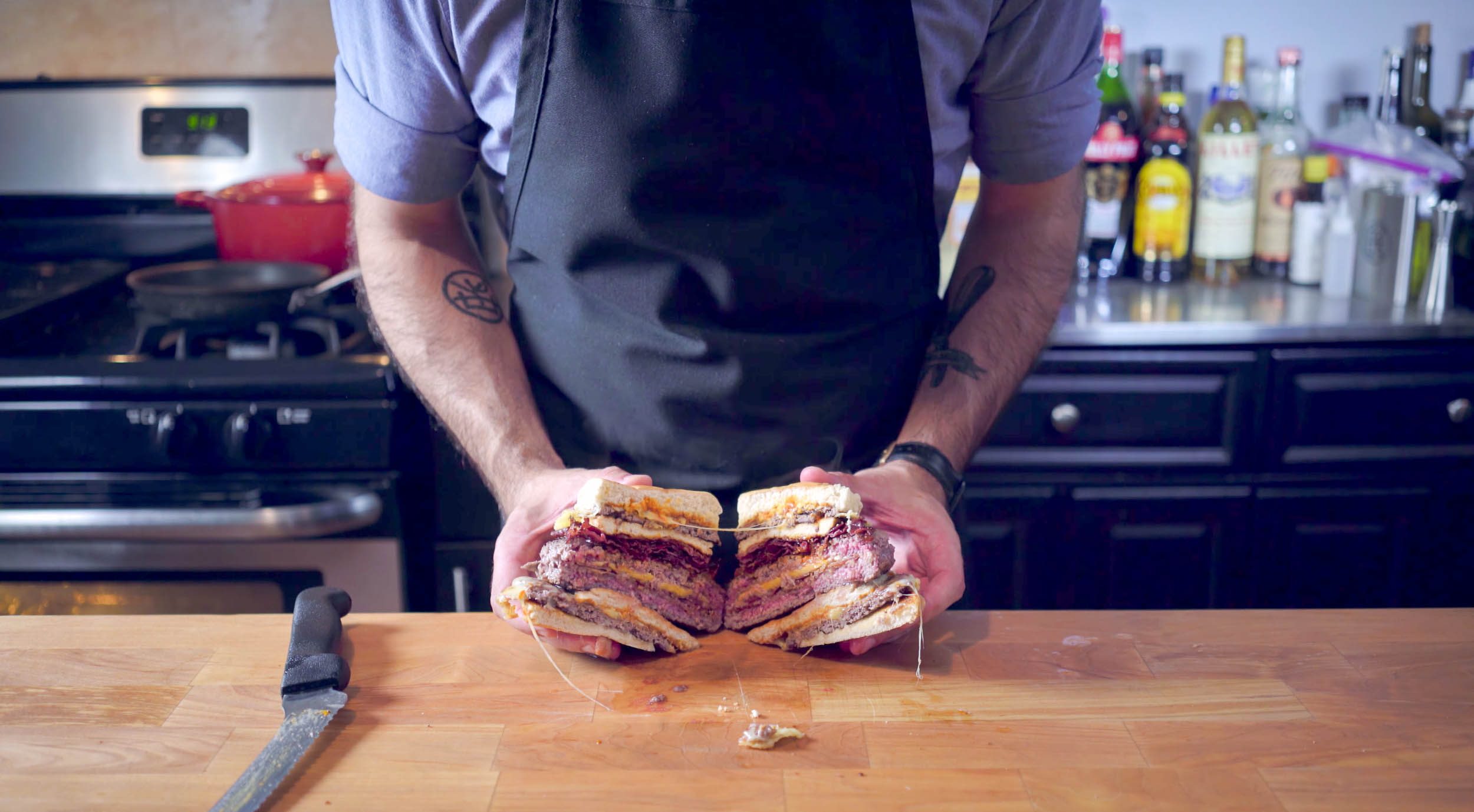 Speaking television, you just appeared on the third episode of The Chef Show. Honestly, man, it felt like an emotional high point of the whole show. Can you walk us through what it was like actually working with someone for whom you've integrated into your show on YouTube?
It was one of the greatest experiences of my life. It was the greatest day of my life. It was a real experience interacting with true celebrities. As such, I was pretty nervous. I'm sure that came across.
But, yes, to answer your question, it was a wildly cathartic experience to actually meet Jon Favreau when he was the driving inspiration behind so many episodes of the show and was one of the main reasons why the show existed.
Working with Roy and Jon, especially, was a culmination of a lot of interaction between you two, right?
Yeah, it started with him congratulating me on hitting a million subscribers on Twitter. It was one of the most breathtaking moments of my life and I know that I come across as pretty nervous on the show because it was my first real interaction with celebrities. I've been lucky enough to feature on the show and just generally meet several more since then. So it's less of an alien experience for me now.
​I feel you. I still get butterflies every time I get to talk with an icon like Roy Choi.
He's not only one of my biggest food idols, but also just a person that I really enjoy.
But, then, I think of Jon Favreau, and it's like … the dude wrote Swingers and directed Ironman.
Yeah. He is a true superstar. And 2019 is a bullet year for him between The Mandalorian, Lion King, The Chef Show coming out, and Avengers: Endgame wrapping up what he started with Ironman. It's only half over and it's already been an absolutely incredible year for him. I'm very excited to see what he does next.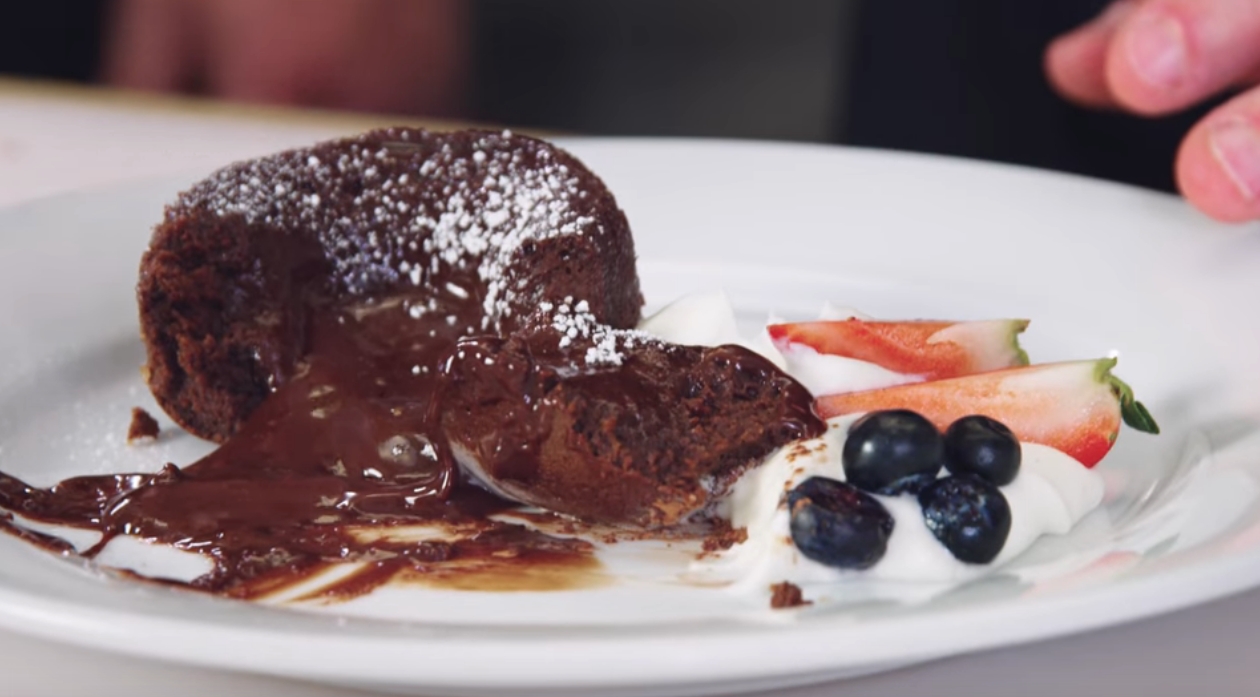 Let's get into the lava cake from your episode of The Chef Show. Did you feel like it fit in with how you usually execute the recipes on your show? Or did it feel more like Roy had some insider tips where you're like, "Oh, shit! I would not have thought of that…"?
He absolutely had insider tips. He offered up some great wisdom. He had that metaphor for tempering eggs, "It's like splashing yourself with water before jumping in the pool."
That's dope. How did the recipe process work?
The crazy thing was that they asked me for the recipe. They asked me for measurements and then they asked me to take the lead in making it. You might notice I give instructions and I tell them what to do. That's because that's what they asked me to do.
It was one of the most frightening experiences of my life especially because molten chocolate lava cake is notoriously fickle and temperamental. I was fully expecting to have a Carl Casper-like moment when they came out of the oven and were rock solid cakes. It was a massive relief and a huge rush to see that cake open up and just melt out exactly the way it's meant too.
Beautiful.
​So it was a very, very exciting moment.
​I have to ask about the pasta fork Jon gifts you in the episode. Have you mounted it in your kitchen or are you using it?
​I use it every time I make pasta Aglio e Olio, which is not that often. It's kind of a special occasion dish because there's very little nutritional value to it. Every time I make that dish, though, I always plate it up with that.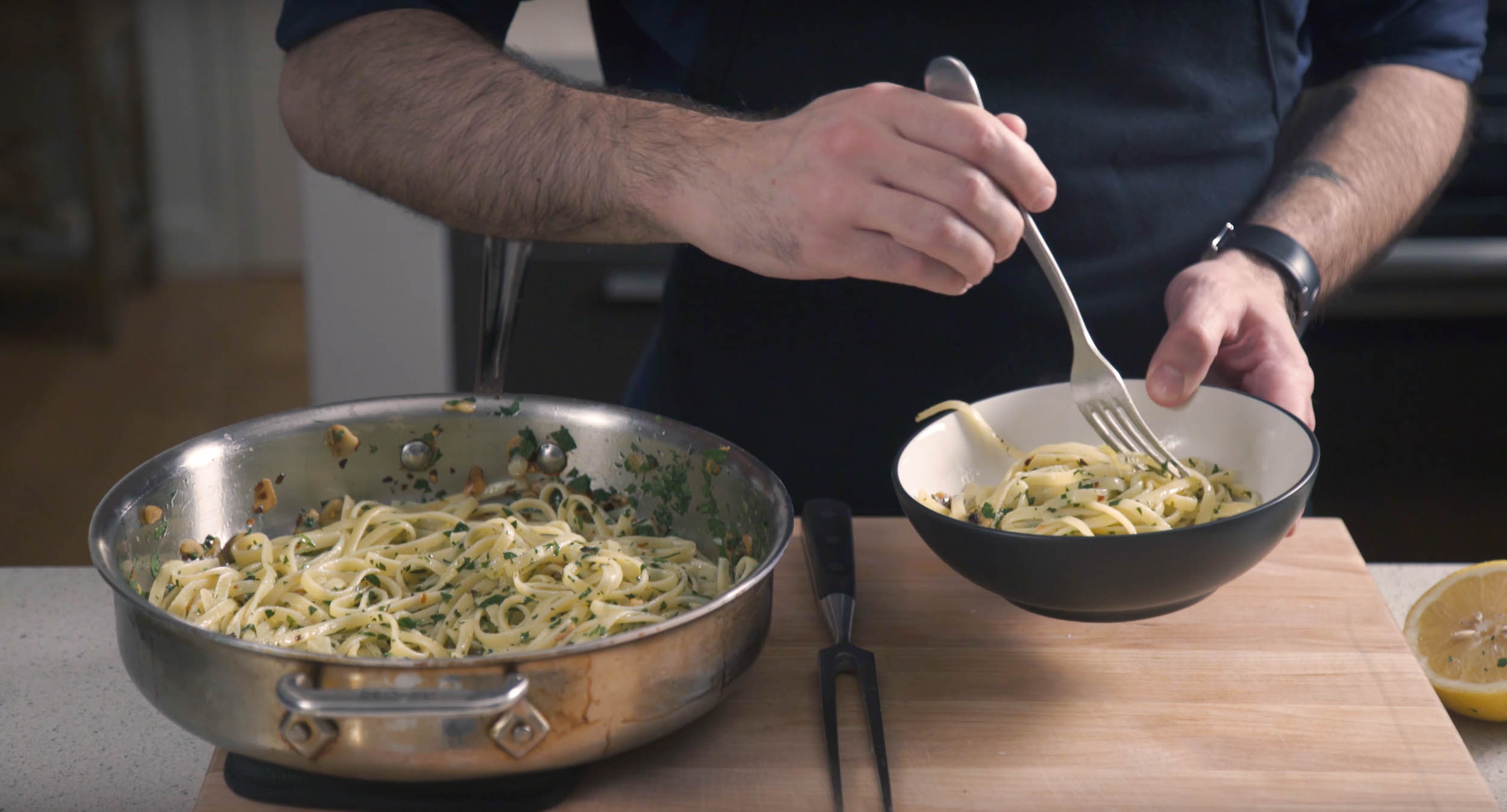 It felt like you guys really did connect. I think what's unique about the show is Jon and Roy are such easygoing and nice guys when it comes to food. There's no yelling. There's no bullshit. There's no one-upmanship. There's no ego. It's just like, "Hey, let's try this and see what happens." It's refreshing.
As soon as I arrived at the studio, they both set my mind at ease. They made me feel comfortable and at home. Jon is an extraordinary individual. But within minutes of meeting him, it felt like he was my uncle. He was just dropping wisdom on me and making me laugh. I wish everybody had the opportunity to meet him.
And, your relationship with Jon is going deeper. He wrote the forward for your upcoming cookbook, I hear.
I asked Jon to write the foreword for it. I cried when I read what he wrote. It's one of the kindest and most insightful passages about what I'm trying to do, what drives me, and what drives creative people. It reinforced that I'm doing what I love and that people feed off that energy. He recognized my enthusiasm for what I do, and that he saw that. He really wrote a beautiful, beautiful foreword for the book.
​Let's talk about your book a bit. ​How many recipes are going to be in there?
It's the official Binging with Babish Companion Cookbook. It's the first 100 recipes from the show with the exception of one recipe, which I forgot existed because it was in the middle of a YouTube copyright dispute.
Can you say which one or is it under wraps?
It was The Lovers' Delight Sundae from 30 Rock. ​At the time, the clip from the show was under copyright dispute so it didn't show up in my episode list when I was compiling the recipes, and so it's not in the book.
When's the new book going to drop?
It's coming out October 22nd. It's going to be the first of several because I have over 150 episodes now. So I have to start writing the next one soon!
You can stream Andrew Rea's episode of The Chef Show over at Netflix and you can take a deep dive into Rea's recipes at Binging With Babish on YouTube.