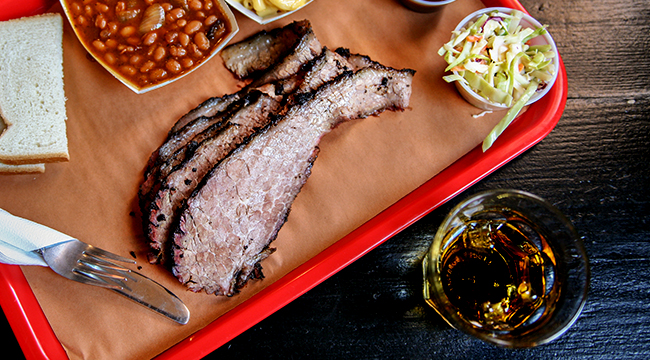 There are few things that go together better than a nice dram of bourbon and a killer slab of barbecued meat. So much so that pairing bourbon and barbecue has become an essential part of the backyard summer experience. You want to win the cookout game? Connect what people are eating with what they're drinking in a way that resonates.
Here's the (dry) rub: bourbon is a varied drink and barbecue is not one single thing. Both contain endless multitudes. Bourbons play in sharp flavors of oaky vanilla, rich caramel, piquant spice, and smoky char. Depending on where a particular bourbon lies, it can pair with smoky and fatty meats, herb-infused fish, or even a pile of cold-smoked mushrooms. As for barbecue, well, you can grill pretty much anything. And if you want to get technical and talk about the styles of authentic barbecue, you'll be at it for a while. KC, NC, SC, Lexington-Dip, Texas-style, Alabama white sauce… the list is long.
With this in mind, we thought we'd give you a guide to how to pair a few of our favorite bourbons with barbecue and grilled dishes for the summer. This isn't about being definitive, it's about the feel of a great bottle of booze next to a delicious plate of saucy, steamy meat (and fish!). Let's go!
BRISKET
https://www.instagram.com/p/By7vwVAn3Ke/
Brisket feels like the crowning achievement of any barbecue event. The slab of beef is layered fat and lean with a simple salt and pepper base. When done right, it melts in your mouth with a nice pepper edge and plenty of umami salt next to all that fat and beefiness. It's simple and a surefire crowd-pleaser.
Drink With: Four Roses Small Batch, $41.99
Four Roses Small Batch Bourbon starts out with notes of toffee, nutmeg, cinnamon, and plenty of oaky vanilla. Next, hints of pitted fruits and berries come through with fresh honey and more of that cinnamon mid-palate. Finally, the taste ends with a return to the oak and vanilla alongside a slight alcohol burn with peppery spice.

BISON RIBS
It's hard to think of a barbecue dish more American than bison ribs. The American bovine is wild, grassfed, organic, and hefty by nature. A low and slow rack of smoked ribs, slathered in a fruit-forward sauce (that caramelizes nicely) will wow anyone at your backyard party. This is lean meat with real depth.
Drink With: Balcones Texas Blue Corn Bourbon, $69.99
Texas' Balcones makes some of the most uniquely American whiskey there is. This bourbon goes big in the flavor department. First and foremost, earthy blue corn hits your senses. Next, rich and creamy crème brûlée sit next to spicy vanilla and charred oak. Notes of black tea and whispers of smoke are in play on the end with a return to a clear blue corn essence.
PULLED PORK
A heaping pile of pulled pork is the utility barbecue meal. The unctuous chunks of simply-seasoned pork shoulder (or pork butt) should be fork tender and shred into a pile of fatty, salty goodness. That then is sauced with either a sweet and tart barbecue sauce, or something mustard driven, and piled high on a soft bun. It's hard not to love this dish.
Drink With: Evan Williams Black Label, $13.99
A great utility meal needs a great utility bourbon. Enter Evan Williams. First, the price point here is just right at under 15 bucks per bottle. The taste is classic bourbon notes that keeps the fanciness at bay. Candied apples, oaky char, vanilla, and rich molasses sweetness dominate. A real sense of peppery rye spice comes in near the end with smooth alcohol warmth.
SMOKED DUCK
A slow-smoked duck will be the crowning achievement of any backyard smoke out. The fatty fowl with a delightfully crispy skin is a matrix of textures and flavors: umami, rich meat, and crisp fat. People will line up to get seconds here so you'd be wise to smoke more than one duck.
Drink With: Basil Hayden's Kentucky Straight Bourbon Whiskey, $39.99
Rye spices open up this sip. Notes of black pepper sit next to bright florals like honeysuckles in full bloom. Damp brown sugars, old leather-bound books, and more spice come into play with a clear woody oak. Finally, notes of fresh honey and more rye spiciness finish out the drink with subtle warming notes.

SPARE RIBS
If you can't source bison ribs, fall back on delicious pork spare ribs. The porcine treat has plenty of fat to help keep the lean moist and delicious. Add in a great spicy rub and finish with a tangy sauce that has enough sugars to caramelize and you're set.
Drink With: Wild Turkey 101, $30.99
Something as simple as a rack of ribs needs a big bourbon. Wild Turkey 101 is a high ABV distillate that hits hard but maintains a depth of bourbon taste that always shines. Butterscotch, oaky vanilla, honey, caramel, florals, and a hint of citrus lead the way. Ripe stone fruits come in alongside rich vanilla, toasted wood, and dark chocolate bitterness. Finally, a peppery spice ends the sip with a stiff dose of warmth.
SMOKED SALMON
Changing things up with a smoky barbecued whole fish is a power move on the grills. Taking a whole fish, salting the interior, and then stuffing it with aromatics to slow cook. The smooth pink flakes of salmon with a briny fatty underbelly and crisp smoked skin will not disappoint. We promise.
Drink With: Michter's Small Batch Bourbon, $62.99
Salmon needs a subtle counterpoint when it comes to bourbon pairing. Michter's Small Batch Bourbon has depth with subtly. Peach, caramel, honeycomb, and oaky vanilla come in first. Next, you get a real sense of the corn and oak with dried fruit sweetness and earthiness. Finally, a cinnamon-forward spice and honey edge accompany a mild alcohol warmth on the backend.
HOT DOGS
Okay, we've been expounding about huge pieces of meat, slow-cooked in smoke for hours. All backyard barbecues don't have to be that. Sometimes your shindig can just be a party where you throw a few packs of hot dogs on the grill and make sure the mustard doesn't run out. Hot Dogs, after all, will always be a crowd-pleaser.
Drink With: Jim Beam, $13.99
If you're serving hot dogs, keep the bourbon pairing simple. Jim Beam gets the job done. You don't have to ponder this sip but you still get clear bourbon notes. Corn, maple syrup, and vanilla are all present. The vanilla carries through with rich caramel sweetness and a slightly mild pepper finish.

HAMBURGERS
Hamburgers are another great go-to backyard barbecue mainstay. You can smoke burgers if you have a smoker, which is always dope. Or you can just toss some nicely seasoned burgers on a grill over a flame and call it a day. Just make sure to keep your bun game on point and have plenty of American cheese to melt on top.
Drink With: Old Grand-Dad Bonded Bourbon Whiskey, $23.99
A classic barbecue food needs a classic bourbon. Old Grand-Dad starts off with big notes of orange zest followed by earthy vanilla, oak, and sweet yellow corn. Caramelized brown sugars sit next to charred wood notes and dried orange rinds. As we near the finish, spicy black pepper and toasted corn bring this one to a delightful end.