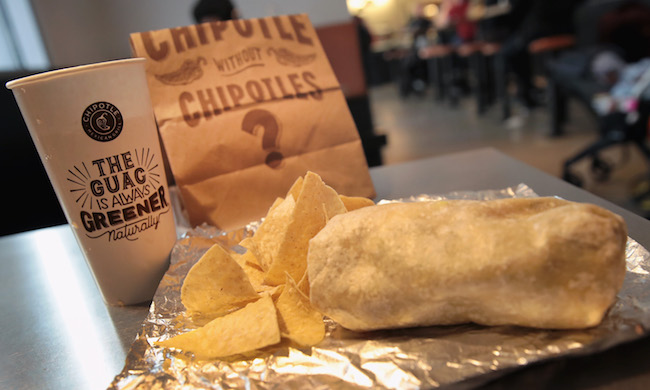 A seemingly inescapable food safety crisis has once again plunged the once mighty Chipotle into the depths PR hell. From the looks of things, shareholders are losing faith in the chain's ability to rebound.
Chipotle stock plunged 4.37% on Wednesday (the company's largest decline in two months) in the wake of yet another illness issue at one of their locations. Employees and customers at a Los Angeles Chipotle restaurant were reportedly left with nausea, vomiting and diarrhea as an unwelcome add-on to their Chipotle experience.
"Ate there on Wednesday and symptoms started late the next day with nausea, stomach distress, diarrhea, and vomiting," wrote one of the customers that piped up about their Pico Boulevard Chipotle experience on iwaspoisoned.com "I only linked it because a co-worker is having the same symptoms and that is what we had in common."
Chipotle responded to the reports by acknowledging the issue while stressing that "no clinical validation" has been associated with the claims.
"We take any report of illness very seriously," said Chipotle spokesperson Chris Arnold. "We are aware of three reports (two of which appear to be the same) on a user-generated reporting site, but there is no clinical validation associated with those reports, and we have not been contacted by customers directly to substantiate these claims."
Arnold states that the company has taken action regarding the matter.
"As a precautionary measure, we have implemented heightened sanitization measures at this restaurant, which we do as a matter of policy if ever we receive reports of illness (even if they are not substantiated)" he said.