Gird your loins and pull out your cut-off jean shorts (unless you're a never nude and they've never left your body): Coachella is finally upon us. The famed music festival kicks off this weekend, with acts like Billie Eilish, Maggie Rogers, and Ariana Grande, and if you're one of the lucky attendees, you're probably stoked to make the journey out to the southern California desert.
But in between the delicious food and raucous parties, you might find yourself overwhelmed or just in need of a breather. After all, roughly 250,000 people attended the festival in 2017, and that number is expected to increase this year. So if you do find yourself freaking out a bit, wondering if you even remember the sound of silence, may we recommend escaping into nature for a few hours? After all, thanks to the festival's proximity to the likes of the Santa Rosa and San Jacinto mountains and, of course, Joshua Tree National Park, you'll have access to boulders bigger than cars, sweeping views of the martian desert, and some of the most unique trees in the world.
So why not take a break from all the music and flower crowns and dig into the best hikes near Coachella? After all, you're going to be in one of the most beautiful places on earth. Go on, you've been partying so hard, you deserve it.
Note: Want to pick your hike based on how "Super-bloomy" it is? Check out our guide to the peak days in the best desert spots here.
Coachella Valley
This is the proverbial "begin at the beginning"—the valley in which you'll already be hanging out, and home to, by far, the most accessible hikes if your ground zero is Empire Polo Grounds.
Coachella Valley Preserve, 0.34 to 7.26 miles
Situated 16 miles to the northwest of the festival grounds, Coachella Valley Preserve is the perfect quick getaway from the madness. A 20,000 acre preserve that, thanks to its location on top of the San Andreas Fault, is home to multiple palm oasis and several species unique to the valley, you can do a quick walk around or spend a day trekking through the protected lands. Walk among boulders and small pools of water, and try to remember that you're still on planet earth. We dare you.

Andreas Canyon Trail, 1 mile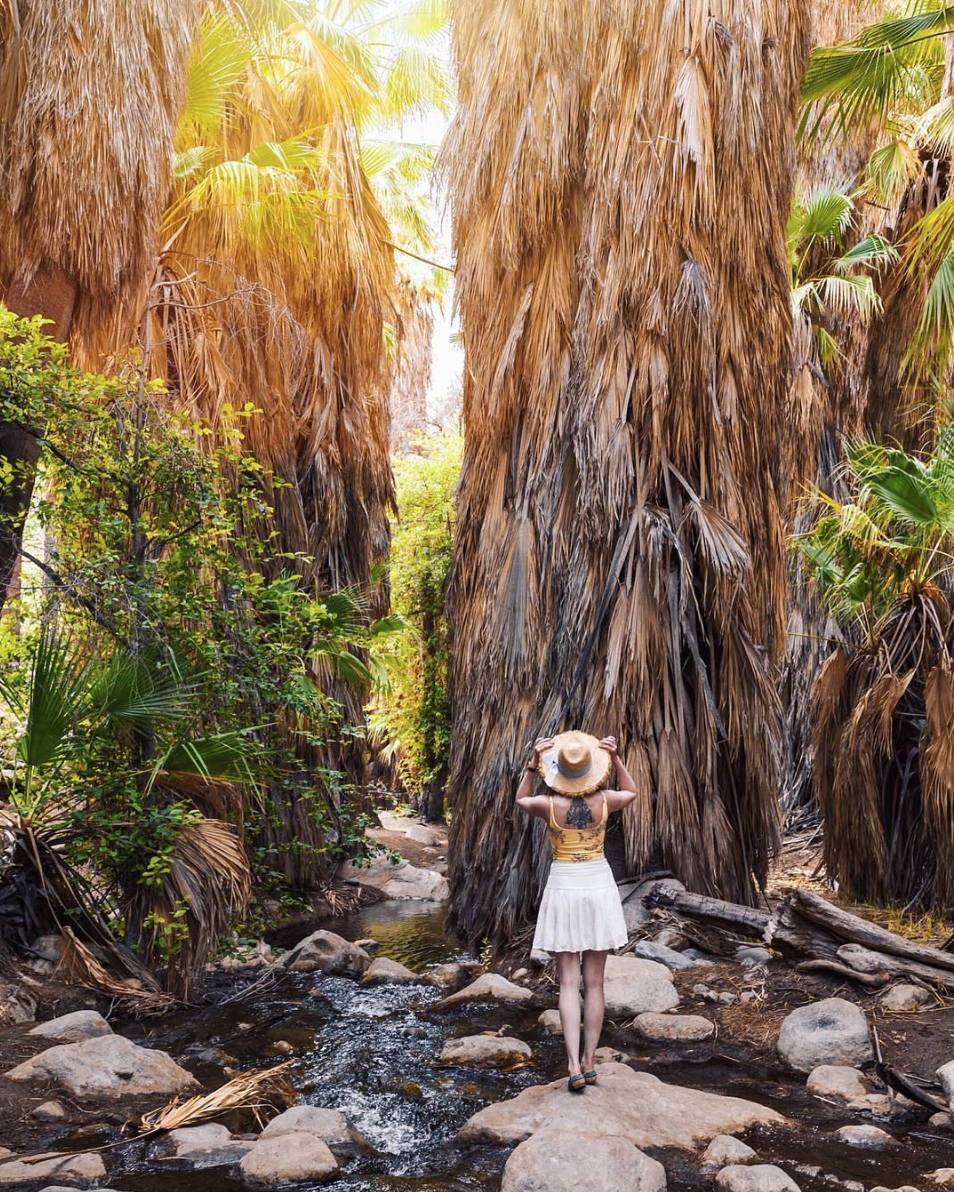 If you just need a quick refresher and you're not exactly looking for something strenuous, this hike is for you. It's a one-mile loop less than an hour from the festival, and while it's heavily trafficked, it's also home to a waterfall, tons of different kinds of cacti, large boulders, and all manner of flora and fauna. Given that both weekends are expecting highs in the high 80s and low 90s, hanging out next to a waterfall feels like a pretty good idea right now.
Santa Rosa and San Jacinto Mountains National Monument
Half an hour from the festival, Palm Springs is best known for upscale hotels and hot springs. And while you could opt to spend a bunch of money in the posh desert city, we recommend you instead explore the Santa Rosa and San Jacinto mountains, part of a large national monument that makes up the dramatic backdrop to the swanky city. You'll get a bunch of endorphins and some much needed down-time before heading back into the fray to see Lizzo.
Morrow Trail, 6.5 miles
This out-and-back trail, also known locally as Cove-to-Lake, is "lightly trafficked" according to AllTrails. Which translates to peace and quiet for you. And there's a reason for that: it doesn't offer much cover from the brutal desert sun, so if you choose this trail, make sure you pack extra sunscreen, UPF clothing, a hat, and plenty of water. Now that we've got that over with, this trail is one of our favorites because it's quiet and downright martian. Craggy hills covered in rock and dust, lizards scrambling for cover, and, eventually, a lake at which you can rest and relax before making your way back. At this time of year, you may even see some wildflowers.
Garstin to Wildhorse Trail, 3.2 to 8.7 miles
The Garstin loop is one of the most well-known hikes in Palm Springs, and for good reason: it's accessible. It also gives hikers great views of the valley and the city below. But we recommend that you take Garstin to the Wildhorse trail, a less-trafficked route that takes you up into the mountains. Follow the ridge up further into the San Jacinto wilderness, and then, just when you feel like you're about spent, turn around, take a seat, and enjoy the view.

Bump and Grind Trail, 1 to 3 miles
Of course you should go here. It's a popular, low-stakes hike, and when you're exhausted from bumping and grinding to Idris Elba (yes, the very same), you can bump and grind on this trail. Just off the 111 between Rancho Mirage and Palm Desert, this place is so easy to get to that you could walk to Target afterwards if you really wanted to. At any rate, its accessibility doesn't make it any less worthwhile. After all, not only do you get a killer view of the valley, you'll also probably see Peninsular bighorn sheep. Maybe it goes without saying, but do not disturb these big bois. Instead, just take lots of pictures then brag to your friends when you get back to your campsite.
Joshua Tree National Park
When you're just over 30 minutes from Joshua Tree, you go to effing Joshua Tree.
Mastodon Peak, 2.4 miles
Badass prehistoric elephantine name aside, this hike is called "the most convenient hike in Joshua Tree National Park" for those in or near the Coachella Valley. If you're not sure you want to dedicate an afternoon to raising your heartrate, choose this one. It's easy and gorgeous. While you won't find Joshua trees in this part of the park, you will find wildflowers, the ruins of Winona, a former mining town, and, of course, an oasis surrounded by enormous palms. According to AllTrails, you can even see the Salton Sea on clear days. That sounds like a win in our book.
Lost Horse Mine Loop Trail, 6.9 miles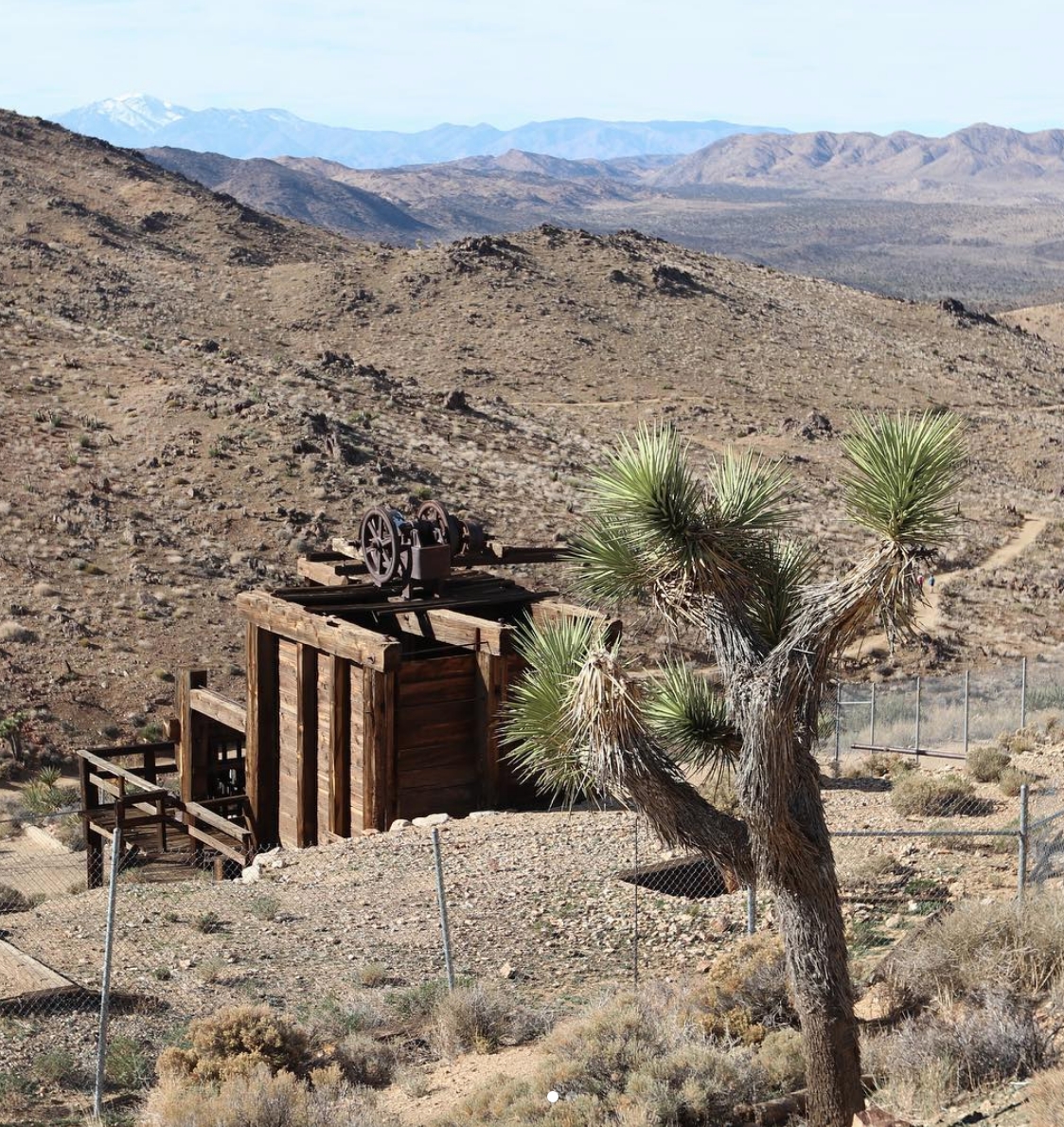 Historically speaking, Lost Horse Mine was one of the most successful gold and silver mines in what is now Joshua Tree National Park, producing "more than 10,000 ounces of gold and 16,000 ounces of silver" over the course of 37 years, according to the National Park Service. Now, if you visit, you won't find any precious metal, but you will find the remains of a true-blue western town from the days of gold-digging and gun-slingers. Bonus: it's a lightly trafficked trail, so you can play out all your Coachella cowboy fantasies without worrying about embarrassing yourself. Ha ha, as if.
Boy Scout Trail, 16.1 miles
This one is 8 miles one way, so be aware that you can and should turn around when you're ready. That said, the boulders. The trees. If you're itching to see actual Joshua trees, this is the place for you. The trailhead is on the northern side of the park, so it'll take a little more work to get there, but as with practically everything in life, that makes it so much more worth it. Descend into a forest of Joshua trees, hedgehog cactus, deervetch, and creosote, and forget about time for a moment. Just enjoy walking amongst some of the rarest plant-life in the world.
***
After taking some time to commune with nature—or, at the very least, get an hour or two to reconfigure — head back to Indio and jump back into the musical fray, refreshed, and ready to dance all night.