"Do you know where the sushi restaurant is?" Taylor, the PR manager at Colorado's Copper Mountain Resort, asks, handing me a coffee. "To go ice skating you just go to the sushi restaurant and then… "
She trails off when she sees my smirk. "What?"
"Oh," I say, still grinning, "I know where the ice skating place is already. It's a frozen lake. I've walked by it like 12 times. But I love that everyone here always gives directions to everything."
Taylor laughs. "I've noticed that too. Maybe we do it because we all came from other cities where you actually did need help finding things."
I've only been at Copper Mountain for half a day, but I've already been given directions to places I can easily find without any aid at least five times. This probably happens in part because the people who work on the property are exceedingly friendly (they have good reason to be, every employee I meet seems to find time to ski during any given workday), and because travel writers are — as a whole — a pretty hopeless bunch (never have you met so many people with the word "travel" in their job titles who are unable to read a map). Still, it's funny to be given such detailed directions to places that are all within a few hundred feet of each other. After enough people do it — "Do you know where the sports bar is?" "Can you find the whiskey lounge?" — it starts to seem like an elaborate prank.
Especially, considering that you can see at least 80% of Copper Mountain's Center Village from any given condo window.
"Well then," Taylor says, invoking the most popular phrase on the mountain, "you ready to get a few turns in?"
"Absolutely," I say. And side by side we walk from the rental shop (which is next door to my condo) to the nearest patch of snow, which is — I count it — four steps away. Four steps. Then we strap on our boards and glide a few more feet onto the lift. In a matter of seconds, we're in a gondola headed up the mountain.
"This is what a ski trip should be," I say to Taylor. "Me not having to deal with any hassles and carving turns until my legs buckle."
As she tosses me a courtesy laugh, I realize that my words just encapsulated my ideal mountain weekend. All fun; no worries. Here's how I pursued that mantra over the next three days:
GETTING THERE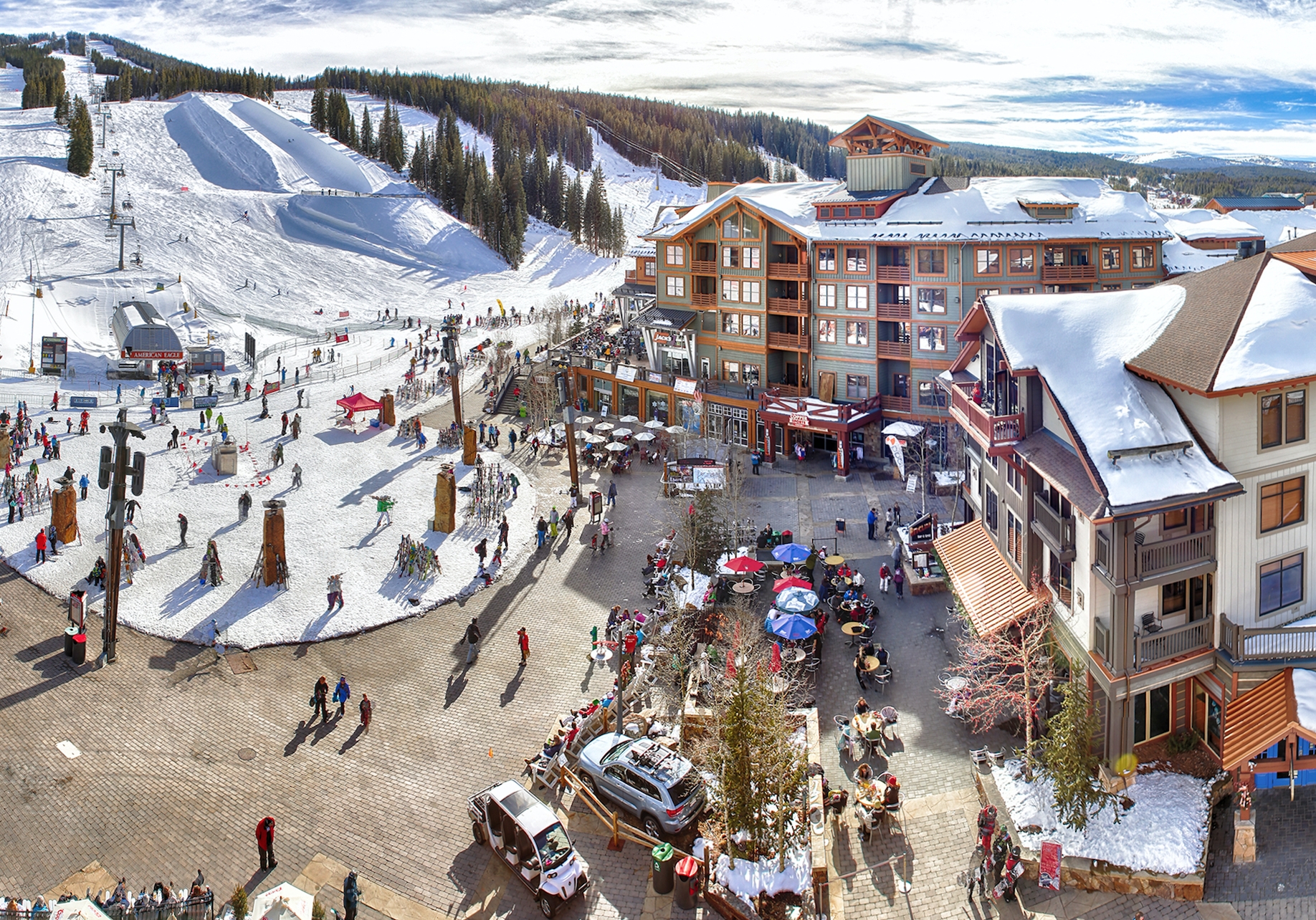 To get to Copper — as Taylor and all the other cool locals call it — I flew to Denver and hopped in a shuttle. In a somewhat similar vein to locals giving me directions to places literally 30 steps from my rented condo, our shuttle driver started the ride with a helpful, if perhaps unneeded, announcement, "The road is currently closed from snow and the snow is still falling, so it could be a long night, folks."
What he didn't mention was that roads open and close on the way to the famous Denver ski resorts (Copper Mountain, Breckenridge, and Keystone) all the time. Sometimes multiple times in the span of a few hours. The plows are constantly running and plenty of interested parties have money riding on people actually arriving at their destinations. Not knowing this, I took our shuttle driver at his word. When he stopped at a gas station, I bought two slices of greasy pizza, two taquitos that had been under a warmer just long enough to have lost every ounce of flavor they'd ever contained, and a large bag of Gardettos Rye Chips (which are a joy and I have no regrets about eating).
When my seatmate made a comment about all the food (they're very into healthy living in Colorado), I said, "He said to prepare for a long night!" I'd assumed we'd basically be sleeping in the van.
"Oh," my seatmate said, "they reopened the roads already. We'll be there in an hour."
All told, I arrived (very full) at Copper Mountain about three hours after leaving the airport. The shuttle had wifi and a phone charging station, so I'd basically just had a night at the movies — watching Triple Frontier on my phone while eating cheap pizza.
Once the shuttle arrived it was about thirty feet to the door of the building that my condo was in. The ski and snowboard rentals were actually in the ground floor of the same building, so I got that out of the way before checking in. It was 8 pm by this point, but everyone helping me was still intensely friendly. When I commented on it, the 19-year-old behind the rental counter said — verbatim — "I got a lot of turns in today and it's gonna be shacking snow tonight, so what do I have to complain about?"
Needless to say, I was very into the whole vibe. It's easy to tease the phrase "shacking snow" until some super cool Coloradan says it to you while sounding perfectly natural.

THE ACTUAL SKIING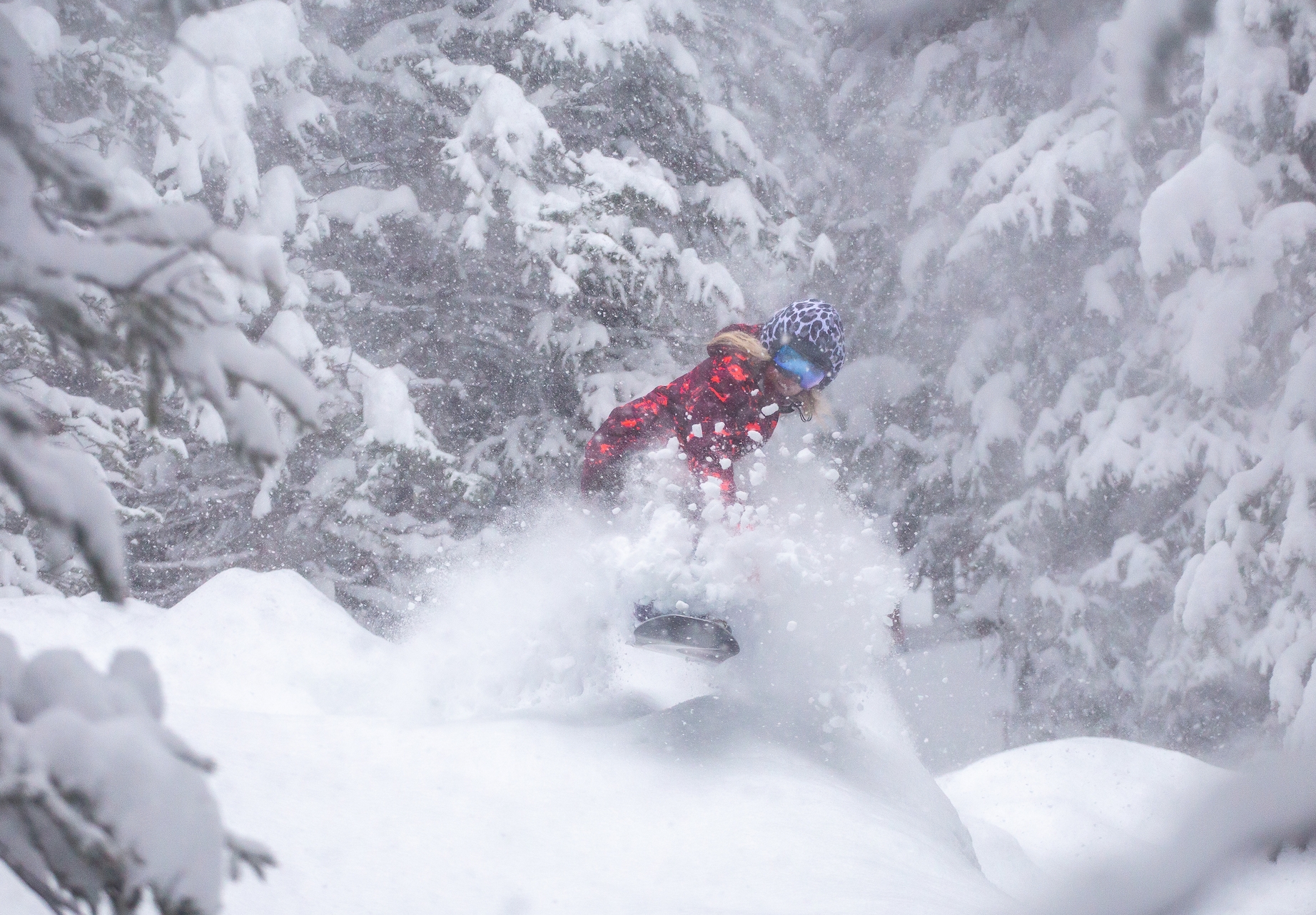 Okay, I'm willing to concede that I'm not a "ski conditions" expert but… it seems to me that powder is better than not powder? Riding through fields of fluffy white snow vs. riding on the icy, man-made runs we get in Southern California is a big freaking difference. After years of feeling like I was just "okay" at snowboarding, I went to Copper Mountain and suddenly felt like a true shredder. Not because of any talent of my own, of course, but because good snow increases your margin for error about a million percent.
At one point in the day, guided by a tall, lanky, handsome, bearded instructor named Matt (there are millions of tall, lanky, handsome, bearded Matts in Colorado), I got stuck in powder up to my armpits. That was maybe a little too much powder for me, but besides that five minute stretch of sweating and cursing as I fought to get back on my board, I proved pretty adept at "shredding the pow pow" as the old folks think the young folks say. For me, it felt like surfing a glassy wave vs. surfing in chop.
Lift-wise, Copper Mountain is big enough to keep you on your toes for a long weekend without making you feel overwhelmed. You never end up at the bottom of a run having to take off your gear and wait for a shuttle. Eventually, all routes lead back to Center Village — where 90s ska blasts from massive speakers and beautiful, sun-kissed people in expensive ski outfits sip beers.
THE OTHER ACTIVITIES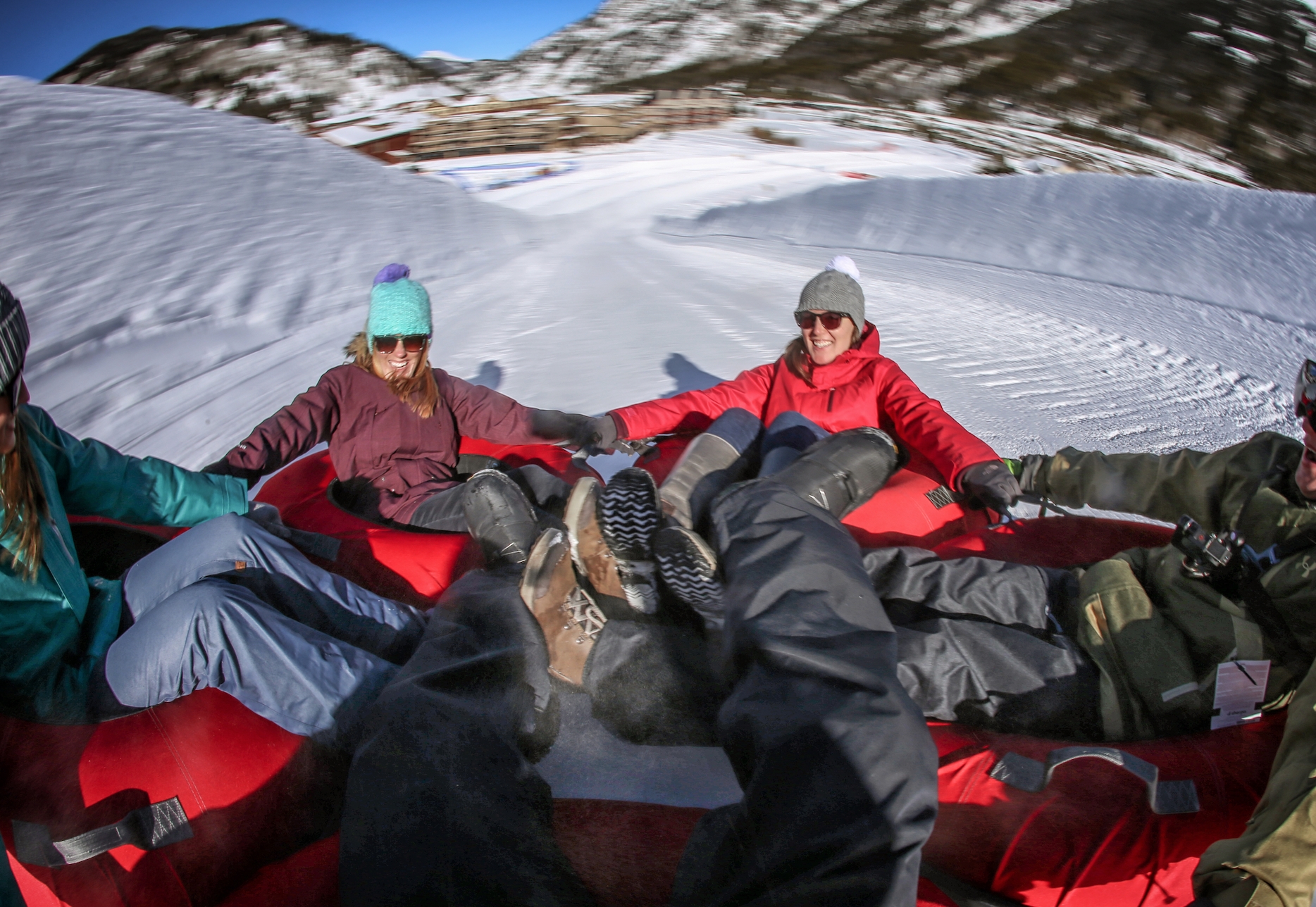 Considering that I like my whole winter experience packed into one weekend, I made every effort to maximize every second. When the lifts closed on the first day, I went tubing. After about a dozen rides, here is my very nuanced take on the sport: Sliding down a mountain in an intertube sounds like it would be incredibly fun and it is incredibly fun.
That's all I've got to say about that. You'd have to be a monster to not love tubing.
Copper Mountain also has an alpine slide (basically a one person bobsled), an ice skating lake (more on that to come), and a spa/ athletic club. The pride of the staff is the Woodward Barn — which is basically an indoor training facility for all board sports. You can use a snowboard with wheels to ride down a ramp and attempt a flip into a foam pit. You can skate a half pipe. You can practice your tricks on massive trampolines. Just imagine everything you wished was real as a kid and then make it accessible to adults.
In all my conversations at Copper Mountain — with waiters, instructors, PR people — the Woodward Barn came up roughly six hundred times (accompanied with directions to this massive structure that's easily visible). The love for "the barn" proved well deserved. It's a playground for anyone who loves board sports.

THE FOOD & DRINK
Generally, you get a lot of fried, fatty, oily food in mountain villages and Copper Mountain has lots of those. Maybe a few too many. Fryers just seem to be the preferred instrument to make food at the volume that a ski mountain demands. Not that I nessasarily minded — if there's ever a time where onion rings taste their best, it's after a long day of skiing. But I wasn't terribly impressed with the food at Copper until I found the Storm King Lounge at the end of my first full day at the property.
The Storm King is a Japanese restaurant serving ramen and sushi. The old sushi adage is, of course, never to order it a few thousand miles from the nearest ocean. But there's a lie embedded in this. When you order sushi in LA and NYC, it's still typically been frozen first. Unless you're at a restaurant that has very special sourcing arrangments, you've probably never had fish that wasn't frozen at some point. The Storm King may not be near an ocean, but their team created rolls and sushi arrangements every bit as good as those you'd find in LA. Better still, they made a rich, deeply warming bowl of ramen — the best dish I tasted on the mountain.
After finding The Storm King, I realized that it had been my own limited idea of "American Mountain Food" that had kept me ordering nachos and fries and mac and cheese bowls my first day. When I looked a little closer, I found a few more spots that didn't stick to the "fried food = comfort food" mandate. My favorite was C.B Grille — where the chef created nicely composed, new-American plates that felt filling but not overly heavy after a long day on the lifts. The maple glazed duck was delicate and perfectly cooked, highlighted by a tart blueberry sauce.
Of course, drinking and skiing are almost inextricably tied and this is where Copper really shone. Every restaurant seemed to have craft beers on tap and a whole list of bespoke cocktails. 10 Mile Tavern had 20 beers at the ready. I'm not normally a beer person, but with so many choices who wouldn't order a flight? I picked four beers that sounded light and fruity and enjoyed them all immensely.
***
On the last night of my trip, I went ice skating. Just as I'd promised Taylor that first morning, I found the lake with ease. In the spirit of trying everything, I paid a few bucks for admission and laced on my skates, then walked across a rubber mat toward the ice.
The snow was falling lightly on the frozen lake. Children laughed and called to one another. The air was literally nipping at my nose. It was, in short, the perfect night for a little open-air skating.
I hated every second of it. My ankles hurt, my knees felt ready to buckle, and the idea of falling on rock-hard ice filled me with dread.
I am generally terrible at the sport of ice skating (and always have been). And there was no wall to cling to desperately or to use to stop myself with after collecting a little speed. I realized that I was literally just doing it to say I did it. And for the first time all weekend, I was getting cold.
That's when I remembered the true joy of a compact ski village: Something else is always just a few steps away. The second I made this realization, I teetered back to the rental station, took off my skates, handed them in, and tracked down some new friends at the High Rockies Whiskey and Wine Bar, just across the way.
Who wants to skate when you have a cozy little shop with whiskeys on tap in your sightline? After four hot toddies, I walked a few hundred feet back to my condo and curled up by the gas fireplace. It took three minutes in total. I read a little bit of The Annotated Big Sleep, then took a big sleep. A few hours later, I wandered from the couch to the bedroom.
Somewhere between brushing my teeth and falling into bed, I realized the ultimate perk of having everything in one place the way Copper does: You can do a little bit of everything without much hassle, but you can also do a little bit of nothing without much hassle too.
Copper Mountain closes for the season on April 21. Visit here to see Steve's Instagram story from the trip. Uproxx was hosted for this story by Copper Mountain. You can learn more about the Uproxx Press Trip policy here.