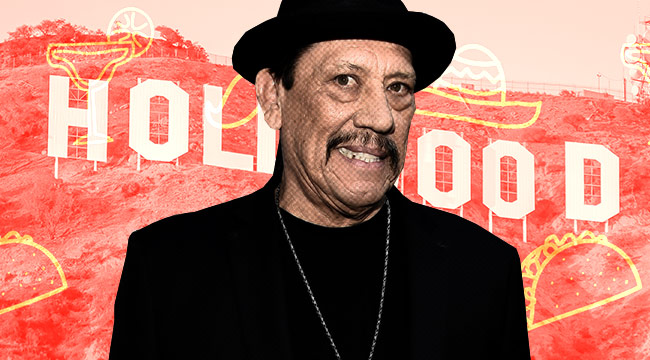 One of the few highlights in the wasteland of 2016 has been the rise of Danny Trejo from beloved pop culture icon to beloved pop culture icon and literal taste-maker. Trejo's Tacos caused a serious stir in Los Angeles when it was announced at the beginning of the year, and the success of that storefront was so dramatic that Trejo is now — against all odds — becoming a legitimate culinary player.
Trejo and his team have just opened a second location, Trejo's Cantina, in the heart of Hollywood. Located midway between the Palladium and the historic Pantages Theatre, Trejo's Cantina fits snugly into a small plaza of eateries that includes a poutinerie and one of the most highly-acclaimed burger joints in Los Angeles.
The cozy restaurant has a bar with over 20 California beers on tap, and the menu offers plenty of everything you'd want from a Mexican restaurant — burritos, tacos, quesadillas — with the upscale twists that Los Angeleans have come to expect from upscale and avant eateries. It's a cliché at this point that food in L.A. is unnecessarily chichi. Hell, it was a cliché back when L.A. Story goofed on it in 1991. But it's a stereotype with a ring of truth, and when most locals go out to dine, they sort of expect something unusual to at least be on offer.
Trejo's Cantina bridges the gap perfectly between traditional Mexican and contemporary Los Angeles cuisine. The guacamole offers a twist on the standard pepitas topping by being presented with pistachios instead, which is a minor twist that is as delicious as you'd hope without local critics having to go into a "peas in guacamole!" uproar. The carnitas and asada tacos and burritos are tasty, the fried chicken burrito is a star, and the vegan taco option — roasted cauliflower — is possibly the highlight of the entire enterprise.
But the real draw, of course, is Trejo himself. Pairing a cult celebrity with contemporary Mexican cuisine is the cherry on top of this Los Angeles sundae, and even though he's a for-real restaurateur at this point, it's still a little surreal to think of Danny Trejo as a culinary icon. So we took the time to talk to the man himself about how he got wrapped up in this endeavor, and how hands-on he is with the business.
https://www.instagram.com/p/BNuOp30gy15/
Take me through how you came to be involved with Trejo's Tacos and now here at your second location.
You know what, I was doing a film called "Bad Ass" and Ash [R.Shah] was one of the producers. My mom's dream was always to own a restaurant, to have a restaurant. She's a great cook, but my dad was the Mexican Archie Bunker. You know what I mean? Every time me and my mom talked about opening a restaurant, my dad would say something like, "Hey, why don't you get in the kitchen? There's a blue plate special waiting for you." [He would] come up with some shit, so it never happened.
After my mom passed away, me and Ash were just talking and he said, "Why don't you open a restaurant, Danny?" I said, jokingly, "Trejo's Tacos." We did "Bad Ass" and then he produced "Bad Ass 2" and then "Badass on the Bayou." He came and brought me a business plan. It was probably the first business plan that I've ever gotten that wasn't going to cost me $500,000 to start. It was just a great plan.
I showed it to my agent, Gloria, and my secretary, Mary, and they said it's a good one, so here we are.
How involved are you with crafting the menu?
I'm here all the time. I taste the food. Some of the recipes were my mom's that they adapted.
What were some of your mom's recipes?
Carne asada, especially, and carnitas. Again, they got, mama bought pork from the carniceria. Here, everything's top grade. Our chickens have never been in a cell. They're free range chickens. The meat is all just really good.

When people generally — outside of Los Angeles especially — when people think about tacos they generally think about inexpensive food.
Yeah.
Trejo's Cantina is sort of high end. What are your thoughts on that?
Well, the reason … I would say, I hate to say you pay for what you get but if you want 12 tacos for $1, watch out because they might meow. Here, what we've tried to do is make some really good, healthy food. We're gluten-free, we're vegetarian-friendly, we [have] vegan [options], and then we also have carne asada, carnitas, and pulled pork and everything else.
You're very Los Angeles.
Absolutely. Born and raised.
What do you think about, culturally, that people expect inexpensive food when they think Mexican food?
Well, you know what? People that know good Mexican food, they'll pay for it. We have whole families come here just because the food is so delicious and if you got two kids and you're having trouble with them eating, tacos are the shit. They love them.

What do you want people to know about Trejo's Tacos or Trejo Cantina?
I think what I want them to know is you're always going to get good food and you're always going to get a pleasant smile and you're always going to feel good leaving.