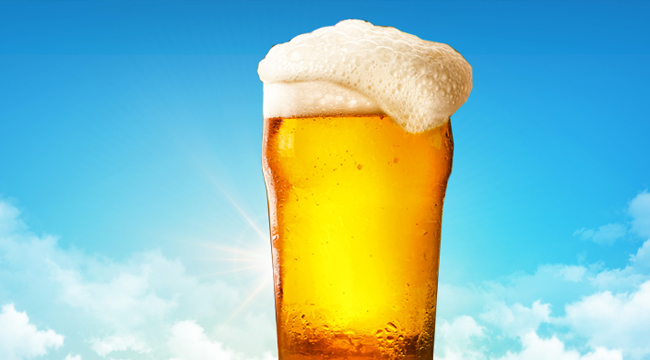 It might not seem like it, but winter is officially over. The Northeast has been bombarded with multiple nor'easters in the last few weeks and more rough weather seems to be on the way. It's not much nicer in the rest of the country, as temperatures in many areas are much lower than the norm for this time of year. But, there's a tiny, glowing light of warmth in the cold darkness. That's because, technically speaking, spring is here. Today is actually the first day of Spring even if it doesn't feel like it outside.
To celebrate the beginning of spring and all of the eventual warm weather it HAD DAMN SURE BETTER BRING SOON, we've decided to pick our favorite new spring beers. And since spring can be quite fickle, we have IPAs, sour beers, stouts, maibocks, and even India Red Ales to get you through the oftentimes snowy, sometimes sunny, rainy, clear, wet, hot, raining-frog spring days ahead.
New Belgium Voodoo Ranger Juicy Haze IPA
The New England IPA style is taking the craft beer world by storm. Voodoo Ranger Juicy Haze is New Belgium's take on the style and it's a good one. This 7.5 percent ABV IPA pours a dark orange and carries a sweet, juicy, subtly bitter flavor that is perfect for sipping on a patio on a warm spring day.

Great Divide Hop Disciples
The newest offering from Great Divide's Rotating Hop Project, Hop Disciples isn't the usual IPA. That's because Great Divide foregoes the usual hops in favor of Ekuanot, a hop variety that is less bitter, with more tropical fruit and citrus flavor. The result is a 6.2 percent IPA that is much smoother and easier to drink than some overly hoppy brews.
DogFish Head Dragons and Yum Yums
Be prepared, this pale ale from DogFish Head is weird. That's because this 6.5 percent collaboration between the famed brewery and the eclectic band The Flaming Lips is chocked full of fruit flavors like dragonfruit, yumberry (apparently a real berry), passionfruit, pear juice, and black carrot juice.
Goose Island Islay
https://www.instagram.com/p/BgUUO4lgS4m/?taken-by=gooseisland
If you're a fan of stouts, you've probably enjoyed a Goose Island Bourbon County Stout or two. Those high alcohol content brews are aged in bourbon barrels to give the beer an added oaky kick and help mellow out the flavors. The brewery's newest barrel-aged beer is Islay, a beer aged in Ardbeg Scotch casks for 17 months before bottling. The result is a 13.4 percent smoky, almost salty, sweet, Scotch-like beer, perfect for the remaining snowy spring days.
Devils Backbone Maibock
Early spring is the perfect time of year for a maibock. Since the weather is stuck somewhere between winter and spring. This 7.4 percent German-style maibock is full-bodied with rich honey flavor and a major malt presence from the addition of Pilsner, Vienna, Dark Munich, CaraRed, and CaraFoam malts.

Lefthand Brewing Chai Milk Stout Nitro
Just because St. Patrick's Day is over, that doesn't mean you have to stop drinking stouts. This 5 percent milk stout is full of sweetness from ginger, nutmeg, chai, and other spices. Made originally for Lefthand's Nitro Fest, this brew gets an added kick from the addition of nitrogen.
Samuel Adams New England IPA
It was only a matter of time before the king of New England beer-dom joined the New England IPA bandwagon. And, the folks at the Boston Beer Company didn't disappoint with their 6.8 perfect juicy, hazy, subtly bitter, extremely drinkable spring offering.
Lagunitas Dark Swan Sour Ale
https://www.instagram.com/p/BXUGyOjBtZj/?tagged=lagunitasdarkswan
Spring means the Dark Swan has returned. This 8.5 percent sour ale gets its tart flavor from being fermented with Petite Sirah grapes. This give the beers a dark, purple, almost red-wine color and a subtly sour, sweet, beer that seems to straddle the line between wine and beer.

10 Barrel Brewing Goggle Tan
This India Red Ale was brewed to pay homage to the tan one might get while skiing during the early, warmer, sunnier spring days. It's 5.6 percent alcohol with a strong hop presence, subtle malts, and the flavors of toffee and dried fruits.