Whether you're taking a trip to see the country's finest beaches and hiking trails, seeking a respite from the summer humidity, or you're just looking to cut loose at this month's HARD festival or one of the other music festivals offered across the state, there is a high chance if you're traveling domestically this summer you're making a stop in California. The Golden State has a lot to offer travelers and if you've never trekked out West before the number of options can be downright intimidating.
Don't worry about that. We've got you covered. Besides the many many m–a–n–y Cali-based travel guides we've published in the past, today brings some new heat. Our favorite DJ sister duo, the Lisbona Sisters, did us a solid and curated their personal guide to all things CA.
In addition to being born and raised in California, Ava and Laura Lisbona have made a name for themselves playing festivals across the state (and the world!) so they know the state intimately — from the best places to grab a bite to eat to the clubs and bars you need to visit. This month, the Lisbona Sisters will take the stage at San Bernadino's HARD Summer Festival, which will be held on July 31st and August 1st at the NOS Event Center, where you can catch shoreside performances by other artists like Future, Kaytranada, and 2 Chainz.
With an even mix of hip-hop and electronic acts, the lineup is pretty damn stacked for a two-day festival! As stacked as that festival lineup is though, you're still going to need something to do in your downtime (or before and after the festival), so check out the Lisbona Sister's guide to California below.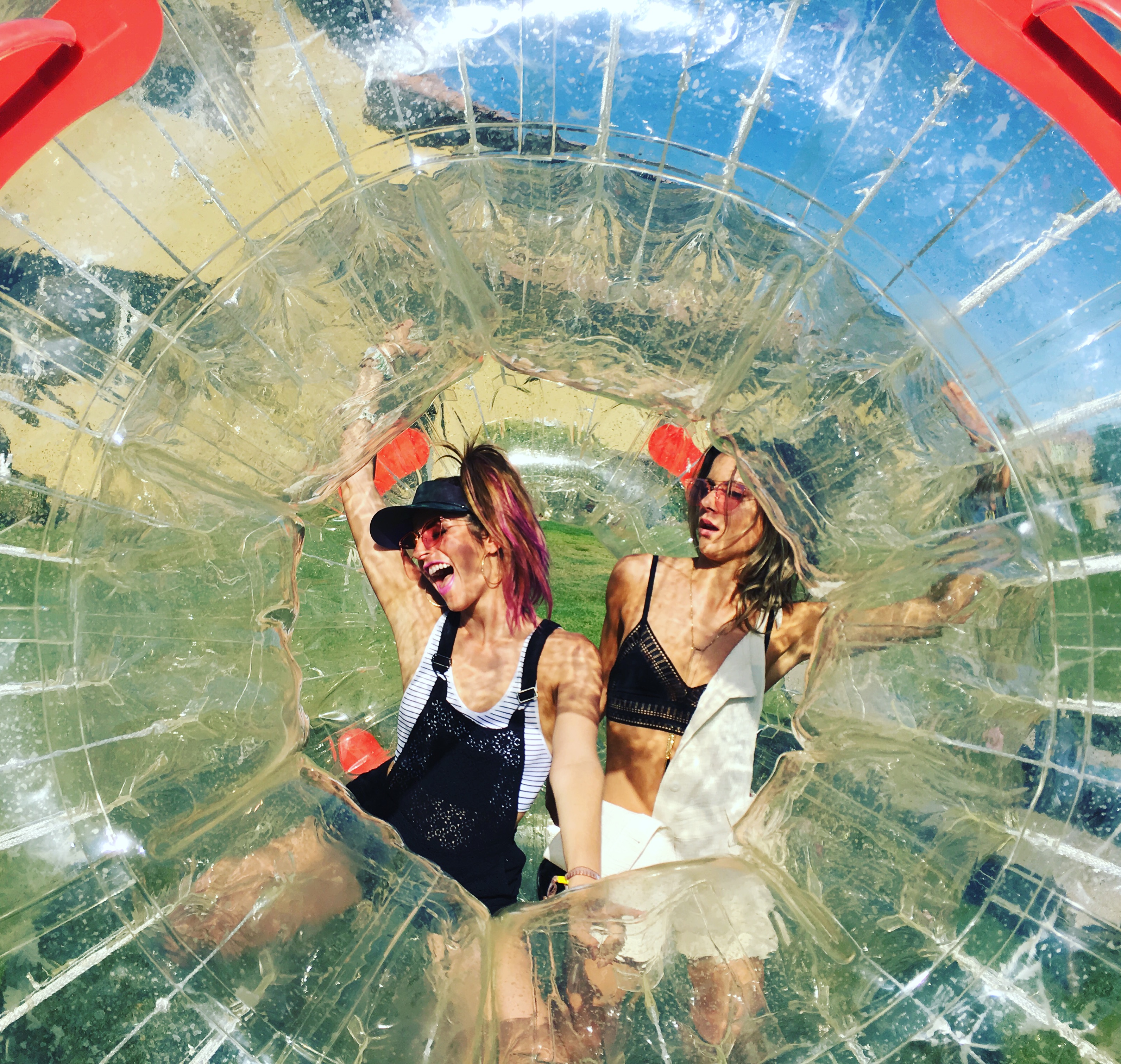 Restaurants You Need To Eat At
Pazzia Ristoranti Italiano — San Francisco
Laura:
I'm obsessed with and am very picky about Italian food, and this place is one of my favorites forever. The owner, Massimo, is from Florence, so charming, and so, so Italian — in the best way 00 which you'll personally find out because he'll probably come to your table and introduce himself while you're dining. Only 40 seats in the restaurant means a truly intimate experience, and it's usually a lively one — Pazzia means "craziness" in Italian.
Ava and I both used to wait tables here when we lived in SF; I still have legitimate cravings for it all the time, and I can't ever visit the Bay Area without getting my fix.
Broad Street Oyster Co. — Malibu
Ava:
As someone who is obsessed with lobster rolls, this place blows me away. Best lobster roll this side of the Mississippi, and you can add uni or caviar to it. Big plus. There are other things on the menu, but this is a real stand-out!
Ristorante Mamma Gina — Palm Desert
Laura:
We did the majority of growing up in the Coachella Valley, and our mom would save up her paychecks to take us here for special occasions when we were little. It's upscale, has been there since 1986, and feels very appropriately old school. Since I can remember going (and as recently as a couple weeks ago), I get the capellini pomodoro every single time; it's such a simple dish and is, in my opinion, a great test of any Italian restaurant.
Another sign of this place's authenticity is that the original location is in Florence, Italy, which I've also been to and will wholeheartedly vouch for.
Outdoor Getaways
Nature Friends Tourist Club — Mt. Tamalpais, Mill Valley
Laura:
This spot is such a freaking gem if you're into the idea of hiking and nature with a fat dose of fun. There are multiple trails you can take to get there, ranging in intensity and distance. They all end at this huge and super random alpine lodge in the middle of the redwoods — just above Muir Woods — complete with a German beer bar and a hefty selection of board games. B
ring a sandwich and you are winning.
Rose Bowl Flea Market — Pasadena
Ava:
This giant flea market happens on the second Sunday of every month. They have literally anything and everything under the sun, new and used. I've furnished half of my house there, and pretty much wear something from there every day. It's an absolute goldmine for things you want… or didn't even know you wanted.
DTLA Flower Market — Los Angeles
Ava:
For $20 you can make like five bouquets for around the house (or wherever). They get the coolest, unique flowers and you are going to impress anyone you make an arrangement for. A go-to for friends' birthdays.
Clubs And Bars You Need To Party And Drink At
Monarch — San Francisco
Laura:
I'm probably a bit partial because our friends opened this place, and it's also where I learned to DJ. There are two steampunk-inspired craft cocktail bars upstairs, one termed "The Emperor's Drawing Room" (sounds so fancy), and they often have a very nice-looking, very bendy woman hanging over the bar doing an aerial performance.
Downstairs in the basement is the nightclub with some of the best sound I've ever heard in the US.
Break Room 86 — Koreatown, Los Angeles
Laura:
An 80s speakeasy bar — could you be speaking more my language? It's located in the basement of The LINE hotel; you go in through the back entrance where you are led through the hallway and finally go in through a secret vending machine. I know I'm not supposed to give away the surprise, sorry. The inside is so cool and has tons of '80s accents and installations, a DJ or '80s cover band, old arcade games, and karaoke rooms — highly available for this.
Retail Therapy For The Morning After
The Fine Art Of Design — Palm Desert
Ava:
This is such a carefully and impeccably curated store, and it has the most beautiful vintage and antique pieces. You will find the most amazing clothes and the shop owner, Nicky, knows specifics about every individual item in there.
Gentle Monster — Los Angeles
Ava:
This Korean eyewear brand is unique and well-made. The store itself is such an experience. From the music to the art, this place never ceases to amaze me.