It's another day and the internet seems obsessed with yet another recipe. This time we're talking about a little more than a passing TikTok storm. We're talking about one of Google's top trending searches for 2022, "Marry Me Chicken" — a chicken breast smothered in a creamy sauce with garlic, chili pepper, sun-dried tomatoes, grated parmesan, and dried oregano. Some recipes also call for bacon or lemon, but those are the main tenants of the recipe.
The recipe is a creamy Italian-American dish that's made in one pot and pretty easy with a nice enough aesthetic. It was born from the 1980s version, "Engagement Chicken," which stemmed from a Glamour Magazine story. It's gotten plenty of play on TikTok and Instagram. See below. And was the third highest top trending search under "recipes" on U.S. Google this year, right under "Cincinnati Chili" at number two and "Sugo" at number one.
@downshiftology

This "marry me chicken" recipe will definitely win over dinner guests… and may even prompt a partner to propose. 😉 Essentially, it's a Tuscan chicken recipe with juicy, golden chicken breast simmered in a luxurious parmesan cream sauce filled with sun-dried tomatoes, onions, garlic, and plenty of spinach. And while I'm making the classic version with dairy today, you can also make it 100% dairy-free. Find those substitutions and notes on the recipe on my website. And for complete step-by-step cooking instructions, make sure to watch my YouTube video. Enjoy!! 🤗 #chickenrecipe #easyrecipe #dinnerideas #dinner #tuscanchicken #mediterraneanfood #cooking #glutenfreerecipes #glutenfree
So is this dish any good? It seems easy enough after searching through the gazillion recipes that pop up on Google. I shifted through a dozen or so and found a throughline to replicate. Let's see how these flavors play together for lunch.
Check Out Our Top 5 Recipes Posts From The Last 6 Months:
Marry Me Chicken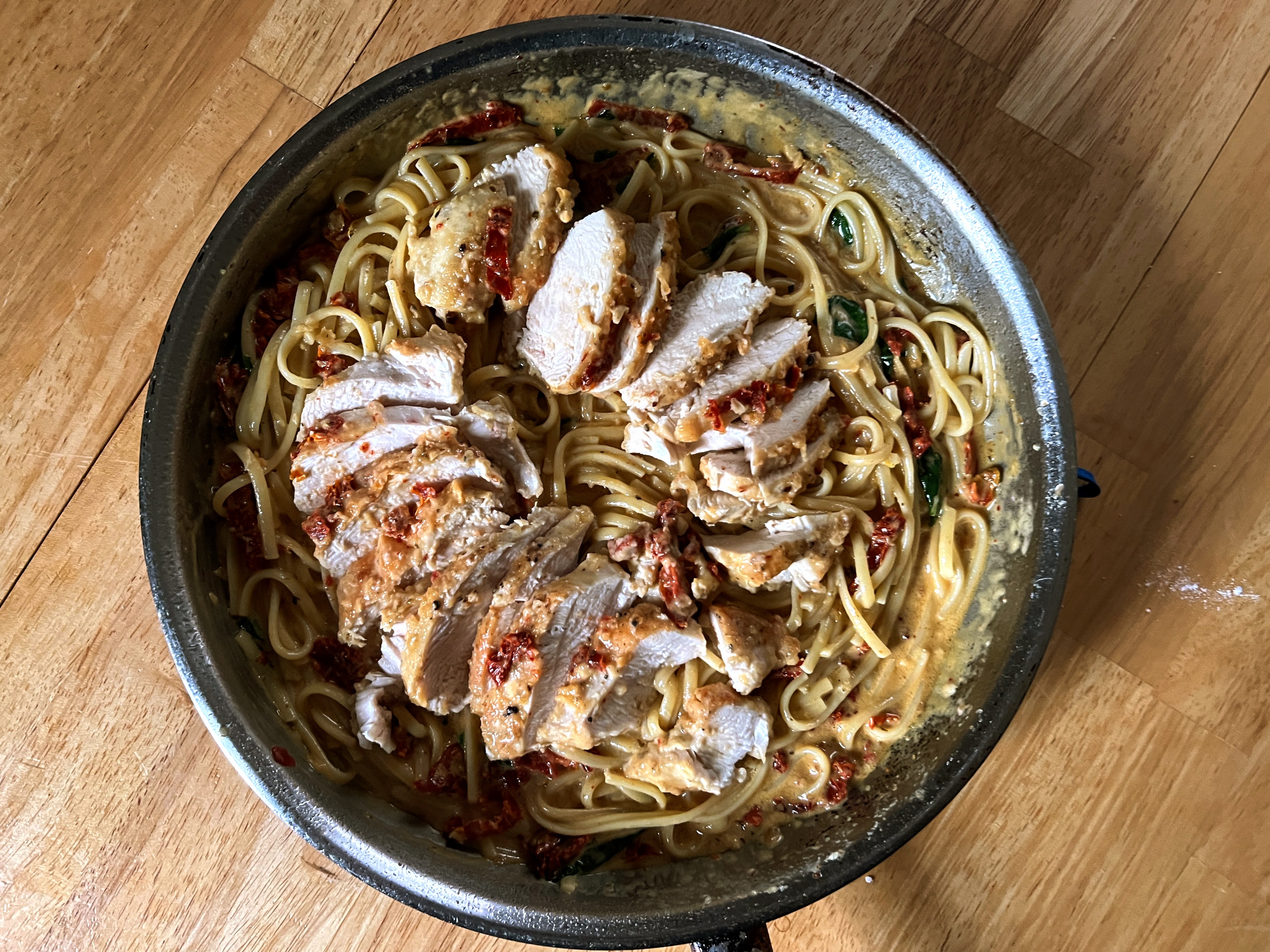 Ingredients:
Four servings — two for dinner and two for lunches
3 chicken breast
2 cloves of garlic
1 cup chicken stock
3/4 cup heavy cream
1/2 cup chopped sun-dried tomatoes
1/2 cup grated parmesan
1 tsp. dried oregano
1 tsp. chili flakes
1/2 cup AP flour
Salt
Black pepper
Olive oil
Lemon zest from about 1/2 of a small lemon
Fresh basil
Linguine, rice, or mashed potatoes for serving.
The best part of this is that all of this is easily sourceable at an average grocery store.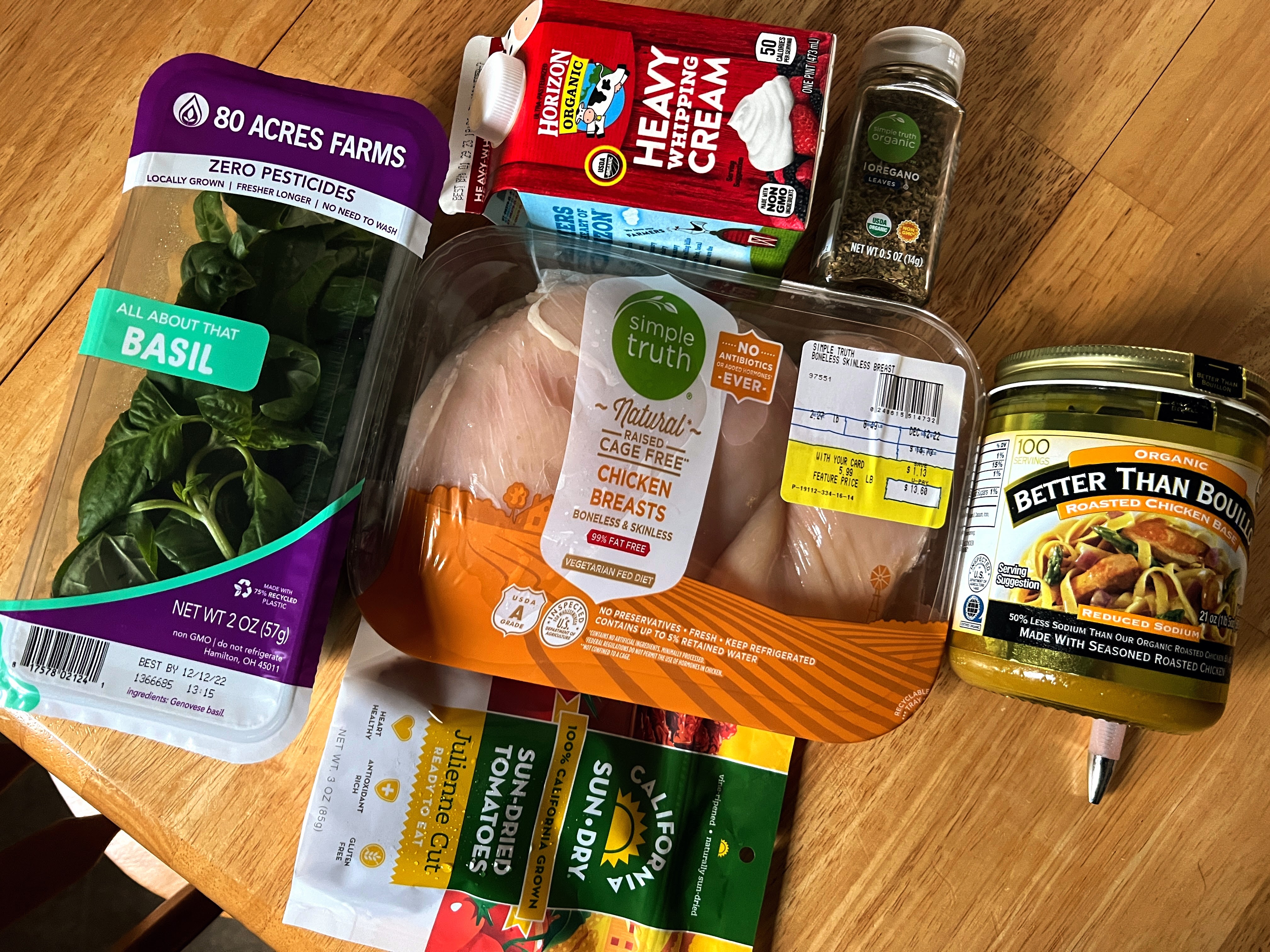 What You'll Need:
Heavy-bottomed large pan
Cutting board
Kitchen knife
Tongs
Grater
Wooden spoon
Method:
Season the chicken breasts with salt and pepper and let rest while you get everything else ready — grate the cheese, mince the garlic, zest the lemon, and get the flour ready to dredge the chicken.
Heat the pan on medium-high heat with about 2 large glugs of olive oil, enough to create a thin layer across the whole bottom of the pan.
Once the oil is hot, dredge the chicken in the flour and lay them in the pan one at a time. Allow to brown on both sides and then remove the chicken breasts to a waiting plate.
As soon as the chicken is removed, immediately add the garlic and let cook for about 20 seconds until fragrant then add the chicken stock to deglaze the pan, using the wooden spoon to pull up all the fond (brown bits) into the stock and garlic. Bring to a simmer.
Add in the oregano, chili flakes, cream, sun-dried tomatoes, and parmesan. Stir and bring to a low simmer until the cheese is melted and a creamy sauce forms.
Add the chicken back into the pan and let simmer on medium-low heat until the sauce thickens a little, about five more minutes.
Add the lemon zest and fresh basil and then kill the heat and taste for seasoning. Add salt and black pepper to taste.
Serve over rice, pasta, or mashed potatoes. If serving over pasta, add the al dente pasta to the sauce to finish when you add the lemon zest and fresh basil.
Bottom Line: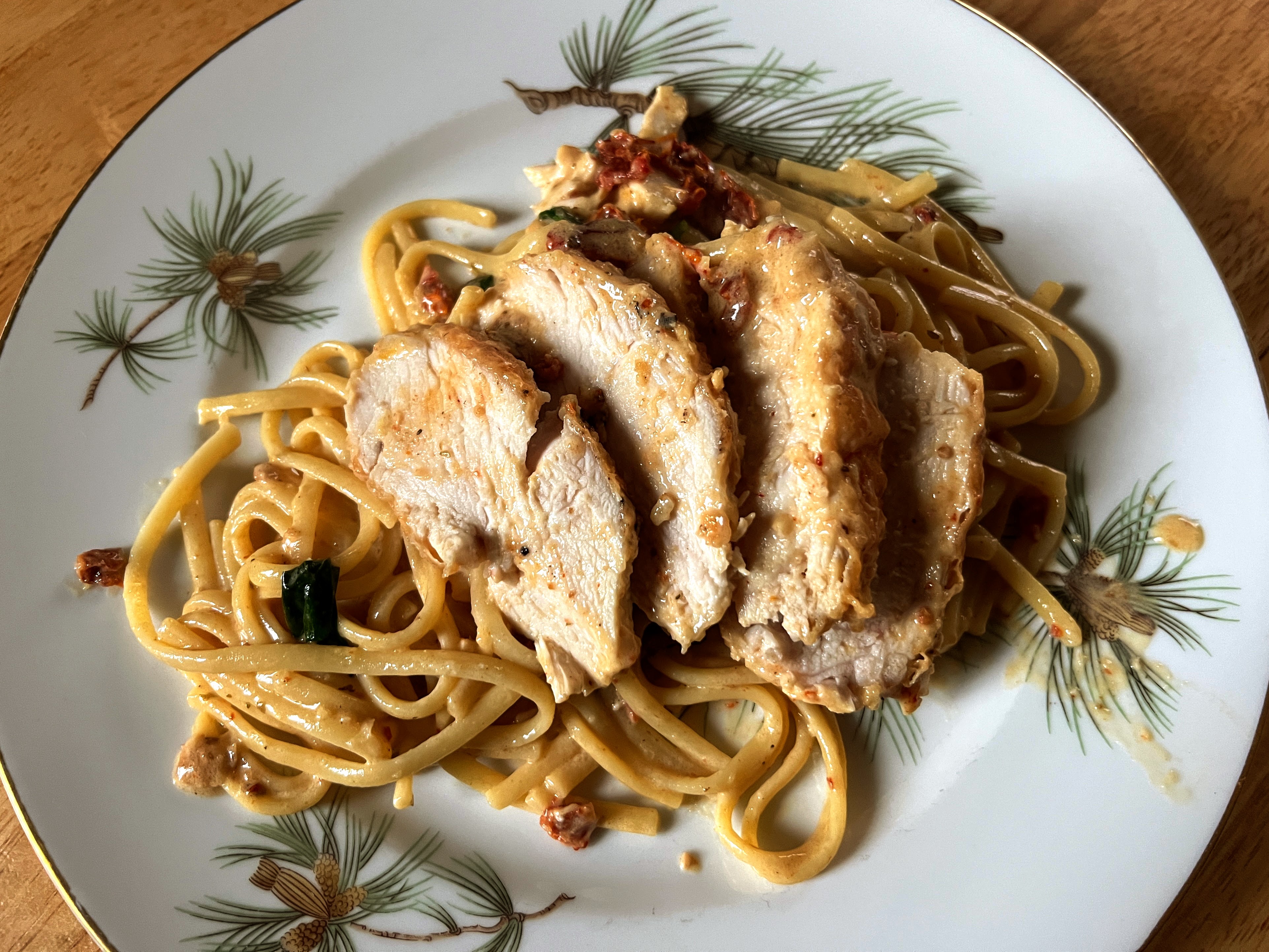 This lives or dies by that fresh lemon zest and basil. A lot of recipes didn't call for the lemon (some not even the basil) and, ho boy, this would be bland as f*ck without it (cream-on-cream does not a dish make).
Overall, this was fine. It's a typical Frankenstein'd version of Italian cooking via the Italian-American lens. There's just too much going on that's not necessary. Great Italian cooking is about highlighting amazing single products in a holy trinity (three components) that build a complex and complete flavor profile of simple brilliance. This is all over the place with the overly creamy sauce — when will Americans learn that butter, cheese, and pasta water create a cream sauce on their own without using cream? — with sharp garlic, tart and savory dried tomato, fresh and bitter basil, bright lemon, and moist breaded chicken. You really could lose the garlic, cream, and sun-dried tomatoes and you'd have a way better dish, certainly one with a better and more dialed-in POV.
That's not to say this wasn't a nice and filling meal. It was. But there's a reason sun-dried tomatoes go in and out of fashion every generation. They're just too tart and funky here with no real purpose besides adding a gummy mouthfeel and tartness that's far easier achieved by adding lemon.
And look, I'm not being an Italian pasta purist here. There are plenty of kitchen-sink pasta dishes in regions all over Italy — alla puttanesca or ragu di cortille being prime examples. Still, those dishes have, let's call it "theamtic resonance" that this dish just doesn't seem to find. And no, adding bacon wouldn't have helped.