The hot dog is one of the most iconic summer foods of all time. This mystery sausage is boiled, steamed, or grilled before being lovingly laid into a bun. It can be eaten on its own, but really shines when it's covered in ketchup, mustard, and even relish. There's practically no limit to the number of toppings that can be added atop one. If you're not in on chili dogs… we might have to end this relationship.
No matter how you enjoy your hot dog, today is the perfect day to do it. You don't even have to fire up the grill, because it's National Hot Dog Day — restaurants all over the country are offering deals. Some are even giving away free hot dogs. Those crazy fools! Handing them out like madmen!
Check the best deals below.
Stop by participating Burger King restaurants today to get a classic grilled hot dog for only 79 cents.
If you happen to be Key West, Florida today, stop by the famous Chart Room Bar and treat yourself to a cocktail and a free hot dog.
To celebrate National Hot Dog Day, Dog Haus is offering free hot dogs when you download and register its app.
Stop by participating Fancy Franks locations in Canada to get a free hotdog today from noon to 5pm.
Hwy 55 Burgers, Shakes & Fries
To celebrate the holiday, Hwy 55 is offering hot dogs for only 99 cents today when you download the My Hwy app.

Visit Love's Twitter, Facebook, or Instagram to get barcode redeemable for a free hot dog at participating locations today.
Stop by participating Philly Pretzel Factory locations to get a pretzel dog for only $1 today.
Pilot Flying J is giving away free hot dogs (and other griller items) today. To take advantage of this freebie, you must download the myPilot app and find the offer.
Stop by participating Portillo's locations to get regular size 2 hot dogs for only $5 today (and all week).
Stop by Sonic to get an All-American or Chili Cheese Coney for $1 each today.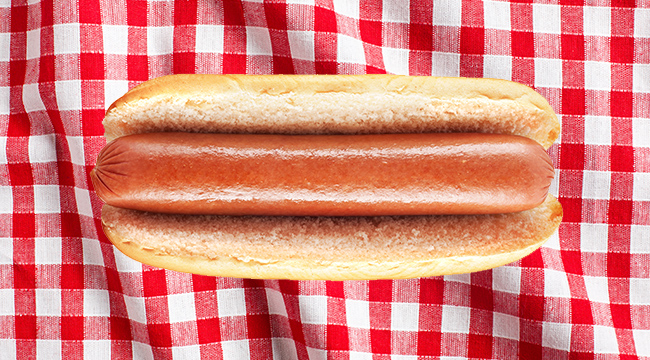 In honor of the holiday, Wienderschnitzel is offering five varieties of chili cheese dogs for only $5 each.