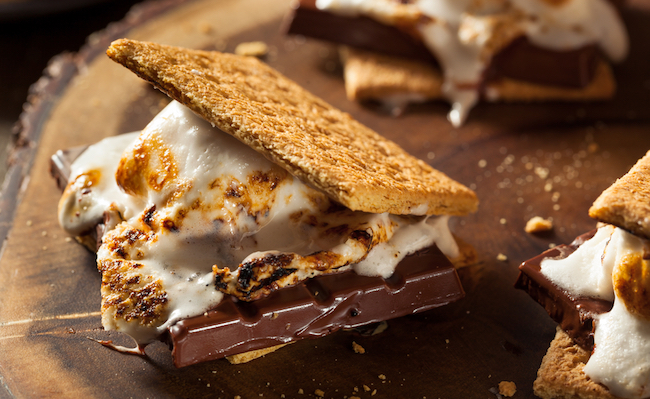 It's that time of year again, when we set a few precious moments aside to appreciate the s'more. We've been enjoying the simple (yet occasionally elegant) fireside dessert for nearly a century, since its sweet, sweet invention in the early 20th century. The world may have changed since then, but s'mores are still the perfect way to give yourself an end-of-evening sugar rush as the fire dies down and the ghost stories start. The nation agrees with this sentiment — between Memorial Day weekend and Labor Day weekend, Americans buy over 25 million six-packs of Hershey's chocolate bars, which is enough chocolate to make over 300 million s'mores. That's not to mention how many sexual-appetite-curbing grahams we devour.
Still not convinced that it's time to do like The Sandlot crew and make a s'more? Would you believe that today is National S'Mores Day? You'd have to be some sort of a summertime Grinch to deny yourself the sugary treat on the very day of its celebration. No campfire? No problem. Just fire up your stovetop burner, or broil some marshmallows in the toaster oven. And no need to stick to the simple graham cracker/chocolate/marshmallow equation, either. We've got you covered: below are 16 different options to tease your palate, from the fancy DIY kit for the gourmand to the savory/sweet variation for the bacon lover. Whether you want to stay in or go out to celebrate this wondrous occasion, you'll find a recipe that will have you asking for seconds and thirds…and… hey, we're not judging.

DINING OUT
Stylized S'mores: Sanderling Resort, Outer Banks, N.C.
What's better than roasting marshmallows over a giant fire pit? Nothing, except maybe doing it at an idyllic resort on the shores of the Outer Banks. Every night the resort brings out fixings for guests to put together s'mores — and they don't limit the ingredients. Go ahead and steal some favorite recipes from the chalkboard menu:
The Grasshopper: Marshmallow, York Peppermint Patty, graham crackers
The Nutty Buddy: Marshmallow, peanut butter cup, graham crackers
The Samoa: Marshmallow, caramel square, toasted coconut, graham crackers
S'mores For Every Diet: Hyatt Regency, Huntington Beach, Calif.
Much like the Sanderling, Huntington Beach's Hyatt Regency lets guests create s'mores on one of the beach fire rings, with the help of the fireside fun master. The best part: if you follow a gluten-free or vegan diet, you won't have to miss out on the gooey fun. The fireside fun master will make sure to bring special ingredients just for you.

S'mores Ice Cream Sandwich: Hinoki & the Bird, Los Angeles
Finally, something to cool you down during this insanely hot summer. Hinoki & the Bird's executive chef Brandon Kida has come up with a unique play on an ice cream sandwich that will take you right back to your days at summer camp. Just imagine: vanilla ice cream, rolled in chocolate crunch, finished with torched marshmallow, and layered between two chocolate brownies. Or don't imagine. Go order it up for yourself, instead.
Frozen S'mores Napoleon: David Burke fabrick, New York City
Known for his playful, artistic desserts, David Burke fabrick's executive pastry chef Zac Young's newest dessert is no exception. The Frozen S'mores Napoleon is made of graham cracker angel food cake, chocolate semifreddo, and coffee marshmallows. It's refreshingly cold and beautifully-textured, and we want some please, right now.

Zen S'mores: Sushi Roku, Santa Monica, Pasadena; ROKU, West Hollywood, Calif.
These aren't your average s'mores. Two can share the treat, which comes with green tea and chocolate truffles, marshmallows, marshmallow cream, and crushed graham crackers. Oh, and it's plated to look like a Zen garden (the graham crackers are the sand, get it?), complete with a mini fire at the center for roasting the marshmallows.
S'mores 5.0: BOA Steakhouse, West Hollywood and Santa Monica, Calif.
Another one for the gluten-free among us. And dare we say it sounds even better than anything containing gluten? S'mores 5.0 features rich flourless chocolate cake, toasted vanilla fluff, milk chocolate ice cream, and gluten free graham crackers.

Grilled S'mores French Toast: The Cannibal, Los Angeles
For an incredibly decadent take on brunch, check out The Cannibal's Grilled S'mores French Toast, which elevates plain ol' French Toast with the addition of chocolate, graham, and whipped crème fraîche.

STAYING IN
S'mores In a Cup: Hershey's
What better place to begin than with the classic milk chocolate that melts so perfectly when sandwiched between a graham cracker and a hot marshmallow? It's the most perfect form of the s'more, but it's not the only form, by any means. For a new spin on an old classic, check out Hershey's recipe for S'mores in a Cup:
Ingredients:

1 Hershey's Milk Chocolate Bar (1.55 oz.)
1 full-size graham cracker sheet
15 miniature marshmallows

Directions:

Break graham cracker and milk chocolate bar into pieces. Place in microwave-safe bowl or cup; shake gently or stir to mix up pieces.
Microwave on high for 15 seconds. Add marshmallows; microwave an additional 10 seconds on high.
Serve with more graham crackers, or fruit to dip.

Espresso S'more Tart: The Guild, West Hollywood, Calif.
A new progressive American restaurant in the former Screen Actors Guild headquarters, The Guild will be offering their S'more Espresso Tart throughout August. But don't worry — even if you live in Alabama, you can still sink your teeth into the tart. The guild has shared the recipe with us, which will have you browning your own butter and making homemade marshmallow crème.
Graham Cracker Crust

Ingredients:

2 cups graham cracker crumbs
1/4 cup butter, melted and browned

Directions:

Combine ingredients together in a mixing bowl by hand
Carefully add 1/2-inch layer to round ring mold, making sure to press down firmly. Do this for all ten tarts, this is your base.
Bake at 350 for 6-7 minutes until golden brown, then remove from oven and allow molds and crust to chill. Do not remove the ring molds. While your crust is chilling you may start the ganache filling.

Ganache Filling

Ingredients:

1 pound 64% percent chocolate (Valhrona preferred)
1/4 cup espresso powder
1/4 cup vanilla bean paste or extract
1 cup heavy cream

Directions:

Add espresso, vanilla and heavy cream to a saucepan and cook until a consistent simmer. You do not want your cream to boil. If this happens, allow cream to cool slightly.
Once your cream is ready, pour it over chocolate. Let sit for 1 minute, then, using a spatula, slowly fold together starting from the middle until the mixture is creamy and everything is incorporated.
Once crust is chilled, pour the ganache into the mold, leaving about two fingers of space from the top. Chill overnight.

Marshmallow Meringue
Ingredients:
1/4 tsp cream of tarter
4 tablespoons water
1/2 cup of sugar, split in two
2 egg whites
Directions:
Boil water and 1/4 cup sugar until it reaches 240 degrees F on a candy thermometer.
Meanwhile, beat egg whites until frothy, then add remaining sugar and cream of tarter. Whip to a stiff peak.
Once sugar mixture hits 240 degrees F, add 1 tablespoon the egg whites to temper them. Whisk constantly until stiff and shiny. This is your marshmallow meringue. Add it to a piping bag to finish the tarts.
Assembly:
Unmold tarts. Using a blow torch, lightly heat the perimeter of the mold to loosen it up, then place a tall glass upside down on the tart, slowly pushing down to allow the tart to easily pop out. (Think of it as a push-pop!)
Garnish with salted caramel and meringue — get creative, and have fun!

S'mores French Toast: Half & Half, St. Louis
No need to miss out on The Cannibal's brunch offering — make this variation for yourself. Half & Half's Chef de Cuisine Dale Beauchamp added the dish to the menu after testing out the recipe on the weekend brunch crowd. It's a winner, for sure.
French Toast Batter

Ingredients:

7 eggs
1 cup heavy whipping cream
1 cup half and half
2 tbsp vanilla extract
1/4 cup sugar
zest of 1 orange

Directions:
Whisk ingredients together into a smooth batter.

Chocolate Sauce

Ingredients:

3 oz. chocolate
1 cup heavy whipping cream
1/4 tsp cinnamon powder

Directions:
Heat ingredients in a double boiler until melted.

Graham Crumble

Ingredients:

1/2 packet graham crackers
2 tbsp butter, melted
1/2 tbsp powdered milk

Directions:
Using a food processor or a blender, process graham crackers to a fine crumb. Add powdered milk and butter. Spread on a baking sheet and bake 5-10 min at 350 degrees F, until lightly toasted and dry.

Assembly:
Dredge thick-cut brioche bread in the batter and cook on a buttered cast-iron pan. When both sides are golden brown, take one piece and top with marshmallows and chocolate chips, and melt in a broiler. Stack another piece of cooked french toast on top, drizzle with chocolate sauce, and sprinkle with graham crumb.

Spiked S'mores Pops, Drizly
From online liquor store Drizly comes this recipe for S'mores Pops. Anything on a popsicle stick is bound to be a huge hit, but this recipe includes its own special adult twist. This is what your camp counselors were unwinding with after they tucked you into your bunk beds at night.
Ingredients:

2 cups milk
½ cup coffee liqueur
1 pkg. (3.4 oz) instant chocolate pudding mix
½ cup crumbled graham crackers
½ cup mini marshmallows
½ cup mini semi-sweet chocolate chips
12 (5 oz.) paper cups
12 popsicle sticks

Directions:

In a bowl, whisk milk, coffee liqueur and pudding mix together for 1 minute; refrigerate and allow to thicken.
Meanwhile, combine chopped graham crackers, mini marshmallows and mini chocolate chips to make s'mores mixture and divide evenly among paper cups.
Once the pudding has thickened, pour evenly into cups on top of the s'mores mixture.
Insert popsicle stick into each cup and place in freezer for at least 3 hours before serving.
Once the pops are frozen, tear off the paper cup and enjoy!

Chocolate Mousse S'more Dessert: The Resort at Paws Up, Montana
From the birthplace of glamping, Paws Up's executive chef Ben Jones has come up with the very luxurious Chocolate Mousse S'more Dessert. It's a nice way to take home a piece of the place that offers canvas-clad clamping tents, private camping butlers, and tableside s'more service.
Dark Chocolate Mousse

Ingredients:

1 lb. melted chocolate
5.5 oz egg yolks
2.5 eggs
1 tsp vanilla
8.5 oz sugar
¾ quart heavy cream

Directions:

Combine eggs, egg yolks, vanilla and sugar in a double boiler and heat until sugar granules are dissolved.
Pour mixture into a medium mixing bowl and whisk on high until it's pale and reaches ribbon stage. Fold the melted chocolate into the egg mixture.
In another bowl, whisk the heavy cream to stiff peaks. Fold the chocolate-egg mixture into the whipped cream.
Place mousse into silicone dome molds and freeze overnight.

Marshmallow Creme

Ingredients:

20g sugar
2 oz egg whites
50g water
5 oz sugar

Directions:

Whisk sugar and egg whites together until medium stiff peaks form.
Bring the water and sugar to 230 degrees F and slowly drizzle into the beaten egg whites until they're glossy and stiff.

Graham Cracker Crust

Ingredients:

2 cups crushed graham crackers
½ cup melted butter
½ brown sugar

Directions:

Mix all ingredients together and form into 3 inch discs that are ¼ thick. Bake at 325 degrees F for 10 minutes. Remove from oven and cool.
When crusts are cool, take frozen mousse domes and place on graham discs. With a palette knife, smooth and fluff the marshmallow creme around the domes and the graham discs.
Use a blowtorch to toast the outside of the domes to your liking. Chef Ben Jones says that he prefers them burnt!

Grilled Chocolate Chip Cookie Bacon S'mores: National Pork Board
Someone had to go and introduce bacon. And what better source to do it than the National Pork Board? The NPB Partnered with Tiffany from Le Crème de la Crumb to create the perfect salty twist on the sweet, gooey treat.
S'more Ingredients:

12 slices thick-cut bacon, grilled
12 large marshmallows, roasted
12 2-inch squares good quality chocolate
12 skewers

Chocolate Chip Cookies

Ingredients:

12 tbsp butter, softened
3/4 cup brown sugar
1/4 cup sugar
2 tsp vanilla
1 egg plus 1 egg yolk
2 cups flour
1 3.4-oz box Instant French Vanilla Pudding mix (dry, not prepared)
1 tsp baking soda
1/2 tsp salt
2 c. semi-sweet chocolate chips

Directions:

Make the cookies: In a bowl, cream together butter, sugar and brown sugar for 1 to 2 minutes until light and very fluffy. Add vanilla, egg and egg yolk, and mix well. In a separate bowl, whisk together flour, pudding mix, baking soda and salt.
Add dry ingredients to wet ingredients and mix until incorporated and dough comes together. Stir in chocolate chips. Cover very tightly and chill for at least 1 hour.
Preheat oven to 350 degrees F. Roll dough into balls (about 1 1/2 inch) and space 2 to 3 inches apart on a baking sheet. Bake for 10 to 12 minutes until lightly browned on top. Allow to cool 5 to 10 minutes on baking sheet before transferring to a cooling rack to cool completely.
Assemble s'mores: Flip one cookie over so it's upside down. Place a square of chocolate on top of the upside down cookie, then top with grilled marshmallow, bacon and a right side-up second cookie. Serve immediately.

Grilled S'mores: Kenyon
Even Kenyon, the maker of grills and cooktops, has its own spin on s'mores to add to this illustrious day. And we are on board — how could we not be, with a recipe that comes together on the grill and includes puff pastry?
Ingredients:

1 package graham crackers
1 bag jumbo marshmallows
1 package chocolate
1 package puff pastry
½ cup strawberries (optional)

Directions:

Using griddle attachment, preheat to medium heat.
While grill is heating up, build s'mores. Cut puff pastry into 3" x 6" pieces. Break graham crackers into quarters, placing one quarter on the puff pastry. Place segment of chocolate bar on top of graham cracker, then place marshmallow on chocolate, and top with another quarter of graham cracker. Using the puff pastry, wrap the s'more completely, folding it over on the edges and pinching the pastry together.
Place pastry s'more directly onto the grate.
Cook for 2 minutes on each side. Cool, and enjoy!
ONLINE
Don't underestimate the power of the S'mores kit and the pre-assembled s'more. Sure, the ingredients for s'mores are the simplest things in the world, but these offerings take the dessert to a new level.
S'mores Kit, Recchiuti Confections, $25
Recchiuti Confections was created by Michael Recchiuti and his wife Jacky back in 1997, and was founded on the belief that truly exquisite chocolate will win over a person instantly and forever. Is this chocolate you want in your s'mores? Yes, it is. Recchiuti's kit comes complete with handmade vanilla bean marshmallows, freshly-made Recchiuti graham crackers, and a bar of bittersweet chocolate.
Mini and Giant S'mores, Sherry B Dessert Studio, from $10
From pastry chef Sherry Blockinger comes a s'more made with fluffy homemade toasted vanilla marshmallow and crunchy graham cracker, dipped in Belgian chocolate. The best part: the marshmallow flavors are customizable. Chocolate-dipped roasted strawberry marshmallow s'more? We're all in on that combo. Blockinger also offers "I Scream S'more" ice cream and S'more Fudge Brownies, which are topped with marshmallow, mini chocolate chips, and graham cracker crumbs.