Mangroves stretch above my head. Their thin branches create dappled webs of moonlight and darkness as I drift down a narrow canal in a kayak. The moon is bright and full, glowing like a lighthouse beacon every time there's a gap in the trees. I dip my hand into the water and thousands of neon, blue stars dance along my fingertips. They come alive in tiny flashes and then die out almost immediately.
It's my last night in Puerto Rico and I'm paddling through the bioluminescent bay at Fajardo — where the water is filled with micro-organisms that light up in response to touch. I've seen pictures of the bay before, on Instagram. I knew it was going to be cool, but it's somehow more trippy than I'd imagined. I'm mesmerized by the bursts of light rippling from my kayak. I breathe in the salty air, tinged with the briny smell of seaweed, and sigh happily.
Ten days earlier.
I step off an airplane in San Juan. I haven't been in P.R. since I was 17. I'm excited — a week and a half of exploration lies in front of me. Still, I don't know exactly what to expect. News reports since Hurricane Maria have been bleak. And in the year months since the tragedy, I've felt a mixture of sadness over how the locals have suffered and rage at how our government handled recovery.
I'm half-Puerto Rican. My father was born in San Juan and my family is from Naguabo. They moved to Brooklyn when my dad was a kid. We visited Puerto Rico every few years growing up, but I'm still left feeling like a bad Puerto Rican. Or at least one who is disconnected one from my heritage. I don't speak Spanish and I was raised in the Midwest, far away from my Puerto Rican cousins, aunts, and uncles.
Since the hurricane hit, I'd felt a longing to go back to the island. Last fall, I wrote an article about millennial Puerto Ricans returning to visit. My call to the diaspora of Puerto Rico was simple — we may not feel ownership of the island, having grown up on the mainland, but if we're not looking out for Puerto Rico, who will?
I argued that is the year, the summer, to visit the island nation and bring our tourism dollars there. It's an easy way to do good while also drinking dozens upon dozens of Pina Coladas. So as LA's unseasonably cold winter gave way to spring, I decided to heed my own advice and book a ticket.
Tasked with the difficult job of spending ten days in paradise, my partner and I head into the city. We're staying in San Juan for a couple of days before heading out to the smaller island of Vieques and then, to the base of the rainforest to stay at the Wyndham Grand Rio Mar. We check into La Concha hotel, in the city. Stepping into our room, we throw open the balcony doors. Crashing waves echo through the room. It's sunset. Pink hues reflect dreamily on the water. The tiled floors are white, and I'm struck by a memory of my uncle's house. I was maybe seven, my feet bare on cool white floors, the same smells wafting in from the beach. I didn't anticipate this wave of nostalgia, but I enjoy it nonetheless.
I can't wait to swim in the ocean — seeing the ocean is never sufficient, you have to put your body in or it doesn't count — so we head down. It's dark now and I'm the only lunatic running into the water, but I can't get enough of the Caribbean. The coquis begin singing, and this too is what I think of when I think of Puerto Rico, nights hearing the sound of the tiny frogs saying their name en masse, high and clear. "Coqui! Coqui! Coqui!" Second to salsa, these calls are the official music of the island.
Pop music begins blasting inside the hotel and we head inside. La Concha becomes one big club and party at night — music bumps from the bars to the pool. We get drinks and the energy helps us rally after a long travel day.

The next morning is for San Juan exploration, but first I need rice and beans. Literally first — I want them for breakfast. There's a hole-in-the-wall place nearby that my mom said has amazing Puerto Rican food. She doesn't know the name, or whether, a decade or so later, it's still open, but we decide to take our chances. And anyway, it's across the street from the Caribe Hilton, which is where my grandfather was a barber for years in the 1940s.
We walk about 45 minutes along the ocean, stopping for photo opportunities along the shore. The Caribe Hilton is still closed down post-hurricane when I'm there (it reopened about a week ago), so we don't get to see the place my grandfather worked. I'm disappointed, but the restaurant, Cafeteria Tropical, is open a few yards away. It's a tiny counter-service joint with specials on the wall, the sweet smell of fried plantains wafting up from red plastic baskets, and locals on a quick lunch break. I order a pressed ham sandwich with a side of rice and beans. The bread is warm and flakey, the ham is cut thick, and the rice and beans provide the sense memory I was craving. Stateside, people give me weird looks when I say my favorite food is rice and beans, but that's because they're not picturing Puerto Rican rice and beans — white rice smothered in thick red sauce, made with sofrito (a mixture of peppers, garlic, cilantro, and onion) and soft pink beans.
Once we've stuffed ourselves with our first rice and beans of the day, we head into Old San Juan proper. There, we tour El Morro — a fort from the 1500s with gorgeous ocean views, set on a sprawling, lush park where families picnic and a dozen kites fly in the bright, blue sky. Next to the fort, there's an ancient looking cemetery where the dead share their space with families barbecuing and playing soccer.
Like Puerto Rico itself, the history of El Morro is complicated. The fort is a representation of colonial history and the legacy of slavery (both Africans and native Taino). It's a disquieting place to visit but feels somehow… necessary. We take some pictures, and then we begin wandering the narrow streets.
Old San Juan attracts hordes of tourists — not in a bad way — but because it's unlike anything else you can experience in the United States. The Spanish came to Puerto Rico well before the mainland was settled by Europeans and so Old San Juan, the oldest city in America, has a decidedly European feel. Tiny cobblestone streets are jammed with buildings from the 15oos-1600s, painted in cotton candy pink, parrot green, and a sunny yellow or orange.
Walking is akin to navigating a maze — where every dead end and every colorful doorway leads to a trendy restaurant, an art gallery, a dive bar, or a little artisan gallery. I step into more than one shop to bask in a few minutes of air conditioning and end up leaving with a purchase I didn't know I needed. For dinner, we head to Punto De Vista, which an overly attractive jet ski guide (a sport I am very bad at) had recommended after asking me if I want "actually good Puerto Rican food that Puerto Ricans would eat."
It's a good sell. At the rooftop restaurant and bar, we order his recommendation — the mofongo, a garlicky slab of pork in a giant smashed plantain with mango salsa on top. The flavors are bright and fresh but also deeply savory. I love it.
The end of any evening in Old San Juan is best spent with drinks at the dimly lit La Factoria, with its twinkling lights and craft cocktails that have earned the bar a spot on the World's 50 Best Bars list multiple times. The busy nightlife spot lives up to its hype — it buzzes with energy and the cocktails are intricate and well crafted.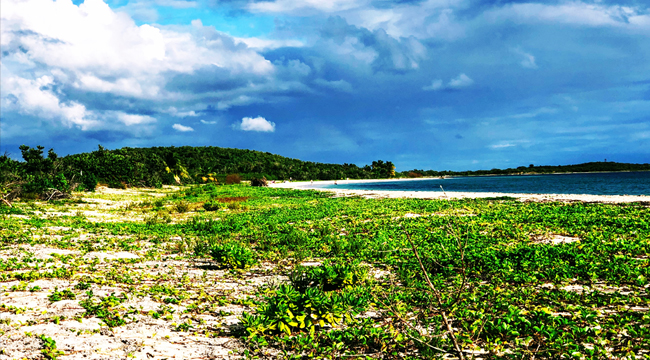 San Juan is beautiful but it's the next leg of our trip that I'm looking forward to most — rainforest hikes, the bioluminescent bay, and pristine beaches. We head to the Wyndham Grand Rio Mar Puerto Rico Golf & Beach Resort on the northeast side of the island. The resort is on the beach at the base of the rainforest, El Yunque, and it's close to where my grandparents grew up. It's part of why I came to Puerto Rico, to spend time and money outside of San Juan as a tourist, especially near where my ancestors are from.
Approaching the resort, the mountains of the rain forest loom under misty clouds. We pull up to the main entrance and large, red and green parrots greet us, squawking. The manager later tells us that they often hop on his shoulder while he goes into the office. Our room overlooks the multiple pools that are nestled into tropical fauna and the beach that's just beyond the pool area. After settling in (and snacking on the cheese and fruit plate left on our balcony), we head to dinner.
One thing about hurricane recovery post-Maria that's strange to see is how many hotels are still shuttered well over a year later. The Wyndham, on the other hand, was not only back up in a matter of months, they kept as much staff on as they could manage, even when there wasn't much to do. Most of the restaurants are new now. During our stay, we find Puerto Rican fare at Iguana's Cocina Puertorriqueña on the golf course (yes, I have more rice and beans), Southern comfort food at Roots Coastal Kitchen (order the fried chicken), and a borderline-excessive (in the best ways) breakfast buffet at Marbella. There's even an ice cream shop that serves flavors like Taro root and cornbread. It's not the same hotel it was before the storm, the staff tells me over and over, it's better.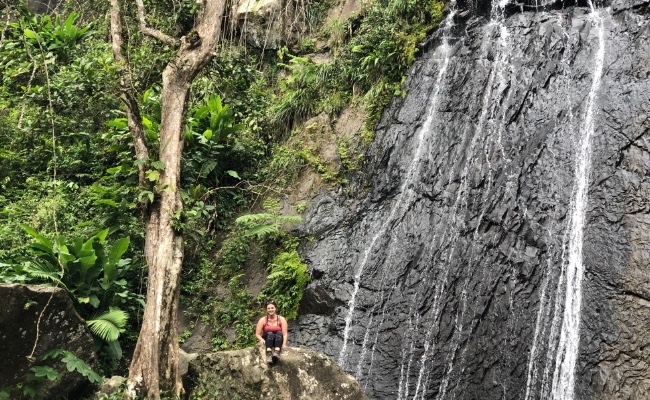 The next day, I'm able to head into El Yunque for a visit to the rainforest. I went as a child, so there are bits that seem familiar. I have vivid memories of standing by one waterfall in particular for a picture. I'm excited about this — the hiking, the wildlife, the waterfalls, the memories.
Early in the morning, we drive the very short distance from the resort into the park. Lush greenery, pink flowers, and a babbling brook greet us. From the road, as we drive in, there are stunning vistas of the mountains and ocean. It's pretty, my guide says, but strange for him to see the ocean from El Yunque. Before Maria, the trees were too thick for these kinds of views. Huge sections of trees are gone, many trails will be closed for years, and much of the wildlife was killed. Only three wild Puerto Rican Parrots survived the storm in the rain forest. Not three kinds, three birds in total. The rest, park staff believe, died.
It's devastating but also a reminder that life goes on. The forest, I'm told, was completely brown after the storm. Now, plants are in bloom, everything is green. The rainforest, like the island itself, will be okay. I hike up to waterfalls and take in the view. Maybe it's a different one than before, but clearly the jungle is starting to thrive again.
Our last night Puerto Rico sneaks up too quickly. To finish the trip, we head to the bioluminescent bay in the little surf town of Fajardo. We kayak through the Mangrove trees to a warm bay that's streaked with bursts of light everywhere I touch. With just my hand, I swirl electric patterns into the inky depths of the sea. They disappear quickly, almost instantly, but I still know they were there.
My father swam here, I think. As a child, he told me about swimming in a place in the ocean where the sea was filled with stars. Probably my grandparents too — we're only 15 minutes away from Naguabo, where they grew up. I wonder how many generations of my family laughed with wonder the first time they saw the water light up to their touch, the same way I did.
With ribbons of bioluminescence rippling off my kayak, I feel glad to be in Puerto Rico, after the storm. It's a reminder that while external forces can shape or change the island, the beauty endures. Though I still believe it's a good idea to spend tourism dollars in PR to help with recovery, I left feeling pretty certain it's the travelers who get the sweet end of that deal.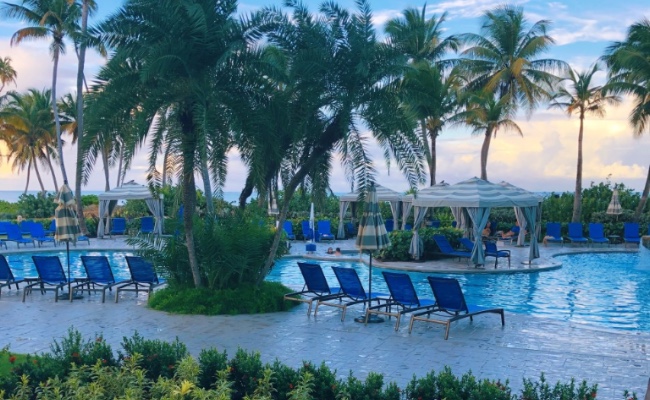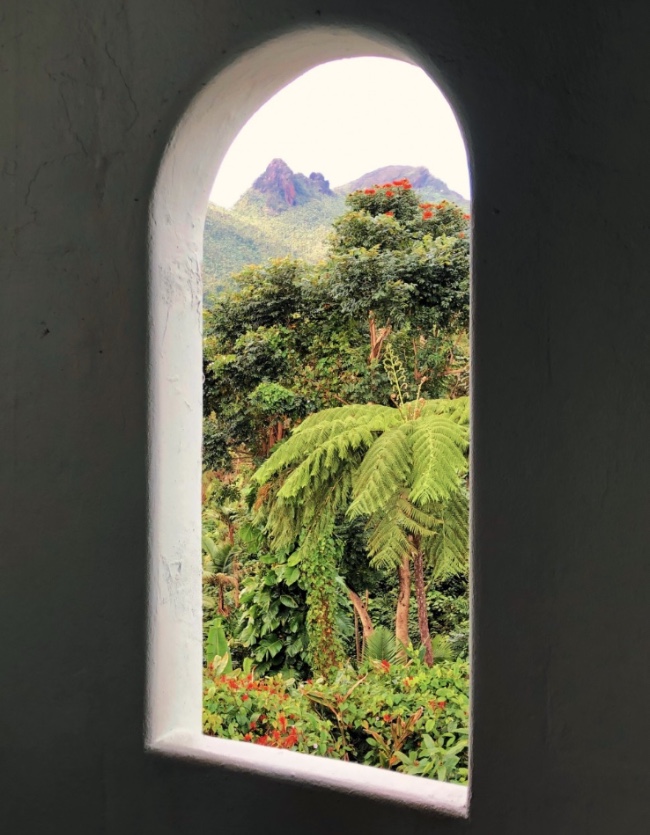 Uproxx was hosted for this story by Discover Puerto Rico and the Wyndham Grand Rio Mar. You can learn more about the Uproxx Press Trip policy here.