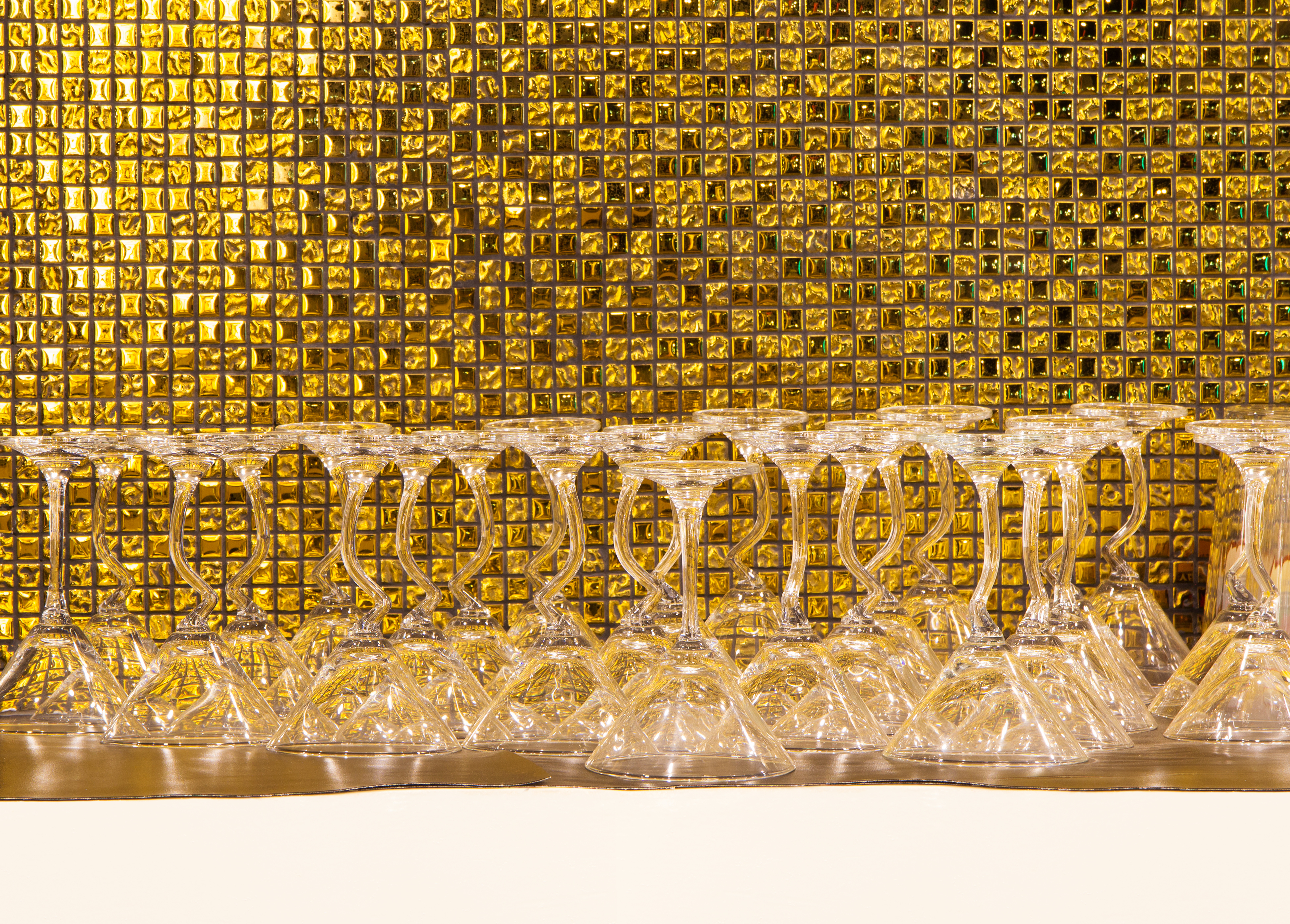 If you resolved to get more culture in your life in 2016, we've got some good news. You don't have to do it without booze. Across the country, creative bars are serving up their cocktails with a shot of style. Do you like your grappa with graffiti? Your Moscow Mule with a mural? These bars have got you covered.
Library Bar (Hudson Hotel) —  New York City
If you've ever fancied drinking a cocktail while secretly pretending to be a character from Clue (and come on, who hasn't?), this is the place to do it. Billiards, a fireplace, English leather sofas, and the lendable book collection create a comfortable, classy atmosphere. Completing that atmosphere? The exclusive photograph collection featuring cows wearing Coco Chanel hats.
It's the sort of photographic essay you didn't even know you needed, but are now unable to live without.

Behind unmarked doors, this Pill Hill gem conceals a darkly-cozy interior, featuring 16-foot walls and glittering chandeliers. Patrons are welcome to sip cocktails made with fresh-squeezed juices and carefully curated spirits, while surveying the more than 70 paintings hung on the walls — many of them for sale — and all created by Pacific Northwest artists.
Looking to create a little art of your own? The Vital 5 Review is a self-described "collection of alcohol-fueled editorial, drawings and other random thoughts written at the Hideout and compiled into a black and white journal by Editor-in-Chief and Hideout co-owner Greg Lundgren."
Or you can order an "Andy Warhol," a cosmopolitan cocktail finished with a Polaroid photo of yourself.

Nouveau Antique Art Bar — Houston
Enjoy your drink in a luxurious Art Nouveau design scheme, lit by the romantic glow of the nation's largest private collections of reproduction Tiffany lamps. Best of all, the Nouveau Antique Art Bar offers all this luxury with a distinctly welcoming, neighborhood-pub atmosphere.
The Ace Hotel's lobby bar offers craft beers and spirits, house made pickle juice, and a sumptuous bar menu, complimented by local DJs, live bands, and Michael Anderson's 2009 installation of his 1990s graffiti sticker collection.

A seriously creative bar and restaurant, featuring a Brian Barneclo mural, Nopa utilizes seasonal ingredients and local purveyors to make their cocktails. Current offerings include the Edgar Allen Poe-themed Tell-Tale Heart and The Raven, in keeping with the the moody/artistic theme.
Madrone Art Bar — San Francisco
You want art? This is how you get art: by heading to Madrone Art Bar, where paintings and photographs are just the beginning. Installations and exhibitions constantly change, featuring the work of both up-and-coming and established artists. Sculpture, mixed media, film, and spoken-word poetry, music and dance are on the menu, alongside Moscow and Tennessee Mules, Cable Cars, and Steve McQueens (made with Bulleit, Punt e Mes, Old-Fashioned Bitters, and a cherry).
The real cherry on this bar sundae is that they also employ Lenny, the award-winning bar dog.
In 2007, Vermillion opened as an art gallery; the wine wasn't far behind. In 2008, the bar opened on the opposite end of the gallery space, and today, Vermillion "offer[s] the culture and appeal of an art opening every night without the crushing crowds."
Seasonal cocktails and beers round out the menu.