In the golden light of early evening, I strip off my hiking boots, peel away my socks, and step onto the soft, white sand. I've just descended from a fairly warm hike, but as the sun dips past the mountains a chill has settled into the air. This makes sense, it's still winter in Australia, technically — though the weather this week, high 60s and sunny, flew in the face of that.
I cross the beach, headed toward the water. As I do, the sound of a thousand squeaks — like scattering mice fleeing into the floorboards — rises up beneath me.
"The sand," my friend exclaims, "it actually squeaks!"
We're at a pocket-sized beach about three hours from Melbourne, in Wilsons Promontory National Park. The name of the spot is "Squeaky Beach," so our surprise is probably unearned. Still, I guess we didn't think it would be quite so literal.
We squeak along the sand with delight as the tide comes in. The sea is rough tonight, crashing against prehistoric-looking boulders. One of these looks particularly scenic as the waves break against it, sending up a wall of spray.
"Hey," I say struck by the moment, "I'm going to climb that boulder. Then sit on top. Like a mermaid.*"
Please note, here: I am clumsy and accident-prone in a way that should be reserved for plucky love interests in rom coms. This particular trip, a koala had already bitten me in the face. So this climbing thing is clearly a bad idea. But something about being in Australia — its wild, untamed beauty, secluded vistas, lush beaches, and tan, adventurous surfers with cool accents — has me thinking I can do anything.
As I pick a path through the water, fighting to balance on rocks, I step into a deep hole, slip, and jam my toe while soaking my pants. I let out an inadvertent yelp.
"What happened?" my friend calls.
I test my foot. "I think I broke my toe," I say. "But I'm fine. Just fine."
Fine, as in I can't bend it and pain shoots up my foot. I scramble up the boulder nonetheless. "JUST TAKE THE PICTURE."
Needless to say, the photo is not a winner. But as I limp back to the car to head to our Tidal River campsite — a shady, tree-covered spot seconds from the beach with misty views of a towering Mt Oberon — I take comfort in knowing that absolutely no one saw me fall. Because while it may seem absolutely unbelievable that a beach so idyllic would be empty at sunset, that's the magic of Australia's Victoria coast. There are so many stunning things to see that it's a buyer's market. There are almost too many adventures and not enough people to make them crowded.
Looking up into an endlessly starry sky, with no other tourists in earshot, I forget my pain and smile. I can't believe I'm here. In Australia. Finally.
***
Make no mistake, I'd wanted to go to Australia for a long time. Years.
It had just never seemed in reach before. It was too far, I thought, and too expensive. But recently, I've come to the fairly standard-yet-life-changing revelation that there's no time like the present. Money, stability, success? Those may never come. And I don't mean that in a boo-hoo way, but just that — I'm a writer and there are no guarantees. So I should absolutely make time to see the world now, while I'm still young.
Which brings me to Australia in general and the state of Victoria in specific. Because, having just done it, I'm here to say: It's totally and completely doable. Even on a budget. You've got this.
The First Adventure: Getting There.
There's no getting around it. When budgeting for your Australian adventure, airfare is going to be, most likely, the largest chunk of change you'll lay down. That said, look at it this way: You're going across the world in 15 hours, so it's worth it to save a little to be able to do that.
So how much money?
There are definitely crazy deals that pop up, but if you're saving and budgeting, I'd say to expect to pay about $1000 round trip (give or take a couple hundred either way). I flew Qantas and it was a pretty great flight experience. The food was far beyond what I expected from a flight — think juicy potstickers, flavorful green curry, and an impressive breakfast spread — and between my meals, a snack, a couple of glasses of complimentary champagne, napping, and one and a half movies that may or may not have involved J.Lo, the flight sped by.
In Melbourne, explore the art that's tucked around every corner.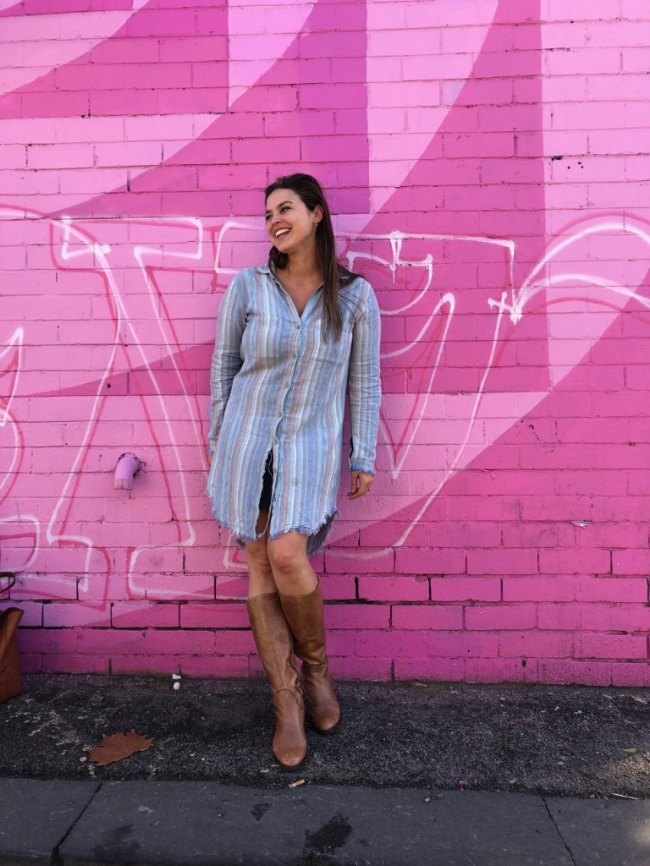 Sometimes within minutes of arriving in a new city, you think: I could live here. I felt that driving into Melbourne for the first time. The city is alive, with the old and the new seamlessly intermingling — from the charm of Victorian buildings to shiny towers that reflect the color of the sky to alleyways covered in street art at a level I've never seen. It's young and bohemian and vibrant and colorful. I like those things.
One of my favorite uses of my precious time in Melbourne was just walking the streets. Winding through the maze of alleyways covered in art, with restaurants and bars hidden every few yards. You might just stumble onto the smell of mouthwatering food in these narrow laneways or rock up to a dive bar with a live band and a line of people stretched to see them or maybe find the door to a hidden speakeasy.
Photo opportunities and chances to get tipsy with lots of young partiers are both plentiful.
So what do I eat after I've culturally filled myself?
While I absolutely recommend at least one "splurge meal" (Lucy Liu Kitchen and Bar's Asian fusion was insanely good, as were the presentationally spectacular tapas at MoVida), there are plenty of low-cost options to keep you full.
Try the dumplings at ShanDong MaMa, some of the best in the city. The seafood dumplings are a huge draw but my favorite was the Melbourne Dumpling — a blend of prawn, calamari, chicken, lemon, olive oil, parsley, and garlic — a combination of Chinese and Greek flavors that represent the cultural makeup in the city. They basically melt in your mouth and twelve hearty dumplings there will only set you back about ten bucks.
If you want to go for the classic Australian meat pie, Prince's Pies has soft, flaky dough filled with chunky meat slathered in a tasty sauce for only about $7. And if you're walking around, trendy neighborhood Fitzroy, window shopping at vintage clothing and record stores, try what the New York Times once called the best croissant in the world at Lune Croissanterie. Walking in, it's like someone has thrown a bucket of butter in your face in the very best way. You can truly taste the smell.
Most menu items, including the sandwiches, are only $4-$7.
And how am I supposed to go all these places?
For affordability, there are a lot of perks to Melbourne. First, the public transport is free within the city center — definitely something I took advantage of. And for adventures a little further out, renting a bike is affordable and easy to manage. I did that for an afternoon and it was a blast.
Save by staying in accommodations with perks.
In Melbourne, I stayed at the Ovolo Laneways, which was something of a splurge. But the perks were amazing. It was in a super walkable location, but beyond that, the breakfast was incredible; buttery croissants that melted in your mouth (of which I ate ten a day), prosciutto, bagels, yogurt. I ate my fill and then would pack a sandwich for later as they had to-go containers on the ready. They also have a free happy hour with wine every day. And in your room they supply you with two single glass bottles of wine and two beers each day.
As the check-in clerk told me when I arrived at 8 am — a strange combo of bleary-eyed and a little too hyped up:
"If you can't finish them, pack them away in your suitcase every day so housekeeping gives you new ones anyway," he said conspiratorily.
"You're a genius," I said with absolute seriousness before eating my second of three breakfasts of the day on my way to my room.
Hey, if breakfast is the meal of champions, the more breakfasts you eat, the more of a champion you are. That's just logic, folks.
Hike and camp where there are breathtaking views.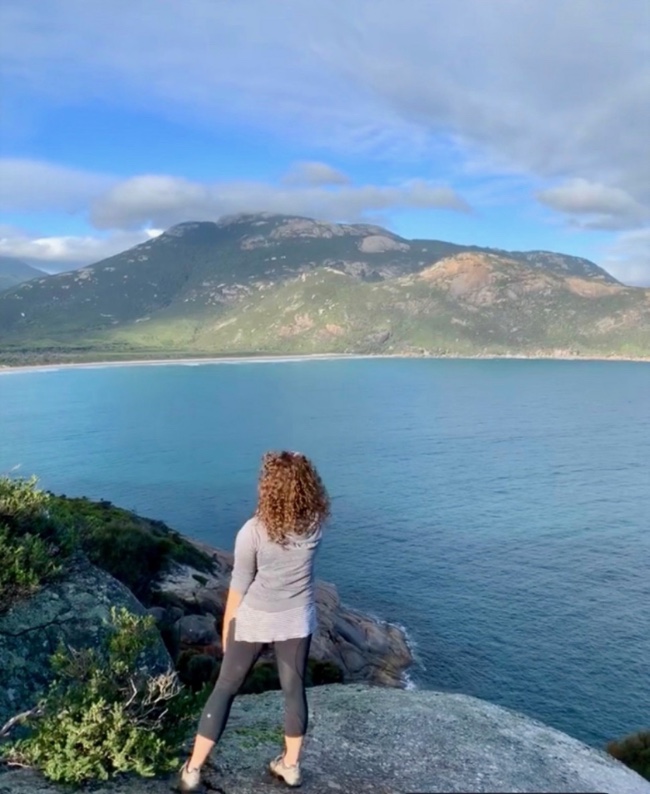 I loved Melbourne. But road-tripping up the coast was insanely special. Plus, you can camp along the way to keep costs down.
Where should you camp?
If you're going to hit one National Park in the area, make it Wilsons Promontory. The wildlife, hikes, beaches, and campgrounds are all stellar. We stayed at Tidal River Campground — about a two-minute walk to Norman Beach with tons of hiking around. The large open beach with bright blue water is perfect for chilling or easy surfing, and the campground was filled with people grilling, having drinks, and enjoying themselves. The lack of crowds definitely made a good case for visiting during shoulder season.
We hiked to amazing views, we visited the beaches, and we saw tons of wildlife from emus to kangaroos (if you think I didn't I'd lose it when I saw them hop for the first time, you'd lose a bet, I MEAN LOOK AT THEIR HOPPY LEGS).
Hot. Springs.
I am a bit of a hot spring aficionado, and by aficionado I mean I am obsessed with them like a real creeper. This was my first visit to Peninsula Hot Springs but it had been on my hot spring bucket list for a while. As such, I had high expectations. And Peninsula totally surpassed them.
The springs are spread over a vast area, built into a large hilly, tree-filled compound. You put on a robe and wander to discover dozens of little pools of varying temperatures and specialties. Some have stones for self reflexology massage or waterfalls to stand under. Some are little holes of deep, cold water, others seem sized just for couples, and there are a few large pools for socializing. The most Instagram worthy pool lies on top of the hill with 360-degree views of the valley, but my favorites were tucked away where I could read a book and chat with various travelers and locals passing through.
They also have a restaurant with drinks and spa food and will soon have eco-friendly lodging.
How much is this luxury spa retreat going to cost though?
The best part is that, while the price is steeper mid-day, if you get there before 9 am to have a day of it (and you should) it's only about $17 U.S. dollars to get in. That's crazy value.
Explore a rainforest.
Victoria is packed with different landscapes to the point that if you said I was just being tricked and in some sort of Black Mirror computer simulation, I would have believed you. The fact that Wilsons Prom is only two hours from Tarra-Bulga National Park — a dense, cool rainforest filled with fern gulleys — was mind-blowing. Definitely less trafficked than Wilson's Prom, Tarra-Bulga is a tranquil, deep green escape with babbling brooks and towering trees.
Allison, why are you wearing a dress on a hike?
Well, I was going to a winery after so I wore a dress to look cute and you know what you shouldn't do here? Wear a dress. Unless you like leaches! I was bitten by two of them. Check out that picture in which I'm literally checking my legs for leaches in mild terror. But I liked how my legs look in it, so…worth it?
Gaze upon the world's tiniest penguins.
I'm going to keep this brief. Because while I now know a lot of stuff about these penguins, if I start giving you penguin facts I'll never stop. So here's the long and short of it: Phillip Island has the world's tiniest penguins and every night they come home from fishing and you get to view them teetering home and it's… I don't want to say transcendent when talking about tiny penguins but guys, these are the WORLD'S. TINIEST. PENGUINS.
The whole thing happens at sunset on the beach and….they're just so small. And they waddle. And when they get home, their family greets them because it's like a g**damn march of the world's cutest animal.
How much to see the best thing I'll ever see in my life?
It's about $18.00 for the most basic viewing pass and the money goes toward tiny penguin conservation. TINY. PENGUIN. CONSERVATION. Go see them and live your (and my) best life.
***
So can you do Australia on a budget? Absolutely. I did. And I never felt limited for a second. Which will leave me plenty of cash to spend on a good ankle brace after my whole Little Mermaid-Boulder mishap. Win-win!
More pictures from my road trip up Victoria's coast: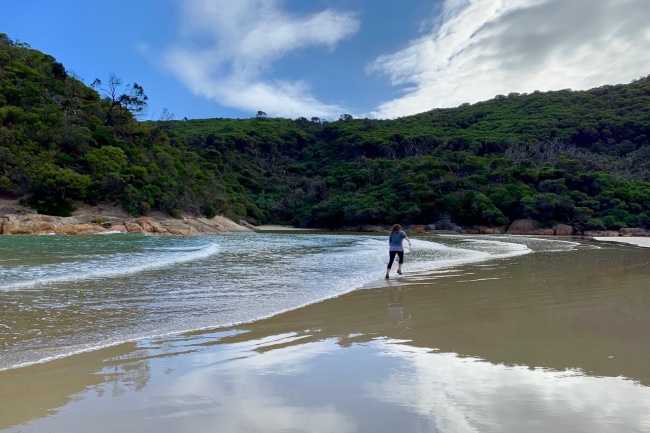 Uproxx was hosted for this story by Visit Melbourne and Qantas. However, they did not review or approve this story. You can learn more about the Uproxx Press Trip policy here.