It's no secret that National Parks are having a moment – from your Instagram feed to every form of National Park-themed merchandise, to countless travel guides (hello, hi it's me) – our National Park system is more buzzed about than ever. With visitation soaring at many of the most popular Western parks, you might be surprised that one of the vistas you've likely seen on your social feed in the last 30 minutes isn't actually a National Park at all.
Still, it's one of the most impressive natural wonders in the United States – Sedona, Arizona. While there are two state parks within the Sedona area – Slide Rock State Park and Red Rock State Park – many visitors are surprised that the nearly immeasurable expanse of incredible red rocks surrounding the artsy town isn't a National Park or National Monument.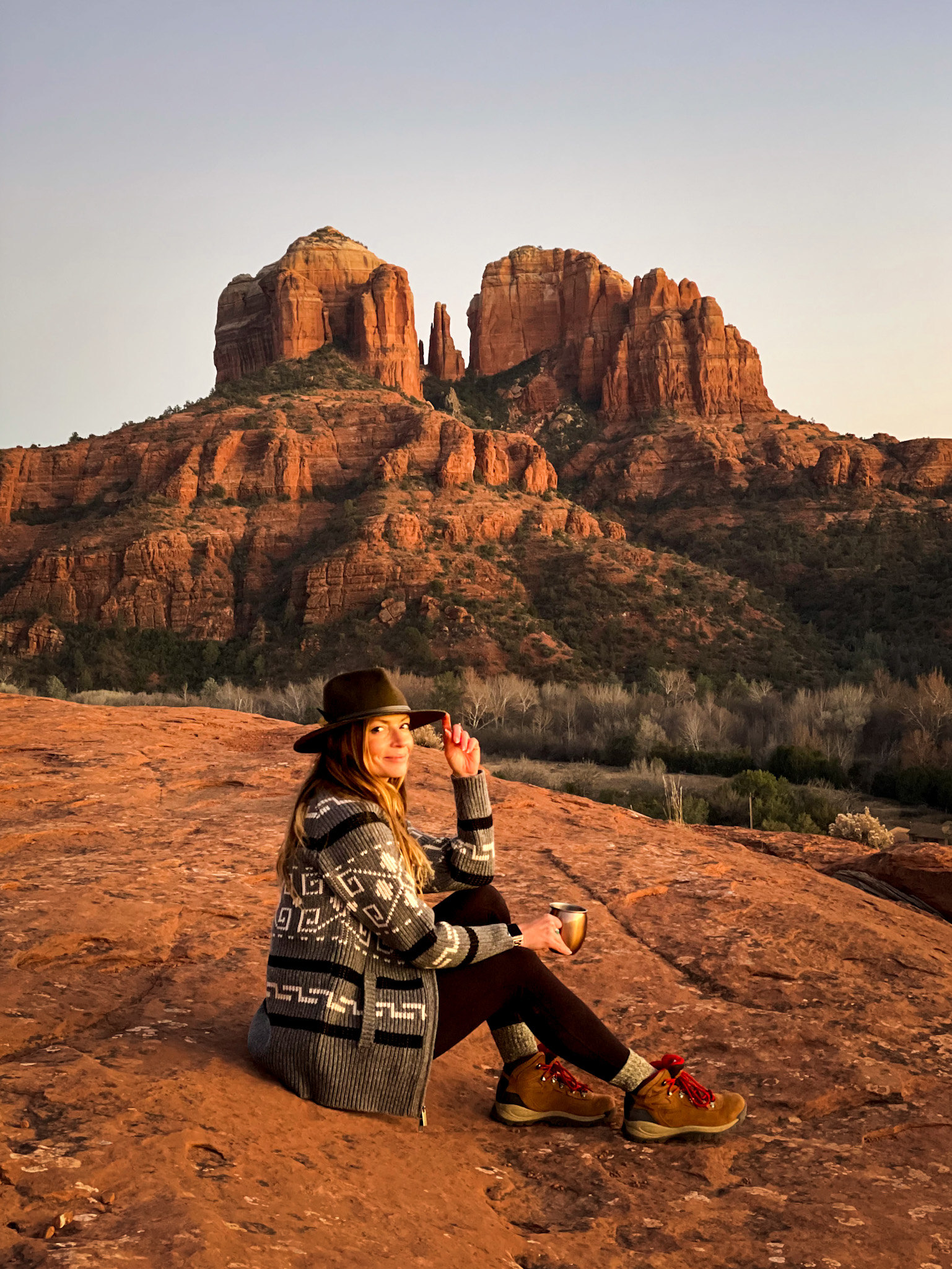 Just over two hours from the South Rim of the Grand Canyon to the North and Phoenix to the South, Sedona is the perfect stopover on a wider Arizona road trip – or an incredible destination unto itself. After visiting a half dozen times during several seasons, I have lots of recommendations. These are my recent favorites to maximize wellness and outdoor adventure.
PART I — WHERE TO EXPLORE:
There is something for everyone in Sedona, from the requisite Pink Jeep Tours, helicopter rides, vortex, and wine tours. But the crown jewel is, of course, the hiking. With more than 200 trails over 400 miles in the Sedona area, there is a trail for everyone. Here are some of my favorites.
DEVIL'S BRIDGE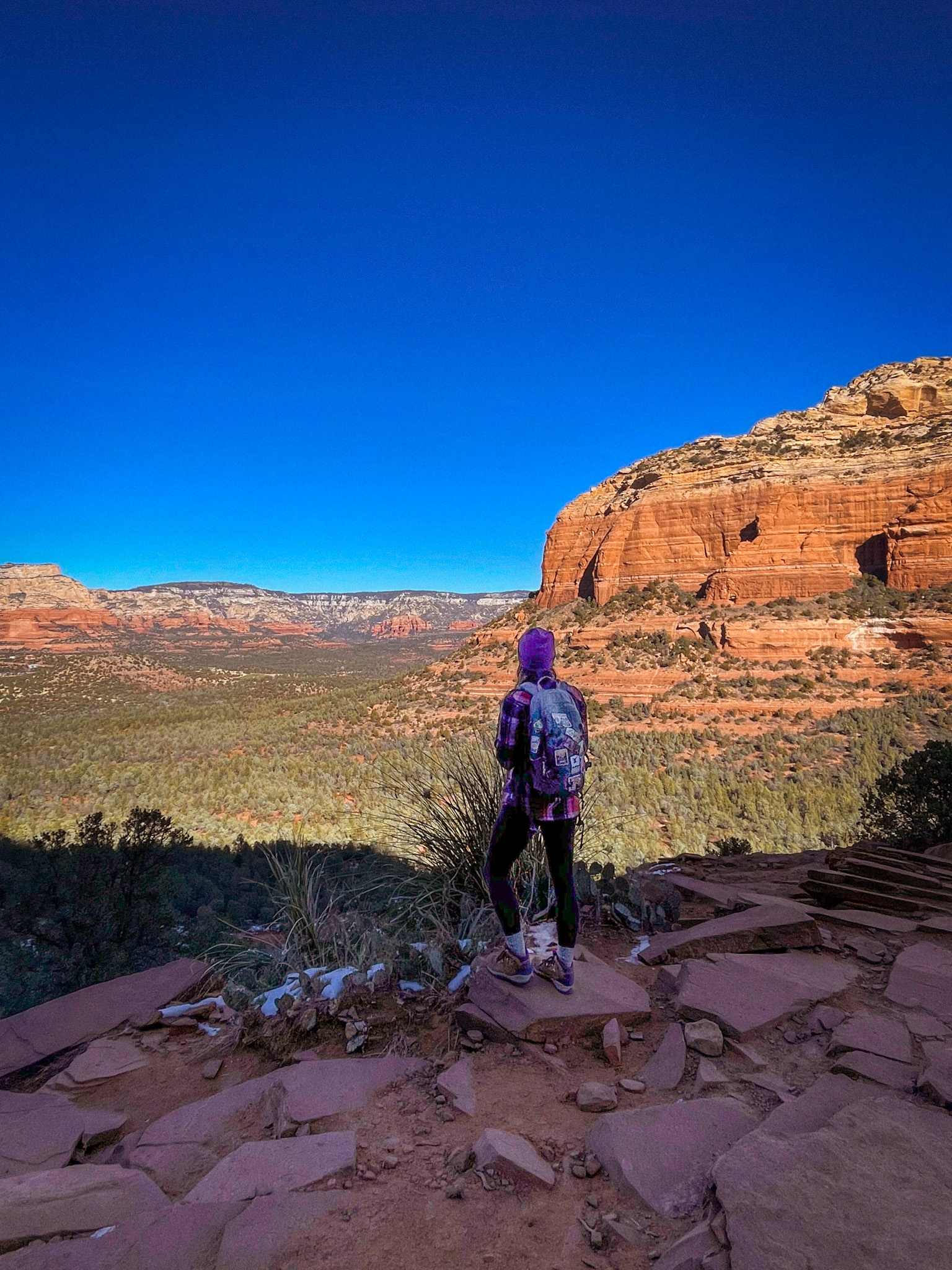 Devil's Bridge is probably the most well-known hike in Sedona – at least on Instagram. The largest sandstone arch in the area, accessible via a moderate hike that's just 1.8 miles roundtrip (if parking at the trailhead with a 4×4 high-clearance vehicle) or 3.9-5.8 miles via the parking area for other passenger cars. It's a classic trek with a great payoff. Full disclosure, I don't have the classic bridge photo because the wait to take the photos was longer than the hike itself when I visited – but I honestly didn't mind, the entire hike is gorgeous and great for most ability levels.
Distance: 3.9 miles out and back
Difficulty: Moderate
Map here.
BELL ROCK/LITTLE HORSE
There are many trails around Bell Rock in Sedona – most of which can be extremely crowded and difficult to find parking at. For this reason, I started hiking Little Horse – a somewhat less crowded trail near Bell Rock – on a visit a few years ago. The moderate trail has gorgeous scenery the entire way, moderate inclines, and plenty of interesting vegetation.
Distance: 4.3 miles out and back
Difficulty: Moderate
Map here.
YAVAPAI VISTA
Somewhere between a hike and a viewpoint lies Yavapai Vista. Just 0.5 miles from the parking lot brings you to a vista which is what red rock dreams are made of. I headed up for sunset with a can of wine on my last trip and found people ecstatic dancing, traditional tourist-ing, and getting married (really) – but what they all had in common was a look of awe while selfie-ing.
I found a spot just beyond the ecstatic dance party to sit alone for the entirety of sundown and beyond. The view was almost unbelievable as the sky put on a show.
Distance: 0.5 miles out and back
Difficulty: Easy
Map here.
SECRET SLICK ROCK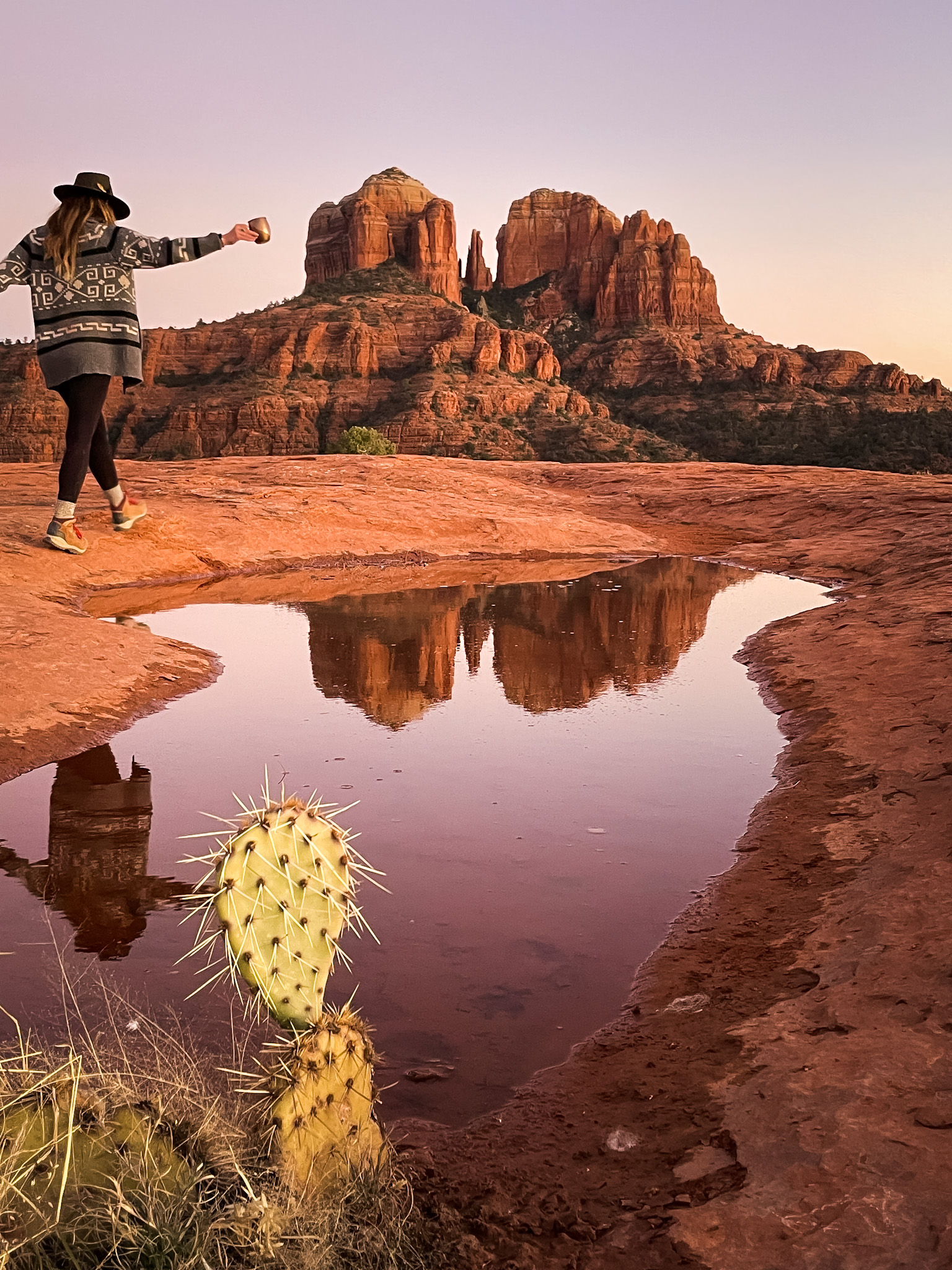 Secret Slick Rock Trail is, again, at the intersection of a hike and a viewpoint – but it is by far my favorite spot in Sedona to recommend (despite also not actually wanting to recommend it so I can continue to have it to myself). With the most incredible backdrop of Cathedral Rock and lots of space to spread out and watch the sunset (when I visited I had the whole place to myself), this is – to me – the quintessential Sedona viewpoint.
Distance: 0.7 miles out and back
Difficulty: Easy
Map here.
FAY CANYON
Fay Canyon is a great alternative to the (much) more crowded nearby Boynton Canyon. At just 2.3 miles out and back, the trail is suitable for most people and provides gorgeous views. For the more intrepid, there is a natural arch that can be hiked to from the trail for some truly spectacular views. Parking is easy (a huge plus for Sedona) and the payoff is almost immediate.
Distance: 2.3 miles out and back
Difficulty: Moderate
Map here.
ALSO CONSIDER:
There are tons of hikes in Sedona, from easy to extremely difficult. Some others to consider – that you may want to take a shuttle to – are Cathedral Rock, Boynton Canyon and The Subway Cave, and Seven Sacred Pools.
WHERE TO STAY:
THE WILDE RESORT AND SPA
I loved staying at The Wilde Resort and Spa on my last visit to Sedona – it is now by far my top choice and recommendation for not just lodging, but wellness in the city. The newly reimagined property is incredibly conveniently located, and yet feels miles away with incredible views of Thunder Mountain, beautiful landscaping and pool area, hot tubs, labyrinth, fire pits, a rooftop deck, and an on-site spa.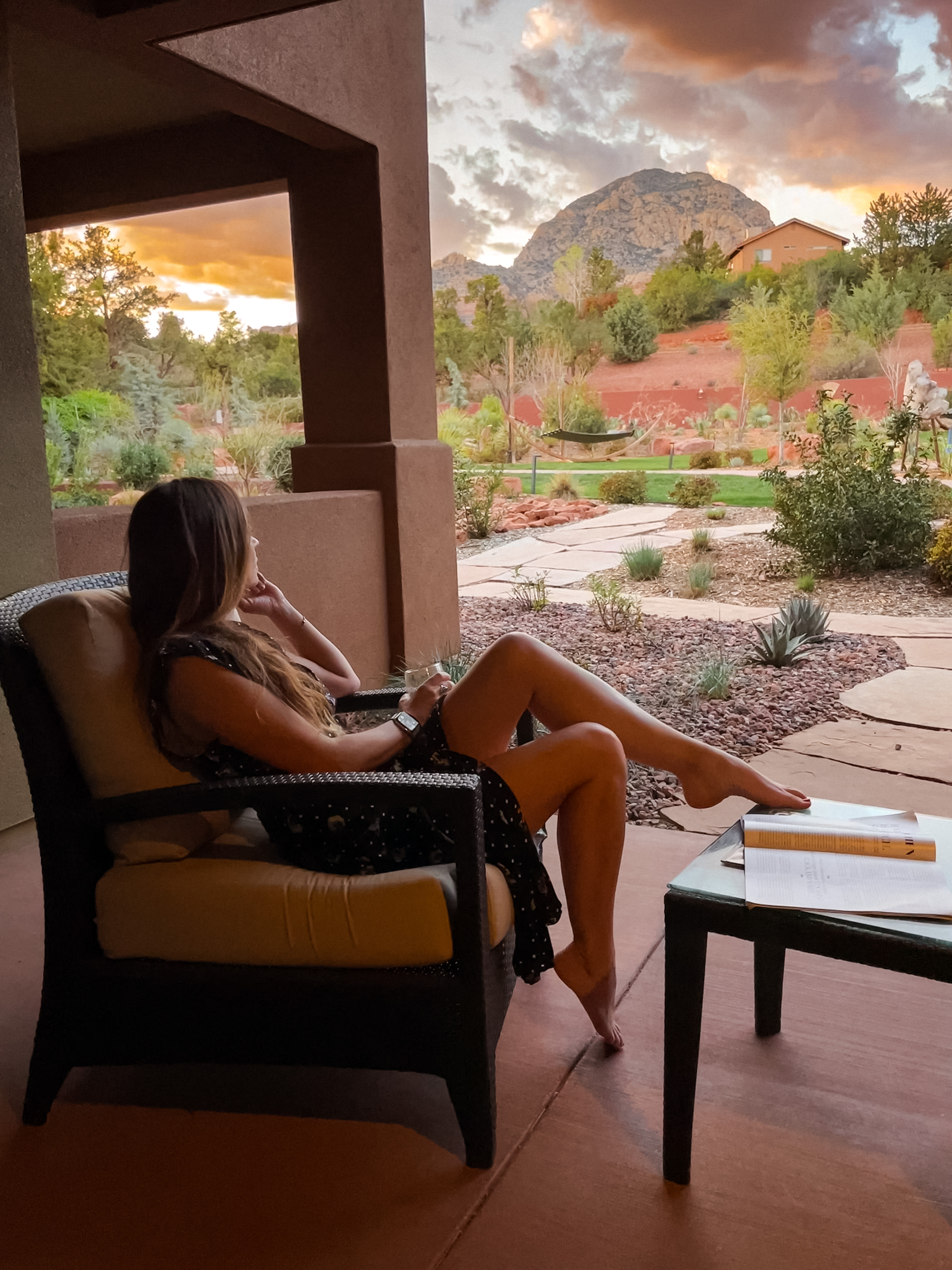 I stayed in a Grove room that had a large walk-out patio with comfortable chairs and views of Thunder Mountain. I loved watching the sunrise and sunset and enjoying some wine after a long day in the sun hiking. The bathroom was spacious with a large shower and soaking tub – perfect for recharging after the day.
While I didn't get a chance to utilize the Wild Haven Spa on-site, I overheard my fellow guests lounging by the pool saying that their spa treatments were some of the best they had ever had. Next time, I'll make sure to add a treatment or two to my trip.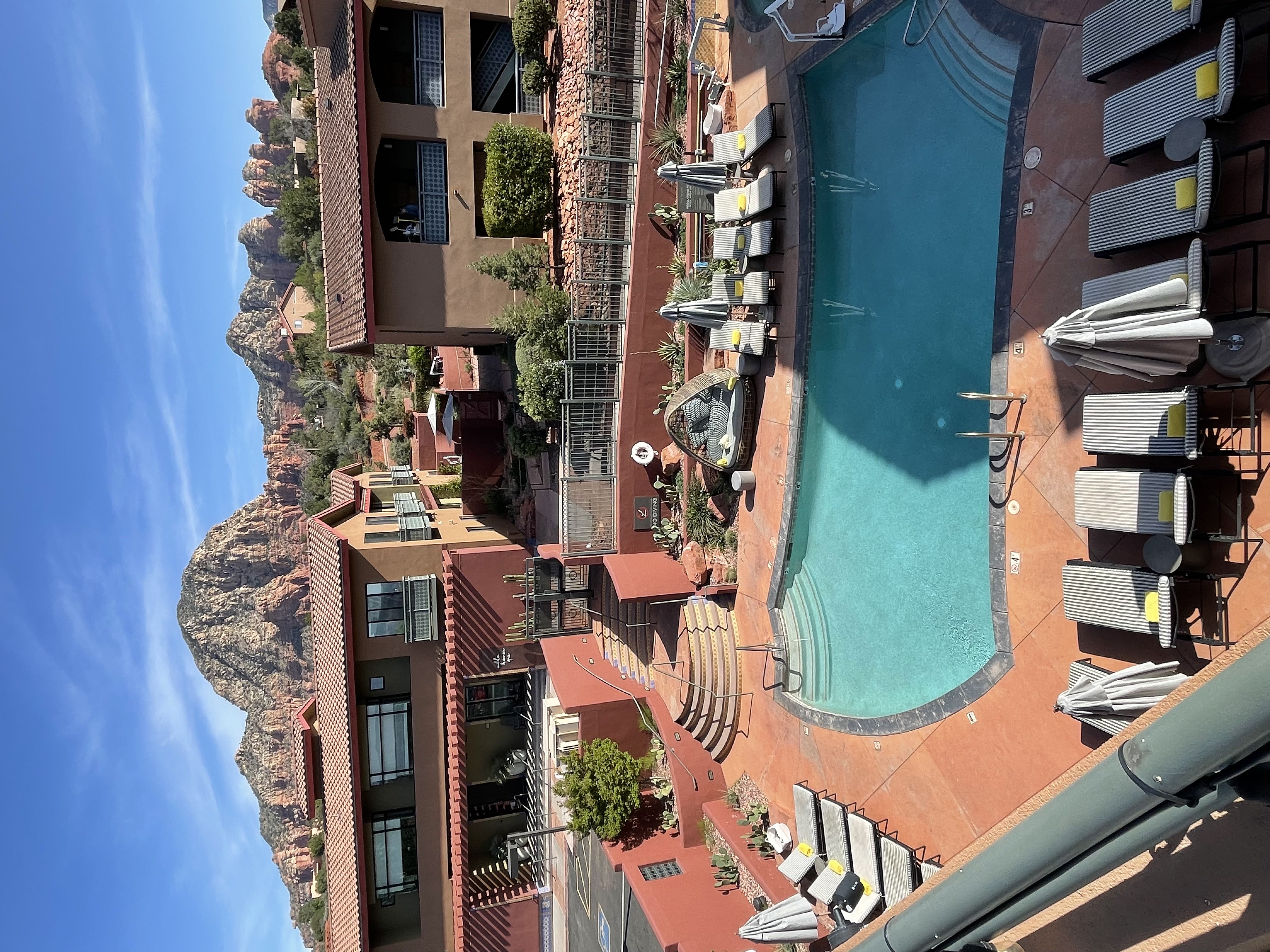 I loved that The Wilde offered daily morning meditation and yoga classes (with a view, of course) and ample opportunities for reflection. At check-in, I found a crystal on my pillow with directions for completing my own walking meditation – something I saw many guests delight in throughout my stay.
WHERE TO EAT WITH A VIEW:
My criteria for dining in Sedona are the same as everything else in Sedona – does it have a nice view? And luckily, most places do. Here were some of my favorites:
THE VAULT UPTOWN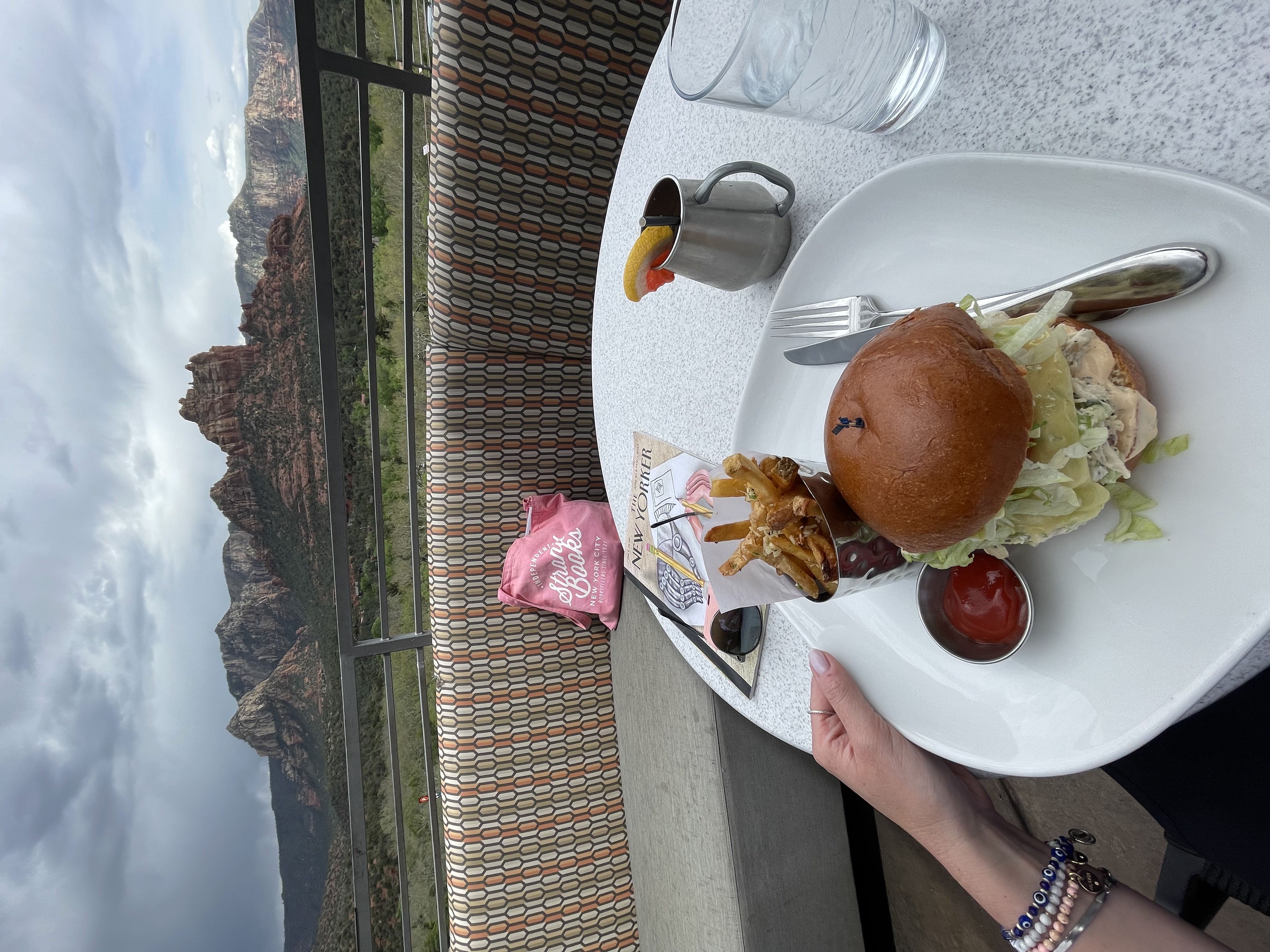 I stopped for lunch at The Vault Uptown Bar and Grill without many expectations beyond, obviously, a nice view to enjoy. But I was blown away by my simple choices: an avocado chicken salad sandwich, fries, and a drink. I loved the "Copperhead" cocktail, made with grapefruit vodka, ginger beer, and lemon. As a storm started to roll in over the remarkable red rocks I was as impressed with the view as I was with my lunch, the chicken salad perfectly prepared with cranberries and a chipotle ranch sauce on a brioche bun.
RASCAL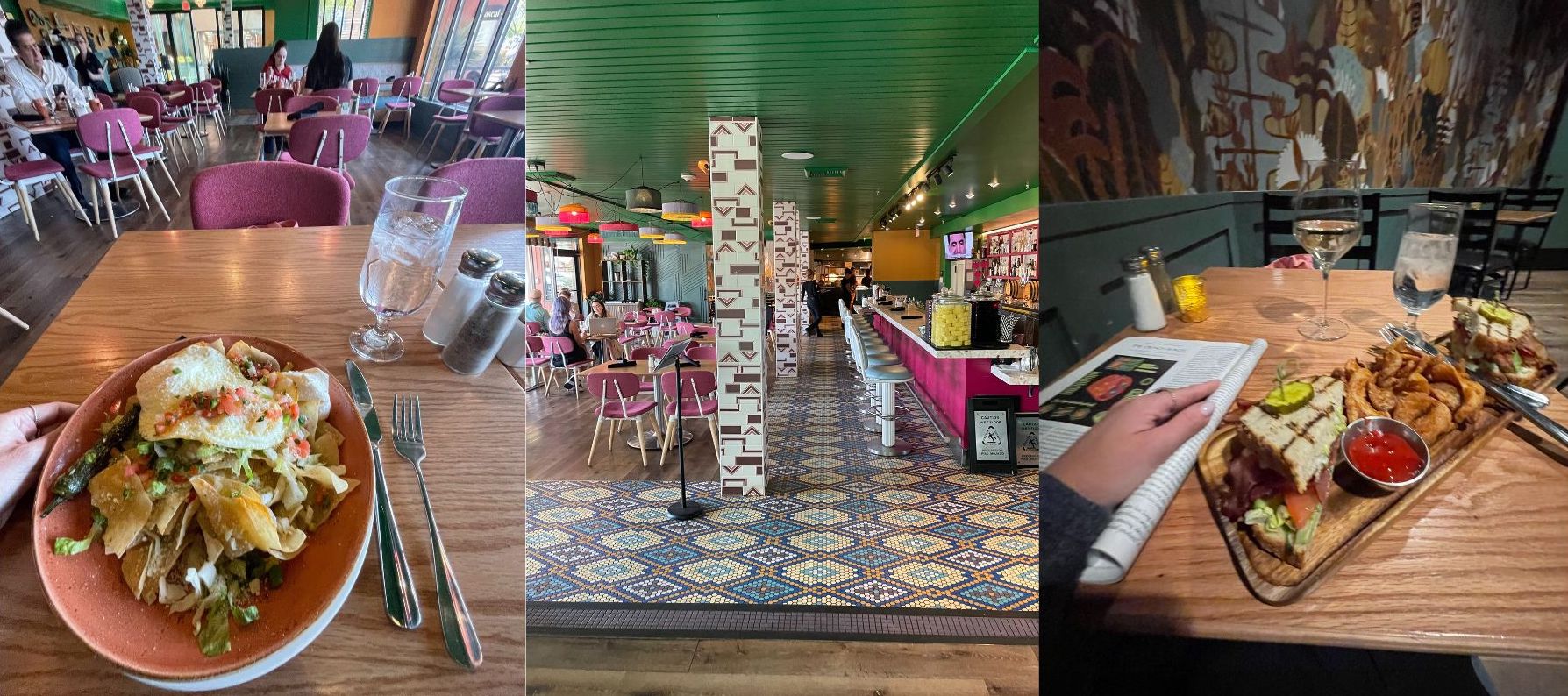 Defining itself as a "Modern Diner", Rascal is a unique dining experience from the moment you walk in. Situated in The Wilde Resort and Spa, the restaurant itself is awash in colors, patterns, and textures that make for a bright and fun meal. I enjoyed breakfast and dinner at Rascal and devoured both almost immediately. For breakfast, I had chilaquiles that was just spicy enough and filling for my day of activity. For dinner, I enjoyed a BLT with added avocado that renewed my love for the simple, yet elegant dish. The service at both sittings was impeccable and the crowd was fun. It is a must-stop.
HIDEAWAY HOUSE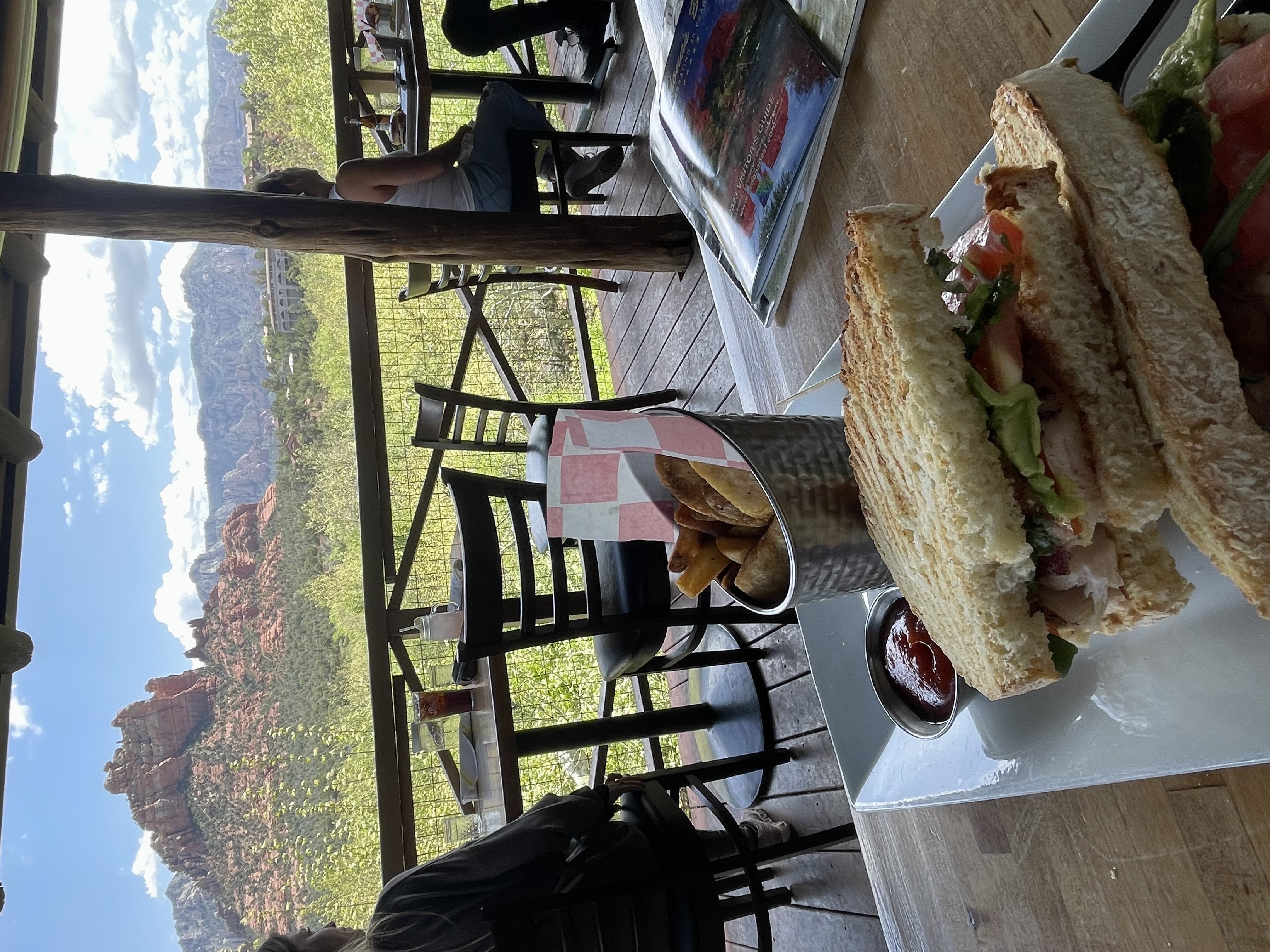 Despite being in the middle of town, Hideaway House is sort of just like its name – a little hidden. Tucked back in a lot next to a liquor store, it is unassuming. Until you go inside and see the view, that is. With a large menu and friendly service, Hideaway House was a great choice for a late lunch. I enjoyed a lavender lemonade and chicken club sandwich while watching the light bounce off the incredible rock formations all around me.
PUMP HOUSE STATION
Pump House Station came highly recommended by locals, and I have to say it now will be by me as well. Tucked into the North side of the charming and historic Tlaquepaque Arts and Shopping Village, the rustic-chic spot serves up some incredible dishes and drinks. I devoured a roast beef sandwich with red onion, beer mustard, brie, tomato, chicory lettuce, and horseradish mayo on a pretzel bun with a light and tasty cauliflower potato salad on the side. The vibe was fun and casual with incredible views out back.
WHERE TO DRINK:
VINEYARDS AND WINERIES
There are several great wineries and vineyards in the greater Sedona area. So many that there are a plethora of wine-tasting tours visitors can take while visiting. I have visited several wineries in the area – for research purposes only, of course – and these three are my picks:
WINERY 1912
Winery 1912 is the only winery within city limits that I have visited. It's easy to walk to and has a great view from the tasting room. Pouring Spanish varietals grown in Wilcox Arizona – at the state's largest and most diverse vineyard – I loved sitting back with a glass, a cheese board, a book, and a view after a long morning hike.
OAK CREEK VINEYARDS AND WINERY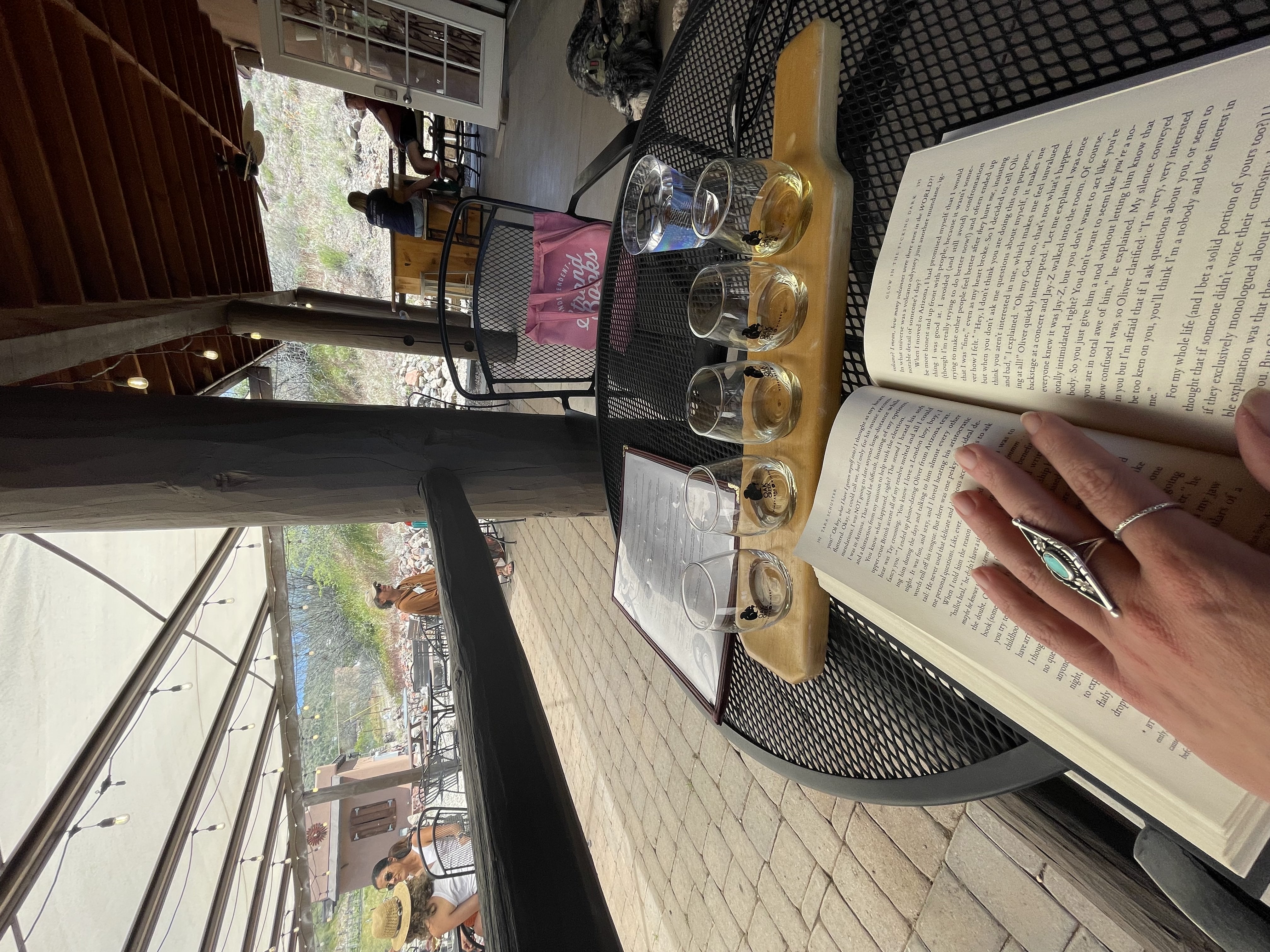 Oak Creek Vineyards is slightly out of town in Cornville – about 15 miles from downtown. The atmosphere is lovely with lots of sitting areas outside with shade and vineyard views. I tried the flight of white wines that included five refreshing pours. The Viognier was a favorite.
ALCANTARA VINEYARDS AND WINERY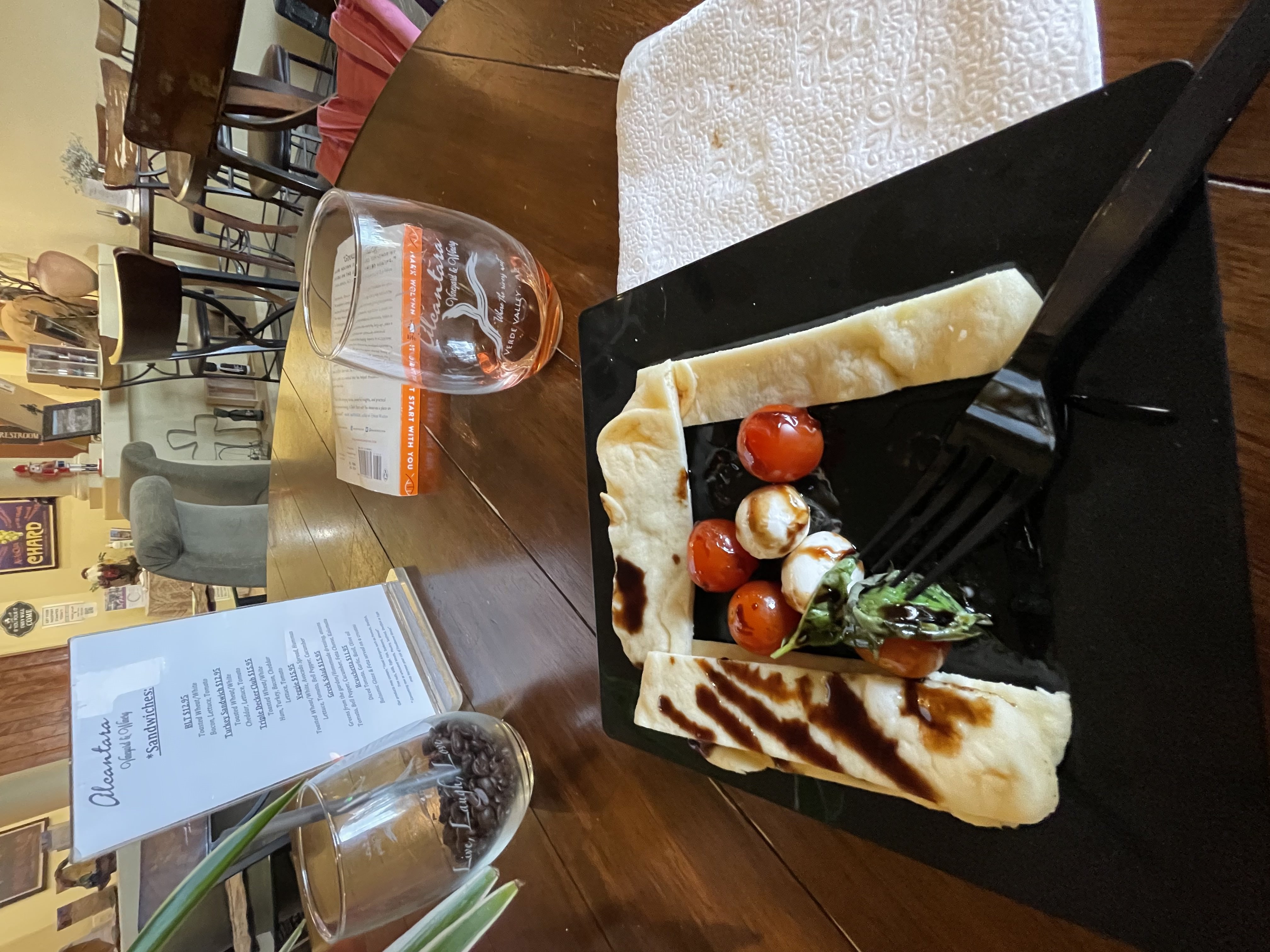 Slightly further from Sedona in Camp Verde lies Alcantara Vineyards and Winery. At about 25 miles outside of town it's a nice afternoon stop on your way driving from Pheonix to Sedona. The grounds are gorgeous at this family-owned and operated vineyard that serves 17 different varietals from its over 20,000 vines. Situated near the Verde River, the winery also offers kayaking and tubing, e-bike, jeep, and horseback tours of the vineyard.