The sidecar is a cognac cocktail that has stood the test of time. The drink is part of the sour family, in that it has a boozy base with citrus juice and a sweetener. In this case, that's cognac (or brandy) shaken with orange liqueur and lemon juice. That's really it.
The brilliance of this drink is in the balance of those flavors. The lemon and orange need to equalize with sweetness and bright tartness. The cognac brings this woody, spicy, floral, and fruity underbelly that luxuriates in those citrus notes. It's very simple but full of deep flavors.
It's also one of the more refreshing drinks you can have, thanks to all that citrus. However, the cognac adds a spicy and chewy depth that feels a bit more like a fall treat than a summer spritzer. That makes this the perfect late summer/early fall sipper.
Okay, let's get shaking!
Also Read: UPROXX Life's Top 5 Cocktail Posts of 2021
The Sidecar
Ingredients:
2-oz. cognac
0.75-oz. orange liqueur
0.75-oz. fresh lemon juice
Orange peel
Ice
I'm using classic Hennessey. The floral, fruity, and spicy notes of the touchstone cognac are the perfect base for any sidecar. Of course, you can use your favorite cognac or brandy with this drink. Still, Henney is very easy to find nationwide and fairly affordable.
I'm also using a standard orange liqueur. If it was closer to winter, I'd probably use the darker and deeper Grand Marnier. Other than that, you just need some fresh lemons and oranges. That's it!
What You'll Need:
Coupe or Nick and Nora glass
Cocktail shaker
Cocktail strainer
Jigger
Juicer
Mesh strainer
Pairing knife
Cutting board
Method:
Prechill your glass in the freezer (preferably overnight).
Juice and strain one lemon (or more if you plan on making these all night).
Slice a thin layer of peel from the orange. Set aside.
Add the cognac, orange liqueur, and lemon juice into a cocktail shaker.
Add large a handful of ice, affix the lid, and shake vigorously for ten to 15 seconds, or until the shaker is frosted over.
Remove the glass from the freezer and strain the cocktail into the glass.
Express the oils from the orange peel over the glass and rub it around the rim and stem and then discard.
Serve.
Bottom Line: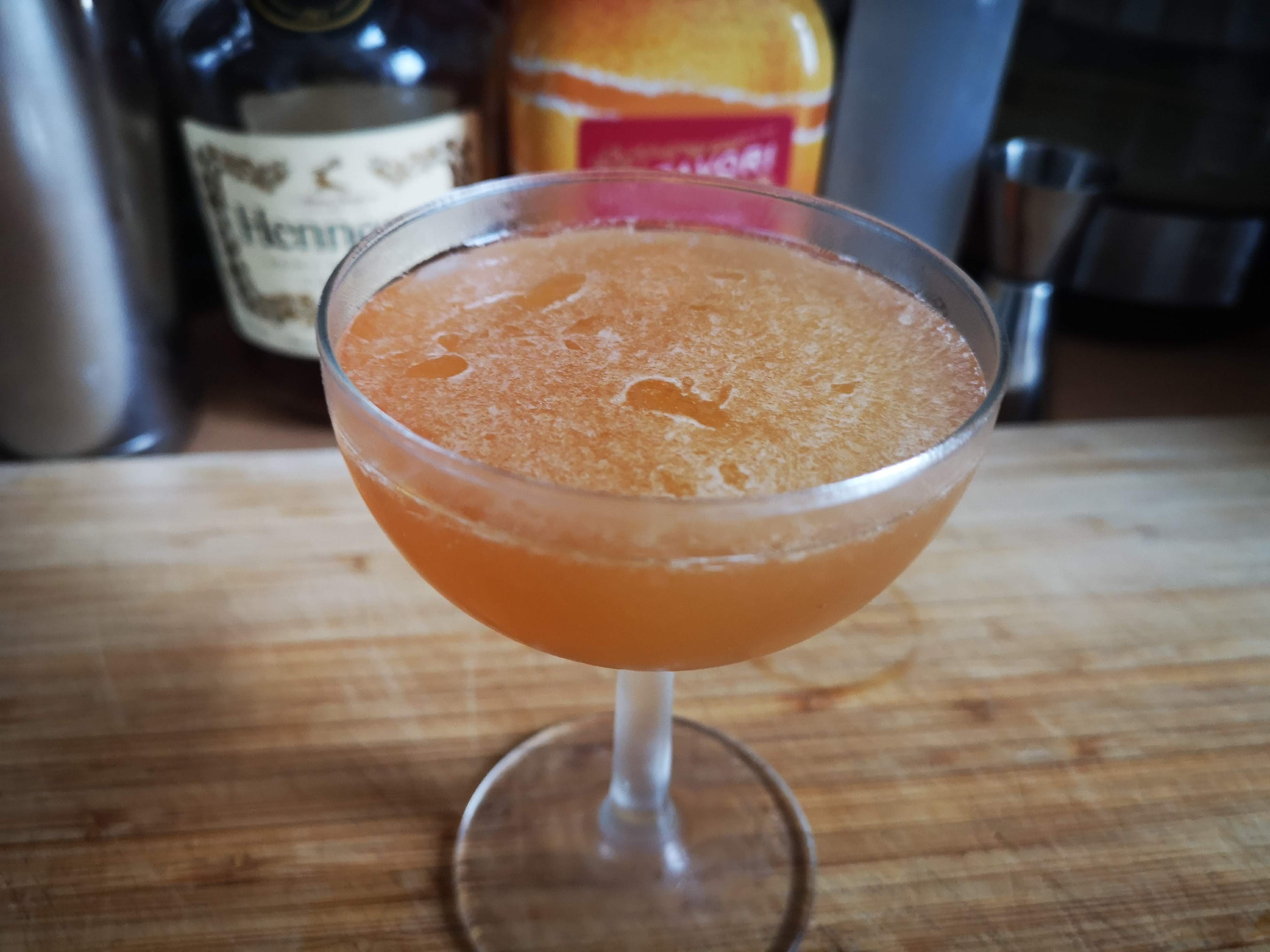 Oh yes, this is good. Where I am, the weather has been raining and windy and very end-of-summer-like so this hits just right. The spices and fruits of the cognac meld perfectly with the bright lemon and sweet orange.
The real thing that adds to this drink is the orange oils. It helps with the pop while adding a real orange depth to the cocktail, which works wonders with the spicier side of the cognac base.
I'm going to be making these all weekend. Especially if these rain clouds stick around.