"I feel like I've arrived," graffiti star Dr. Dax says with a laugh. He's watching as his newest mural — a collaboration with the social media platform TikTok and Overall Murals, commissioned for Atlanta while football takes centerstage — is completed by a team of young artists. It's the first time he's ever not painted his own work.
"I need to go over there and micromanage," he jokes, when asked if he's nervous about trusting others to execute his vision. "Really put the pressure on them by standing there and staring."
The conversation is light, but that doesn't mean it's totally in jest. In many ways, Dr. Dax has arrived. The Atlanta-based street art legend, who came of age with other stars of Atlanta's hip-hop scene in the 90s, has become part of the cultural fabric of the city. He's gone from working in the shadows to being paid large sums of money to brighten up neighborhoods. And now, he's getting the sort of large scale opportunity that young artists can only dream of.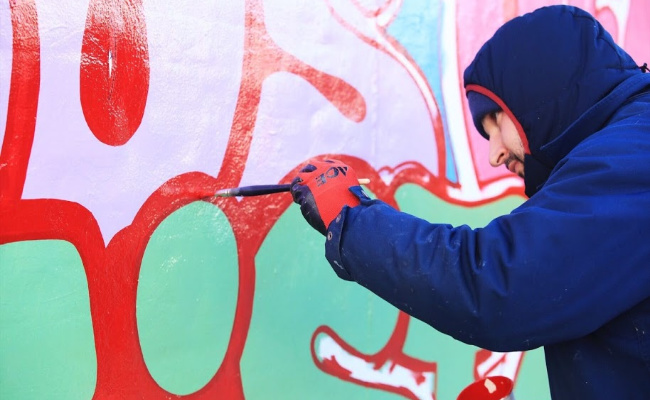 Getting big is almost an odd sensation for Dr. Dax. Over the years, his signature style — graffiti in bold colors paired with whimsical imagery — has grown, it's matured. But no matter how his career has blown up, he remains a graffiti kid at heart. And he still picks projects that align with his values. It's why this mural collab with TikTok appealed to him so much.
"With TikTok, the motto is about being an individual. You know, being real," he says. "The motto I live by is to always stay individual. Try to live in real time."
Like Dr. Dax, TikTok has had a big year. Its active daily users have smashed Snapchat and Twitter and it's ranked as the world's most valuable startup. It did this by creating a platform for expression. A place for young people to have fun, be silly, and make cool stuff.
As an artist and a businessman, Dr. Dax embraces that same ethos of living in the moment. He stays on his toes, ready to adapt. Sure, he helped to shape parts of the hip-hop, art, and culture scene in Atlanta over the last 20 or so years (he was one of the founding members of The Dungeon Family, along with several other ATL luminaries) but he also recognizes the joy of connecting with emerging artists.
The mural captures this feeling of the old and new blending in Atlanta — combining the unique path Dr. Dax forged with what's going on in the scene now. And in doing so, it reflects the joy of the creative process that TikTok is hyped to celebrate.
"The mural is about being curious, and about being individual and optimistic, brave, and fun. These are part of the mottos of TikTok," he says, referencing their "Dare To Be" tagline. "It goes back to what I'm saying. Being an individual, you have to be brave. But you also have to be having fun with it. Pave your own lane. And if everybody is like, 'whoa, what the hell is that?' You're like, 'This is the shit.' It's about how you own it."