When it comes to East Coast partiality, Australia looks at the United States' East Coast bias and says "that's cute, mate, hold my beer." The three biggest cities in the country — Melbourne, Sydney, and Brisbane — are all on the east coast and command most of the tourist attention. The Harbor Bridge and the Sydney Opera House are east coast mainstays. So is the Great Barrier Reef and a few hundred famous surf breaks from Noosa Heads to Byron Bay to Bondi Beach.
The country has plenty to reward those venturing off the east coast, though. There's endless hinterland in New South Wales and Queensland, where waterfalls and canyons abound. Victoria's coastline is a dream and Melbourne is probably the most bikeable city on the planet. Then there's the Outback and the Red Center in the vast Northern Territory, and the green, windswept wilds of Tasmania. Adelaide and South Australia have their charms too, and there are scores of outlying islands that deserve shouting out. Point being: It's a big country with a lot to see.
But even with all of these highlights, Western Australia is special. In a country full of big things, it's particularly huge. Biggest in sheer landmass among Australia states. Big waves (cringe at videos of "The Right" when you have five minutes to spare). Big wilderness. Big Aboriginal culture. Big distances perfect for traversing by van.
Over the past decade or so, as more and more visitors manage to get off the east coast tourist track, Western Australia has become a #TravelGoals-level trip for young adventurers. Especially if they like their adventures uncrowded. Having both heard this hype hundreds of times, my girlfriend Jess and I decided to visit the state as part of a trip to see her family in Queensland. Our twin priorities were seeing the quokkas on Rottnest Island and swimming with whale sharks at the famed Ningaloo Reef in Exmouth, WA. With a known point A (whale sharks) furthest north and point B (quokkas) furthest south we had a general spine for our six-day visit. We also knew we wanted to do it by van. We are road-trip people, after all.
We arrived in Perth late, so we booked a room at the charming Alex Hotel downtown and took off the next morning. Here's our easily replicated itinerary.
Day 1 — Collect the Camper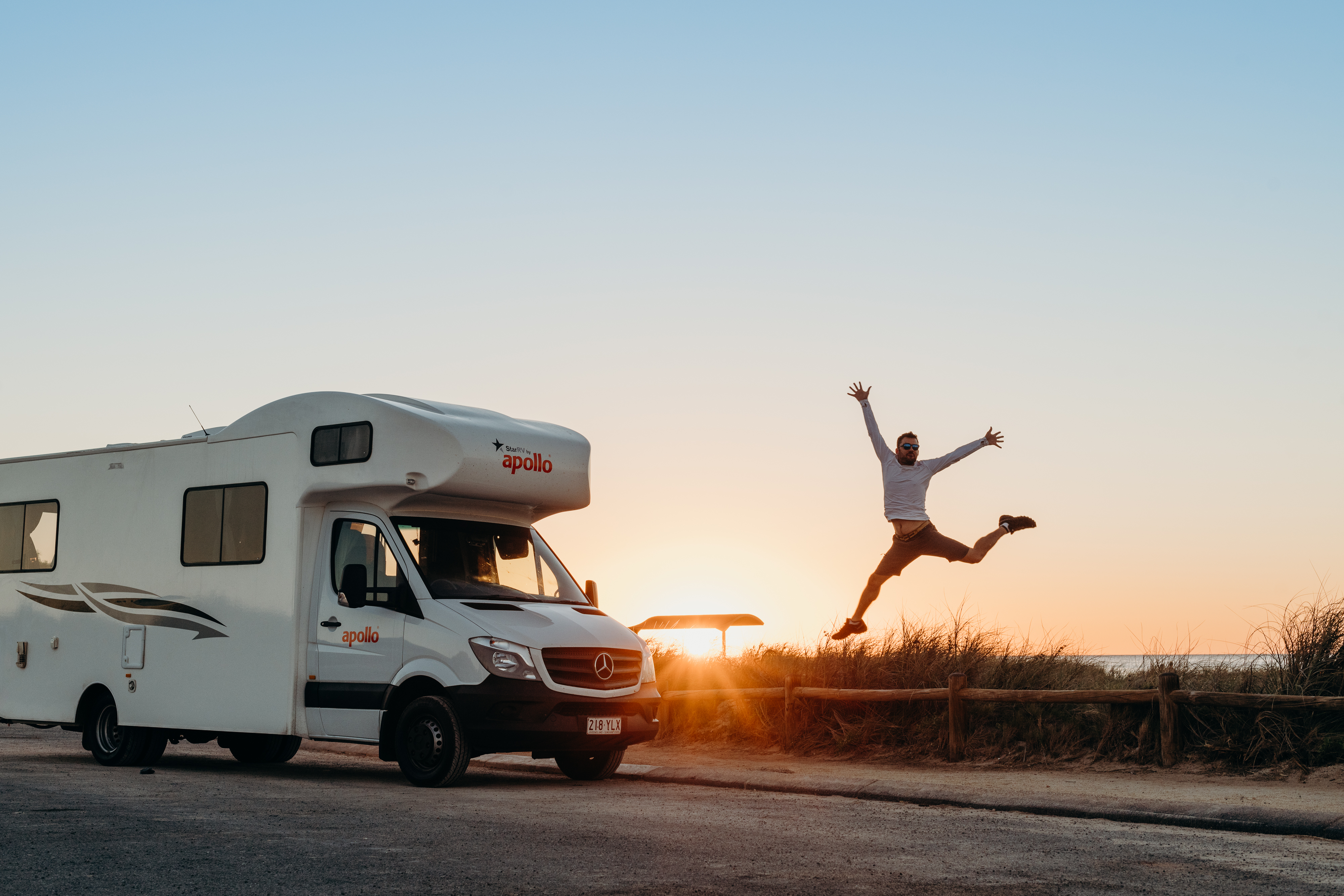 In the morning we grabbed a rideshare to Apollo Motor Homes. We fell in love with Dumplin', our Apollo campervan, in New Zealand, so when we found out they have an office in Perth we quickly made a booking. This time, we booked a slightly bigger motorhome with a bed space above the driving cockpit. We christened it 'Sunpie' and we were off.
Sunpie had an embarrassment of riches in the room and space department, so we felt like we were toting an apartment into the outback with us. The extra area was a pleasant feature because we knew we weren't going to be holing up in a hotel room at any point, as we sometimes do every so often on the road just to reset. Like Dumplin', Sunpie had the fridge, stove, shower/bathroom but additionally had a lounge area in the back that converted to a bedroom if traveling with more than two people. We used it as a work/research area and slept up top.
Our next few moves were dictated by our shared commandment of Road Trip Life: Make headway ASAP without distraction. Get some miles — or kilometers — under your belt before stopping for too many supplies. Rest when you're dead, that sort of thing. Off a tip from our booking agent at Apollo, we drove north with a mind to sleep in Port Gregory and make a couple stops along the way.
There are a few small towns to stop in for lunch along this road. We tucked into Cervantes to have a bite, followed by a cruise through Jurian Bay to a small recreation park called Sandy Cape. With giant sand dunes, caravans, kids milling about, and people swimming, Sandy Cape is a classic 'secret' beach that absolutely every local knows about but half-heartedly tries to keep from becoming a tourist mainstay. There were plenty of camper spots available, and the short walk to the picturesque Indian Ocean lent itself to us stopping for an hour to take a refreshing and resetting dip.
Night fell on us as we voyaged north toward Port Gregory, concealing the visual treasure that would be revealed with the sunrise the next morning.
Day 2 — On to Exmouth
For perhaps the first time in my life, I was not reluctant when the sun woke me up earlier than expected. We scrambled to prepare Sunpie for travel, not to make miles under the tires, but to be the first to be upon Hutt Lagoon, the natural Pink Lake that has grown increasingly popular on Instagram. I have a huge geology crush on pink lakes but had thought that getting to Lake Spencer or Hillier in the south of the State would have to wait until another trip. Hutt Lagoon holds its weight as an optical marvel, however. Carotenoid producing algae are responsible for the pink hue, which itself oscillates between pink, raspberry, and rose with blue edges.
We found an access road to the water. In the summer, the lake dries out and most of the area is turned into a salt flat. A couple from Germany enjoying the #vanlife had an enlightened idea to free camp next to the water. They gave us a lay of the land as we took some photos and gawked at the terrain.
Deciding to take advantage of the early rise, we thought we could make sunset in Coral Bay on the way to a late arrival in Exmouth. Unlike the day prior, the drive was barren of interest unless the wayward wallaby or kangaroo posed next to the road. Carnarvon offered a landing point for lunch and supplies, but otherwise, we were propelled dually by our desire to see the Indian Ocean sunset and the fear of running out of gas between distant gassing stations.
We were nearing E on the meter when we pulled in to Coral Bay just as the sun was readying for its final plunge across the horizon. As it touched upon the sea, the sky turned fiery orange, seemingly in an instant. It was an event that fueled our final push up the peninsula to Exmouth.
We slipped into the holiday park in downtown Exmouth already booked for the morning whale shark experience with Ningaloo discovery.
Day 3 — Biggest Fish in the Sea
The whale shark season is April through August at Ningaloo and we just caught the beginning of it. We had heard good things about the tour operator Ningaloo Discovery so we opted for their speedboat (they also have a catamaran). Not sure what to expect, we walked across the parking lot to the bus and were greeted by the cheerful Holly, delightful crew member and trip photographer.
They bussed around the cape to the boat launch as Holly gave the standard adventure tour disclaimers and rundown of the day. We were skiffed out to the boat and were promptly given up a warm-up snorkel as the planes cried overhead, looking for sharks from above. One this clear morning, the signal came fairly quickly.
With a shark sighted, the crew siphoned us into groups and Holly jumped in the water with her camera, hand-signaling to the captain which direction and how far the shark was swimming. Group 1 was instructed to jump in.
First off, the water at Ningaloo — it's that marine blue that only exists in your deepest indigo meditative mind imagery or on the blacklight streaked walls of modern art houses like Meow Wolf. It seemed to go on forever, with uncut, crystalline visibility. Out of the deep swam our first whale shark, unbothered by the dozen land-based aliens gawking at it, as if it were a European elder taking a stroll into town after siesta.
We saw and lightly interacted with four whale sharks, a giant manta ray, a sea turtle and dozens of fish and marine life species that morning. It was not only well worth the expense, but it was also one of my favorite moments ever experienced in the water. That's saying something in a life that includes SCUBA on several continents, divemaster certification, and polar plunging in Antarctic waters. Seeing whale sharks up close leaves a person awestruck in the way that magic acts do. Like you can't quite figure out. "How does this exist?" Perhaps because there is magic in it. Magic in the effortless flick of the tail that propels it ahead; Enchantment in the spots on its skin that conceal the borders of its shape from prey; Illusion in the way it sinks away until you can barely make out its figure. And by the time you do, it's gone.
Returning from the mutually agreed upon Best-Day-Ever™, Jess and I stumbled into the holiday park where Sunpie was being kept company by a rather curious Emu. After watching it for a few minutes, we took the suggestion of our guides, Michael 'Tropi' Tropiano, and ventured to Whale Bone Brewery for detox beers. We'd earned 'em.
Day 4 — On the Road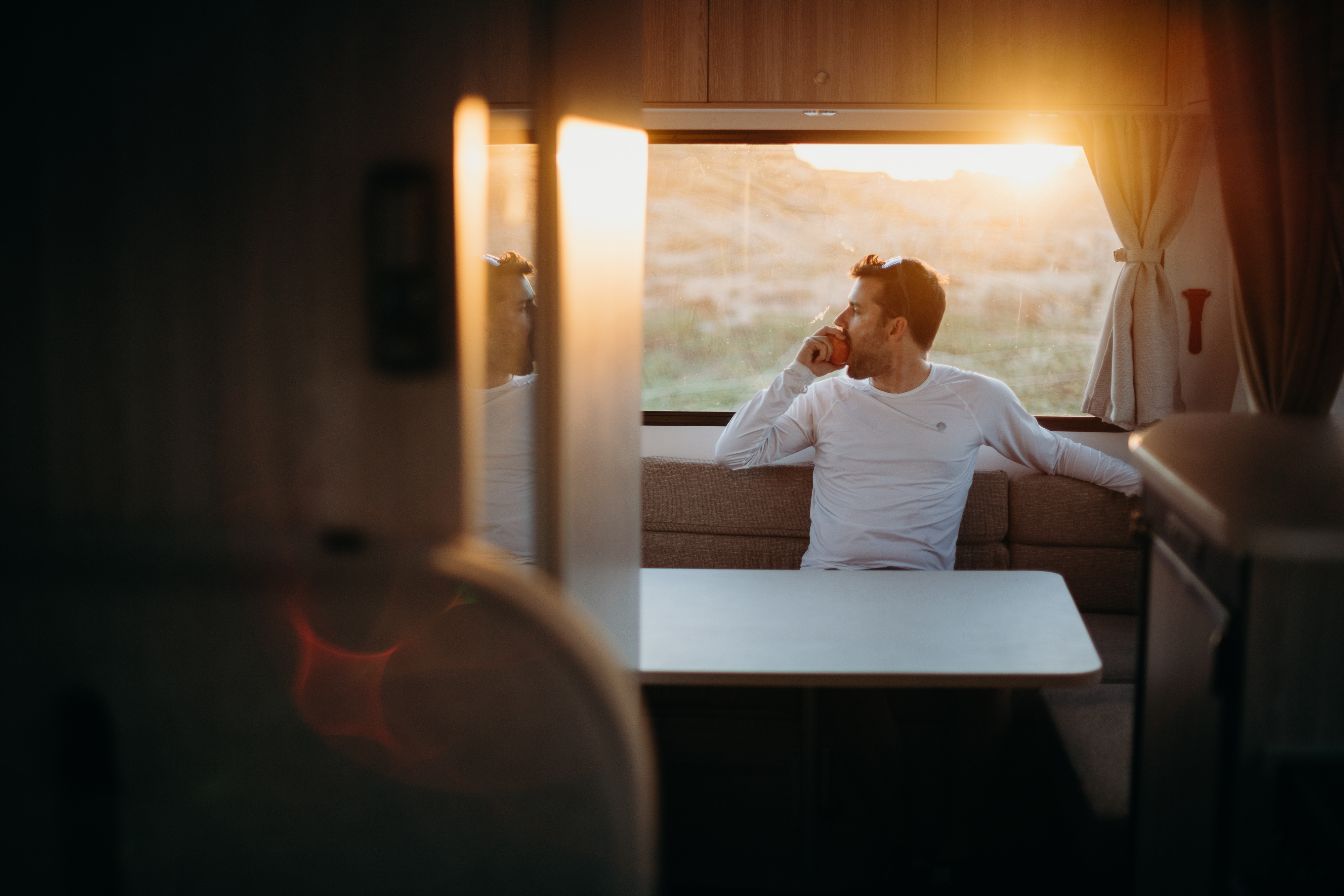 We awoke early to catch the sun's rise from the Exmouth lighthouse, which has stellar views of the entire peninsula. Seeing the wind, waves and surf, we understood immediately our guide's giddiness at the glassiness of the previous day's conditions. We had struck meteorological gold. This day's whale swimmers were surely busy throttling down motion sickness pills.
Even with the spectacular views, this day had been circled as a travel day. We desired one more day in the ocean and that figured to be closer to Perth. So we skipped a stop in Denham, rumored to have first-rate dolphin swimming experiences, to power through to Geraldton. We'd heard great things about Harrocks Beach, just north of town.
Day 5 — In Like a Sea Lion.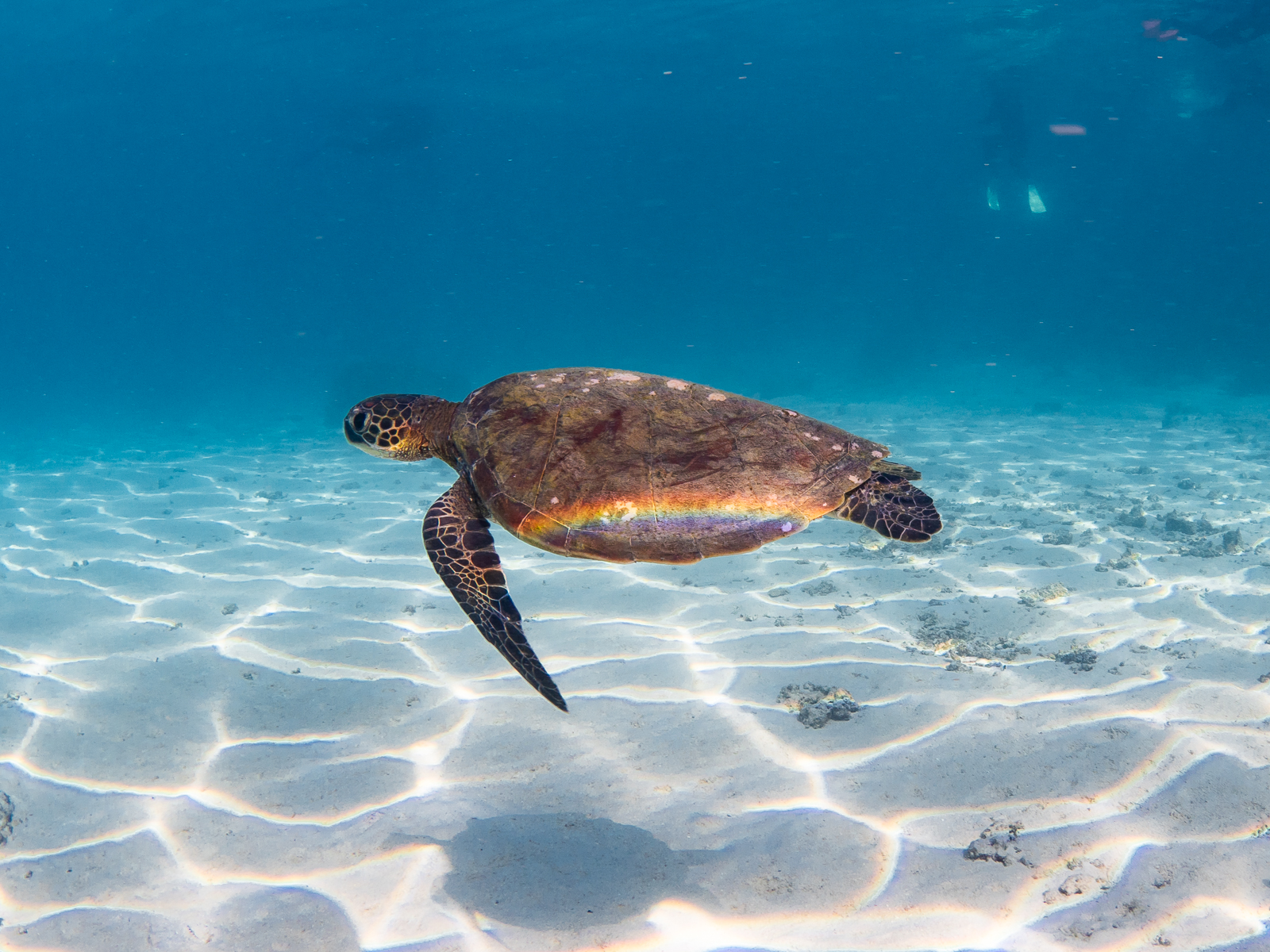 Though Jess and I are all for beaches, we had booked a tour based on a hint about an island off of Jurien Bay that served as a sea lion habitat. Turquoise Safaris had two spots left on the early 8am trip to swim with the sea lions. One more 5:30am wakeup and two cups of horrifying instant coffee got us there in time to make the boat.
The sea lions woke up with us and came out to play as soon as we rolled up. The water held a morning chill — a shiver-inducing temperature that evaporated from thought as soon as the sea lions flopped down the beach to come investigate us. They played and chased each other around us as they showed off their twists, turns and overall superiority to humans when in the water. I could've stayed in that shoulder-deep water all day.
When we got back to shore it was just 10am. We headed off toward our destination of Fremantle, where we were headed to what would become our favorite brewery on earth, Little Creatures. It was still early, however, so we had plenty of time to mosey Sunpie along the coast. We saw ancient limestone formations known as the Pinnacles in Nambung National Park. We also made a pitstop to sandboard the infamous dunes in Lancelin. You can rent a board at the town gas station for about $10 and get your fill of sandy spills. Not more than an hour is needed.
We went to bed early, ready to experience the bottom of the spine on our route: The quokkas on Rottnest Island.
Day 6 — Quokka Selfie.
We almost didn't go. The night before, we'd heard multiple warnings alluding to an over-hyped, overcrowded tourist attraction. The tone was similar to the one I use when discussing Bourbon Street in New Orleans. It's a limb we've chopped off to save the body. A crowded place that we couldn't spare from the tourist influx.
But the Aussie idea of over-tourism is generally pretty mellow and even more so when you get off the east coast. School holidays were over and the island was well below visitor capacity. So we rented bikes and ferry passage from the Rottnest Express and circumvented the entire island. We saw quokkas along the way but we got our selfies out of the way early. In that way we were really able to enjoy the nature of the island. The beaches, landscapes and ease of getting around made for a lovely day. People were obsessive in their selfie-taking endeavors and though it's quite prohibited and even dangerous for them, you could tell people feed the quokkas due to their familiarity and curiosity toward our bags. We spoke with one of the rangers who admitted this is a problem they are constantly wrestling with and getting better at, as wildlife education becomes more prevalent.
We had lunch on the island, which also has a pinkish lake, before heading back. We settled into Little Creatures Brewery for the second night in a row because the food was: JUST. SO. DAMNED. GOOD. Let alone the brews.
Day 7 — Fly Out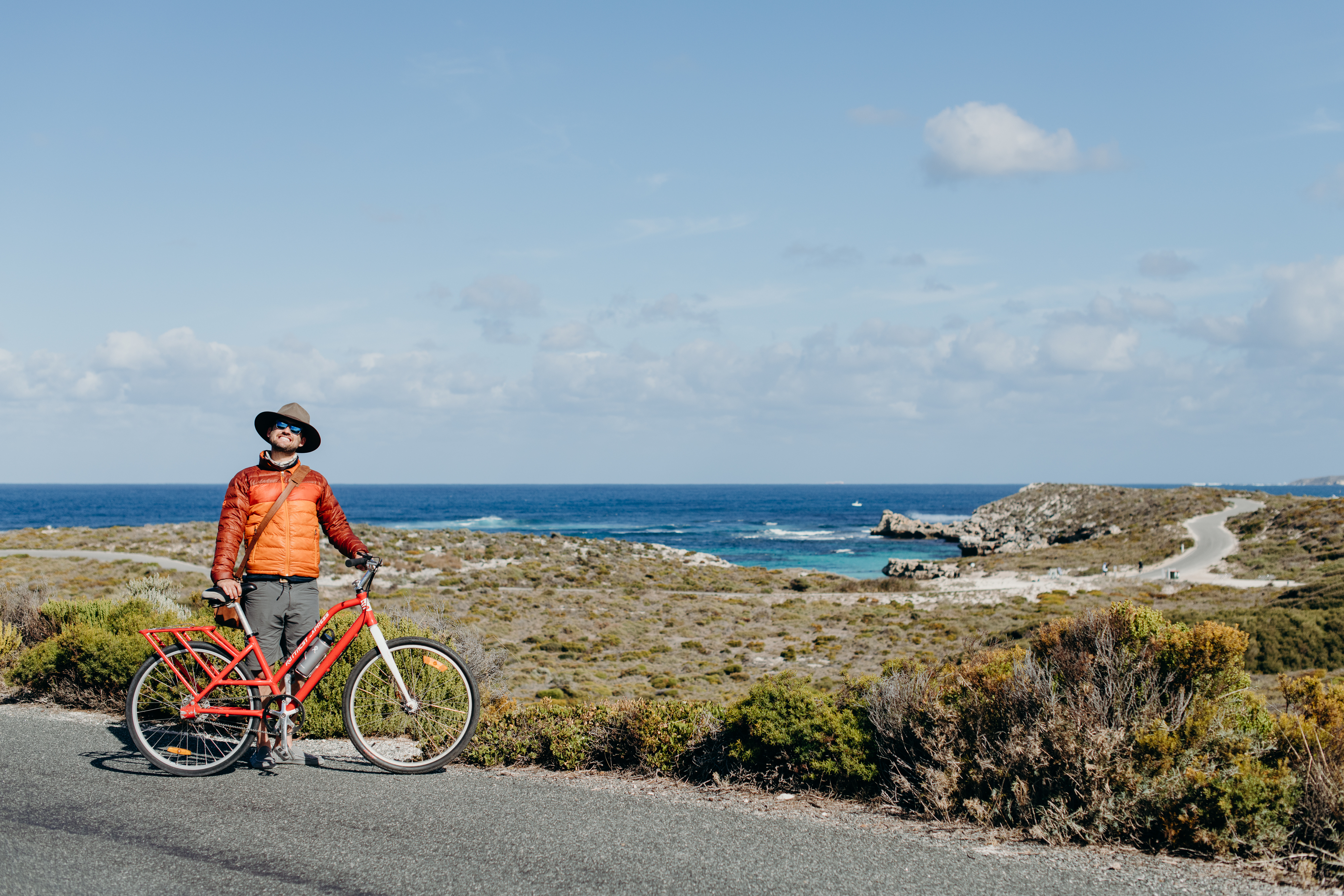 Did we leave adventures on the table? Heaps. We would have loved to explore the Margaret River Wine Region, the Truffle Festival or explored Perth. Freo – the localized Fremantle abbreviation – is an exceptionally hip town with a New Orleanian architectural vibe to its inviting shops, bars, and restaurants.
But the time had come and we had packed our six days to the hilt. With zero regrets, we turned in Sunpie and headed for the airport. As we flew over the red center of the country back to Brisbane, it was hard to pinpoint the arc of our trip. Sorting memories when they're packed in the memory tin like sardines might accidentally leave some appreciation behind with them. If there are no breaks there's no room for reflection and we had gone flat out for our whole trip.
Still, I wouldn't have changed the pace. Make the most of it, burn the candle because you can't save the wax.
In the months since, I've had some time to parse out the memories and sort them. From the whale sharks to sea lions, the pink lakes to the Pinnacles, the beer in the north to the beer in the south, our trip revealed a duality of adventure. It was quiet moments in the van and experiences of epic scale. It was the massive whale sharks and the cool beers. It was also an example of just why so many bold souls will tell you to head west on your next trip down under.
Bonus Photos: