Who wants a free vacation? We guess a better question is, who doesn't want a free vacation?
Well, we have you covered this week in our cheap flights and travel deals roundup. We also have some great discounts on some seriously luxe hotels, cheap flights around the world, and a few travel deals that can't be beaten.
We've compiled some of the best deals right now below. These are the cheapest flights, sweetest hotel rates, and steepest travel package discounts out there today.
TOP THREE DEALS OF THE WEEK:
SAVE UP TO 70% OFF AIRASIA FLIGHTS DURING THEIR SUPER SALE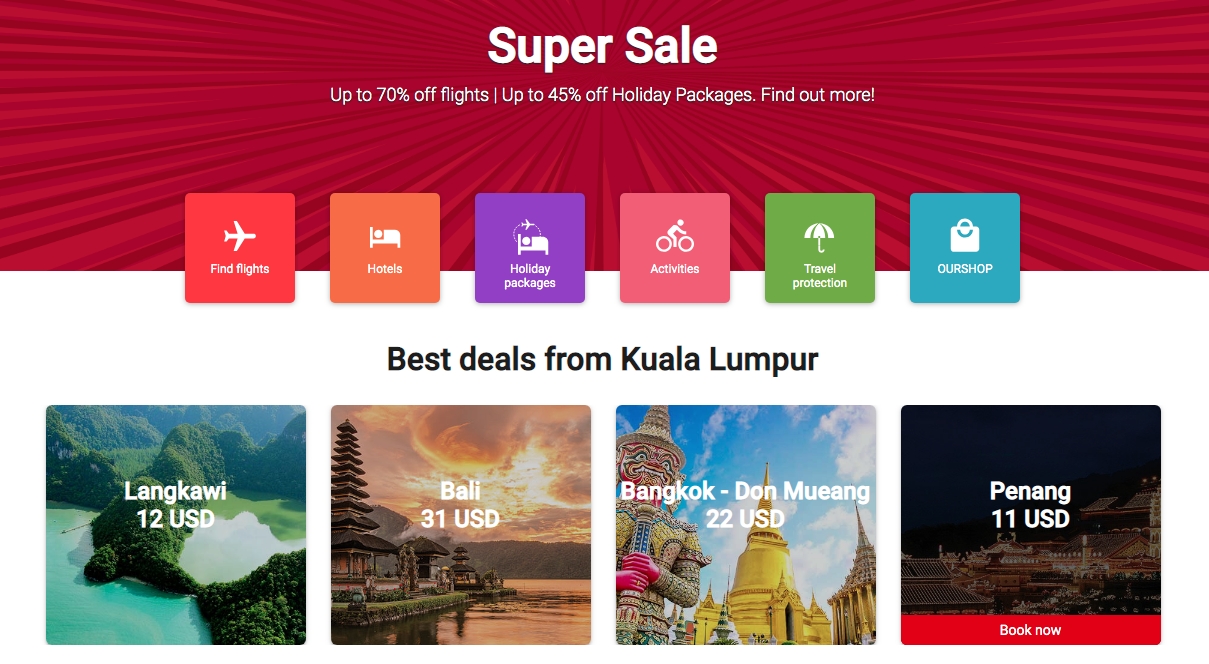 AirAsia is already dirt cheap when it comes to getting travelers to East and Southeast Asia and then getting you around once in-country. Prices for trans-Pacific flights can be as low as $199 each way from Honolulu to Osaka. Prices for flights all over the eastern reaches of Asia can be as low as $5 one-way. So, when those rock bottom prices are 70 percent off, it's time to buy.
WIN A FREE 7-DAY STAY AT SANDALS
Sandals is an ethically-minded, employee-forward all-inclusive where your relaxation is front-and-center. That's needed sometimes. We all need to unplug and reset once in a while on a white sand beach where the food is great and the wine never stops flowing.
So here's how you win yourself a free seven-day vacation. The giveaway is celebrating Mother's Day, Teacher Appreciation Week, National Nurses' Day, and Military Month throughout May. Go to Sandals and nominate someone who is in the military, a nurse, teacher, or a mother. Upload a photo of your nominee (which can be you, assuming you fit the criteria) and write a 250-word blurb about why the nominee is awesome. Then, every day in May, Sandals will choose one nominee at random and give them a free seven-day stay for two in a luxury suite (airfare not included).
GET A FLIGHT AND HOTEL TO BOGOTA FOR $350 ROUNDTRIP
Sometimes it's worth searching for a hotel and flight at the same time. Case in point, over at Orbitz, you can score a roundtrip flight plus a four-night stay at a hotel in Bogota, Columbia for only $350 total. That's a great price for a roundtrip flight where the hotel is basically free. You can't beat that.
BEST FLIGHTS OF THE WEEK:
$20 FLIGHTS WITH FRONTIER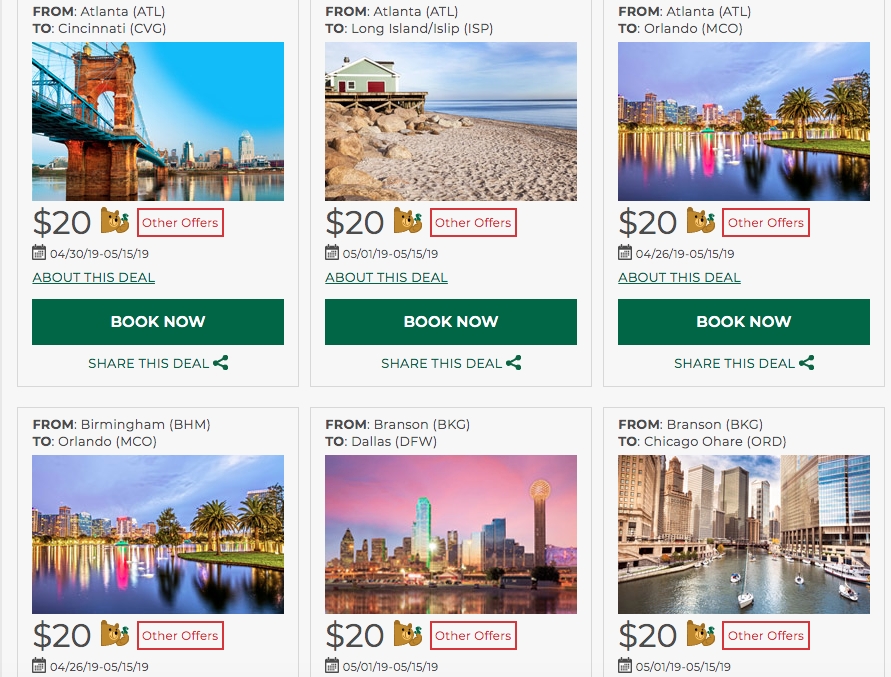 If you're looking for cheap spring travel around America, Frontier is your best bet. Right now, you can score one-way flights all over the country for as little as $20. That's a base fare so expect to pay another $35 to carry on a bag. Still, that's $55 to fly somewhere new next week if you want.
FLY FROM LAX TO MADRID FOR LESS THAN $400 ROUNDTRIP
Flights to Spain are running very cheap this fall. From the West Coast, you can snag a flight for around $395 roundtrip. Some flights from the East Coast are closer to $300.
FLY FROM PHILLY TO BRUSSELS FOR $380 ROUNDTRIP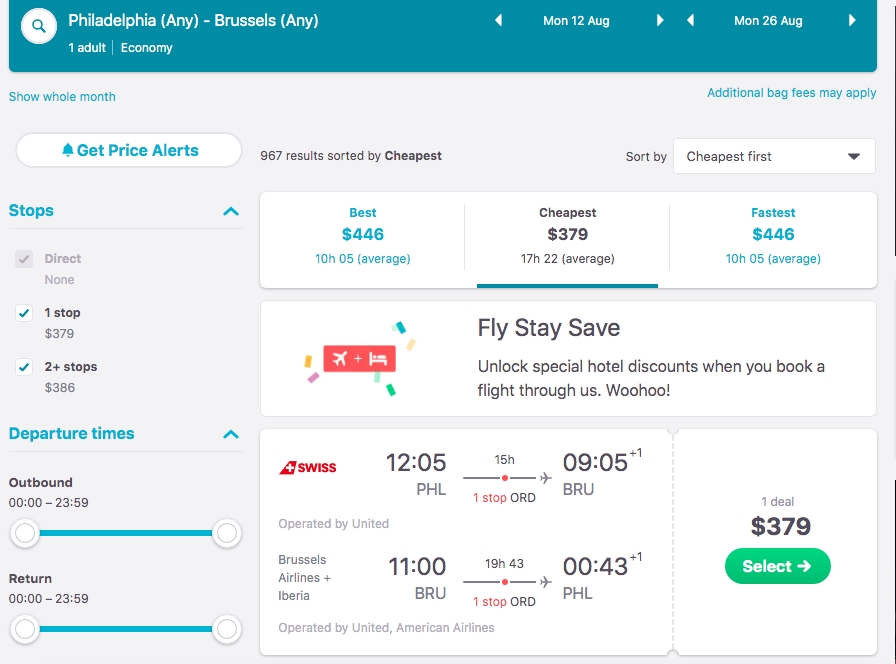 Brussels is a great spot if you're into beer. Right now, you can get there from East Coast for only $380 roundtrip on Swiss Airlines. That's less than $400 for a flight on a high-end airline where food, drinks, and bags are already included in the price. You can't get a budget flight for that price with the same perks.
BEST TOUR AND PACKAGE DEALS OF THE WEEK:
20% OFF ALL TRIPS WITH CONTIKI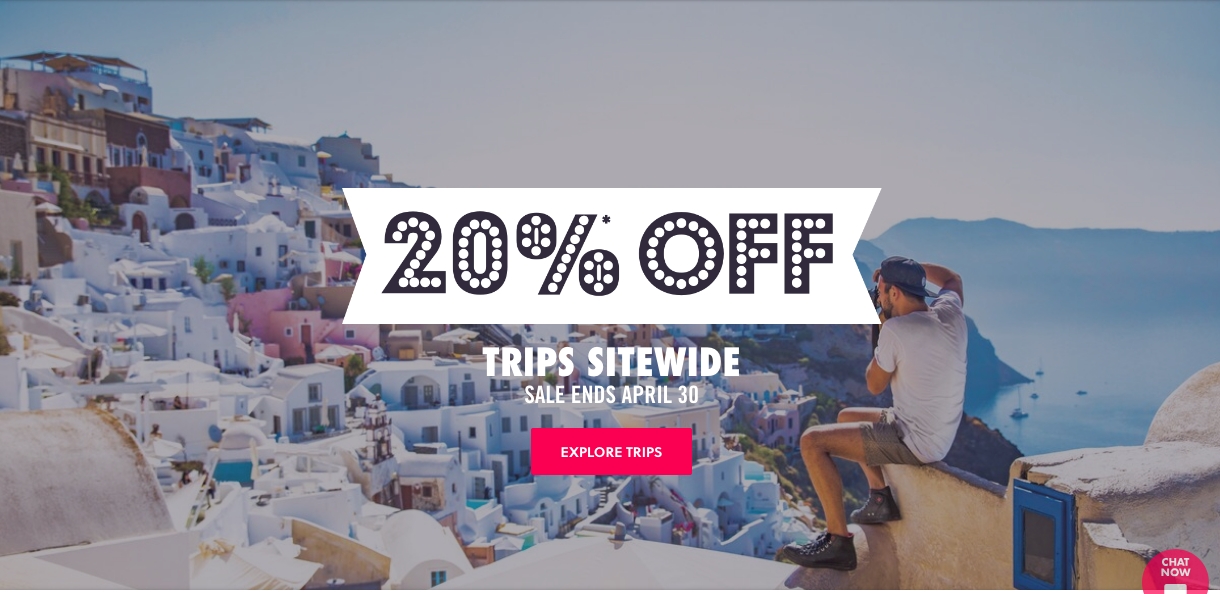 Contiki is the reigning champ when it comes to great travel for 18 to 35-year-olds looking for a little adventure. Currently, the travel group is offering a 20 percent discount across the board. That translates to up to $650 off some trips. That's enough of a discount to cover at least one roundtrip flight, if not two. Now's the time to pull that trigger and go somewhere rad.
SAVE UP TO 30% WITH LAST MINUTE DEALS AT G ADVENTURES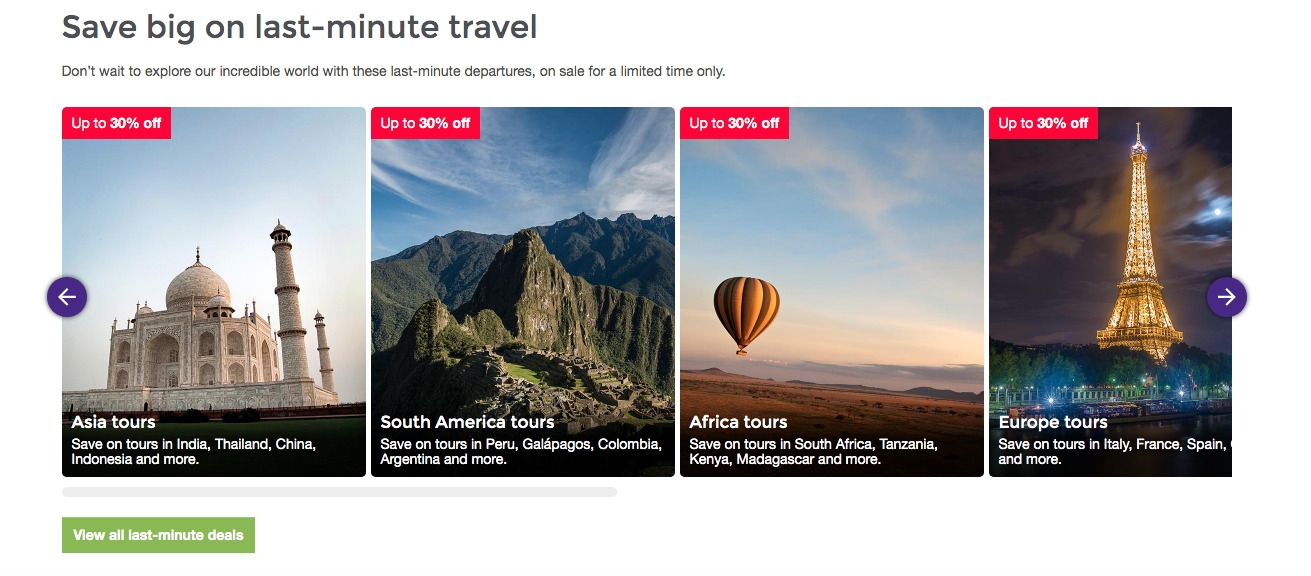 Looking to get away soon? Next week even? G Adventures is the play. They're offering 30 percent discounts on trips to Africa, Asia, Europe, and South America on last-minute trips. That's another steep discount that'll basically help cover airfare to and from the destinations.
10% OFF TRIPS FOR 18 to 29-YEAR-OLDS WITH INTREPID TRAVEL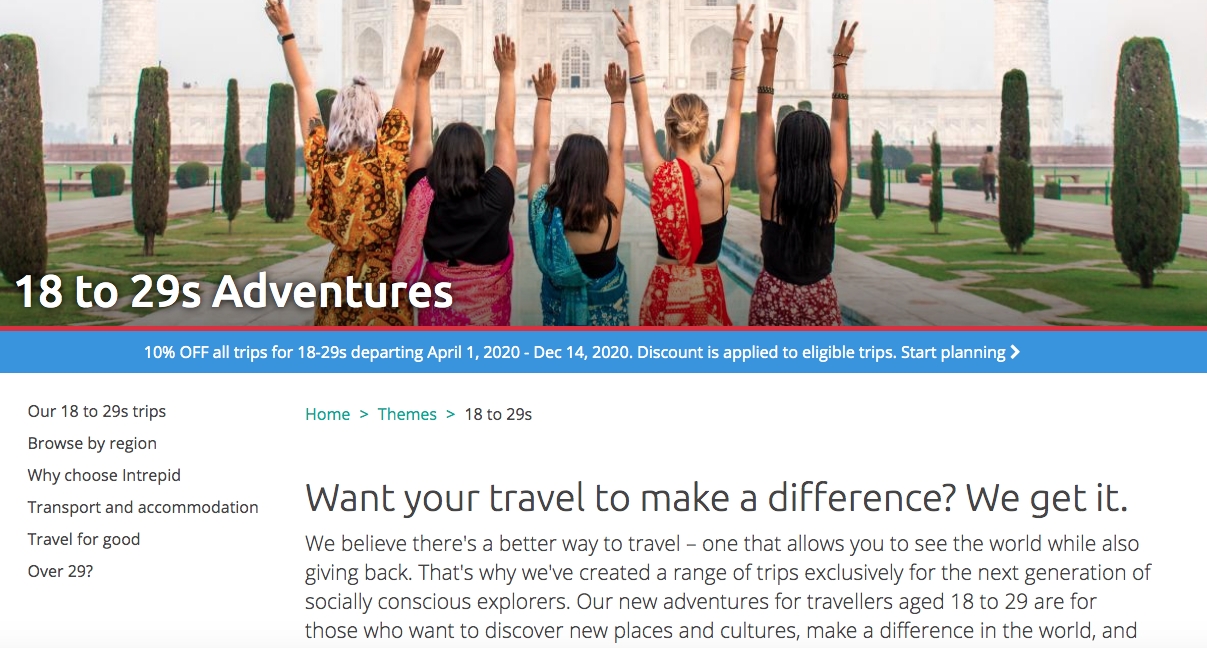 Intrepid Travel is the adventurer's travel company. Their trips go deep on conservation and expeditions to remote corners of the world. They're currently offering a ten percent discount to young travelers between the ages of 18 and 29 who are looking for that perfect adventure somewhere new.
BEST HOTEL DEALS OF THE WEEK:
SAVE UP TO 30% AT BANYAN TREE MEXICO RESORTS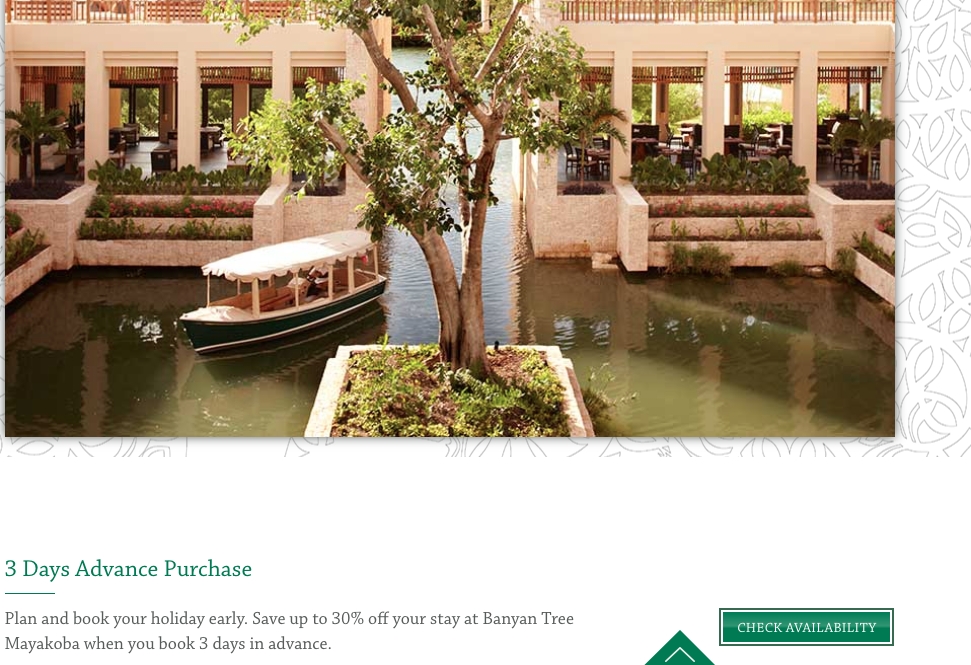 The Banyan Tree resorts in Mexico are where luxury meets beauty. The properties are straight up gorgeous. It's also not cheap. Room rates tend to hover around the $300 per night mark. But if you can book three nights or more in advance, you can shave 30 percent off that rate. That's a $100 savings on the basic room rate, and $100 can mean the difference between grabbing a relaxing massage or not.
SAVE UP TO 30% OFF PREFERRED HOTELS AND RESORTS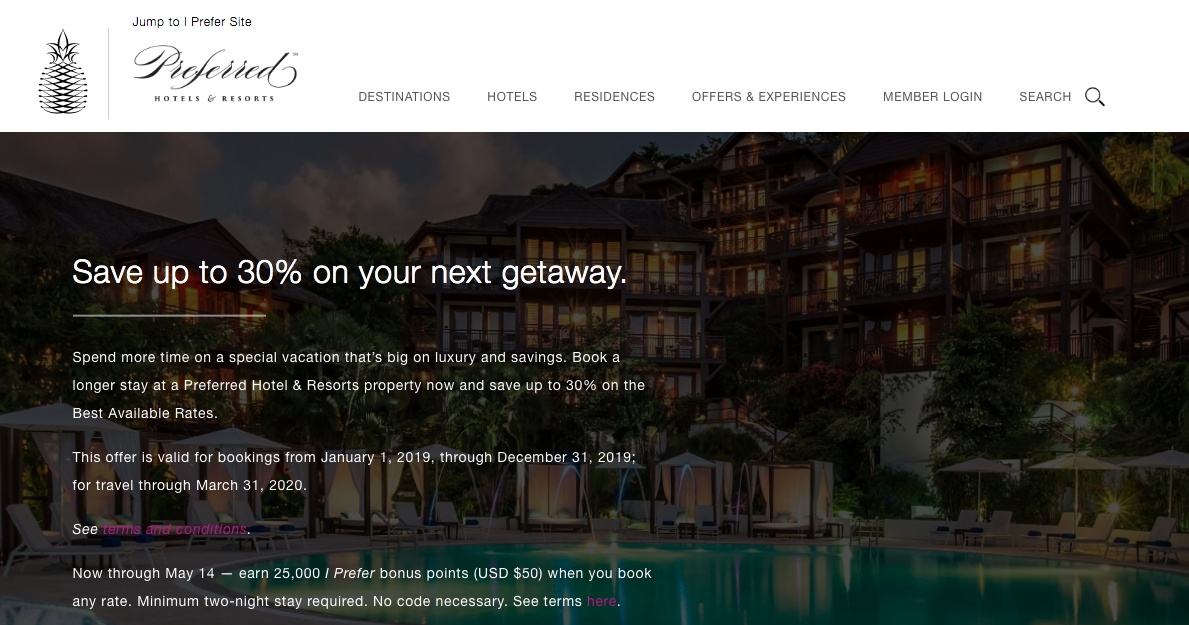 Preferred Hotels runs some great properties at every level from super luxe resorts to quaint boutique hotels all over the world. To score a 30 percent discount off your next stay, simply book a three or more night stay. That's it. The discount equates to room rates as low as $58 per night, depending on the location. Which is a great price for a well-appointed boutique hotel.
SAVE 25% OFF KIMPTON HOTELS AND GET A FREE LYFT TO A BASEBALL GAME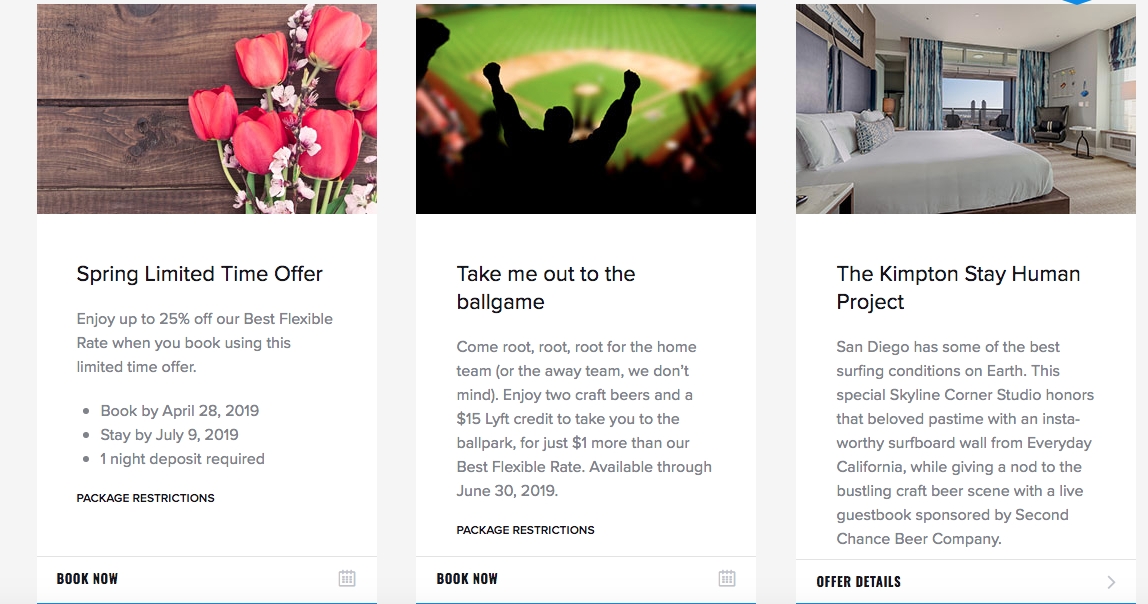 Kimpton Hotels are another great option if you're looking for unique hotel experiences all over America. They're still offering their Spring Discount which takes 25 percent off stays if you can book before April 28th.
Some hotels are also offering free Lyft rides to baseball stadiums nearby. To get the free ride, all that you have to do is pay an extra dollar on your room rate.
BEST WILD SPLURGE OF THE WEEK:
TRAVEL AS MUCH AS YOU CAN FOR $50,000 WITH ADVENTURE CANADA
This deal is … just … kind of crazy. If you have endless free time and love adventure or your name is Richie Tenenbaum, Adventure Canada has the deal for you. For a paltry $50,000 you can hop on any or all 2019 expedition voyages offered by the travel company (as long as there's a free berth). That means you can get on trips around Greenland, Canada's Northwest Passage through the Arctic, or even circumnavigate Iceland or Ireland. There are a lot of options on the table.