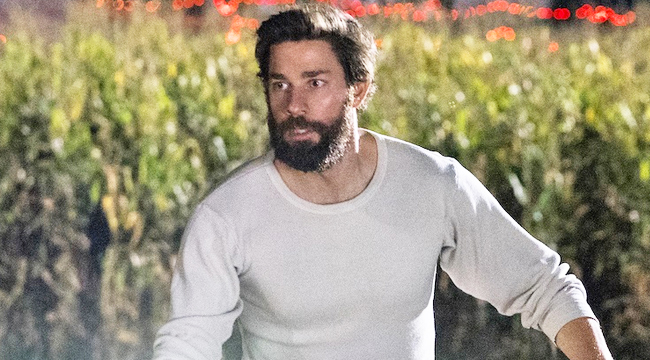 A Quiet Place, starring and directed by John Krasinski, was such a raging success that he's already writing a sequel. The man who embodied The Office's Jim and can be currently seen on Amazon's Jack Ryan also recently admitted to playing a secret role in addition to the father attempting to protect his family from murderous aliens. That is, Krasinski tossed on a motion capture suit to play the monsters themselves, news that arrived with a hilarious photo of Krasinski in action. As it turns out, test audiences were decidedly amused as well, as producers Andrew Form and Brad Fuller recently revealed to Yahoo!
These folks watched a version of the film where the visual effects obviously weren't finished yet, and people couldn't stop laughing at Krasinski while he monstered-out. Via IndieWire, the motion capture suit and Vans sneakers worn by Krasinski really set off the giggles:
Fuller: "So whenever the alien would come onscreen, people would laugh, because it's John playing him. You can't say, 'Pretend that's an alien' to a test audience."

Form: "As hard as you try to tell an audience, 'Please, we understand all the visual effects aren't in, but that will be the creature,' it's impossible. It just is. Someone's gonna laugh, and it just kind of breaks everything. So it was a very hard movie to test."
Damn, Krasinski got no respect! Fortunately, the visual effects team later did a bang-up job, and folks did everything but laugh at the finished film. Yet can you blame the test audience for chuckling, especially after this photo ended up surfacing? Krasinski acted his butt off, but that suit ruined everything.
Maybe Krasinski will bust out the Vans sneakers again for Halloween.