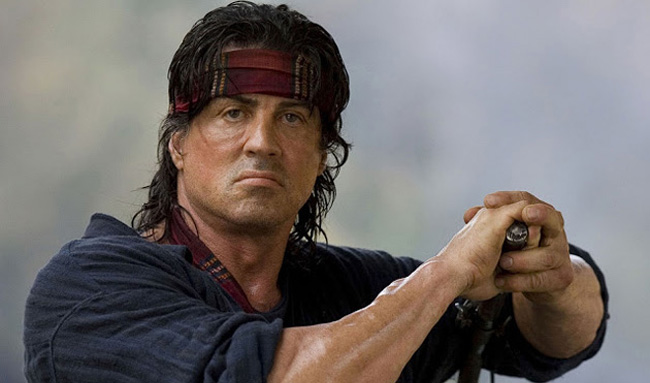 There have been rumors about another Rambo movie for quite a while at this point. Some have featured Sly Stallone making a comeback once again and others have someone else jumping in to star as the titular killer. There was once even talk of the television show, but nothing has come to fruition just yet. But according to report over at Deadline, that all might be about to change.
Not only is Rambo coming back with Stallone, he's heading to Mexico for a timely battle in the War on Drugs. While representatives haven't confirmed Stallone for the movie according to Deadline, producer Avi Lerner's Millennium is using the star to sell the film at Cannes and is touting a start for production in September. Stallone is also currently working on the script according to Deadline, picking up where the 2008 film left off:
In the fifth episode of the franchise, when the daughter of one of his friends is kidnapped, Rambo, who has been working on a ranch, crosses the U.S.-Mexican border and quickly finds himself up against the full might of one of Mexico's most violent cartels.
It seems fitting that Rambo would be the latest to do battle with drug cartels in Mexico. While we've got films like Sicario and Traffic trying to take a realistic and dramatic look at cartels in Mexico, Rambo likely won't be taking that path. Much in the same way that he "won" the Vietnam War and then took on the Soviets in Afghanistan, John Rambo will do what he does best to win the War on Drugs. Either that or at least kill a bunch of Mexican gangsters in the most violent ways possible.
If this doesn't somehow end up comparing Rambo to Donald Trump's wall in the tagline, we'll be lucky.
(Via Deadline)