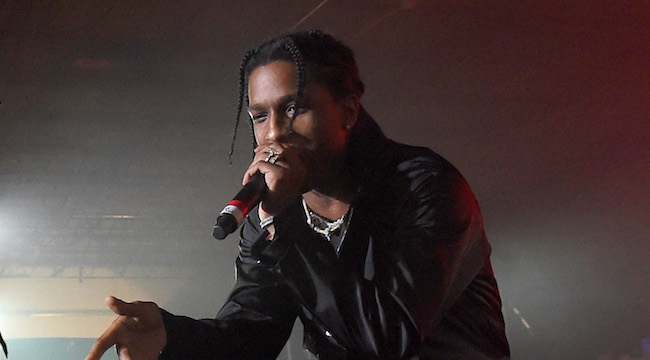 It still hasn't become quite clear what ASAP Rocky has been cooking up with all his cryptic Instagram posts, but the music that's come out of his lab lately has been pushing the boundaries on the hybrid, interregional rap sound he first constructed on "Peso." The latest gem to drop is the punishing "Bad Company," a collaboration with rising star BlocBoy JB that adds some of JB's Memphis swagger to Rocky's Harlem drawl.
The track is a barrel-chested, three-minute brawler in which the dueling lyricists issue threats like making bodies do the krump dance with Tommy guns and pulling teeth from enemies with beef. The skeletal beat is constructed of snaky snares, letting their words take the spotlight and make their menacing warnings crystal clear.
"Bad Company" falls in line with Rocky's last few recent releases including "Cocky" and "5IVE Stars," which have found the Harlem rapper shifting away from the goth-trap influences he helped create, as well as leaving behind his syrup-slurred, Houston-inspired, chopped-and-screwed style for a more No Limit style approach — all percussion and energy.
Meanwhile, BlocBoy JB has rapidly become one of hip-hop's most sought-after names after Drake helped propel his "Look Alive" video — and its accompanying dance — into the national limelight. It's already been rumored that The Boy is trying to sign JB to OVO Records, and JB recently secured a coveted 21 Savage appearance for his "Rover" remix. If this keeps up, it won't be too long before BlocBoy JB is as big of a name as the features he seems to keep scoring lately.