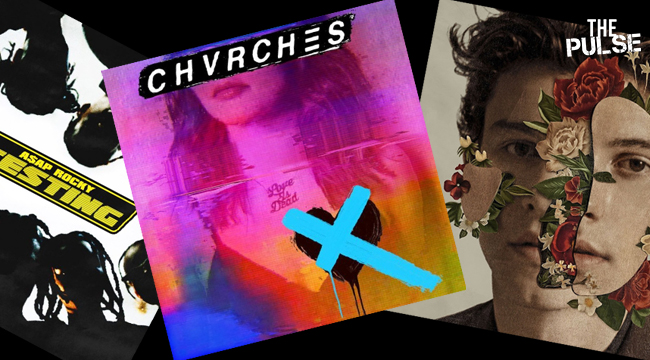 The Pulse is the Uproxx Music guide to the best new albums, mixtapes, and other music releases that matter this week. Find our complete list of the records coming out in May here.
Good news if you're a hip-hop head: This is your week, since thanks to the new slate of releases, you can hear at least a verse from virtually any rapper you care about. Between just the new albums from ASAP Rocky and Zaytoven, you probably can find about half of the rapper who have ever made their way onto the Rap Caviar playlist. Meanwhile, Chvrches have unleashed their highly anticipated, epic third album, Shawn Mendes displays some pop maturity, and there's more under-the-radar indie goodness courtesy of Jo Passed and The Love-Birds.
Chvrches — Love Is Dead
"God's Plan" is on the album, but this is no Drake record. Drake's great, but that's a compliment: Chvrches busts out epic synthpop like nobody else around today can, meaning they set themselves apart in terms of both style and ability. Love Is Dead is led by tracks like the anthemic and booming "Never Say Die," the punchy album opener "Graffiti," and the exhilarating electronic pop of "Get Out." Lauren Mayberry and company have already released a pair of exemplary albums, and now they have a third.
Pusha T — Daytona
There's a lot to digest here: Kanye is producing, The album title was changed at the last minute (bye King Push, hello Daytona), the album art is a perhaps distasteful photo of Whitney Houston's bathroom, and in a major bucking of hip-hop trends, the album is only seven songs and 20 minutes long. Kim Kardashian might even be a (wink-wink) executive producer. With Yeezy behind the production bay, if you've been wanting new Kanye without new Kanye on the mic (except for "What Would Meek Do?, on which he features), this is it.
ASAP Rocky — Testing
Moby perhaps isn't the most sampled artist in contemporary hip-hop, but ASAP Rocky effectively flips the tranquil Moby hit "Porcelain" into a chilled out hip-hop ride on "ASAP Forever." The long-awaited but also sort-of-surprise album makes the most of its collaborators, and it's absolutely loaded with guest appearances: T.I., Kid Cudi, FKA Twigs, Skepta, Kodak Black, Juicy J, French Montana, and Frank Ocean all find their way onto the record.
Shawn Mendes — Shawn Mendes
Hits like "Treat You Better" will definitely pay the bills, but they might not move the needle as much with critical clout. Now, he's found an appropriate mentor in John Mayer, somebody who has earned both pop success and critical respect for his pop-rock songwriting, and he's applying those traits to his latest effort. It starts with "In My Blood," a climactic album opener with a booming hook, and beyond that, there's the Timberlake-like "Nervous," and guest spots from fellow successful youngsters Khalid and Julia Michaels.
Jo Passed — Their Prime
After making the move from Vancouver to Montreal, Jo Passed flourished, and on their debut album (released on Sub Pop, no less), the group explores vintage songwriting styles through a contemporary psychedelic lens. There's the Pink Floyd-ian album opener "Left," the more boisterous Sonic Youth-ness of "MDM," and plenty of sonic exploration to sift through. Their Prime is a journey with a lot of turns, but one that sounds like a band entering what the title suggests, even on the first album.
Jenny Hval — The Long Sleep
It's not quite the follow-up to her 2016 album Blood Bitch, but Hval's new EP, while only four tracks, stretches over a satisfying 23 minutes, led by the jazzily relaxed and melodic "Spells." Elsewhere, the release features the meditative (save for the one delay-driven portion) "The Dreamer Is Everyone In Her Dream," the Eastern-styled ambiance of "The Long Sleep," and the spoken word album closer "I Want To Tell You Something."
Zaytoven — Trap Holizay
If you want the closest thing to a microcosm of modern hip-hop, here it is. Zaytoven has worked with just about everybody in the business at this point, so the tracklist for the producer's latest reads like a hip-hop blog's SEO dream: Featured on the album are Gucci Mane, Young Dolph, Rick Ross, Yo Gotti, Pusha T, T.I., Quavo, 2 Chainz, Offset, Young Scooter, Ty Dolla Sign, Jeremih, OJ Da Juiceman, Plies, Trey Songz, Trouble, Kodak Black, Future, 21 Savage, and Lil Uzi Vert.
Sudan Archives – Sink EP
Electronic music, R&B, and Sudanese fiddle is a combination that might not jump off the page at you, but Sudan Archives does. Slinky and lush electronic album opener "Sink" sets the table for songs like the finger-plucked "Nont For Sale," the rhythmic "Escape," and the off-kilter experimentation of "Mind Control." It's hard to think of anything else that sounds like this, but the good news is that at least we have this.
The Love-Birds — In The Lover's Corner
It's easy to fall into the jangle pop aesthetic and be satisfied with just having that general sound without having the song substance to back it up. The Love-Birds aren't one of their groups, though. Right away, from the first seconds of album opener "Again," the group is instantly charming and gentle, and the rest of their bite-sized album (only two songs run longer than three minutes, and barely at that) is an ideal companion to a sunny summer afternoon, the idea of which is as timeless as the sound on display here.