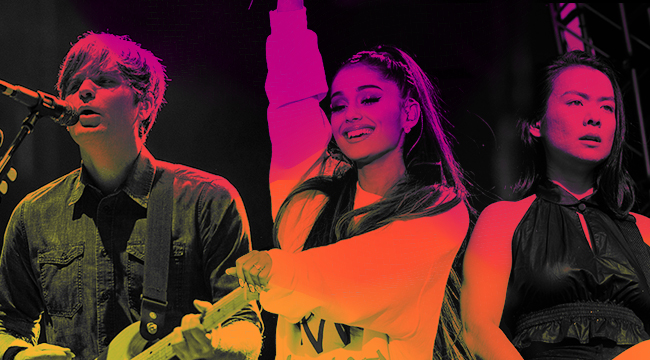 Keeping up with new music can be exhausting, even impossible. From the weekly album releases to standalone singles dropping on a daily basis, the amount of music is so vast it's easy for something to slip through the cracks. Even following along with the Uproxx recommendations on daily basis can be a lot to ask, so every Monday we're offering up this rundown of the best music released in the last week.
This week Ariana Grande offers up one of the year's most anticipated pop records, Death Cab For Cutie return to form, and Mitski tries to live up to the mammoth hype. Yeah, it was a pretty good week for music. Check out the highlights below.
Ariana Grande — Sweetener
The biggest album of Ariana Grande's career seems destined to be a success, particularly following the strong singles "No Tears Left To Cry" and "God Is A Woman." But with a narrative that includes love lost and love found, as well as a tragic terrorist attack, Sweetener's biggest attribute might be in how it stands up to the moment, with Grande seemingly ready for all eyes and ears to be on her. It feels entirely possible that this is the moment that Grande ascends to the top-tier of the pop universe.
Mitski — Be The Cowboy
Queen may have come out last week, but this week there's a different artist ascending to the throne. Mitski's place as one of indie rock's best rising songwriting talents doesn't feel like it can be referred to as "rising" anymore. This is the work of an artist that's arrived. As our own Steven Hyden writes in his RX review, "Mitski remains an outsider on Be The Cowboy — mysterious and charismatic, but ultimately untouchable and resolutely herself."
Death Cab For Cutie — Thank You For Today
20 years into their career and Death Cab For Cutie may have found the secret to new life. Lose a core member, gain two others, and reconcile the things that drew people to you in the first place with your own needs to push forward. "I hope for this album, that this reminds people what they love about the band," bandleader Ben Gibbard told me in our RX interview. The good news is that he's totally right.
Young Thug's Young Stoner Life — Slime Language
What was originally hoped to be a new Young Thug album is something a little different. Instead, it is a label comp showcasing a lot of the rising talent from Thug's Young Stoner Life label. Thug himself features prominently, while the likes of Lil Uzi Vert, Lil Baby, Jacquees, and Trapboy Freddy all have features. The record attempts to cast Young Thug as an expert curator in addition to his skills on the mic, a crucial step for a rapper who wants to be more than just a musician.
Connor Youngblood — Cheyenne
Connor Youngblood is a Nashville-based multi-instrumentalist who's been catching our attention through his strong advance singles ahead of this debut album. The record is the result of two years of travel, bringing the sights and sounds and experiences this young man has lived and bringing them to his audience. Youngblood plays more than 30 different instruments on the album, essentially resulting in the epitome of the solo album.
Aminé — OnePointFive
At this year's Coachella, Portland rapper Aminé revealed himself to be one of the artists whose popularity has been greatly underestimated by just about everyone. And, as shown this week, he's at the "surprise release" level, as he dropped his newest tape without any lead-up at all. As our own Aaron Williams writes, "Aminé's rhymes remain as clever and quirky as ever, but it looks like he's all the way done being humble."
Cat Power — "Woman" Feat. Lana Del Rey
Some collaborations are particularly unexpected. Cat Power and Lana Del Rey come from different eras, have wildly different audiences, and very different musical styles, but hearing their voices together on the anthemic "Woman" turns out to be a perfect marriage. If Del Rey's career as a huge headlining artist ever doesn't work out, she might look into a role as an expert harmonizer, as her notes sound just lovely as bedding for Cat Power's lead track.
Kurt Vile — "Loading Zones"
Everone's favorite slack rocker with the best hair in the music biz is back. Following his last solo album which included the biggest hit of this career ("Pretty Pimpin',") Kurt Vile's first bit of new music since last year's Courtney Barnett collab is a shimmering bit of jangle rock that hits on everything the Philly musician does well. He voice booms with quirky personality and a breathless delivery, embracing a twang that is usually only hinted at. As is most things that Kurt Vile releases, "Loading Zones" is essential listening.
Joyce Manor — "Think I'm Still In Love With You"
Every Joyce Manor song could be called "Think I'm Still In Love With You" and it would probably make sense. It's a sentiment that hits on the core of the band, always looking back and forward at the same time. Their appeal is similar, pop-punk that evokes the music we loved as children and the rare rock band making exciting new tunes in 2018.
Cloud Nothings — "The Echo Of The World"
In the pop-punk world, Cloud Nothings are at the entire other end of the spectrum from Joyce Manor. Cloud Nothings rarely even exemplify the pop element, but many of the best-known songs skirt that line, hooky and shoutable without feeling innately youthful. But this song is the other side of Cloud Nothings, the part that feels like it could run you over with a bulldozer, all thrashy and full of grit.