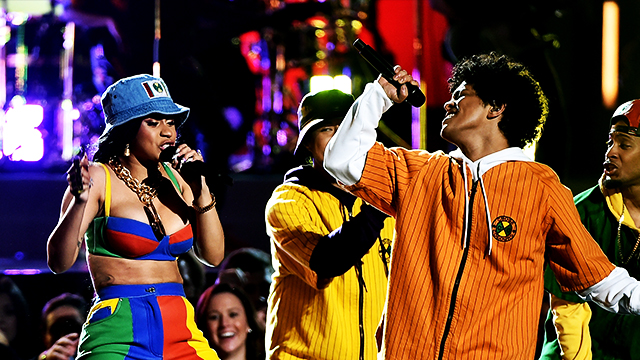 Keeping up with new music can be exhausting, even impossible. From the weekly album releases to standalone singles dropping on a daily basis, the amount of music is so vast it's easy for something to slip through the cracks. Even following along with the Uproxx recommendations on daily basis can be a lot to ask, so every Monday we're offering up this rundown of the best music released in the last week.
This week saw Cardi B and Bruno Mars reuniting for a thrilling collaborative track, Juice Wrld releasing the most emo song this side of MCR, and Field Medic knocking it out of the park with some gorgeous lo-fi indie. Yeah, it was a pretty great week for new music. Check out the highlights below.
SWMRS — Berkeley's On Fire
It's hard to be the child of a punk rock legend. And while SWMRS might always be a little bit in the shadow of Green Day, as their drummer is the child of Billie Joe Armstrong, their latest pushes the band into their own spotlight like never before. Berkeley's On Fire, named after their hometown, is full of punk attitude and modern recording flourishes, creating something that sounds as rooted in the past as it is the present.
Broken Social Scene — Let's Try The After (Vol. 1)
Toronto's Broken Social Scene have been indie rock mainstays for two decades now, managing to get the band back together every few years and returning to form. They've never really been an EP band, and their latest seems to capitalize on the inspiration that came with their 2017 LP, Hug Of Thunder. In a press release, leader Kevin Drew summed up the offering: The point is to keep going. We have more to give. These songs have lived beside us and become our commencement party while continuing together. We hope you enjoy this EP for you and me."
Avril Lavigne — Head Above Water
Canadian pop musicians Avril Lavigne wasn't even 18 years old when she offered up her debut in 2002, Let's Go. Now on her sixth album, she's showing that she still has something to offer the music world. In a statement upon its release, she said, "I feel like I've really opened up on this record more than I ever have before. Each song tells a story that will hopefully inspire others to believe in themselves and stand up for what they know is right and what they truly deserve!"
Cardi B and Bruno Mars — "Please Me"
Last year, Cardi B was scheduled to open a ton of dates from Bruno Mars' massive arena tour, but was forced to cancel them due to having her baby. But there is no ill will between the pair, as they have reunited to offer up this new bop, "Please Me." The tune finds Bruno Mars reaching for the stars with his enthusiastic delivery, but it's Cardi who steals the show, particularly the way she pronounces "horchata."
Offset — "Red Room"
While Cardi B was making headlines as the first solo woman to ever win the Best Rap Album Grammy, her on again/off again romantic parnter Offset was also making his own waves, announcing his anticipated solo album. "Red Room" comes along with that hype train, speaking directly about his scary car crash in the intro to the song and crafting a video that approaches the subject without flinching.
Field Medic — "Henna Tattoo"
If you haven't heard of LA's Field Medic yet, allow this to be your opportunity to get acquainted. "Henna Tattoo" harkens back to the best of lo-fi aughts indie, with its plaintive melody and reflective lyrics. Coupled with a homespun video that includes some nifty dance moves, the brief number conjures up more emotion in just a few minutes than some albums muster in their entire runtime.
Weyes Blood — "Everyday"
With her new album, Titanic Rising, due out in April, Weyes Blood continues to impress with her advance offerings. As our own Chloe Gilke said about the tune, "The song shows off a different sound than we've ever heard from Weyes Blood, demonstrating Mering's impressive elasticity as a songwriter and performer."
Jenny Lewis — "Heads Gonna Roll"
Jenny Lewis doesn't need help to craft a masterpiece. But though she stands out just fine on her own, she brings some stellar collaborators along for her latest, "Heads Gonna Roll." Ringo Starr plays drums and Heartbreaker Benmont Tench plays a killer organ solo while Lewis delivers her always-captivating and insightful lyrics. All hail the queen, or watch your head roll, too.
Juice Wrld — "Robbery"
Emo rap gets thrown around a lot lately, but Juice Wrld's latest really emphasizes the emo aspect. In truth, it sounds more like emo music than most actual emo music. As our own Aaron Williams notes, "'Robbery' is an emotive, stripped-down piano ballad that puts all of Juice's trademark melancholy and tongue-in-cheek humor on display."
Some artists covered here are Warner Music artists. Uproxx is an independent subsidiary of Warner Music Group.