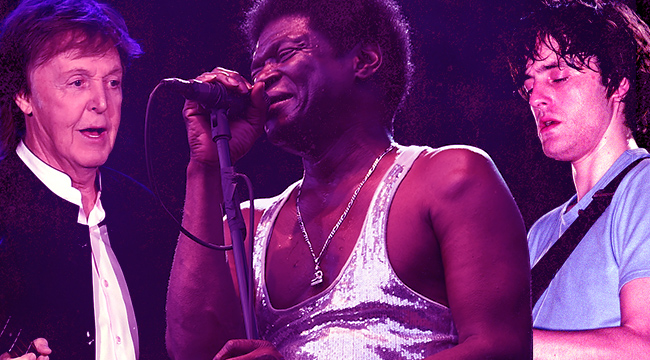 Keeping up with new music can be exhausting, even impossible. From the weekly album releases to standalone singles dropping on a daily basis, the amount of music is so vast it's easy for something to slip through the cracks. Even following along with the Uproxx recommendations on daily basis can be a lot to ask, so every Monday we're offering up this rundown of the best music released in the last week.
This week Paul McCartney proves that he's still got it, Spiritualized show that they've never lost it, and a posthumous Charles Bradley song emerges that reinforces just how special of a singer he was. Yeah, it was a pretty great week for new music. Check out the highlights below.
Paul McCartney — Egypt Station
With untouchable output both as a Beatle and in that band's wake, Paul McCartney has nothing to prove to the music world. But the fact that he keeps plugging away for the mere love of music solidifies his place as more than just a generational talent. He might be music's best ambassador. As our own Steven Hyden writes in his latest review, "If Paul McCartney ever stopped trying, he would cease being Paul McCartney."
Spiritualized — And Nothing Hurt
Though traditionally dubbed space rock, there is also something remarkably grounded about Spiritualized as a musical project. Their roots are less in the cosmos and more in pop music traditions. On Jason Pierce's latest, and his first Spiritualized album since 2012, he's in top form even though the album was recorded almost completely solo in his apartment. As I wrote in my review of the record, "Spiritualized is a portal to bygone days, when music was expected to be bigger than a room and bigger than your resources."
Waxahatchee — Great Thunder
One of a couple short releases on this week's list, Waxahatchee's latest finds her repurposing old songs for a new purpose. Recorded for a now-defunct project called Great Thunder, the songs date back to the Cerulean Salt-era, with track "Chapel Of Pines" recasting Katie Crutchfield closer to her southern roots than she usually drifts.
Paul Simon — In The Blue Light
Waxahatchee isn't the only one looking backward as a way to move forward. Legend Paul Simon, just as he says goodbye to his touring life, is bringing back a bunch of songs that he felt he didn't quite get right the first time around. Whether it is new arrangments or collaborations, In The Blue Light is proof that an artist's work is never quite completed, and it's always ripe for reinvention.
The Blaze — Dancehall
French duo The Blaze operate in a very specific realm, which we'll dub cinematic electronica for the next couple of sentences. It's not just cinematic because the songs often are paired with ambitious video narratives, but just in the scope, building to huge cathartic peaks and almost demanding other senses be put to work beyond just hearing. This audio-visual marriage is the kind of pairing that makes it feel like the future is now. Fortunately, the songs of The Blaze or more than able to exist comfortably on their own.
The Mountain Goats — Hex Of Infinite Binding
John Darnielle has always been prolific, saying in the past that an album a year, or roughly a song a month, seemed like the bare minimum for what a working songwriter should produce. But the form has changed over the years, going from solo home recordings to more ambitious full band affairs. One of the things that he'd gotten away from, the EP, seems to be returning to the forefront of his mind, and this surprise release promises to be just the tip of the iceberg.
Masego — Lady Lady
As a multi-instrumentalist, it's not surprising that Masego's debut album, Lady Lady, defies all genre classification. As our own Aaron Williams writes in his new RX interview, "You won't find too many rappers who count '30s big band leader Cab Calloway among their major influences, but Masego isn't like any other rapper around."
Silk City And Dua Lipa — "Electricity"
Debuting earlier this year, Diplo and Mark Ronson's collaborative project Silk City don't have a whole lot of music under their belt. But with more songs like "Electricity," anchored by a vocal performance from Dua Lipa that should confirm her rising star status, and Silk City could easily reach the same heights as both artists various pop endeavors have in the past. It's exuberant and dancefloor-ready, daring to keep the summer going as the season comes to an end.
Charles Bradley — "I Feel A Change"
Though it's been nearly a year since soul singer Charles Bradley died, the loss of one of music's most lovable personalities and unmistakable voices still stings sharply. This November, on the week of what would have been his 70th birthday, Bradley's final album will be released, and in advance is a powerful vocal performance that reminds of what a special talent Bradley was. Try to hold back the tears while listening to this one loud.
Dilly Dally — "Doom"
Call me old-fashioned, but I f*ck with just about anything with the title of "Doom." For Dilly Dally, whose upcoming Heaven is one of Uproxx's most anticipated albums of the next couple months, "Doom" represents both the sludgy sound that's been present on all their new releases and a more hopeful message than what might be expected. As frontperson Katie Monks says, "The song is about preserving your spirit despite all odds."